Nationality

South African




Spouse

Adelaide Tambo (m. 1956)


Role

South African Politician




Name

Oliver Tambo




Occupation

Teacher and lawyer









Full Name

Oliver Reginald Tambo




Born

27 October 1917 (

1917-10-27

) Nkantolo, Bizana, South Africa


Known for

President of the African National Congress


Died

April 24, 1993, Johannesburg, South Africa


Books

Oliver Tambo Speaks, Preparing for power




Children

Dali Tambo, Thembi Tambo, Tselane Tambo




Siblings

Alan Tambo, Gertrude Nuthu Tambo




Similar People

Nelson Mandela, Walter Sisulu, Adelaide Tambo, Chris Hani, Thabo Mbeki
Oliver tambo tribute by lerumo la sechaba uphi utambo other fallen heroes
Oliver Reginald Kaizana Tambo (27 October 1917 – 24 April 1993) was a South African anti-apartheid politician and revolutionary who served as President of the African National Congress (ANC) from 1967 to 1991.
Contents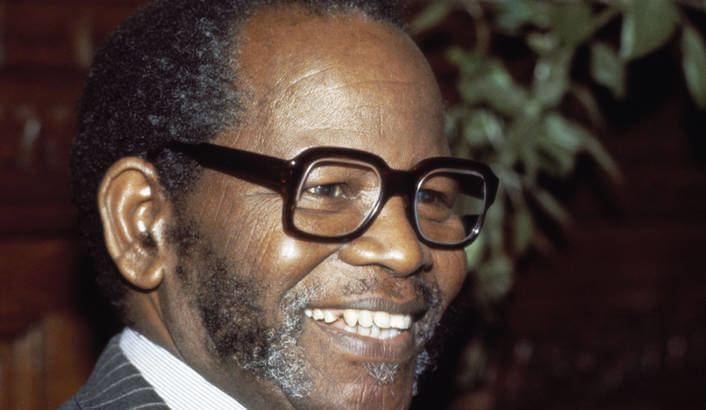 South Africa | African National Congress | Oliver Tambo interview | A Plus 4| 1985
Early life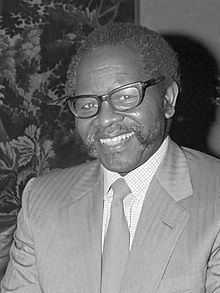 Tambo (fondly known as O. R.) was born on 27 October 1917 in the village of Nkantolo in Bizana in eastern Pondoland in what is now Eastern Cape. His father, Mzimeni Tambo, the son of a farmer and an assistant salesperson at a local trading store. Mzimeni had four wives and ten children with all of them were illiterate. His mother, Mzimeni's third wife was called Julia. He attended a school at Holy Cross Mission School with his brother in April 1928, and then transferred to St. Peters in Johannesburg. Tambo matriculated in 1938 as one of the top students. After this Tambo qualified to do his university degree at the University of Fort Hare. In 1940 he, along with several others including Nelson Mandela, was expelled from Fort Hare University for participating in a student strike. In 1942 Tambo returned to his former high school in Johannesburg to teach science and mathematics. Tambo, along with Mandela and Walter Sisulu, were the founding members of the ANC Youth League in 1943, becoming its first National Secretary and a member of the National Executive in 1948. The youth league proposed a change in tactics of the anti-apartheid movement. Previously the ANC had sought to further its cause by actions such as petitions and demonstrations; the Youth League felt these actions were insufficient to achieve the group's goals and proposed their own 'Programme of Action'. This programme advocated tactics such as boycotts, civil disobedience, strikes and non-collaboration.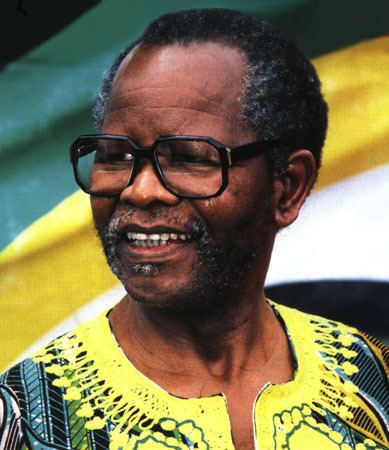 In 1955, Tambo became Secretary General of the ANC after Walter Sisulu was banned by the South African government under the Suppression of Communism Act. In 1958 he became Deputy President of the ANC and in 1959 was served with a five-year banning order by the government.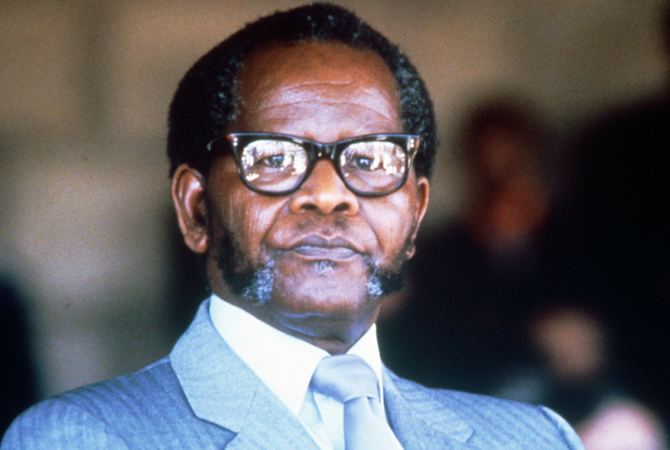 In response, Tambo was sent abroad by the ANC to mobilise opposition to apartheid. He settled with his family in Muswell Hill, north London, where he lived until 1990. He was involved in the formation of the South African Democratic Front. In 1967, Tambo became Acting President of the ANC, following the death of Chief Albert Lutuli.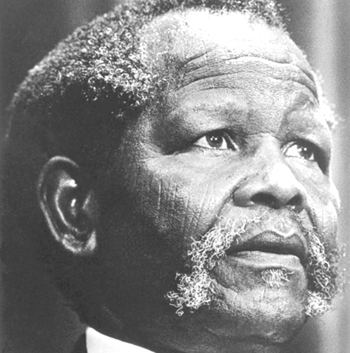 The post-Apartheid Truth and Reconciliation Commission identified Tambo as the person who gave final approval for the 1983 Church Street bombing, which resulted in the death of 17 people and injuries to 197. In a 1985 interview, Tambo was quoted as saying, "In the past, we were saying the ANC will not deliberately take innocent life. But now, looking at what is happening in South Africa, it is difficult to say civilians are not going to die."
In 1985 he was re-elected President of the ANC. He returned to South Africa on 13 December 1990 after over 30 years in exile, and was elected National Chairperson of the ANC in July of the same year. Tambo died aged 75 due to complications from a stroke on 24 April 1993.
International relationships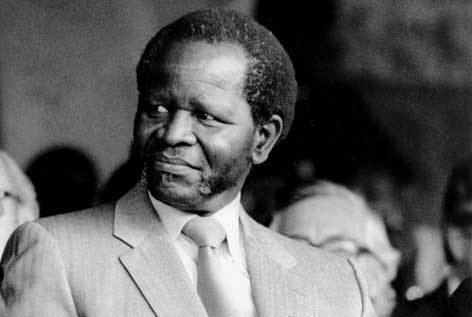 The strong fight against apartheid brought Tambo to strike up a series of intense international relationships. In 1977 Tambo signed the first solidarity agreement between ANC and a Municipality: The Italian town of Reggio Emilia was the first city in the world to sign a pact of solidarity. This was the beginning of a long understanding and that meant for Italy to put an effort into concrete actions to support the right of southern African people's self-determination: one of these actions was the organisation of solidarity ships. The first one, called "Amanda", departed from Genova in 1980. It was Tambo himself to ask Reggio Emilia to coin Isitwalandwe Medals, the greatest ANC's honour.
Guerrilla activity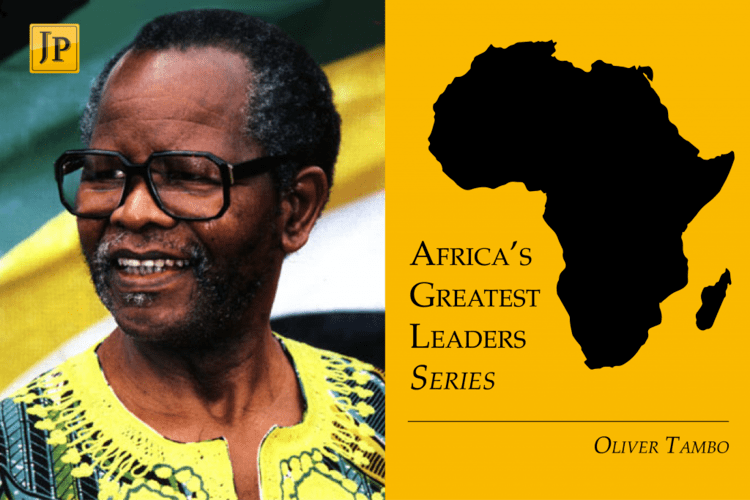 During his early years with the ANC Oliver Tambo was directly responsible for organizing active guerilla units. Along with his cohorts Nelson Mandela, Joe Slovo, and Walter Sisulu; Tambo directed and facilitated several attacks against the illegal apartheid state. Of which one of the most notable was the Church Street bombing on 20 May 1983, which resulted in the death of 19 civilians and the wounding of a further 217. In submissions to the Truth and Reconciliation Commission (TRC) in 1997 and 1998, the ANC revealed that the attack was orchestrated by a special operations unit of the ANC's Umkhonto we Sizwe (MK), commanded by Aboobaker Ismail. Such units had been authorised by Oliver Tambo, the ANC President, in 1979. At the time of the attack, they reported to Joe Slovo as chief of staff, and the Church Street attack was authorised by Tambo.
The ANC's submission said that the bombing was in response to a South African cross-border raid into Lesotho in December 1982 which killed 42 ANC supporters and civilians, and the assassination of Ruth First, an ANC activist and wife of Joe Slovo, in Maputo, Mozambique. It claimed that 11 of the casualties were SAAF personnel and hence a military target. The legal representative of some of the victims argued that as administrative staff including telephonists and typists they could not accept that they were a legitimate military target.
Ten MK operatives including Aboobaker Ismail applied for amnesty for this and other bombings. The applications were opposed on various grounds, including that it was a terrorist attack disproportionate to the political motive. The TRC found that the number of civilians versus military personnel killed was unclear. South African Police statistics indicated that 7 members of the SAAF were killed. The commission found that at least 84 of the injured were SAAF members or employees. Amnesty was granted by the TRC
Death
Tambo suffered a stroke in 1993, aged 75, a few days after Chris Hani's assassination. Tambo died only days before the 1994 general election in which Nelson Mandela became president of South Africa. Nelson Mandela, Thabo Mbeki and Walter Sisulu attended the funeral. Tambo was buried in Benoni, Johannesburg.
Honours
In 2004, he was voted number 31 in the SABC3's Great South Africans, scoring lower than H. F. Verwoerd, before the SABC decided to cancel the final rounds of voting. The decision to cancel the results was largely informed by the fact that the majority of black South Africans did not participate in the voting, as SABC 3 caters predominantly for English speakers.
In late 2005, ANC politicians announced plans to rename Johannesburg International Airport after him. The proposal was accepted and the renaming ceremony occurred on 27 October 2006. The ANC-dominated government had previously renamed Jan Smuts Airport as Johannesburg International Airport in 1994 on the grounds that South African airports should not be named after political figures.
There is also a bust of him in Albert Road Recreation Ground, Muswell Hill outside Alexandra Park School. In June 2013, the city of Reggio Emilia (Italy) celebrated Tambo with the creation of Park dedicated to the President of African National Congress.
Tambo's grave was declared a National Heritage site when he died but lost this status when his wife, Adelaide Tambo died and was buried alongside him. However their grave was re-declared as a National Heritage site in October 2012.
Literature
Baai, Gladstone Sandi (2006): Oliver Reginald Tambo: teacher, lawyer & freedom fighter, Houghton(South Africa): Mutloatse Arts Heritage Trust.
Callinicos, L. (2004). Oliver Tambo: Beyond the Engeli Mountains. Claremont, South Africa: David Philip.
Pallo Jordan, Z. (2007): Oliver Tambo remembered, Johannesburg: Pan Macmillan.
Tambo, O., & Reddy, E. S. (1987): Oliver Tambo and the struggle against apartheid, New Delhi: Sterling Publishers, in collaboration with the Namedia Foundation.
Tambo, Oliver & Tambo, Adelaide (1988): Preparing for power: Oliver Tambo speaks, New York: G. Braziller, ©1987.
Tambo, O., & Reddy, E. S.(1991): Oliver Tambo, apartheid and the international community : addresses to United Nations committees and conferences, New Delhi: Namedia Foundation: Sterling Publishers.
Van Wyk, Chris (2003): Oliver Tambo. Gallo Manor, South Africa: Awareness Pub. Learning African history freedom fighters series.
References
Oliver Tambo Wikipedia
(Text) CC BY-SA