Nationality

Swiss


Name

Olaf Breuning




Role

Artist







Born

1970 (age 44–45)Schaffhausen, Switzerland


Education

Weiterbildungsklasse Fotographie, Hohere Schule fur Gestaltung




Known for

Artist, Sculpture, Drawing, Photography, Video


Similar People

Doug Aitken, Matthew Barney, Keith Tyson, Urs Fischer, Erik Niedling
Metro pictures gallery olaf breuning conceptual art abstract art pop culture
Olaf Breuning (born February 16, 1970 in Schaffhausen) is a Swiss-born artist who lives in New York City.
Contents
The secret history of contemporary art episode 1 olaf breuning art documentary
Works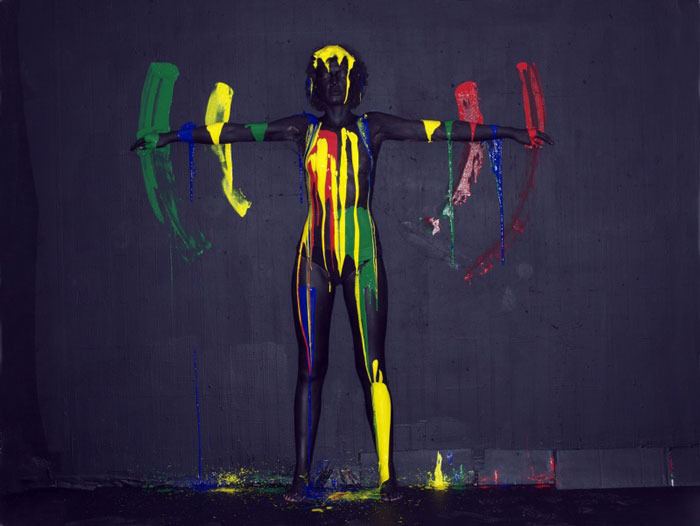 Home 1/Home 2 (2004/7)--30 minute video starring Brian Kerstetter. Home 1 is presented as a double-projection, where the main character can no longer distinguish the difference between reality and fiction. He wanders around a hotel room telling stories about himself and other people to the camera. As he tells the stories, they are simultaneously seen on the opposite screen. In Home 2 Brian Kerstetter plays an ignorant tourist staggering around the world from Switzerland to Africa and Japan to Papua New Guinea, crashing his western mentality upon the exotic places he goes.
Ugly Yelp (2000), Apes (2001), King (2001), Hello Darkness (2002)--With these installations, Breuning creates theatrical atmospheres using sound, video and light. These installations have been shown in many museums and are owned by collections internationally.
Easter Bunnies (2004)--A photograph created on Easter Island, transforming the Moais sculptures into Easter bunnies by setting up rabbit ears on C-stands in the extreme foreground.
Sibylle (1998)-- Photograph of a female model lying on a table, whose body has been affected by cultural references to Matthew Barney, Cindy Sherman, Pablo Picasso, and others, resulting a creepily mutilated creature.
Smoke Bombs (2008)--Exemplifies Breuning's photographic technique of leaving the mess of production within frame, allowing the viewer to see behind the scenes of the production.
Group exhibitions (selected)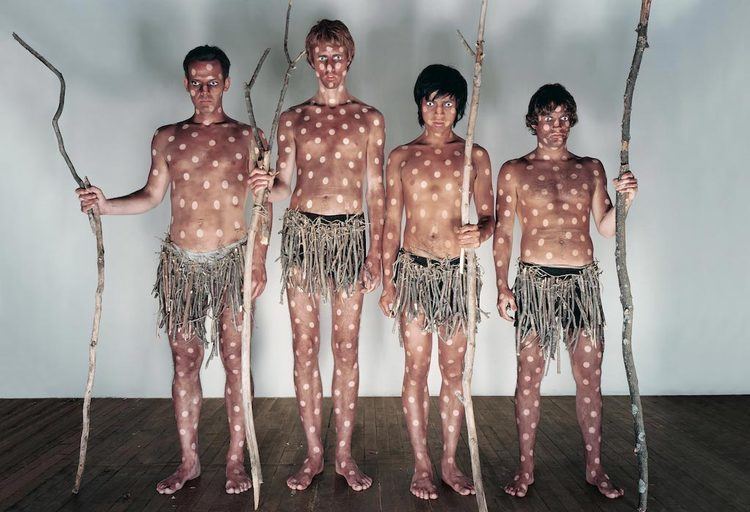 In recent years he has exhibited his works at many group shows around the world, including The Somerset House, London; Herzliya Museum of Contemporary Art, Israel; Tinguely Museum, Basel; Nelson–Atkins Museum of Art, Kansas City; Museum der Moderne, Salzburg; Musée Rath, Geneva and many other venues. Some of them are listed below: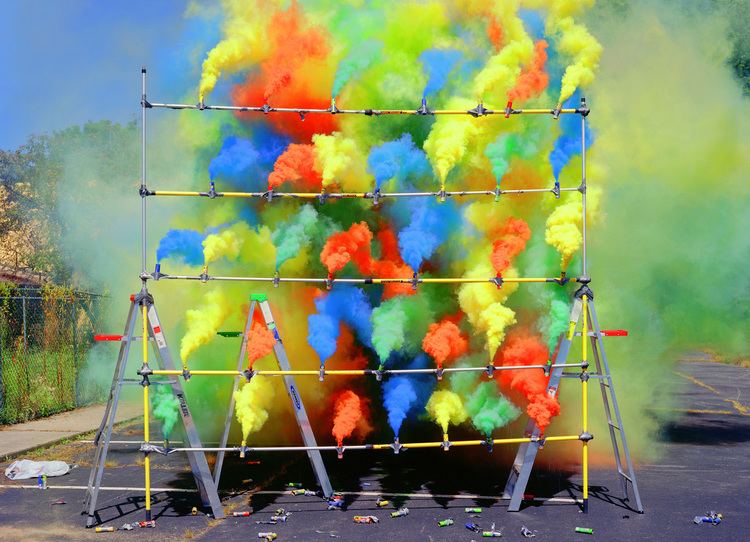 2016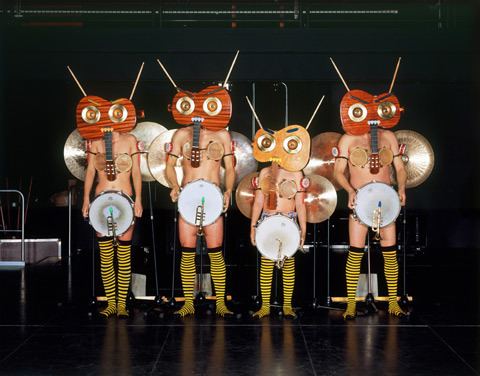 And Now the Good News. Opere dalla Collezione Annette e Peter Nobel, Museo d'arte della Svizzera Italiana, Lugano, CH
2015
100 Jahre Schweizer Design, Museum für Gestaltung, Zurich, CH
2014
Das Fremde ist nur in der Fremde fremd, Museum Rietberg, Zurich, CH
2013
Ursula Palla und Olaf Breuning. Hin und Her, Binz 39, Zurich, CH
Métamatic Reloaded, Tinguely Museum, Basel, CH
La realtà non è un luogo comune. Fotografie e video della Collezione d'arte della Julius Baer, Museo Cantonale d'Arte, Lugano, CH
2012
Holzwege. Sentieri erranti. Arte svizzera dalla collezione della Mobiliare, Museo Cantonale d'Arte, Lugano, CH
Parallelwelt Zirkus, Kunsthalle Wien, Vienna, AU
Through the Looking Brain, Kunstmuseum St. Gallen, St. Gallen, CH
Incongru. Quand l'art fait rire, Musée Cantonal des Beaux-Arts, Lausanne, CH
2011
Through the Looking Brain, Kunstmuseum Bonn, Bonn, DE
Welttheater. Die Sammlung migros museum für gegenwartskunst Zürich, Kunstmuseum Liechtenstein, Vaduz, LIE
Voici un dessin suisse 1990-2010, Aargauer Kunsthaus, Aarau, CH
2010
Press Art. Die Sammlung Annette und Peter Nobel, Kunstmuseum St. Gallen, St. Gallen, CH
Voici un dessin suisse 1990-2010, Musée Rath, Geneva, CH
2009
Darkside II. Fotografische Macht und fotografierte Gewalt, Krankheit und Tod, Fotomuseum Winterthur, Winterthur, CH
200 Artworks. 25 Years Artists, 21st Century Museum of Contemporary Art, Kanazawa, JP (catalogue ISBN 390758225X)
Julius Baer Art Collection, Palace Galerie; Bank Julius Bär; Hotel Suvretta House, St. Moritz, CH
2008
When fears become form, Centre d'art Neuchâtel (CAN), Neuchâtel, CH
Sammlung/Collection Migros Museum für Gegenwartkunst Zürich 1978-2008, Migros Museum für Gegenwartskunst, Zurich, CH
Second_nature, Dexia Banque Internationale, Luxembourg, LUX
Whitney Biennial 2008, Whitney Museum of American Art, New York, US
Groeflin Maag Galerie, Zurich, CH
2007
Mask, James Cohan Gallery, New York, US
12e Biennale de l'Image en mouvement, Centre pour l'image contemporaine (CIC), Geneva, CH
What we bought, Camera Austria, Graz, AU
Môtiers 2007, Art en plein air, Môtiers, CH
Screening, Karma International, Zurich, CH
Imagination Becomes Reality, Museum für Neue Kunst – Zentrum für Kunst und Medientechnologie Karlsruhe, Karlsruhe, DE
All about Laughter: humor in contemporary art, Mori Art Museum, Tokyo, JP
art_clips.ch.at.de, Zentrum für Kunst und Medientechnologie – Medienmuseum, Karlsruhe; Galerie Henze & Ketterer, Wichtrach, DE
Six Feet Under. Autopsie unseres Umgangs mit Toten. Autopsy of Our Relation to the Dead, Kunstmuseum Bern, CH
2006
Flash records, Haswellediger, New York, US
Photo Suisse. Exposition de photographies et portraits filmés de 28 photographes suisses, Istituto Svizzero di Roma, Rome, IT (2005); Museo Comunale d'arte moderna Ascona, Ascona, CH; Pinacoteca comunale Casa Rusca, Locarno, CH; Kunsthaus Centre PasquArt, Biel, CH
Imagination becomes reality. Part IV. Borrowed images, Sammlung Goetz, München, DE
Cindy Sherman, Gianni Motti, Olaf Breuning, Galerie Nicola von Senger, Zurich, CH
Some tribes, Christophe Guye Galerie, Zurich, CH
The Swiss Institute Experience, Swiss Institute, New York, US
2003
V.I.D. Bern 2003 - Festival für Videokunst, Dampfzentrale, Bern, CH
Festival Video, Vira (Gambarogno), CH
Art Unlimited, Art Basel, Basel, CH
Urban Diaries. Young Swiss Art, Alcalá 31, Madrid, ESP
Durchzug / Draft. 20 Jahre Stiftung BINZ39, Kunsthalle Zürich, Zurich, CH
M_ARS. Kunst und Krieg, de:Neue Galerie Graz am Landesmuseum Joanneum, Graz, AU
2002
International 2002. Liverpool Biennial, Tate Liverpool; Bluecoat Gallery; Pleasant Street Board School, Liverpool
Stardust Deluxe - Kunstaktionen zu Popkultur, Berlin
V.I.D. Bern 2002 - Festival für Videokunst, Dampfzentrale, Bern, CH
Lorbeer-Extrakt. Manor-Kunstpreis Schaffhausen 1987-2001, Museum zu Allerheiligen, Schaffhausen, CH (catalogue ISBN 3907066448)
cache-cache camouflage, Musée de design et d'arts appliqués contemporains (mudac), Lausanne, CH
2001
Wald / Explosionen, Helmhaus Zürich, Zurich, CH
M family. Die Bilder zum Migros Geschäftsbericht 2000, Migros Museum für Gegenwartkunst, Zurich, CH (catalogue ISBN 3952224901)
Up in the sky. Himmel in der Kunst der 90er Jahre, Kunsthaus Grenchen, Grenchen, CH
Collaborations with Parkett: 1984 to Now, Museum of Modern Art, New York, US
Close up, Kunstverein Hannover, Hannover, DE
2000
Eidgenössische Preise für freie Kunst 2000, Kunsthalle Fri Art, Freiburg, CH
Let's be friends, Migros Museum für Gegenwartkunst, Zurich, CH
on the spot 02. public messages, Stadtgalerie Bern; Kiosk, Bern, CH
EX25 Hochschule und Museum Für Gestaltung und Kunst Zürich die Letzten 25 Jahre Halle, Museum für Gestaltung Zürich, Zurich, CH
Hausbesetzung, Villa Ulmberg, Ermatingen, CH
Transfert. Kunst im urbanen Raum. Art dans l'espace urbain. No 10 Ess Biel - Bienne CH, Biel, CH
Close up, Kunsthaus Baselland, Muttenz; Kunstverein Freiburg, Freiburg im Breisgau, DE
Reality Bytes. Der medial vermittelte Blick, Kunsthalle Nürnberg, Nürnberg, DE
1999
Eidgenössische Preise für freie Kunst 1999, Kunsthalle Zürich, Zurich, CH
Anna Blessmann, Olaf Breuning, Ester Eva Damen, Bob Gramsma, Mathilde ter Heijne, Gerd Holzwarth, Lang/Baumann, Zilla Leutenegger, Chantal Michel, Heli Rekula, Podewil Center for Contemporary Arts, Berlin, DE
Missing Link. Menschen-Bilder in der Fotografie, Kunstmuseum Bern, Bern, CH
Young - Neue Fotografie in der Schweizer Kunst, Fotomuseum Winterthur, Winterthur, CH
Transfer, Istituto Svizzero di Roma, Rome, IT
1998
Freie Sicht aufs Mittelmeer. Junge Schweizer Kunst, Schirn Kunsthalle, Frankfurt am Main, DE
Freie Sicht aufs Mittelmeer. Junge Schweizer Kunst, Kunsthaus Zürich, Zurich, CH (catalogue ISBN 3906574024)
Olaf Breuning. Daniela Buetti. Nic Hess. Susan Hodel. Daniel Lorenzi. Costa Vece, Binz 39, Zurich, CH
1997
Bonsai/Dokumentationen. Die Kunst des Verkleinerns/Die verkleinerte Kunst, Hotel Zürich, Zurich, CH
Individuelle Welten. Malerei, Radierungen, Installation, Objekte und Fotografie, Galerie Marie-Louise Wirth, Zurich, CH
Solo exhibitions (selected)
2013
Home 3 Screening, The Modern Institute Oxford, Oxford, UK
Home 3 Screening, ICA London, London, UK
Home 1/2/3, Metro Pictures, New York, US
Camelops Femina, Carbon 12, Dubai, AE
The Grid, Paul Klee Museum, Bern, CH
Home 3, IMA Brisbane, Brisbane, AU
2012
Home 3 Screening, Swiss Institute, New York, US
Home 2, IMA Institute of Modern Art, Brisbane, AU
Human / Nature, Box, Pippy Houldsword Gallery, London, GB
2011
Art Freaks, Metro Pictures, NY
Art Freaks Palais de Tokyo, Paris, FR
Art Freaks, Kodama Gallery, Kyoto, JP
2010
Nicola von Senger Gallery, Zürich, CH
Art in The Park VI, Baur au Lac Park, Zürich, CH
Centre d'Art Contemporain, La Chapelle du Geneteil, FR
Nils Staerk Gallery, DK
Yes? No?, KunstMuseum Luzern, Luzern, CH

2009
Small Brain, Big Stomach, Metro Pictures, New York
Michael Benevento, Los Angeles, CA
Kodama Gallery, Kyoto and Tokyo, JP
Langhans Gallery, Prague, CZ
2008
Metro Pictures, New York, US
OMG, Conduits Gallery, Milan, IT
Art Projects for Miami Basel, Miami Beach, FL
Galerie Lucy Mackintosh, Lausanne, CH
2007
Galerie Nicola von Senger, Zürich, CH
Migros Museum, Zürich, CH
Bunker Sztuki, Kraków, PL
Kodama Gallery, Tokyo, JP
Australian Centre for Photography, Sydney, AU
Gertrude, Melbourne, AU
2006
Wolfsberg, Wolfsberg, CH
Vidéokiosque, Centre d'Art Contemporain, Paris, FR
IMA, Brisbane, AU
Group, Window of Elizabeth Leach Gallery, Portland, OR
Nils Staerk Contemporary Art, Copenhagen, DK
Home, Sketch, London, UK
2005
Metro Pictures, New York, US
Galerie Air de Paris, Paris, FR
Chapter Visual Arts, Cardiff, GB
Chisenhale, London, UK
Filmabend: Home, Kunst-Büro, Lupiod Lounge, Munich, DE
Galerie Meyer & Kainer, Vienna, AT
Nicola von Senger Galerie, Zürich, CH
Kodama Gallery, Osaka, JP
2004
Nils Staerk Contemporary Art, Copenhagen, DK
Kodama Gallery, Tokyo, JP
The New Stedelijk Museum CS/ Auditorium, Amsterdam, NL
Olaf Breuning-vidéos, Association EDV, Toulouse, FR
Olaf Breuning-films, La Casa Encendida, Madrid, ES
Home, Metro Pictures, New York, US
Magasin- Centre National d'Art Contemporain, Grenoble, FR
2003
Museo Garillo Gil, Mexico City, MX
Under the Bridge, Musée d'art moderne et contemporain, Strasbourg, FR
Art Unlimited, Art Basel, Basel, CH
Galerie Arndt & Partner, Berlin, DE
2002
Swiss Institute, Hello Darkness, New York
Ars Futura Galerie, Zürich, CH
2001
Metro Pictures, New York, US
Galerie Meyer & Kainer, Vienna, AT
Galerie Arndt & Partner, Berlin, DE
Kunstverein Freiburg, Freiburg, DE
Hello Darkness, Swiss Institute, New York, US
Artspace, Auckland, NZ
Galerie Air de Paris, Paris, FR
Apes, Museum zu Allerheiligen, Schaffhausen, CH
2000
Ugly Yelp, Ars Futura Galerie, Zürich, CH
Air de Paris, Paris, FR
1999
Woodworld, Centre d'art Contemporain, Geneva, CH
They Live! ArsFutura Galerie, Zürich, CH
1998
Woodworld, Kunsthaus Glarus, Glarus, CH
Schlund/Chris Croft, Kunsthalle St. Gallen, St. Gallen, CH
1997
Waldfest, BINZ39, Zürich, CH
Books
Ugly, 2000, monograph, Hatje Cantz, ISBN 3-7757-1105-8
Home, 2004, monograph, JPR/Ringier, Magasin, Les Musees de Strasbourg, ISBN 2-940271-39-9
Queen Mary, 2006, drawing catalogue, JPR/Ringier, ISBN 3-905701-94-4
Queen Mary II, 2010, monograph, JPR/Ringier, Zurich
References
Olaf Breuning Wikipedia
(Text) CC BY-SA