Japan




709,584 (2010)


789.92 km2


ChugokuSanyo




Masao Omori




Okayama Prefectural Museum of Art, Okayama Orient Museum, Yumeji Art Museum, Inujima




Okayama University, Okayama University of Science, Notre Dame Seishin University, Kawasaki Medical School, International Pacific University



Okayama (, Okayama-shi) is the capital city of Okayama Prefecture in the Chugoku region of Japan. The city was founded on June 1, 1889.
As of August 2010, the city has an estimated population of 705,224 and a population density of 893 persons per km². The total area is 789.88 km².
The city is the site of Koraku-en, known as one of the top three traditional gardens in Japan, and the black Okayama Castle, which is ranked among the best 100 Japanese castles. The city is famous as the setting of the Japanese fable "Momotaro".
Before the Muromachi period, Okayama was one corner of a farm region and included a small castle built by the Kanemitsu. In the Sengoku period, Ukita Naoie attacked Okayama and attacked the castle for the transportation resources and extensive farmland in the region. Naoie remodeled the castle, built the old Sanyo road to the central part of the castle town, and called in tradesmen both from inside and outside of Bizen Province. Okayama became the political and economical capital of Bizen Province.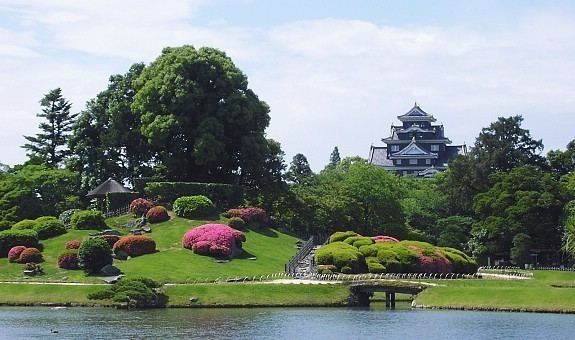 The city of Okayama is located in the southern part of Okayama Prefecture, which in turn is located in western part of the island of Honshu. The city is bounded on the south by the Inland Sea. Asahi River crosses Okayama.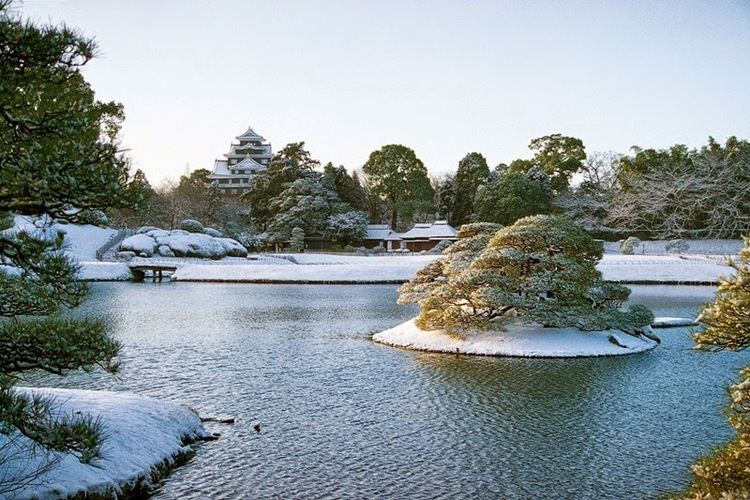 Since Okayama became a designated city in 2009, the city has been divided into four wards (ku).
Okayama Wikipedia
(,)http://okayama-japan.jp/en/img2/history-box-p002.jpg(,)http://www.sj-okayama.org/storage/post-images/cliff-visitors.jpg%3F__SQUARESPACE_CACHEVERSION%3D1423837527855(,)http://upload.wikimedia.org/wikipedia/commons/2/29/Map_of_Japan_with_highlight_on_33_Okayama_prefecture.svg(,)http://okayama-japan.jp/en/img2/takahashi-photo_michelin_en.jpg(,)http://upload.wikimedia.org/wikipedia/commons/thumb/4/4b/Okayama_Korakuen_Garden01.jpg/1280px-Okayama_Korakuen_Garden01.jpg
(,)http://www.japan-guide.com/g2/5700_03.jpg(,)http://4.bp.blogspot.com/-WM0noKxzWRw/U_to0IB2GfI/AAAAAAAA0KA/dL0TSCn6YHE/s1600/Okayama,%252BJapan,%252BKourakuen%252BWinter.jpg(,)http://upload.wikimedia.org/wikipedia/commons/a/a4/Landscape_view_of_Kurashki_city_and_Takahashi_River_harbor_at_night._Hanami_(Sakura_blooming_season)._Okayama_Prefecture._Japan.jpg(,)http://upload.wikimedia.org/wikipedia/commons/1/13/Landscape_view_of_Kurashki_city_and_Takahashi_River_at_night._Hanami_(Sakura_blooming_season)._Okayama_Prefecture._Japan.jpg(,)http://previews.123rf.com/images/coward_lion/coward_lion1401/coward_lion140100249/25181649-View-from-Yuishinzan-Hill-at-Korakue-en-garden-in-OkayamaOKAYAMA-JAPAN-NOVEMBER-17-Yuishinzan-Hill-i-Stock-Photo.jpg(,)http://thumbs.dreamstime.com/z/korakuen-famous-traditional-japanese-landscape-garden-okayama-japan-31074763.jpg(,)http://cache4.asset-cache.net/gc/75991231-japan-okayama-prefecture-snow-covered-gettyimages.jpg%3Fv%3D1%26c%3DIWSAsset%26k%3D2%26d%3DRNld8bUluJ7rcmrzFKB15muKMqyZ9IBpdDWjPZMmbBHFn%252BNomVPCSFeKOncAqkGT(,)http://cache1.asset-cache.net/gc/75992037-japan-okayama-prefecture-yatsuka-snow-covered-gettyimages.jpg%3Fv%3D1%26c%3DIWSAsset%26k%3D2%26d%3DNYWa9wJZdpHwafG7tPJAngq%252B0c5YodWgmqEtTn3tAgXpCGiLrE3HNo2PGzdwpw%252B43YCVnZfkAGWyENC88lklbg%253D%253D(,)http://www.andyleighton.com/gallery/Japan/Japan-Gardens/Okayama-Korakuen/Landscapes/10-japan-okayama-korakuen-gardens_RM.jpg(,)http://www.photolibrary.jp/mhd7/img359/450-2014090910015342543.jpg
(,)http://kifunosato-ryokan.com/images/cuisine_main_img.jpg(,)http://media-cdn.tripadvisor.com/media/photo-s/03/d7/16/fe/azuma-sushi-okayama-station.jpg(,)http://media-cdn.tripadvisor.com/media/photo-s/07/81/1f/2f/cuisine.jpg(,)http://media-cdn.tripadvisor.com/media/photo-s/03/26/b9/f5/cuisine.jpg(,)http://setouchifinder.s3.amazonaws.com/user_data/ja/images/0/1236.jpg(,)http://aminus3.s3.amazonaws.com/image/g0002/u00001476/i01757922/2ae35875e148541595ec47506f23a6bd_giant.jpg(,)http://img.travel.rakuten.co.jp/share/image_up/427/LARGE/9YlOkl.jpeg(,)http://img.travel.rakuten.co.jp/share/image_up/427/LARGE/ycXI5J.jpeg(,)http://cdn4.vtourist.com/19/5933002-Demi_Katsudon_Set_Okayama.jpg%3Fversion%3D2(,)http://www.kayak.co.uk/rimg/himg/58/ed/a8/leonardo-1272515-Cuisine-1_P-image.jpg%3Fwidth%3D502%26height%3D331