German


490.59 km2


Sarnen




Titlis, Mount Pilatus, Lake Lungern, Melchsee, Sarner Aa



The Canton of Obwalden ( ) is a canton of Switzerland. It is located in the centre of Switzerland. Its capital is Sarnen. The canton contains the geographical centre of Switzerland.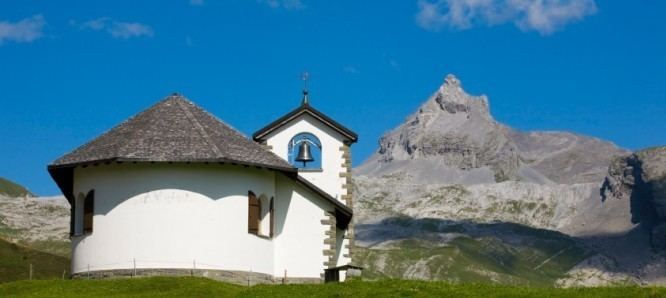 Obwalden is one of the two valleys, along with Nidwalden, that make up Unterwalden. Throughout its history, the political situation and the exact amount of independence has varied widely. Between 1291 and 1309, Unterwalden joined the nascent Swiss Confederation. During that time Obwalden was known as Unterwalden ob dem Kernwald and Nidwalden was Unterwalden nit dem Kernwald. Unterwaldens votes in the Tagsatzung were split between the two valleys. Between 1798 and 1803 it became the District of Sarnen in the Canton of Waldstatten. From 1803 until 1999 it was the half-canton of Obwalden. In 1999, the new Federal Constitution eliminated the half-canton designation and made Obwalden a full canton, though they still shared representation in the Council of States and only had half a vote. Due to the complex history of Obwalden there will be some overlap between the histories of Obwalden, Nidwalden and Unterwalden.
Highest elevation: Titlis (Urner Alps), 3238 m
Lakes in the canton include: parts of Lake Lucerne (Vierwaldstattersee), Lake Sarnen (Sarnersee), Lake Lungern (Lungerersee), Wichelsee, Tannensee and Melchsee.
The total area of the canton is 490.5 square kilometers (189.4 sq mi). As of 2006, 197.3 km2 (76.2 sq mi) or about 40.2% of the canton is wooded. 185.8 km2 (71.7 sq mi), or about 37.9% is used in agriculture. Of the rest of the area, 15.8 km2 (6.1 sq mi) or 3.2% is developed (structures and roads) and 91.6 km2 (35.4 sq mi) or 18.7% is classed as unproductive (rivers, mountains or glaciers).
Small and middle-sized businesses dominate the economy of Obwalden. Many of them are specialists in areas such as miniature engines, synthetics, medical equipment or nano technology.
Traditional culture in Obwalden has been kept alive by many local organizations. There is traditional music, carnival, dances, costumes, theatres and festivals. There are also a number of modern artists, including Josef Garovi (composer), Caspar Diethelm (composer), Julian Dillier (poet), Franz Bucher (painter), Kurt Sigrist (sculptor) and Alois Spichtig (sculptor).
Obwalden Wikipedia
(,)http://www.swisscommunity.org/files/webcontent/obwald/history_and_tradition/OW_history.jpg(,)http://images4.mygola.com/33c11cd1c1e05cd5240a6c449d59f9f9_1394358034_m.jpg(,)http://upload.wikimedia.org/wikipedia/commons/thumb/a/a2/Karte_Kanton_Obwalden_2010.png/500px-Karte_Kanton_Obwalden_2010.png(,)http://mw2.google.com/mw-panoramio/photos/medium/6420849.jpg
(,)http://cache1.asset-cache.net/gc/544564507-switzerland-obwalden-engelberg-view-at-the-gettyimages.jpg%3Fv%3D1%26c%3DIWSAsset%26k%3D2%26d%3DX7WJLa88Cweo9HktRLaNXpKDa%252B9K%252FU3eHZLV2xv0tH%252BGqATMPxA%252Fr9lDg0TDMZedWGzjsAmLuSf27WNvnPMJew%253D%253D(,)http://cache2.asset-cache.net/gc/544581105-switzerland-obwalden-engelberg-view-at-the-gettyimages.jpg%3Fv%3D1%26c%3DIWSAsset%26k%3D2%26d%3DX7WJLa88Cweo9HktRLaNXqAnwiGuAoeFUka7m8a%252FpGRsKg7N%252FNgqkmxSLkxoXi7XiZMc7W4X8J1wcEbY4YcApw%253D%253D(,)http://www.8screensavers.com/screensavers/preview/t/i/titlis-obwalden-switzerland-landscape-1-screensaver.jpg(,)http://cache1.asset-cache.net/gc/140500800-titlisbahn-bei-engelberg-canton-obwalden-gettyimages.jpg%3Fv%3D1%26c%3DIWSAsset%26k%3D2%26d%3DpLcnZApBUfZ%252B70MRtcvL%252BfgWtpasbafyqhfVS8D6uaRdIlvTCRh9ED4cXzXMEONq
(,)http://images.myswitzerland.com/n26168/images/buehne/kulinarische_wanderung_obwalden_qgr_epr.jpg(,)http://exp.cdn-hotels.com/hotels/2000000/1610000/1607000/1606932/1606932_91_z.jpg(,)http://exp.cdn-hotels.com/hotels/2000000/1240000/1236900/1236841/1236841_8_z.jpg
(,)https://fbexternal-a.akamaihd.net/safe_image.php%3Fd%3DAQDVASXXHsOEd3gO%26w%3D720%26h%3D652%26url%3Dhttp%253A%252F%252Fupload.wikimedia.org%252Fwikipedia%252Fcommons%252Fthumb%252Fc%252Fc0%252FKarte_Vierwaldst%2525C3%2525A4ttersee.png%252F720px-Karte_Vierwaldst%2525C3%2525A4ttersee.png(,)http://geocurrents.info/wp-content/uploads/2013/03/Switzerland-Bern-Religion-Map.png(,)http://www.swissec.com/wp-content/uploads/sz-map2.gif(,)http://cache3.asset-cache.net/gc/544597859-switzerland-obwalden-engelberg-abbey-gettyimages.jpg%3Fv%3D1%26c%3DIWSAsset%26k%3D2%26d%3DX7WJLa88Cweo9HktRLaNXmz36WBmDiKQl3AuwaNCXc0bJ5HKqwQFAbtS%252BdReZrXyT6EeTSxOG6s8d5PO7VbLoQ%253D%253D
(,)http://www.planetware.com/photos-large/CH/engelberg.jpg(,)http://images.myswitzerland.com/n15618/images/buehne/orig1-7.jpg(,)http://images.pxlpartner.ch.s3.amazonaws.com/n28456/images/detailluzernbig/vierwaldstaettersee.jpg(,)http://www.snyar.net/wp-content/uploads/2014/10/Engelberg-Canton-Of-Obwalden-Switzerland-Photo.jpg(,)http://i0.wp.com/globalhelpswap.com/wp-content/uploads/2014/11/Places-to-visit-in-Switzerland-by-train-3.jpg(,)http://watermarked.heritage-images.com/1272274.jpg