Nyandarua County is a County in the former Central Province of Kenya. Its capital and largest town is Ol Kalou. Formerly the capital was Nyahururu, which is now part of the Laikipia County. Nyandarua County has population of 596,268 and an area of 3,304 km². The county is located on the northwestern part of the old Central Province, and contains the Aberdare Ranges.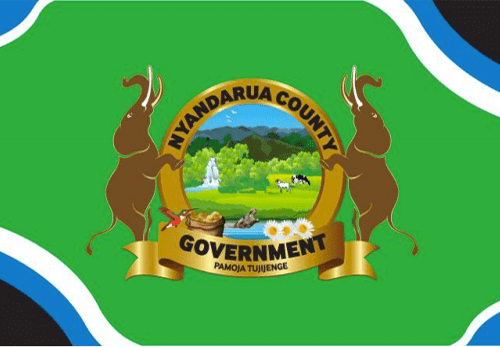 The county was split into two in 2007: Nyandarua North District and Nyandarua South District. However with the promulgation in 2010 of new constitution, these have been re-organised as sub counties of Nyandarua County . Daniel Waithaka was elected the first governor of the County 2013 General Election, .
The county has five constituencies and 25 wards
Nyandarua is serviced by several government hospitals; Nyahururu, Ngano. Ol Kalou district hospital. Mission hospital funded by church and NGO, Dispensary i.e.Milangine Health Centre and numbers of private hospital.
County hospitals receive patients from all over the county and in case of referral refer them to Nakuru or Nyeri provincial hospital and then to Kenyatta National Hospital
The county is represented in by 25 elected ward representatives 5 MPs,a Women representative, a Senator and a Governor.
In 2013 presidential election the county voter voted for Uhuru Kenyatta with 237,975 a 99% of valid votes
Current Members of parliament from constituencies in the county are;
They were three candidate for governorship during 2013 election
Children in Nyandarua can access school with ease. Schools are normally situated a walking distance mostly of less than 3 km (for primary school and high school) with a large number of public and private schools. For tertiary education they are a number of colleges and polytechnic but no university.
One of pioneer school is Nyandarua high School which was opened 29 March 1965 with 71 students. Currently they are other major school among others; Kangui high School, Karima Girls, Shamata Girls, Wanjohi Girls, Magumu, Mukoe, Kagondo,,kihingo, Waka Junior, Njabini, Nyahururu Boys. There has been no University in Nyandarua, until Nyandarua Institute was upgraded to a university college under Dedan Kimathi University of Science & Technology. There are some Technical Institution like Leshau Polytechnic in Ndaragwa Constituency, at Gordon Centre (Next to Kihingo Catholic Church) - Mutanga Parish. More Tertiary institution are needed.
Nyandarua County is a productive area for agriculture, manufacturing and processing. There are a number of challenges including lack of a good road network and adequate distribution of electricity and water.
Interested investors both local and in the diaspora can invest in agriculture, manufacturing, processing and housing.
Nyandarua is known for athletics being home to John Ngugi.
the main economic activity in Nyandarua is farming (crop cultivation and dairy farming). In late 1990s Nyandarua was a leading producer of pyrethrum however Kenya pyrethrum Board the parastatal that was given the role of purchasing, processing and marketing the crop collapsed because of poor management and corruption, severely undermining the livelihood of many farmers