India




Rajiv Gandhi University of Knowledge Technologies




Telugu




Andhra Pradesh




Krishna



Nuzvid is a municipality in Krishna district of the Indian state of Andhra Pradesh. It serves as the administrative headquarters for Nuzvid mandal and Nuzvid revenue division,and THIRD LARGEST CITY IN KRISHNADISTRICT.
Nuzvid is a historical fortified town. It was founded by Meka Basavanna, the chieftain of Rani Rudrama Devi/Pratapa Rudra Deva of Warangal Kakatiya dynasty in 1321 AD. After the second attack of Delhi ruler, Mohammad bin Tughlak to Kakatiya ruler of Pratapa Rudra, he was defeated and caught by Tughlak. At that moment the chieftains were separated and migrated to different places. Some went to Bobbili. Some established themselves at Nuzvid.
At that period they cultivated the nuvvulu (Seasom) Chelu means Crops. The place was first named as nuchela veedu, gradually changing to nujelaveedu and after British rule to Nuzvid.
The first English-Telugu dictionary was prepared by Sankaranarayana with the financial help of Nuzvid Rajahs.
The first mutiny against French rule was by Nuzvidians. Senior Citizens of Nuzvidu used to say that this place used to have "Burujus" with heavily artillery for security. One such place was "Bodigattu". People used to hear the sounds of heavy artillery from the place now called "Damadamaala Thotha".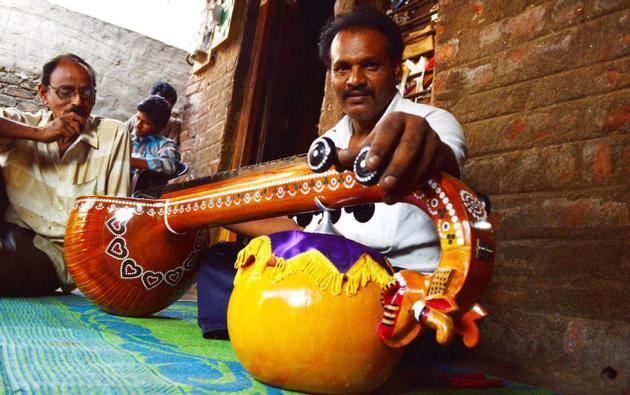 Nuzvid is located at 16.78°N 80.85°E? / 16.78; 80.85. It has an average elevation of 88 metres (288 feet).
Nuzvid Wikipedia
(,)http://www.thehindu.com/multimedia/dynamic/01416/HY03_IIIT_STUDENTS_1416033f.jpg(,)http://www.thehindu.com/multimedia/dynamic/01874/VJ-03-NUZVID-VEENA_1874157f.jpg(,)http://www.thehindu.com/multimedia/dynamic/00624/06VZVIJREG1VEENA_624250f.jpg(,)http://www.thehindu.com/multimedia/dynamic/00895/17VZVIJREG2NUZVID_895416f.jpg(,)http://www.mpositive.in/wp-content/uploads/2014/07/SheikMabuSahedMPOs16jul2014.jpg(,)http://cficindianprovince.org/uploads/images/Nuzvid.jpg(,)http://www.rootvinn.com/helper/getnewsimagethumbnail/10384236200907090610385.jpg/720/720/VillagePhotos(,)http://dd508hmafkqws.cloudfront.net/sites/default/files/styles/article_node_view/public/Vijayawada-Victoria%2520Jubilee%2520Regional%2520Museum-1.jpg(,)http://upload.wikimedia.org/wikipedia/commons/3/3a/Fields_near_Nuzvid.jpg(,)http://upload.wikimedia.org/wikipedia/commons/4/41/Natore_Rajbari1_(Palace).JPG
(,)http://www.hyderabadfirst.in/wp-content/uploads/2014/07/SheikMabuSahedMPOs16jul2014.jpg(,)http://www.hyderabadfirst.in/wp-content/uploads/2013/09/MangoHF22sept2013.jpg(,)http://img02.olx.in/images_olxin/788823_1_1000x700_open-plots-for-spot-registration-agiripalli-nuzvid-vijayawada.jpg(,)http://img02.olx.in/images_olxin/1018419_1_1000x700_dtcp-spot-registration-plots-agiripalli-and-nuzvid-vijayawada.jpg(,)http://upload.wikimedia.org/wikipedia/commons/c/ce/Dry_landscape_view_at_Gajapathinagaram.jpg(,)http://i.ytimg.com/vi/G4j2QSVnDwQ/0.jpg(,)http://i.ytimg.com/vi/kuWXbijN-Ys/0.jpg(,)http://i.ytimg.com/vi/7CME5G-keHA/0.jpg(,)http://i.ytimg.com/vi/Fw7zFgE4InQ/0.jpg(,)http://i.ytimg.com/vi/-9PpfBAtykw/0.jpg(,)http://i.ytimg.com/vi/Fhk_NRfj4fI/0.jpg(,)http://i.ytimg.com/vi/zPe8_iycbF0/0.jpg(,)http://hdwallpapers.cat/wallpaper_1280x800/rgukt_wallpaper_nuzvid_mar_apiiit_andhra_1280x800_hd-wallpaper-568733.jpg(,)http://i.ytimg.com/vi/zgHuV8b9Ofw/0.jpg(,)http://telugustop.com/wp-content/uploads/video-images/image_689213_iiit-nuzvid-students-protest-against-college-director-07-03-2015-telugu-photo-pic.jpg
(,)http://m.bookyourtable.com/wordpress/wp-content/uploads/2014/06/23bgm3monkeys1_1908558g.jpg(,)http://image.slidesharecdn.com/wedn-140331044233-phpapp02/95/wedn-cnt-ppt-15-638.jpg%3Fcb%3D1396259926(,)http://i.ytimg.com/vi/d5LHlKaFTT4/0.jpg(,)http://i.ytimg.com/vi/1cGJYEp68Pw/0.jpg(,)http://i.ytimg.com/vi/0lH502M3tts/maxresdefault.jpg(,)http://media-cache-ec0.pinimg.com/736x/0b/ba/9e/0bba9e20ebec81321328471145b441c7.jpg