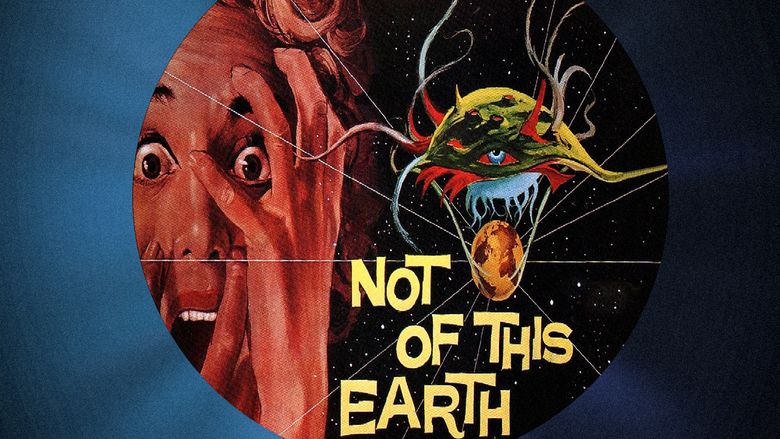 After a nuclear war, the people of the planet Davanna developed an incurable blood disease. One of its citizens is sent to Earth to examine the blood of the humans for its usefulness in curing Davanna's dying race. The intruder (Paul Birch) has adopted the name Mr. Johnson, conspicuous only for his oversensitive ears and his sunglasses, which he wears even in the dark. The sunglasses hide his blank, white-eyed stare which kills his victims by burning through their eyes and into their brains. He is answerable to an authority on Davanna with whom he can communicate through a device hidden behind a sliding panel in his house. His servant, Jeremy, provides him support and protection, but is unaware of his alien nature.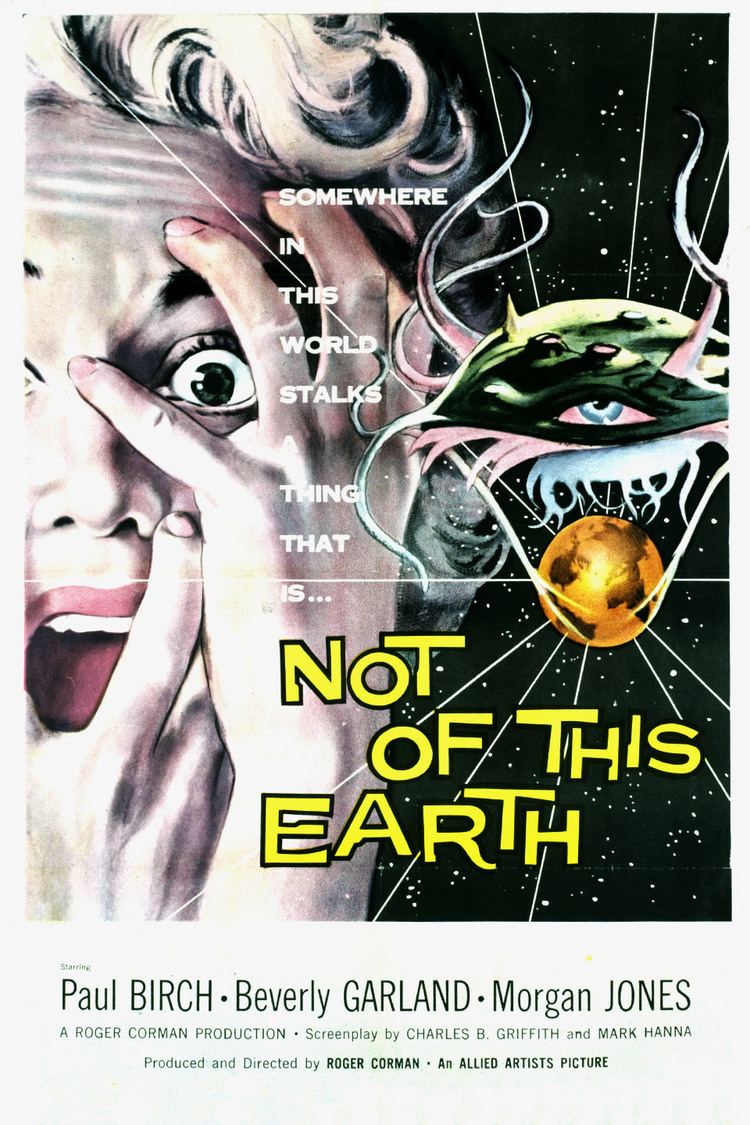 Johnson hires nurse Nadine (Beverly Garland) to look after him in his house. Her boss, town physician Dr. Rochelle (William Roerick), is under Johnson's hypnotic control after finding out about his patient's peculiar blood cell structure. With a limit on the number of transfusions he can be given, Johnson takes to murdering locals and draining them of blood. Among his victims are a teenage girl, a strolling Chinaman, a sleazy door-to-door vacuum cleaner salesman, and a trio of park-bench bums. The police are mystified by these "vampire killings".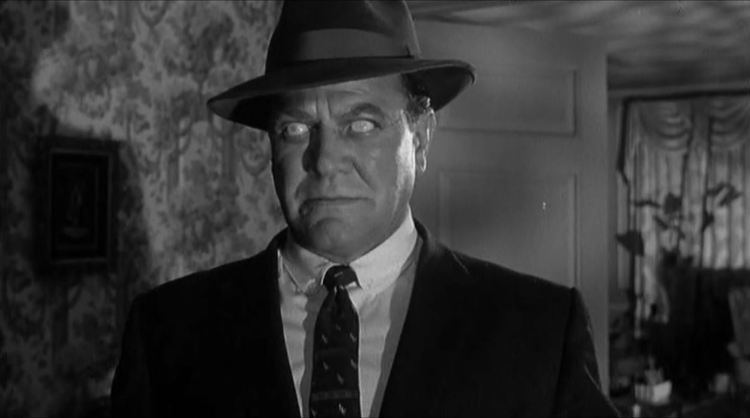 Johnson's plans are disturbed by the unexpected and sudden appearance of a woman from Davanna (Anna Lee Carroll). She asks him for an immediate transfusion, because her physical condition is rapidly deteriorating. Johnson then breaks into Rochelle's office, but by accident he steals blood contaminated by rabies. Later, the Davanna woman collapses in the street, dying at a hospital. Nadine's friend, police patrolman Harry Sherbourne (Morgan Jones), tries to question Dr. Rochelle about the dead woman, but he is unable to speak while under Johnson's mind control. As a precaution, now fearing discovery, Johnson sends a weird flying creature with umbrella tentacles to kill Rochelle, then eradicates Jeremy, who has discovered evidence of Johnson's murderous tendencies; but Nadine, whom he attempts to kidnap and take with him, manages to call the police as Johnson takes after her through the park in his car. Johnson abandons her and flees, pursued by the arriving Sherbourne on his motorcycle. When Sherbourne turns on his siren, Johnson, to whom the sound is immensely painful, loses control of his car and dies in a crash.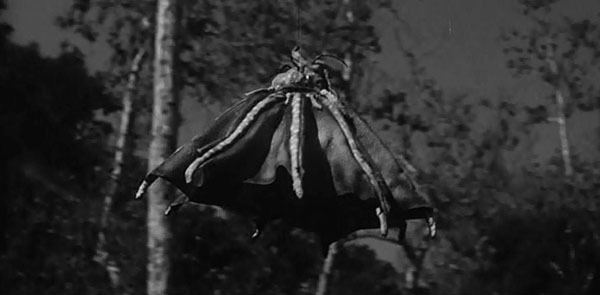 After Johnson's burial, Sherbourne and Nadine stand by his grave, which bears the inscription "Here lies a man who was not of this Earth". While Sherbourne expresses mild compassion for Johnson, for his driving force of the rescue of his planet and its dying populace, Nadine refuses to offer any kind of pity. They leave, just as a mysterious man, wearing dark sunglasses, approaches the grave site. Like Johnson, he wears the same sunglasses and carries the same distinctive case containing transfusion equipment.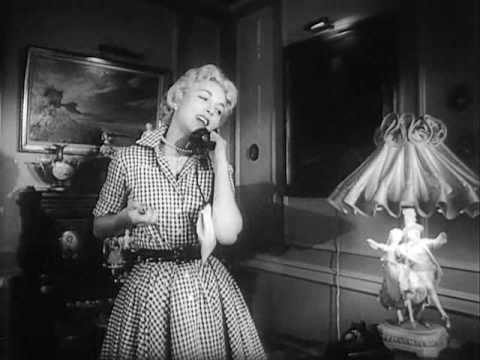 Not of This Earth was released in the U. S. on the bottom half of a double bill with Corman's Attack of the Crab Monsters. According to Tim Dirks, the film was one of a wave of "cheap teen movies" released for the drive-in market. They consisted of "exploitative, cheap fare created especially for them [teens] in a newly-established teen/drive-in genre."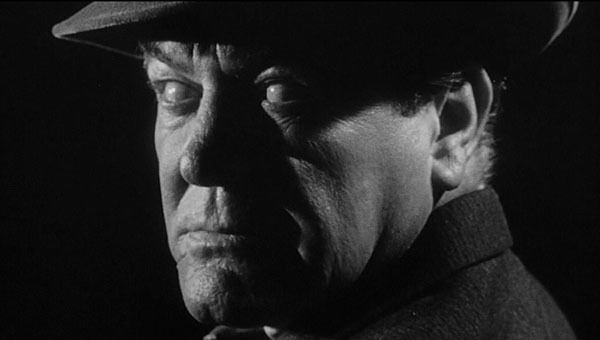 Griffith says the double bill of Not of this Earth and Crab made a 400% profit in the first week.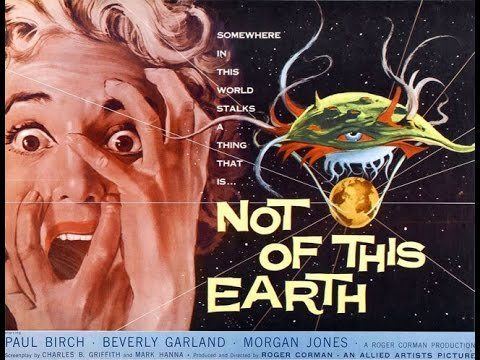 Some release prints of Not of This Earth run 71 minutes; these include duplicate scenes the film's distributor added into the film. Example: a dialogue between Johnson and a representative from Davanna, which appears as a pre-title sequence, is reused again some minutes in the film. This release version circulated in syndication on U. S. TV stations, 16 mm copies, and bootleg DVDs and videotapes.
Geoff Andrew in his Time Out review, noted that Not of This Earth: "Low budgets give little reason for regret when the often tacky effects are surrounded by so much imagination, good humour, and sheer joy in film-making as here. Not of This Earth is a minor sci-fi gem, with an alien (Birch; you can tell he's an ET by his briefcase and dark glasses, establishing him as infinitely superior to the moronic middle Americans on view) terrorising Earth (or a small backlot) in his quest for blood for the folks back home."
Michael Weldon in The Psychotronic Encyclopedia of Film called the film, "Corman's most enjoyable science fiction film."
The Aurum Film Encyclopedia – Science Fiction said Not of This Earth was "Marvellous."
In Lexikon des Science Fiction Films, the comment was "[…] although not necessarily first rank, [Not of This Earth] still belongs, bearing its low budget in mind, to the best science fiction films of the Fifties." – .
Not of This Earth (1988), directed by Jim Wynorski and starring Traci Lords.
Not of This Earth (1995), directed by Terence H. Winkless and starring Michael York.
Not of this Earth is available in the U.S. as a regular DVD, a part of the Roger Corman's Cult Classics Triple Feature DVD box set, and in the UK as a single DVD. Foreign DVD releases exist in Spain (as Emisario del otro mundo) and Germany (as Die Außerirdischen).