Nor the moon by night 1958
Nor the Moon by Night is a 1958 British drama film directed by Ken Annakin and starring Michael Craig. It was based on the novel by Joy Packer and filmed in the Kruger National Park South Africa. The title comes from a passage in the Bible; "The sun shall not smite thee by day, nor the moon by night." Psalm 121:6
Contents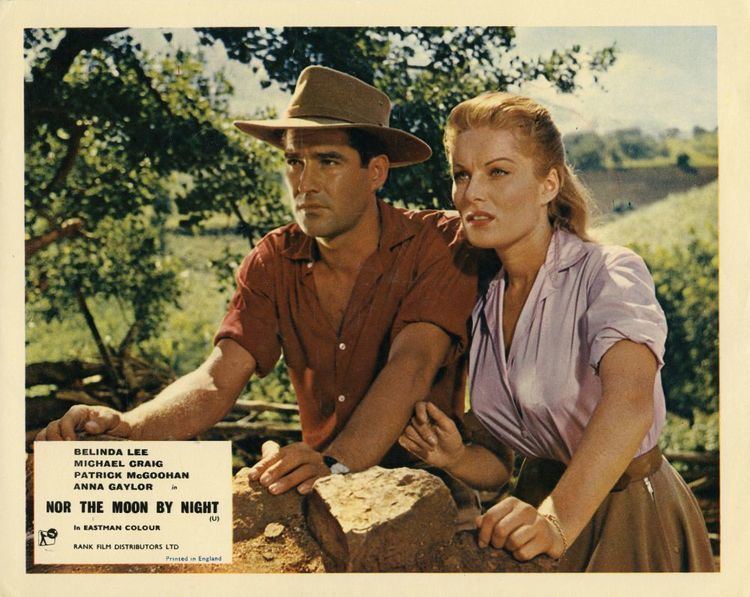 The film was released in the United States as Elephant Gun.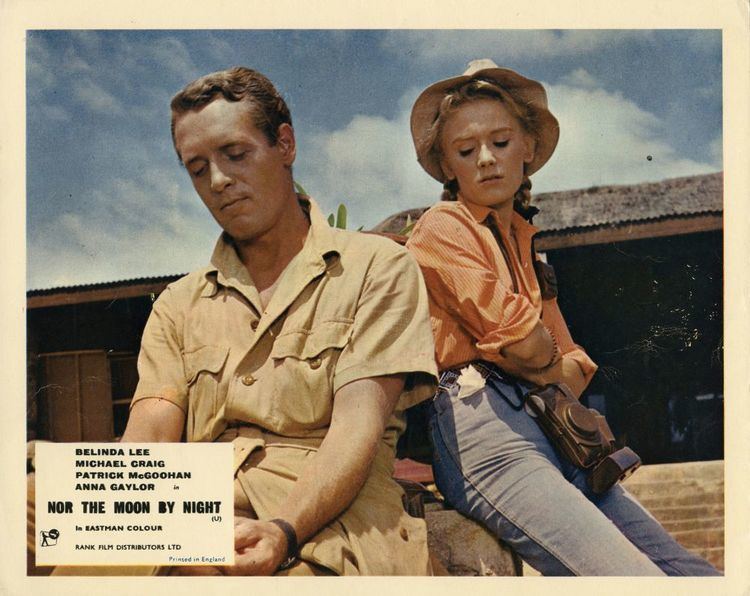 nor the moon by night out on dvd 03 08 2015
Plot summary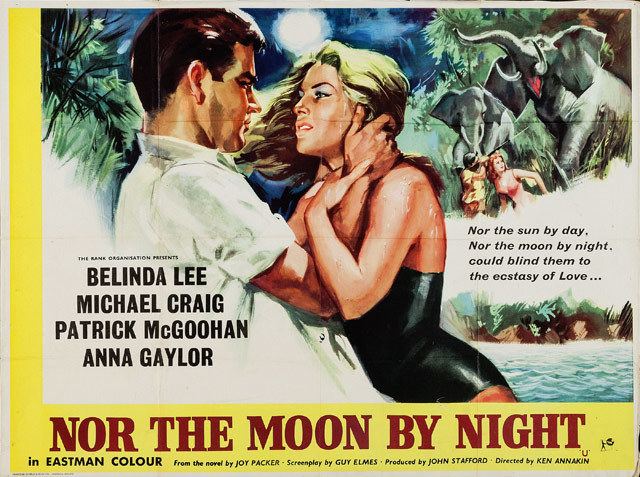 Two brothers, Rusty and Andrew Miller, are game wardens in Africa. Andrew's fiancee comes out from England and falls in love with Rusty.
Cast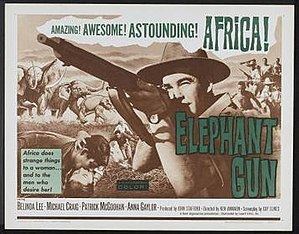 Belinda Lee ... Alice Lang
Michael Craig ... Rusty
Patrick McGoohan ... Andrew Miller
Anna Gaylor ... Thea Boryslawski
Eric Pohlmann ... Boryslawski
Pamela Stirling ... Mrs. Boryslawski
Lionel Ngakane ... Nimrod
Joan Brickhill ... Harriet Carver
Ben Heydenrych ... Sergeant Van Wyck
Alfred Kumalo ... Chief
Doreen Hlantie ... Oasis
Production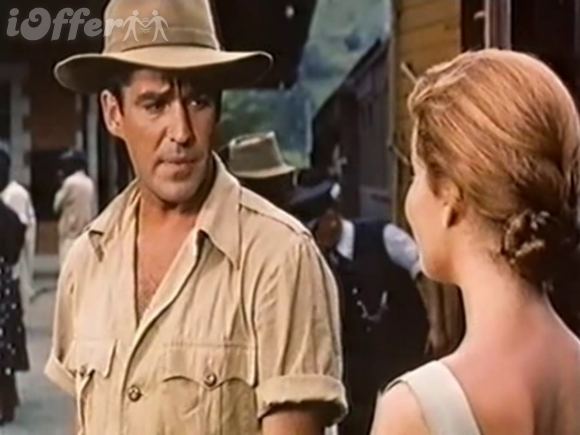 In the late 1950s, the Rank Organisation made a series of adventure movies in colour shot on location which were aimed at the international audience. These included Robbery Under Arms, Ferry to Hong Kong, Campbell's Kingdom and Nor the Moon by Night.
Joy Packer's novel was published in 1957. Film rights were bought by Sir John Davis of the Rank Film Organisation, in part because Davis' wife Dinah Sheridan was a fan of the novel.
The film was directed by Ken Annakin. He says he did not really want to do the job, the film he really wanted to make being The Singer Not the Song, but agreed because it gave him the chance to see South Africa.
Filming began in late 1957 on location in South Africa. The unit was based at Cato Ridge.
Production was plagued by a number of difficulties. Belinda Lee left the production during shooting to see her married lover in Italy who had been threatening to commit suicide; they both tried to commit suicide. Patrick McGoohan was concussed after crashing his car. Anna Gaylor fell ill with dysentery.
Director Ken Annakin had a number of issues with the crew; he later wrote that the electricians sabotaged director of photography Peter Hennessey's rushes with incorrect light filters and forcing him to be replaced by Harry Waxman. The cast and crew consistently fell sick, with snake and spider bites, heat exhaustion, dysentery, rheumatism and chest complaints the chief cause.
Lee returned from Italy on 2 February 1958 to recommence filming. She did not go through customs and immigration, causing questions to be asked in South African Parliament. One of the cheetahs used in filming savaged its trainer. A bush fire got out of control. Michael Craig had an affair with Belinda Lee's stand in and almost drowned crossing a river.
At one point, Michael Craig was the only one of the four leads available at work. He later quipped "I'm left alone for three weeks with a film crew and a lot of monkeys." Annakin said "one day there was only me and a snake available to work." However Annakin did meet his future wife Pauline during filming.
The unit returned to London in March 1958 where some additional scenes were shot including a new ending.
The movie was completed over budget and behind schedule. Rank terminated Lee's contract and she never worked for the studio again. Annakin had The Singer Not the Song taken off him and given to Roy Ward Baker.
Reception
The film managed to recoup its costs in Europe and made a profit after its release in the United States.
Annakin later said "the picture was a mediocre hotch potch."
References
Nor the Moon by Night Wikipedia
(Text) CC BY-SA
Nor the Moon by Night IMDb