Nobody's Perfect is a naval comedy film about the fictional USS Bustard and the antics of her crew. It is based on the novel The Crows of Edwina Hill, written by author of western novels and former Navy man Allan R. Bosworth.
Contents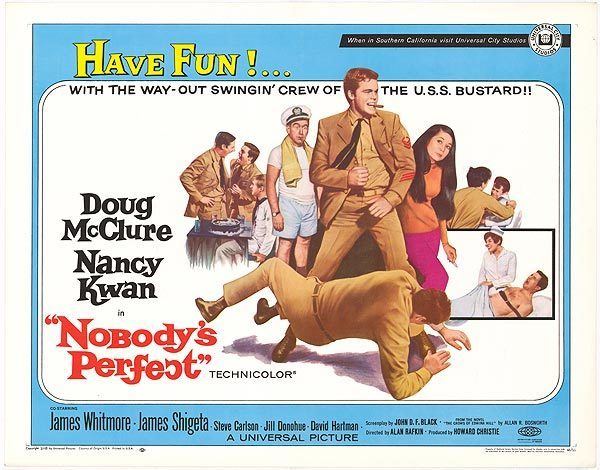 Synopsis
A US Navy submarine rescue ship's crew has taken a Buddha statue from a Japanese village as souvenir. If the theft is discovered, it would threaten Japanese/American relations. The protagonist is one of the ship's chief petty officers who tries to stay out of trouble with his tough captain, return the statue and woo a US Navy Nurse of Japanese-American descent.
Detail
This military service comedy chronicles the misadventures of the fictional US Navy submarine rescue vessel, USS Bustard, forward deployed/homeported in Japan. Junior members of the Bustard's crew have stolen a Buddha statue from a rural Japanese village, which if discovered missing would threaten Japanese/American relations. Doc Willoughby (McClure), a Chief Petty Officer, is the ship's Independent Duty Medical Corpsman, whose antics are constantly getting him into trouble with his ship's captain (Whitmore). While on liberty ashore, Willoughby falls for a seemingly demure Japanese girl in a kimono shop, who actually turns out to be a US Navy Nurse Corps officer of Japanese-American descent, Lieutenant Tomiko Momoyama (Kwan). However, it turns out she was betrothed as a child to a traditional Japanese man named Toshi (Shigeta), who fully intends on enforcing tradition. Willoughby divides his time between trying to return the Buddha statue back to the Japanese village it rightfully belongs to, and trying to woo Tomiko from the traditional Japanese man she rightfully belongs to.
Cast
Doug McClure - HMC "Doc" Willoughby, USN
Nancy Kwan - LT Tomiko Momoyama, NC, USN
James Whitmore - LCDR Mike Riley, USN, Commanding Officer of USS Bustard
James Shigeta - Toshi O'Hara
Steve Carlson - Johnny Crane
Jill Donohue - Marci Adler
David Hartman - Boats McCafferty
Gary Vinson - Walt Purdy
George Furth - Hamner
Keye Luke - Gondai-San
References
Nobody's Perfect (1968 film) Wikipedia
(Text) CC BY-SA
Nobodys Perfect (1968 film) IMDb
Nobodys Perfect (1968 film) themoviedb.org