6.6

/

10

Alchetron

6.6

Rate This





Genre

Crime, Drama, Thriller




Release date

January 7, 2011 (India)




Release date

7 January 2011 (2011-01-07)

Based on

Murder of Jessica Lal incident

Writer

Amitabh Bhattacharya (lyrics), Raj Kumar Gupta (story)

Songs

Dilli




Cast

Rani Mukerji

(Meera),

Vidya Balan

(Sabrina),

Myra Karn

(Jessica Lall),

Neil Bhoopalam

(Vikram Jai Singh)




Similar

Mardaani, The Dirty Picture, Talaash: The Answer Lies Within
No one killed jessica i official trailer 2011 i rani mukherjee i vidya balan
Tending bar at an elite event in Delhi, India, Jessica (Myra Karn) refuses to serve three men after last call. One of the men, Manish (Mohammed Zeeshan Ayub), whos the son of a big-time politician, shoots her in the head in response. There are dozens of eyewitnesses, but as Jessicas sister, Sabrina (Vidya Balan), discovers, they are either conveniently forgetful or willing to sell their testimony to the highest bidder, leaving an open-and-shut case hostage to greed and political influence.
Contents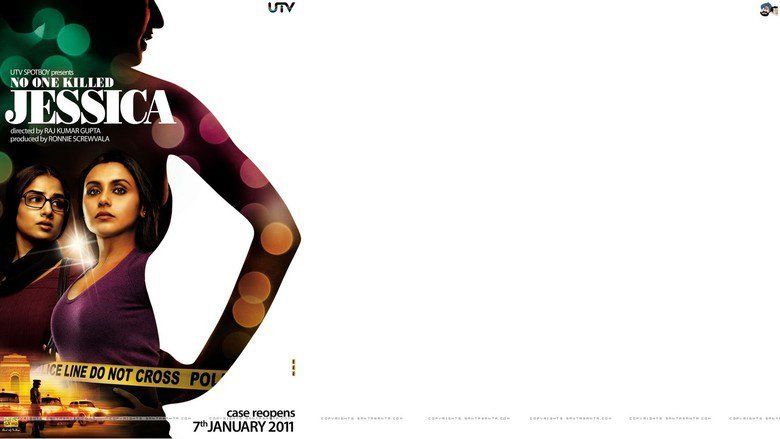 No One Killed Jessica (Hindi: ) is a 2011 Indian drama thriller film starring Rani Mukerji and Vidya Balan, produced by UTV Spotboy and directed by Rajkumar Gupta, who also directed the acclaimed film Aamir (2008). This film is based on the Jessica Lal murder case.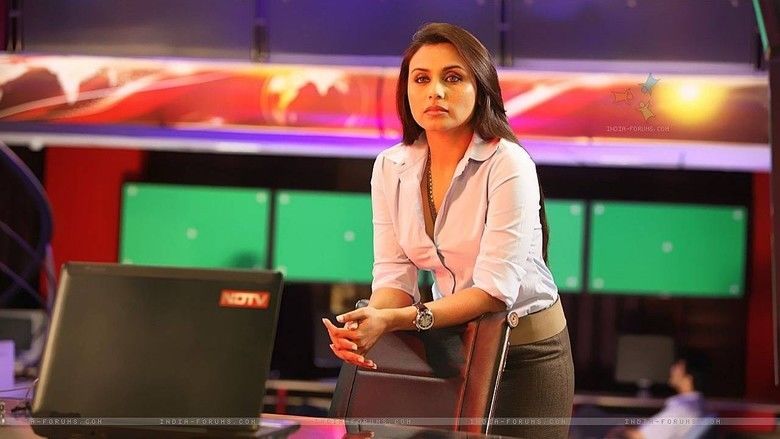 The score was composed by Amit Trivedi, who worked on the soundtrack for Dev D (2009). The character of Jessica's older sister, Sabrina Lal, is played by Vidya Balan, and the character of the news reporter following the story is played by Rani Mukerji. Upon release, the film garnered positive critical reviews and enjoyed a successful outing at the box office.
No One Killed Jessica received four nominations at the 57th Filmfare Awards, including the Filmfare Award for Best Film and the Filmfare Award for Best Actress; it won the Filmfare Award for Best Supporting Actress for Rani Mukerjis performance.
A reporter teams up with the sister of a murdered model in order to bring her case justice.
No one killed jessica trailer with english subtitles
Cast
Rani Mukerji – Meera Gaity
Vidya Balan – Sabrina Lall
Myra Karn – Jessica Lall
Neil Bhoopalam – Vikram Jai Singh
Rajesh Sharma – N. K. (police officer investigating the case)
Shireesh Sharma – Pramod Bharadwaj
Mohammed Zeeshan Ayyub – Manish Bharadwaj
Ashu Sharma – Lucky Gill
Bubbles Sabharwal – Mallika Sehgal
Samara Chopra – Naina Sehgal
Yogendra Tikku – Sanjit Lall (Jessicas father)
Geeta Sudan – June Lall (Jessicas mother)
Satyadeep Mishra – Meeras boss
Anuj Tikku – The man in plane with Meera
Sushil Dahiya – R.D.Rastogi
Jagat Rawat - Dharam Saxena
Avijit Dutt - B.M.Pandit
Production
The film, set in New Delhi, was inspired by the true story of the controversial Jessica Lal murder case. The director explained that the title was inspired by a 2006 headline of a news story that ran when the accused killer in an infamous murder case was acquitted by a trial court. The events and the subsequent media coverage sparked nationwide protests, resulting in an appeal and re-opening of the murder case and the subsequent sentencing of the killer.
Themes
No One Killed Jessica is based on the true story of Jessica Lal, a Delhi-based model and restaurant worker who was shot in 1999 at a New Delhi restaurant by Siddharth Vashisht, better known as Manu Sharma. The killer was the son of the wealthy, influential and intimidating Haryana politician, Venod Sharma, a close aide of the chief minister of Haryana, Bhupinder Singh Hooda.
Jessica, along with actor and model Shayan Munshi, were closing the bar at the restaurant where they worked. They were approached by Manu and his two friends. Infuriated by Jessicas refusal to serve them drinks after the bar closed, Manu fatally shot Jessica. The subsequent investigation and trial were stymied by Manus family, who did not hesitate to use their political, financial, and law enforcement connections to intimidate, coerce, and bribe the majority of the witnesses to the crime. The case then became an uneven battle between Jessica's family (especially her sister Sabrina) and Manus high-powered family and their associates in the local government.
In February 2006, the court acquitted Manu and his friends, citing a lack of sufficient evidence. This set off a public outcry and widespread protests. The backlash forced the re-opening of the investigation, which was placed on a judicial fast track. In December 2006, Manu was found guilty and sentenced to life imprisonment.
Release
The film was released on 7 January 2011. It received positive reviews from critics and was also well received by the viewing public. No One Killed Jessica recovered its cost even before release through associated satellite and music rights.
Critical response
No One Killed Jessica received mostly positive reviews from critics. Nikhat Kazmi of the Times of India gave four out of five stars, stating, "No One Killed Jessica is a film that unleashes a myriad emotions in you. The hard facts of modern Indias most written about case are well known by almost everybody but the director Rajkumar Guptas (hed already displayed his talent in Aamir) dramatic handling of the crime, the criminals, the crusaders and the victim creates a storm, once again." Taran Adarsh of Bollywood Hungama also gave four out of five stars, describing it as "a remarkable blend of facts and fiction inspired by a series of real-life episodes, which has thankfully not been presented as a tedious biography or in a mind-numbing docu-drama format." Anupama Chopra of NDTV gave the film three out of five starts, writing: "No One Killed Jessica is several notches ahead of the tripe we've been subjected to in theatres lately." Rajeev Masand of CNN-IBN gave it two and a half out of five stars and wrote, "With the exception of a few powerful scenes that leave you with a genuine lump in your throat, Gupta goes for full-on melodrama that doesnt always ring true." Mayank Shekhar of the Hindustan Times gave it three out of five stars, noting: "Can a feature film, in a couple of hours flat, ever detail an entire truth about anything? Possibly not. But it can entertainingly dramatise it. That's what the fine director-writer and a consummate raconteur here (Rajkumar Gupta) manages to do."
Bollywood actor Amitabh Bachchan described No One Killed Jessica as a "pertinent, media friendly and brave effort by the makers. The performances living up to the title and story of the film."
Awards
Filmfare Awards
Best Supporting Actor (Female) - Rani Mukerji
BIG Star Entertainment Awards
Most Entertaining Social Film
Best Actress in a Social Role – Rani Mukerji
Dadasaheb Phalke Academy Awards
Outstanding Performance Award – Rani Mukerji
Anandalok Purushkar
Best Female Actor of Bollywood – Rani Mukerji
Apsara Awards
Best Editing
Soundtrack
The films score was composed by Amit Trivedi, who also worked with Gupta on Aamir. The lyrics were written by Amitabh Bhattacharya. The album received generally positive reviews from critics.
Songs
Dilli (3:51)
Aali Re (4:54)
Yeh Pal (6:00)
Aitbaar (4:40)
Dua (5:56)
Dilli (Hardcore) (3:50)
Controversy
During the filming of scenes in Delhi, the building for the University School of Information Technology, one of the 12 on-campus schools of Guru Gobind Singh Indraprastha University, had its facade dressed up to look like the Patiala House District Court. In the middle of filming, the universitys vice chancellor, Dilip Bandopadhyay, was prevented from entering his own campus. Bandopadhyay argued with bouncers, on guard outside the main gate, to let him enter while the cameras rolled, allegedly without his permission. As a result, the university terminated the contract of a faculty member accused of organising the film shoot on campus.
References
No One Killed Jessica Wikipedia
(Text) CC BY-SA
No One Killed Jessica IMDb
No One Killed Jessica Rotten Tomatoes
No One Killed Jessica themoviedb.org