Ninja Sentai Kakuranger (忍者戦隊カクレンジャー, Ninja Sentai Kakurenjā) is a Japanese tokusatsu television series. It was Toei Company Limited's eighteenth production of the Super Sentai television series. The name given to this series by Toei for international distribution is Ninja Rangers.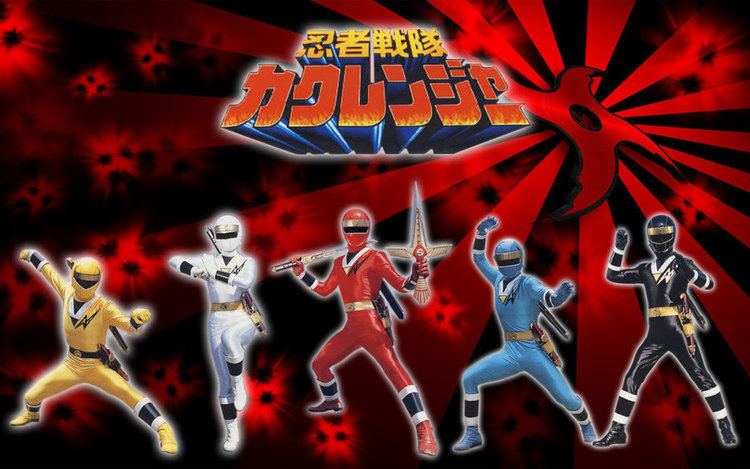 Action footage from the series was used in the third season of Mighty Morphin Power Rangers and Mighty Morphin Alien Rangers. In January 2016, Shout! Factory announced that they would release "Ninja Sentai Kakuranger: The Complete Series" on DVD in North America. Kakuranger was released on DVD in North America on May 17, 2016. This is the third Super Sentai Series to be released in North America.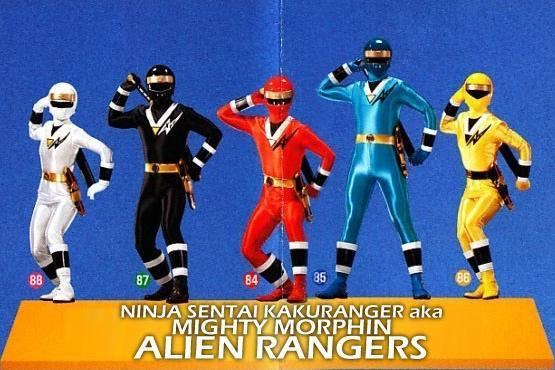 Four hundred years ago, the ninja and the Youkai had a great war. The legendary Sarutobi Sasuke and four other ninjas sealed the Youkai Commander Nurarihyon and all his Youkai's energies away in a cave protected by the "Seal Door". In the present, one of the few remaining Youkai, Kappa, tricks Sarutobi Sasuke and Kirigakure Saizo's descendants, Saizou and Sasuke, into releasing the Youkai by opening the "Seal Door". Now these two, joined by three other descendants of great ninjas, become the Kakuranger to fight the reinvigorated Youkai with the aid of the Sanshinshou. However, the Kakurangers have their work cut out for them as the Youkai are slowly being united under one banner.
Each member is named after a legendary ninja and master of the Hidden Style Ninjutsu (Kakureryū Ninjutsu).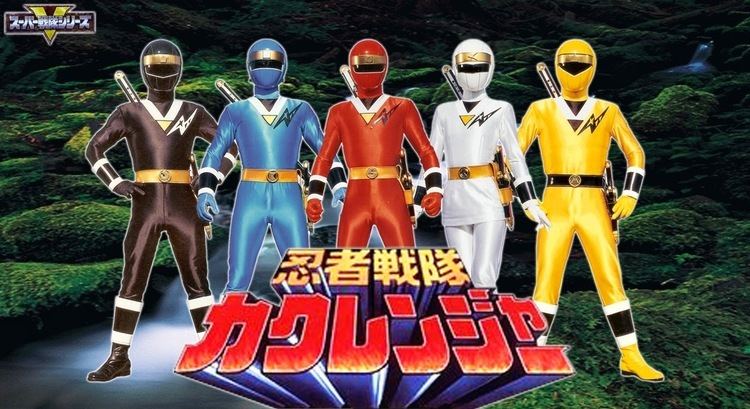 Sasuke/Ninja Red (

サスケ/ニンジャレッド

,

Sasuke/Ninja Reddo)
26 years old, descendant of Sarutobi Sasuke.
Tsuruhime/Ninja White (

鶴姫/ニンジャホワイト

,

Tsuruhime/Ninja Howaito)
15 years old (16 during Part II of the series), the twenty fourth protector of the Seal Door and the first female leader of a Sentai.
Saizou/Ninja Blue (

サイゾウ/ニンジャブルー

,

Saizō/Ninja Burū)
22 years old, descendant of Kirigakure Saizo.
Seikai/Ninja Yellow (

セイカイ/ニンジャイエロー

,

Seikai/Ninja Ierō)
24 years old, descendant of Miyoshi Seikai.
Jiraiya/Ninja Black (

ジライヤ/ニンジャブラック

,

Jiraiya/Ninja Burakku)
20 years old, descendant of Jiraiya.
Ninjaman (

ニンジャマン

,

Ninjaman, 36-50, 52 & 53)
The pupil of the Sanshinshou, who was trapped within a blue pot as punishment a millennium ago for allowing himself to be fooled by Daimaou to attack the humans.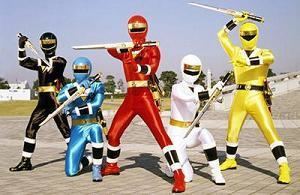 The Youkai Army Corps (妖怪軍団, Yōkai Gundan, Apparition Army Corps) were sealed away 400 years ago by the Kakurangers' ancestors and have now changed their forms in order to keep up with the times. Most Youkai have a human form and use the Ninja Arts themselves. When defeated, they summon lightning made of human despair and misery to strike them, causing them to grow into giants.
The movie version of Ninja Sentai Kakuranger, directed by Shōhei Tōjō and written by Noboru Sugimura, premiered in Japan on April 16, 1994, at Toei Super Hero Fair '94. It was originally shown as a triple feature alongside Kamen Rider J and the feature film version of Blue SWAT. The villains in the movie consisted of the One-Eyed Brothers and Ōnyūdō. The movie was filmed between Episodes 7 and 8, but is actually set between episodes 8 and 9.
The Kakuranger team was the main focus in the 1994 3D featurette Super Sentai World, which features them teaming up with the four previous Super Sentai teams (Fiveman, Jetman, Zyuranger, and Dairanger).
A second crossover film was released in the form of Chōriki Sentai Ohranger: Olé vs. Kakuranger (超力戦隊オーレンジャー オーレVSカクレンジャー), a 1996 direct-to-video movie which features the Kakurangers working together with the Ohrangers to defeat a common adversary.
Sasuke (

サスケ

,

Sasuke): Teruaki Ogawa (

小川 輝晃

,

Ogawa Teruaki)
Tsuruhime (

鶴姫

,

Tsuruhime): Satomi Hirose (

広瀬 仁美

,

Hirose Satomi)
Saizou (

サイゾウ

,

Saizō): Hiroshi Tsuchida (

土田 大

,

Tsuchida Hiroshi)
Seikai (

セイカイ

,

Seikai): Shu Kawai (

河合 秀

,

Kawai Shū)
Jiraiya (

ジライヤ

,

Jiraiya): Kane Kosugi (

ケイン・コスギ

,

Kein Kosugi)
Ninjaman (

ニンジャマン

,

Ninjaman, voice): Kazuki Yao (

矢尾 一樹

,

Yao Kazuki)
Sandayu Momochi (

百地三太夫

,

Momochi Sandayū): Akira Sakamoto
Taro (

太郎

,

Tarō): Daisuke Tsuchiya
Jiro (

次郎

,

Jirō): Keisuke Tsuchiya
Junior: Kenichi Endo (

遠藤 憲一

,

Endō Ken'ichi)
Daimaou (

大魔王

,

Daimaō, voice): Hidekatsu Shibata (

柴田 秀勝

,

Shibata Hidekatsu)
Ninja Gattai Muteki Shogun (

忍者合体無敵将軍

,

Ninja Gattai Muteki Shōgun, voice): Tomoyuki Horita (

堀田 智之

,

Horita Tomoyuki)
Goshin Gattai Kakure Daishogun (

五神合体隠大将軍

,

Goshin Gattai Kakure Daishōgun, voice), Seinin Beast Tsubasamaru (

聖忍獣ツバサマル

,

Seininjū Tsubasamaru, voice): Dai Matsumoto (

松本 大

,

Matsumoto Dai)
Kōshakushi (

講釈師

): Sanyūtei Enjō (

三遊亭 圓丈

)
Opening theme
"Secret Kakuranger" (

シークレット カクレンジャー

,

Shikuretto Kakurenjā)
Lyrics: Hanadaiko Fuyumori (

冬杜 花代子

,

Fuyumori Hanadaiko)
Composition: Takashi Tsushimi (

都志見 隆

,

Tsushimi Takeshi)
Arrangement: Kenji Yamamoto
Artist: Tu Chee Chen (

トゥー・チー・チェン

,

Tū Chī Chen)
Takashi Tsushimi performed under the name "Tu Chee Chen", which is the Japanese approximation of his surname as read in Mandarin Chinese: Dōu Zhì Jiàn.
Ending theme
"Ninja Skyscraper Kids" (

ニンジャ!摩天楼キッズ

,

Ninja! Mantenrō Kizzu)
Lyrics: Hanadaiko Fuyamori
Composition: Takeshi Tsushimi
Arrangement: Kenji Yamamoto
Artist: Tu Chee Chen