Wild teenage girls (Mimi Kinkade, Linnea Quigley) hold a Halloween seance in an old funeral parlor to scare their friends.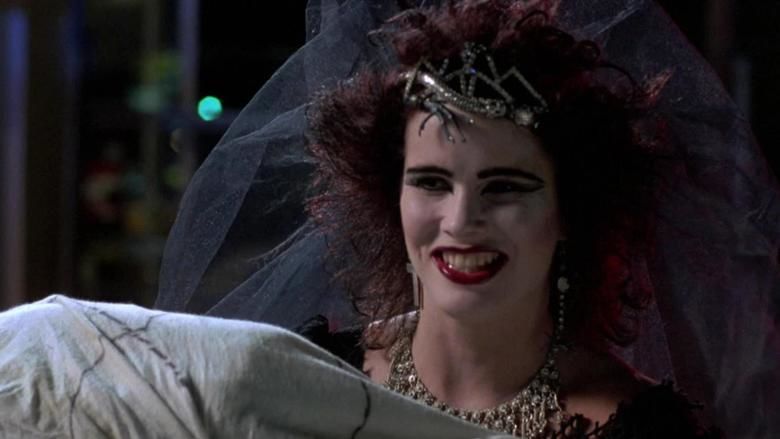 Night of the Demons (also known as: Halloween Party) is a 1988 American supernatural horror film written and produced by Joe Augustyn and directed by Kevin S. Tenney. The film tells the story of ten high school seniors having a Halloween party in an isolated mortuary. Their party turns into a nightmare when after conducting a seance as a party game, they unlock the demon that was locked in the crematorium. Filming of Night of the Demons took place in South Central Los Angeles, California, USA, and lasted for two months. Anchor Bay Entertainment released it to DVD in 2004; Scream Factory (under license from current rights holder MGM) released a Blu-ray/DVD combo pack collectors edition on February 4, 2014.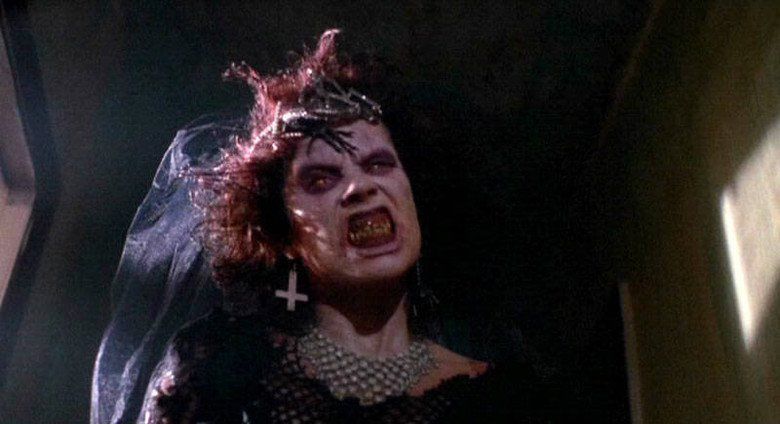 The film was followed by the sequels Night of the Demons 2 (1994) and Night of the Demons 3 (1997), along with a remake in 2009.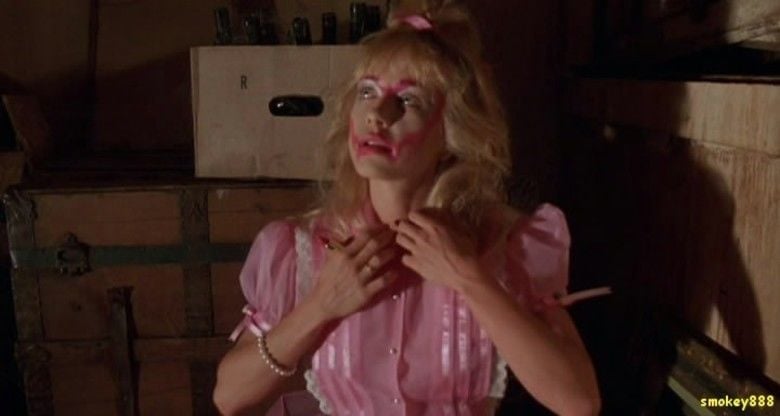 While conducting a seance during a Halloween party, high-school seniors unlock the demon that remains locked in the crematorium.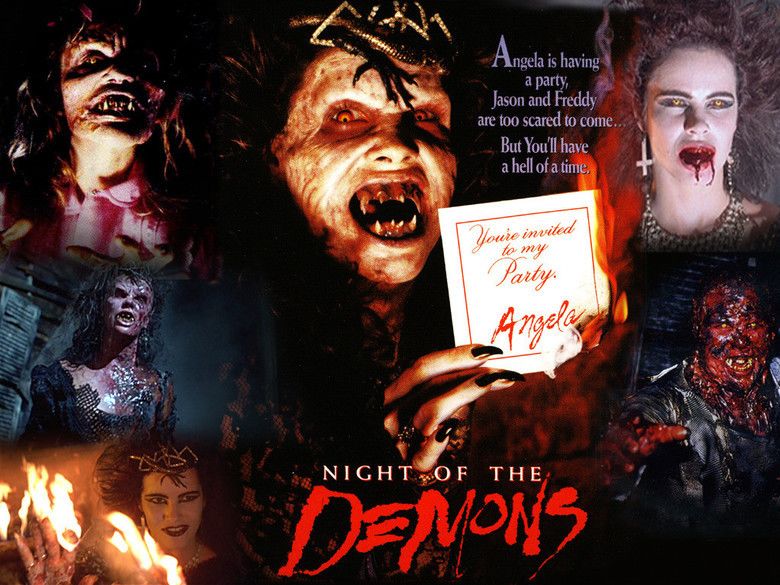 Stooge, Helen, and Roger are driving to a party thrown by outcast Angela Franklin and her friend Suzanne at Hull House, an abandoned local mortuary. The car passes by an elderly man who is carrying apples and razor blades.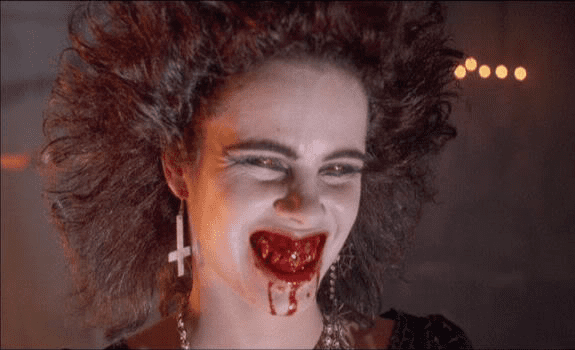 Judy and her boyfriend Jay are picked up by Max and Frannie for the party. Sal Romero, another teen also comes and crashes the party. The house is rumored to be cursed with evil spirits. When Angela holds a seance as a party game, Helen sees a demons face in the mirror, which causes the mirror to shatter. This prompts a demon to come out of the crematorium furnace and possess Suzanne. Helen and Roger want to leave and so are given Angelas car keys.
The possessed Suzanne kisses Angela, passing the demon to her. Judy discovers that Jay only invited her to the party to have sex with her. She refuses him and is abandoned by him. Roger and Helen are unable to find an exit. Helen leaves Roger in the car, after which she is killed by a demon. Stooge wanders off to find a bathroom with Suzanne and is irritated when she locks him out. Inside the bathroom Suzanne ages and disappears into a mirror. Confused, Stooge goes to find Angela and is promptly killed by her. The party goers are then picked off one by one by the increasing number of demon possessed people, Jay dies during a sexual encounter with Suzanne and then Max and Frannie are killed by a now-possessed Stooge.
Roger, Sal and Judy attempt to escape the demons after being chased by them throughout the house. When Judy is climbing down the roof, Angela tries to get her but Sal struggles with her and both fall and Sal is killed after landing on a spike. Judy and Roger end up in the mortuarys crematorium where they discover that the demons will go back to Hell when the night is over and then use fire to keep the demons at bay. The two attempt to escape and are instead chased by various demons throughout the house again. They manage to make it out of the house and climb the wall using the barbed wire, Judy is almost caught by the demons but is then saved by Roger just in time to see the sun rise and banish the demons back to Hell.
Roger and Judy slowly walk home in a state of shock, passing by the elderly man from the first scene. The elderly man goes into his house and begins to eat one of his wifes homemade apple pies that she made with the apples into which he had stuck razor blades. The razor blades cut through his throat as they kill him. The woman kisses his head and says "Happy Halloween dear."
Cathy Podewell as Judy Cassidy
Amelia Kinkade (credited as Mimi Kinkade) as Angela Franklin
Linnea Quigley as Suzanne
Alvin Alexis as Roger
Allison Barron as Helen
Lance Fenton as Jay Jansen
William Gallo as Sal Romero
Hal Havins as Stooge
Philip Tanzini as Max
Jill Terashita as Frannie
Bauhaus – "Stigmata Martyr"
Dennis Michael Tenney – "Main Title Theme"
Dennis Michael Tenney, Steve Ring, and Tim Wojan – "Computer Date"
Dennis Michael Tenney, Steve Ring, Rich Lowe, Paul Ojeda, and Bobby Thompson – "The Beast Inside"
Dennis Michael Tenney, Steve Ring, Rich Lowe, Paul Ojeda, and Bobby Thompson – "Victims of the Press"
Initial critical reception to the film was predominantly negative, with the Washington Post criticizing the film as "a convergence of stereotypes ... and cliches". The New York Times reported that "the cleverest thing about Night of the Demons is its advertising campaign" and that it "is stupid; it is sexist; at 89 minutes it feels unforgivably long".
Later reviews have been more positive, with Cinematical writing that "while not particularly original, Tenneys film is definitely entertaining if youre into the whole teens wander into an isolated locale and die horrible deaths subgenre of horror". HorrorNews.net called Night of the Demons one of the 80's great legacies in horror". DVD Talk praised the films 2004 DVD release, but stated that the director and producer commentary was "seemingly stodgy". Dread Central stated, "Its fun. Lively. A masterpiece, its not." Bloody Disgusting praised the movies DVD release, calling it "the perfect DVD for all fans of this lost era: "The Eighties Horror Film"."
Night of the Demons and Night of the Demons 2 are part of the same movie series. Night of the Demons and Night of the Demons 3 are part of the same movie series. The Pumpkin Karver (2006). Halloween (1978). Idle Hands (1999).
Night of the Demons spawned two sequels. The original film was first succeeded by Night of the Demons 2 (1994), also written by Joe Augustyn (co-storied by James Penzi) but directed by Brian Trenchard-Smith. Night of the Demons 3 was less well received by the critics, as they felt it had moved away from the terror of the original for the sake of dark humor. A remake of the movie was also released in 2009. This movie has attempted a Kickstarter campaign to produce its own sequel, but this has been unsuccessful.