India




Telugu




Andhra Pradesh




West Godavari



Nidadavolu is a municipal town in Nidadavolu mandal, located in West Godavari district of the Indian state of Andhra Pradesh. A major canal from River Godavari passes through the town.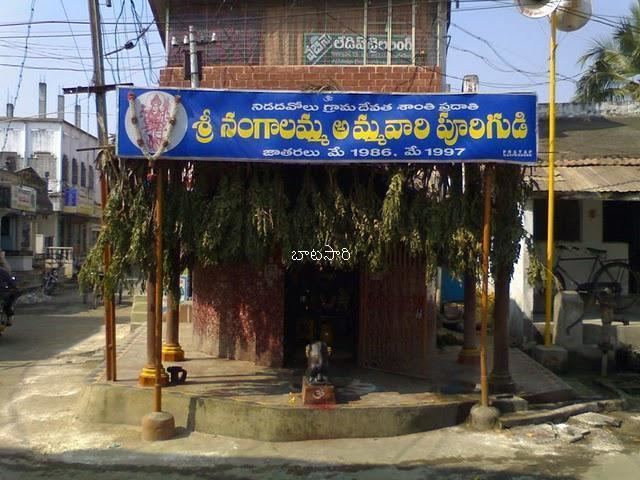 Nidadavolu was a fort surrounded by water bodies (Jaladurgam) of Eastern Chalukyan kings. Chalukya Bhima, the builder of Draksharama Bhimeswara temple won this land from Rastrakutas, the then ruling dynasty. Veerabhadra Chalukya married Rani Rudrama Devi, a prominent ruler and warrior princess of Kakatiya dynasty. It had 108 Siva temples, many of them were totally destroyed by Muhammad bin Tughluq in 1323. Even today, one can find the remains of the destroyed sculptures. A Nandi statue belonging to the 13th century placed in Sri Golingeswara temple was discovered recently.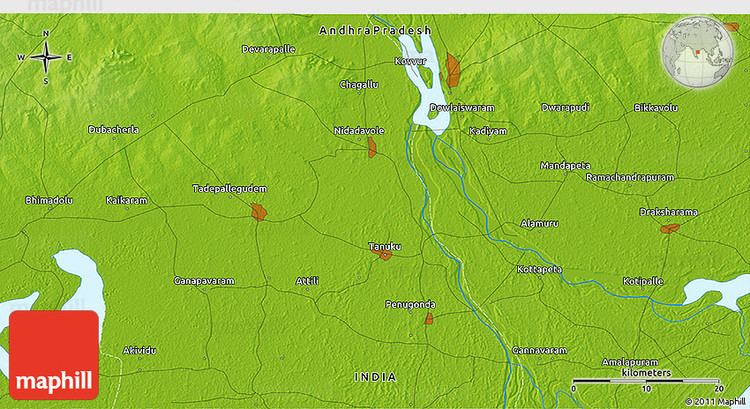 Nidadavolu is a mandal, assembly constituency and a main railway junction in West Godavari District of Andhra Pradesh, India. Borders consist of East Godavari to the east, Devarapalli Mandal to the west, Tadepalligudem mandal and Peravali mandal to the south and Chagallu Mandal to the north.
Agriculture is the major occupation with many Paddy and Sugarcane fields. Many crops and vegetables grow in these region and water resource for irrigation is abundant from the major canals of Godavari.
Nidadavole Wikipedia
(,)http://upload.wikimedia.org/wikipedia/commons/5/5f/NangalammaGudi-nidadavole.JPG(,)http://upload.wikimedia.org/wikipedia/commons/d/d4/GaneshChowk-nidadavole.JPG(,)http://www.thehindu.com/multimedia/dynamic/01261/HY07KIRNA_1261125f.jpg(,)https://en.wiki2.org/wikipedia/commons/thumb/c/c0/ChinnaKaasiRevu-nidadavole.JPG/im264-ChinnaKaasiRevu-nidadavole.JPG(,)http://www.hoparoundindia.com/cityimages/andhra-pradesh/bigimages/Nidadavole-Temples%2520in%2520Nidadavole-1.JPG(,)https://mw2.google.com/mw-panoramio/photos/medium/59542634.jpg(,)http://upload.wikimedia.org/wikipedia/commons/8/8d/Landscape_view_at_Nidadavole_in_West_Godavari.jpg(,)http://mw2.google.com/mw-panoramio/photos/medium/17731517.jpg
(,)http://maps.maphill.com/atlas/16n45-81e40/3d-maps/physical-map/physical-3d-map-of-16n45-81e40.jpg(,)http://farm8.static.flickr.com/7422/16214487190_e8290da953_m.jpg(,)http://farm8.static.flickr.com/7466/16156294156_250cd6c401_m.jpg(,)http://mw2.google.com/mw-panoramio/photos/medium/3782391.jpg(,)http://mw2.google.com/mw-panoramio/photos/medium/57251432.jpg(,)http://mw2.google.com/mw-panoramio/photos/medium/62938784.jpg(,)http://mw2.google.com/mw-panoramio/photos/medium/62938587.jpg(,)http://mw2.google.com/mw-panoramio/photos/medium/62938748.jpg(,)http://mw2.google.com/mw-panoramio/photos/medium/64536993.jpg(,)http://i.ytimg.com/vi/9T1SSAJVpmo/0.jpg
(,)http://rotaryclubofnidadavolecentraloldagehome.com/wp-content/uploads/2013/09/members_people.jpg(,)http://www.hoparoundindia.com/cityimages/andhra-pradesh/bigimages/Nidadavole-Temples%2520in%2520Nidadavole-4.JPG(,)https://fbexternal-a.akamaihd.net/safe_image.php%3Fd%3DAQBGZjkP4-VdcDRe%26w%3D640%26h%3D480%26url%3Dhttp%253A%252F%252Fupload.wikimedia.org%252Fwikipedia%252Fcommons%252F7%252F70%252FGolingeswaralayam-nidadavole.JPG(,)http://img04.olx.in/images_olxin/68260485_3_1000x700_doves-and-rabbit-house-nidadavole-pet-food-accessories.jpg(,)http://mw2.google.com/mw-panoramio/photos/medium/17731609.jpg