Nicholas "Nickie" Quaid (born 12 June 1989) is an Irish hurler who plays as a goalkeeper for the Limerick senior team.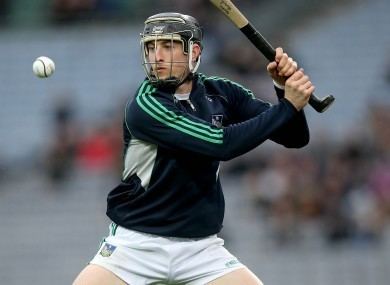 Born in Effin, County Limerick, Quaid was introduced to hurling by his father, Tommy Quaid, who enjoyed a seventeen-year career with Limerick. He enjoyed some success at colleges level with Mannix College while simultaneously enjoying championship successes at underage levels with the Effin club. A Munster medal winner with the Effin intermediate team, Quaid has also won several county championship medals.
Quaid made his debut on the inter-county scene at the age of sixteen when he first linked up with the Limerick minor team. He later played with the under-21 and intermediate teams but enjoyed little success in these grades. Quaid made his senior debut during the 2010 league. He has since gone on to play a key role for Limerick as a goalkeeper and as an outfield player and has won one Munster medal and one National League Division 2 medal.
As a member of the Munster inter-provincial team, Quaid has yet to win a Railway Cup medal.
Quaid was born on 12 June 1989 in Effin, County Limerick, to Tommy Quaid (1957-1998) and the former Breda Grace. Nickie was the youngest of their two sons. His grandfather, Jack Quaid, was one of the key players on the Limerick team which beat London in the 1954 All-Ireland junior final. He won a Munster senior medal the following year when a Mick Mackey-trained team shocked Clare in the provincial decider. Tommy Quaid, a native of Charleville, County Cork, worked as a builder and won several Munster and league honours with Limerick between 1976 and 1993, while his cousin, Joe Quaid, succeeded him in the goalkeeping position from 1994 until 2002.
Educated at Effin local national school, Quaid later attended Mannix College in Charleville. After completing his Leaving Certificate he attended the Institute of Technology, Tralee where he completed a B.Sc in health, leisure and fitness, sports development, APA, health & wellness, personal training and sports psychology. He currently works as a Sports and Recreation Facilitator at St. Joseph's Foundation in Charleville.
During his tenure at Institute of Technology, Tralee, Quaid played a key role for the institute's senior hurling team. In 2011 he was at Midfield when Tralee faced Institute of Technology, Carlow in the final of the second tier hurling championship. Tralee went on to secure a 1-17 to 1-15 victory, giving Quaid a Ryan Cup medal.
After enjoying championship success at underage level, Quaid subsequently joined the Effin junior team. After losing two finals in the space of three years, Effin reached a third decider in 2010. A 1-16 to 1-10 defeat of St. Kieran's gave Quaid a championship medal. That year Quaid was also picked for divisional side Emmets which reached the final of the senior championship. Kilmallock provided the opposition and won the game by 1-16 to 1-12.
In 2011 Effin continued their great run of success by reaching the final of the intermediate championship at their first attempt. A narrow 1-9 to 1-8 defeat of Ballybrown secured the title and another championship medal for Quaid. Effin subsequently qualified for the provincial decider, with Kerry champions Ballyduff providing the opposition. A superb display by Quaid at centre-back gave Effin a 0-14 to 0-11 victory and a coveted Munster title.
Quaid first played for Limerick as a member of the minor team in 2006. His two seasons as a minor ended without championship success. Quaid later lined out with the Limerick under-21 and intermediate teams.
In 2010 Quaid broke onto the Limerick senior team when the vast majority of the regular team went on strike due to the management style of Justin McCarthy. He made his debut in a 1-18 to 1-11 National League defeat by Galway on 21 February 2010. Quaid later made his championship debut in a 2-19 to 0-12 Munster semi-final defeat by Cork.
Following the resignation of McCarthy and the return of the regular Limerick panel in 2011, Quaid was retained and won a National League Division 2 medal following a 4-12 to 2-13 defeat of Clare.
By 2013 Quaid had established himself as the first-choice goalkeeper. It was a successful year as he won a Munster medal following a 0-24 to 0-15 defeat of Cork in the final.
Quaid added a Waterford Crystal Cup medal to his collection in 2015 following a 3-20 to 1-16 defeat of Cork.
On 9 December 2015 Quaid was appointed captain of the Limerikc team for the upcoming season.
Institute of Technology, Tralee
Ryan Cup (1): 2011
Effin
Munster Intermediate Club Hurling Championship (1): 2011
Limerick Intermediate Hurling Championship (1): 2011
Limerick Junior Hurling Championship (1): 2010
Limerick
Munster Senior Hurling Championship (1): 2013
National Hurling League Division 2 (1): 2011
Waterford Crystal Cup (1): 2015