Animalia




Arachnida




Arthropoda




Spider




Chelicerata




Mygalomorphae




Family






Idiopidae, Barychelidae, Actinopodidae, Prodidomidae, Anapidae
The Nemesiidae are a spider family of the infraorder Mygalomorphae. They were formerly considered part of the Dipluridae family.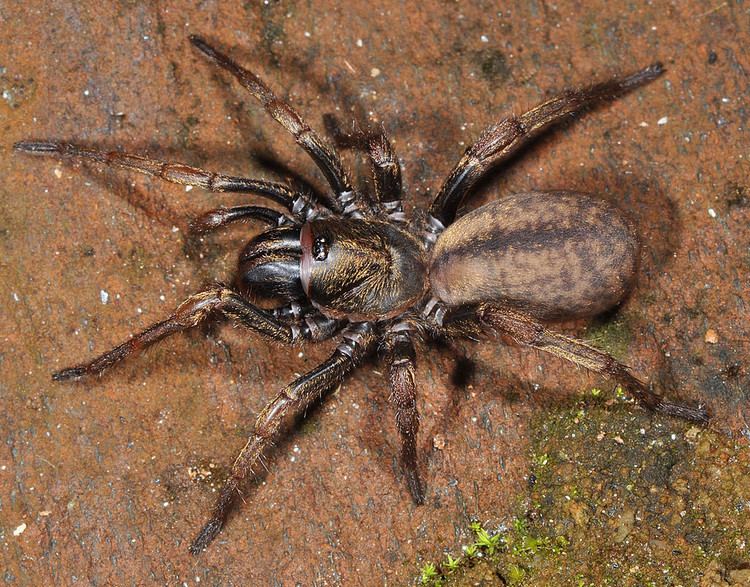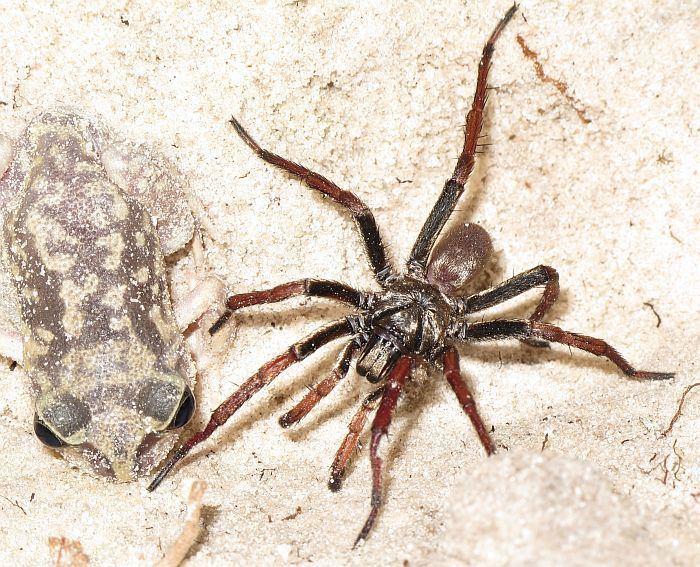 Nemesiidae are relatively large, brown, elongated spiders with robust legs. Female Atmetochilus can grow over 4 cm in body length.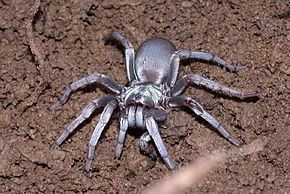 These spiders live in burrows. Some finish these with a hinged door. They often push this door up and wait for passing prey. When they catch it they try not to leave their burrow. Sometimes a burrow has a side tube. It is not certain whether Sinopesa builds burrows.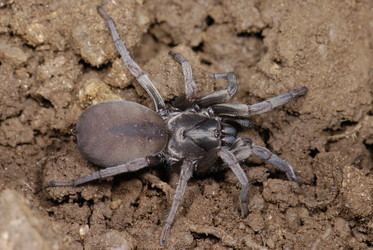 Acanthogonatus Karsch, 1880 — South America
Aname L. Koch, 1873 — Australia
Atmetochilus Simon, 1887 — Burma
Brachythele Ausserer, 1871 — USA, Europe
Calisoga Chamberlin, 1937 — USA
Chaco Tullgren, 1905 — South America
Chenistonia Hogg, 1901 — Australia
Chilelopsis Goloboff, 1995 — Chile
Damarchus Thorell, 1891 — India, Southeast Asia
Diplothelopsis Tullgren, 1905 — Argentina
Entypesa Simon, 1902 — Madagascar, South Africa
Flamencopsis Goloboff, 1995 — South America, South Africa
Hermacha Simon, 1889 — Brazil
Hermachura Mello-Leitão, 1923 — Brazil
Iberesia Decae & Cardoso, 2006 — Majorca, Spain, Portugal
Ixamatus Simon, 1887 — Australia
Kwonkan Main, 1983 — Australia
Lepthercus Purcell, 1902 — South Africa
Longistylus Indicatti & Lucas, 2005 — Brazil
Lycinus Thorell, 1894 — Chile, Argentina
Merredinia Main, 1983 — Australia
Mexentypesa Raven, 1987 — Mexico
Namea Raven, 1984 — Australia
Nemesia Audouin, 1826 — Europe, Africa, Cuba, China
Neostothis Vellard, 1925 — Brazil
Pionothele Purcell, 1902 — South Africa
Prorachias Mello-Leitão, 1924 — Brazil
Psalistopoides Mello-Leitão, 1934 — Brazil
Pselligmus Simon, 1892 — Brazil
Pseudoteyl Main, 1985 — Australia
Pycnothele Chamberlin, 1917 — South America
Rachias Simon, 1892 — Brazil, Argentina
Raveniola Zonstein, 1987 — Turkey to China, Russia
Sinopesa Raven & Schwendinger, 1995 — China, Ryukyu Islands
Spiroctenus Simon, 1889 — South Africa
Stanwellia Rainbow & Pulleine, 1918 — New Zealand, Australia
Stenoterommata Holmberg, 1881 — South America
Teyl Main, 1975 — Australia
Teyloides Main, 1985 — Australia
Xamiatus Raven, 1981 — Australia
Yilgarnia Main, 1986 — Australia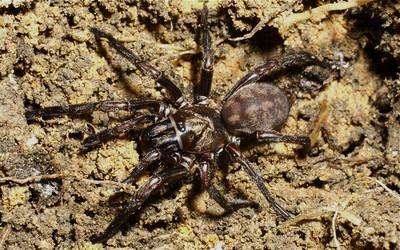 Nemesiidae Wikipedia