Name

Navin Rawanchaikul




Education

Chiang Mai University




Role

Visual artist






Books

Comm ...: Individual and Collaborative Projects 1993 - 1999




Awards

Silpathorn Award for Visual Arts
Artist Talk: Navin Rawanchaikul at CCA, Singapore
Navin Rawanchaikul (born 1971) Thai: นาวิน ลาวัลย์ชัยกุล is a Thai artist with Japanese permanent resident status whose ancestral roots are in Hindu-Punjabi communities of what is now Pakistan. He has developed a unique and vast body of works that rely heavily on team spirit and collaboration, and are most often produced under the auspices of Navin Production Co., Ltd. His artistic development began with works rooted in his local community of Chiang Mai. As he embarked on more and more international presentations of his work he started to engage in a process of exploring the negotiation between local circumstances and trends of globalisation.
Contents
Following this path Navin has become internationally renowned for a dynamic oeuvre of participatory, site-specific projects that include direct community interventions, social commentary and an innovative style of integrating community or individual experiences into eccentric fictional tales. His works include is an array of installations, films, performances, comic books, games, cocktails, mobile galleries and painted cars. Navin has participated in numerous biennales and triennales and held solo exhibitions at prestigious institutions including Palais de Tokyo in Paris, and PS1 Contemporary Art Center in New York City.

Projects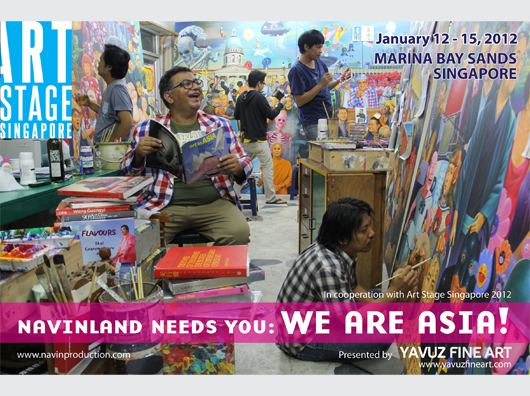 Having begun his career in 1992 Rawanchaikul and his company Navin Production Co., Ltd. have produced a number of ambitious projects both independently and in collaboration with others. Some of the better known projects include:
Navin Gallery Bangkok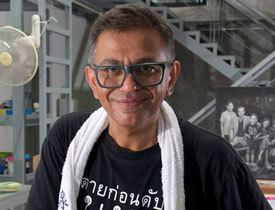 Open from 1995 to 1998, Navin Gallery Bangkok was a project whereby collaborating with a local taxi driver the artist converted a taxi into an art gallery and invited artists from Thailand and around the world to exhibit. Participating artists included: Masato Nakamura (the artist not the bassist), Rirkrit Tiravanija, Kosit Juntaratip & Lilly Ovary, Khrua In Khong in collaboration with Suttisak Phutararak and Yutaka Sone.
Taximan
A series of taxi projects featuring a one meter tall superhero from Taxi planet who came to the earth in 1999 and finds himself in a transnational quest to save the world from the absurd villain: Millennium Man. In the summer of 2001, on the invitation of the Public Art Fund and the PS1 Contemporary Art Center Taximan came to New York City with the project I Love Taxi. Taxi Cafes were set up in Madison Square Park and PS1 and rather than saving the world from impending doom, this time Taximan came New York on a soul searching trip where he learns about life and himself in his happenstance encounters with New York taxi drivers.
Recent Exhibitions
Solo Exhibitions
2007
Navins of Bollywood, Tang Contemporary Art, Bangkok, Thailand
2006
Lost in the City - Jim Thompson Art Center, Bangkok
2002
Description and image Navin Rawanchaikul, "SUPER(M)ART" - Palais de Tokyo, Paris
2001
Description Navin Rawanchaikul. I Love Taxi Cafe - P.S.1 Contemporary Art Center, Long Island
1997
Navin and His Gang - CAG - Contemporary Art Gallery, Vancouver, BC
Group Exhibitions
2009
Altermodern at Tate Britain (Tate Triennial), London
2008
Font lines-Visions from Southeast Asia - ZONE: Contemporary Art, New York City, NY
Description and image Prospect.1 New Orleans - Prospect New Orleans, New Orleans, LA
Die Tropen. Ansichten von der Mitte der Weltkugel - Martin-Gropius-Bau, Berlin
This is not a fairytail - Soka Art Center (Seoul), Seoul, Korea
Mondo e Terra, La collezione del FRAC Corsica - MAN - Museo d`Arte di Nuoro, Nuoro
2007
Tomorrow, Kumho Museum of Art, Seoul, Korea
Charm and Chasm, Tang Contemporary Art, Beijing, China
2006
Echigo-Tsumari Art Triennial
Echigo-Tsumari Art Triennial, Niigata-ken
2005
Yokohama 2005 - International Triennale of Contemporary Art - Yokohama 2005, Yokohama,Japan
2004
Description and image 26° Bienal de Sao Paulo - Bienal de Sao Paulo, Sao Paulo
Liverpool Biennial 2004 - Liverpool Biennial of Contemporary Art, Liverpool (England)
Out Of Place - Galerie Nordenhake - Berlin, Germany
2003
Change of Values. Works from the ARCO Foundation Collection - EACC - Espai d´Art Contemporani de Castello, Castellon de la Plana
THE GIFT: Generous Offerings, Threatening Hospitality - Art Gallery of Hamilton, Hamilton, ON
The Gift - Generous Offerings, Threatening Hospitality - Mary & Leigh Block Museum of Art, Evanston, IL Gallery Opening Show - Shugoarts, Tokyo, Japan
2002
THE GIFT - Generous Offerings, Threatening Hospitality - Bronx Museum of the Arts (BxMA), New York City, NY, USA
Busan Biennale 2002 - The Busan Biennale, Busan
THE GIFT: Generous Offerings, Threatening Hospitality - Scottsdale Museum of Contemporary Art - SMoCA, Scottsdale, AZ
2001
printemps de septembre - Printemps de Septembre, Toulouse
Yokohama 2001 - International Triennale of Contemporary Art - Yokohama Triennale, Tokyo, Japan
il Dono - SMS Contemporanea, ex Palazzo Delle Papesse, Siena
Description - 2nd Berlin Biennale, Berlin, Germany
2000
Taipei Biennial 2000 - The sky is the limit - Taipei Biennial, Taipei, Taiwan
Description as it is - Ikon Gallery, Birmingham (England)
I Love Dijon - Le Consortium, Dijon
Fuori uso 2000 The Bridges - Fuori uso, Pescara
5e Biennale de Lyon - Partage d'exotismes - La biennale d'art contemporain de Lyon, Lyon
Description and image Continental Shift - Ludwig Forum fur Internationale Kunst, Aachen,Germany
Description and image Over The Edges - SMAK Stedelijk Museum voor Actuele Kunst, Gent,Germany
=10 ANS DE FRI-ART - Etat des lieux # 1 - Fri-Art - Centre d'Art Contemporain, Fribourg,Switzerland
1999
Game Over - Watari-Um - Watari Museum of Contemporary Art, Tokyo,Japan
Description and image Guarene Arte 99 - Fondazione Sandretto Re Rebaudengo, Turin
Passage - I Love Art 5 - Watari-Um - Watari Museum of Contemporary Art, Tokyo, Japan
1998
Biennale of Sydney 1998 - Biennale of Sydney, Sydney, NSW
1997
Cities on the move - Wiener Secession, Vienna
Out of India - Queens Museum of Art, New York City, NY
2nd Gwangju Biennale - Unmapping The Earth - Gwangju Biennale, Gwangju
1996
Contemporary Art in Asia: Traditions/Tensions - Queens Museum of Art, New York City, NY
References
Navin Rawanchaikul Wikipedia
(Text) CC BY-SA