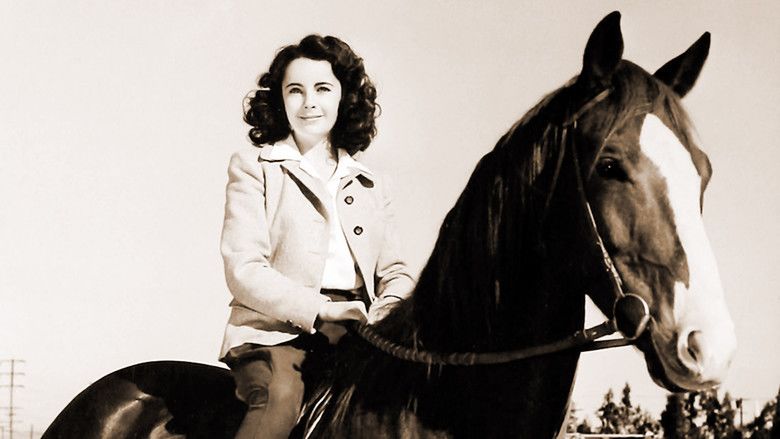 National Velvet is the story of a 12-year-old horse-crazy girl, Velvet Brown (Elizabeth Taylor), who lives in the small town of Sewels in Sussex, England, who wins a spirited gelding in a raffle and decides to train him for the Grand National steeplechase. She is aided by a penniless young drifter named Mi Taylor (Mickey Rooney), who found Mrs. Brown's name and address among his late father's effects, but is unaware of what it was doing there. Hoping to gain some money from the association, Mi stays at the Browns' home, but Mrs. Brown is unwilling to allow Mi to trade on his father's good name and remains vague about how she knew him. Nevertheless she convinces her husband (Donald Crisp) to hire Mi over his better judgment, and Mi is brought into the home as a hired hand. It is revealed that Mi had been a jockey in Manchester, but his career ended in a collision which resulted in the death of another jockey. Since then Mi has not held a job, and he has come to hate horses. Velvet decides to call the horse "The Pie" after his owner, Mr. Ede, calls him a pirate. The man decides to be rid of The Pie, and offers him up in a raffle. Velvet wins The Pie, and on realizing the extent of the horse's natural talent, she pleads with Mi to train the horse for the Grand National. He believes it a fool's errand, not because of the horse, but because they have no real way to support the effort. He makes his case to Mrs. Brown, but she consents to Velvet's desire to train the horse. Velvet and Mi train the horse and enter him into the race. An experienced jockey is hired to ride him. The night before the race Velvet senses that the jockey hired to ride The Pie has no faith in him, and doesn't believe the horse can win. Velvet convinces Mi to fire the jockey, leaving them without a rider. That night Mi determines to overcome his fears and ride The Pie himself. Instead, he discovers that Velvet has slipped on the jockey's colors, and intends to ride the horse in the race herself. Aware of the dangers of such a race, Mi tries to reason with Velvet, but is unable to talk her out of it. As the race unfolds Velvet and The Pie avoid a number of falls, clear all the hurdles and win the race. Elated by their win, Velvet faints and falls off her mount at the finish. As she is revived the race doctor realizes she is not a young man, but a young woman. As she 'dismounted' before getting the horse back to the paddock, she and The Pie are disqualified, but Velvet knows The Pie proved himself. Velvet becomes a media sensation, declining an offer of £5,000 to travel to Hollywood with The Pie to be filmed. She ran The Pie at the Grand National because he deserved to have a chance. He wasn't an oddity to be stared at. Velvet tearfully refuses the offer claiming that The Pie wouldn't like being stared at. Velvet chooses to have a normal life with The Pie. At the close of the film Mi takes his leave, and Mrs. Brown gives Velvet permission to reveal to him the nature of her relationship with his father. Velvet rides off to catch up with Mi and tell him that his father had been Mrs. Brown's coach when she won the prize as the first woman to swim the English Channel, many years before.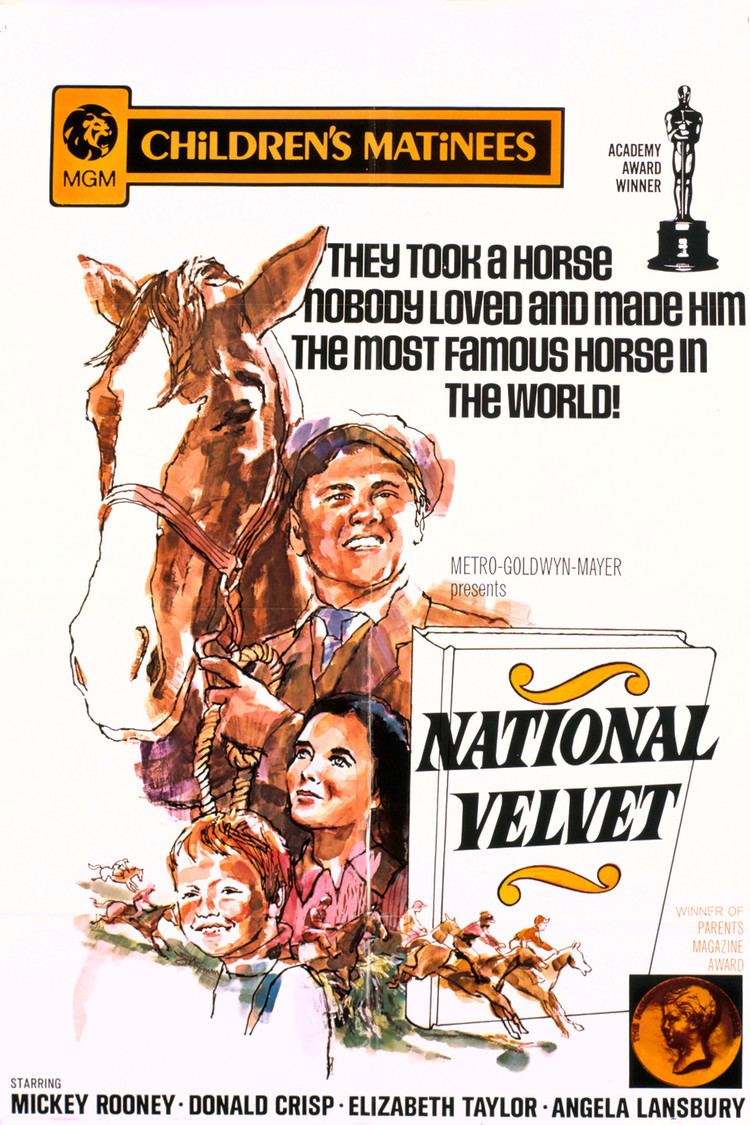 The film differs from the book in a number of respects. For example, Velvet's horse in the book is a piebald, and thus is given the name "The Piebald" or "The Pie" for short. In the movie, Pie is a chestnut, so it was necessary to come up with another explanation for his name. Velvet, in the book, is a sickly child who is given to great imagination and spirit; her father is stern and given to anger, but the mother is stronger still and will stand up to him when she has to. Since her days as a swimmer she has become a large woman, and weighs 16 stone—224 pounds (102 kg) at the time of the story, and warns Velvet never to allow herself to be weighed down with weight. In the book Mr. Brown and Mrs. Brown have a 15-year-old daughter named Meredith giving them five children named Edwina, Meredith, Malvolia, Velvet, and Donald. Meredith isn't seen or mentioned in the movie.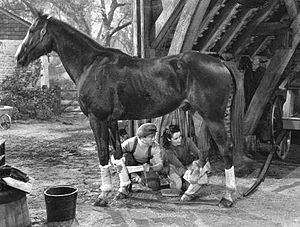 Mickey Rooney as Michael "Mi" Taylor
Elizabeth Taylor as Velvet Brown
Donald Crisp as Mr. Herbert Brown
Angela Lansbury as Edwina Brown
Anne Revere as Mrs Araminty Brown
Jackie 'Butch' Jenkins as Donald Brown
Juanita Quigley as Malvolia "Mally" Brown
Arthur Treacher as Race Patron
Reginald Owen as Farmer Ede
Norma Varden as Miss Sims
Terry Kilburn as Theodore "Ted"
Arthur Shields as Mr. Hallam
Aubrey Mather as Entry official
Alec Craig as Timothy "Tim"
Eugene Loring as Ivan Taski
Jane Isbell as Schoolgirl Jane
Matthew Boulton as Entry official
King Charles as the horse, The Pie
Barry Macollum as a townsman (uncredited)
Gerald Oliver Smith as a cameraman (uncredited)
Harry Allen as van driver (uncredited)
Mona Freeman as schoolgirl (uncredited)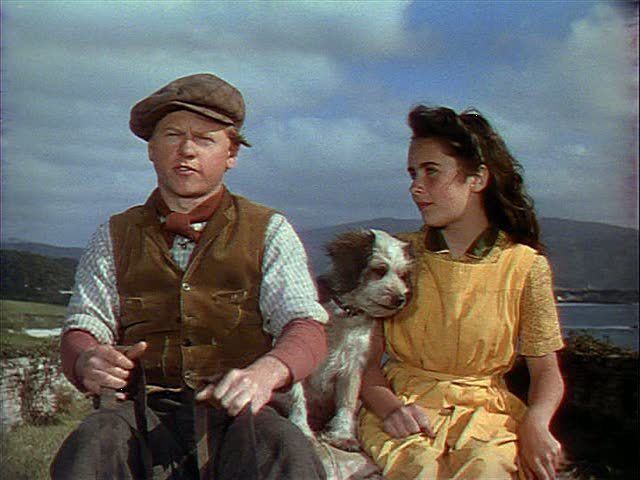 Lansbury, Quigley and Kilburn are the last surviving primary cast members.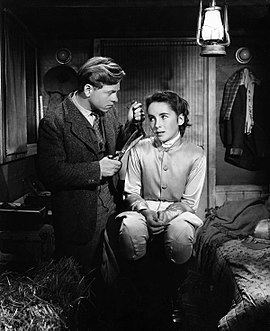 "Summertime" - Elizabeth Taylor, Angela Lansbury, Juanita Quigley, MGM Studio and Orchestra Chorus Girls, and Norma Varden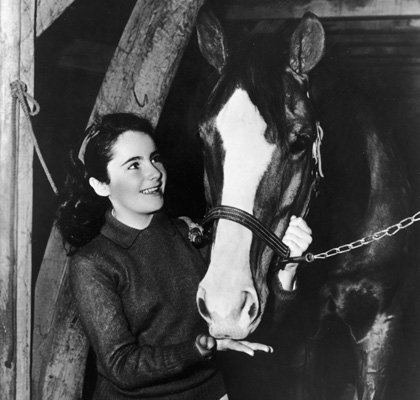 National Velvet currently holds a 100% 'Fresh' rating on Rotten Tomatoes.
It was very successful at the box office earning $3,678,000 in the US and Canada and $2,162,000 elsewhere resulting in a profit of $785,000.
The film won two Oscars, and was nominated for three others, in 1945:
National Velvet was dramatized as a one-hour radio play on the February 3, 1947 broadcast of Lux Radio Theater, with Elizabeth Taylor, Mickey Rooney, Donald Crisp and Janice Scott.
In 1960, the film was adapted into television series which aired on NBC.
In 1978, a sequel, International Velvet, was released. The film stars Tatum O'Neal, Christopher Plummer, Anthony Hopkins, and Nanette Newman, who plays Velvet Brown as an adult. After the events of "National Velvet" Donald got married, had a daughter named Sarah Velvet Brown, and moved from England to Cave Creek, Arizona. Sarah comes to live with Velvet and her boyfriend John after Donald and his wife die from their injuries in a car accident. Elizabeth Taylor did not reprise her role as Velvet in the sequel.