Namrrta Raai (Hindi: नम्रता राय) is an Indian classical Kathak dancer and choreographer. She is a disciple of Late Dr. Madhukar Anand and Pt.Udai Mazumdar.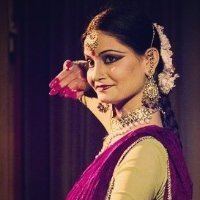 Born in Dehradun, Namrrta started receiving her training into Kathak at a very tender age under the tutelage of Late Dr. Madhukar Anand, of Lucknow Gharana, in the Vedic system of receiving knowledge called guru-shishya parampara. A science graduate (PCM) from D.A.V(PG) College, Dehradun also owns bachelor's degree in Kathak from Bhatkhande Music Institute, Lucknow where she was titled for Merit scholarship from 1998-2001 and the master's degree from Indira Kala Sangeet University, Khairagarh, Madhya Pradesh in the form of Lucknow Gharana, of which the Doyen is Padma Vibhushan Pt. Birju Maharaj. In 2008, Namrrta began learning the complexity of Indian rhythms under the tutelage of Tabla Maestro Pt.Udai Mazumdar, a senior disciple of Pt.Ravi Shankar.
A recipient of National Scholarship by Ministry of Human Resource Development, Government of India in 2009, Namrrta was also awarded by SPIC MACAY scholarship under which she had the honour and opportunity to learn from world renowned Kathak Maestro Pt. Birju Maharaj in 2009.
Namrrta is an empanelled artist of Indian Council for Cultural Relations (ICCR), empanelled artist of Ministry of Culture (India), also an empanelled artist of Indian National Television Doordarshan, Ministry of Information and Broadcasting (India). She has performed in various prestigious festivals around the globe. She has performed for the International dance festival Ascona (Switzerland), The Ravi Shankar Centre (94th Birth Anniversary) New Delhi,
Modhera dance festival Gujarat, National Divali Manifestatie South-America, CulturAll Switzerland, Sufiyana Kathak with Ustad Shafquat Ali Khan, 550 years celebration of Basel University Switzerland, Maha Kumbh Haridwar, Uttarayani Mohotsava Bageshwar, a theatrical dance ballet 'Geet-Govind' for Indian National Television, World Dance Day Suriname, Musica Dei Popoli Italy, 13th International Dance festival Ascona Switzerland, Soulful Sufi Rome and many more noteworthy festivals in Austria, The Netherlands, Germany,France, Italy, Brazil, Guyana & Romania.
Namrrta is also an empanelled performer cum teacher of Indian council for cultural relations (ICCR), New Delhi for the Indian Cultural Centres Abroad. She regularly tours for SPIC MACAY (Society for the Promotion of Indian Classical Music And Culture Amongst Youth) all over India. She has also imparted her knowledge at the Welham Girls' School, a traditional boarding school for girls located at the foothills of the Himalayas in Dehradun, India. Namrrta was deputed as Kathak dance teacher cum performer by ICCR at Indian Cultural Centre in Suriname, South-America in 2011. She has choreographed many dance performances for stage, television, also for the Indian National television Doordarshan & National carnival in St. Lucia, a Caribbean Island.
Namrrta is the youngest daughter of Smt. Shobha Rai & Shri S. K. Rai, a retired English lecturer at D.A.V College, Dehradun, Uttarakhand, India. She has an elder brother Sumit Rai, and two elder sisters Nidhi Rai and Neha Rai.
Brand Icon Award by Times of India 2017
Outstanding Achievement Award by a premier english daily of Uttarakhand 2016
Dr. A P J Abdul Kalam Award,New Delhi 2016