Occupation

Writer




Name

Namita Gokhale




Subject

India





Period

1984 –




Nationality

Indian




Role

Writer






Books

Paro, Shakuntala - the play of memory, A Himalayan love story, The Habit of Love, The Book of Shiva
Gulzar prasoon joshi namita gokhale and pavan varma at the jaipur literature festival 2012 1
Namita Gokhale is an Indian writer, publisher and festival director. She is the author of fourteen books including eight works of fiction.Things to Leave Behind has been published in November 2016. It is a rich, panoramic historical novel that shows you Kumaon and the Raj as you have never seen them. Illuminated with painstaking detail, taking on the complications of caste, race and culture, this is a compelling historical novel of epic sweep and is described as Namita Gokhale's most ambitious novel yet.
Contents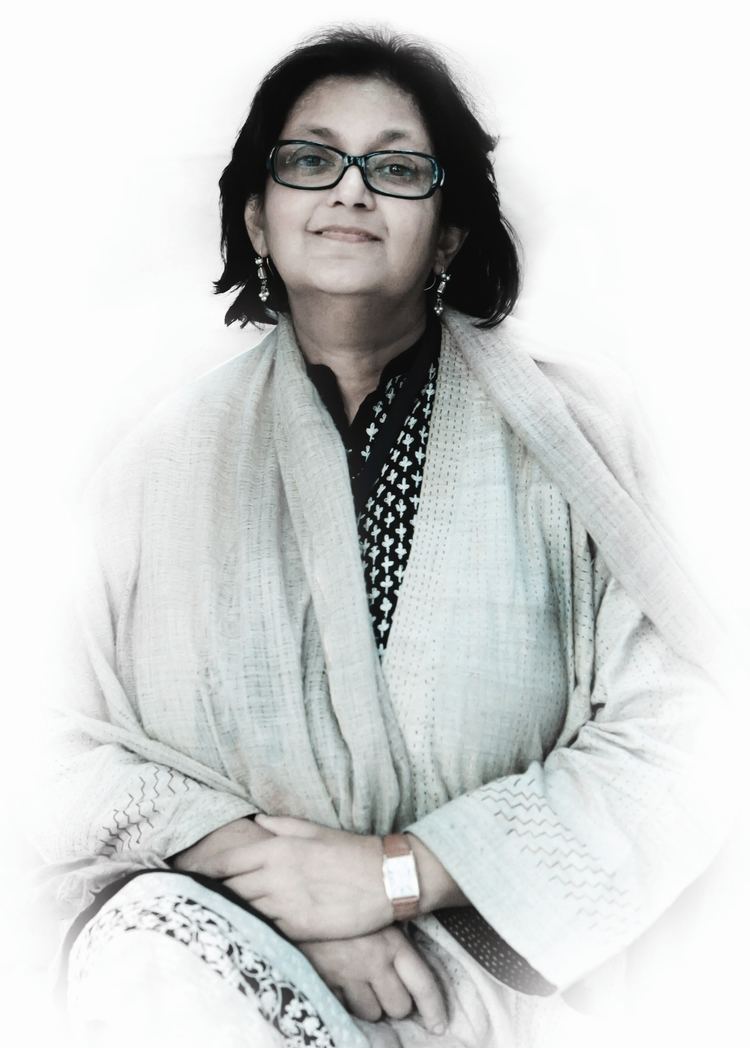 The recently released anthology Himalaya: Adventures, Meditations has been co edited with Ruskin Bond.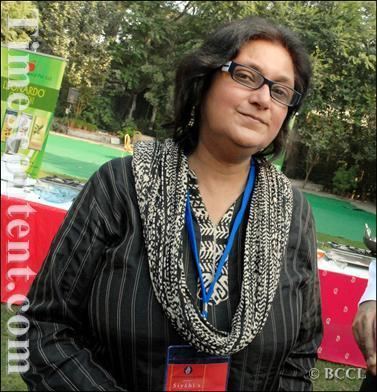 Namita gokhale being a woman writer
Early life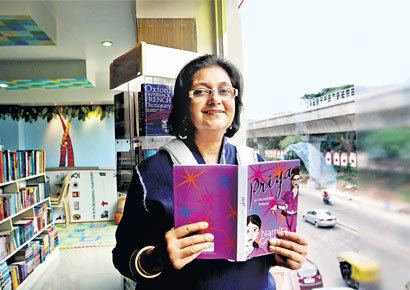 She was born in Lucknow, Uttar Pradesh in 1956 and spent her childhood between New Delhi and Nainital, in the foothills of the Himalayas. A Kumaoni by birth, she married to Rajiv Gokhale when she was eighteen. Gokhale dropped out of college after a conflict over the bias against Indian literatures in the curriculum. She then published the film magazine Super from Bombay in the late seventies.
Writing
Namita Gokhale is the author of fourteen books, including eight previous works of fiction and several works of non-fiction.Her debut novel Paro: Dreams of Passion, first published in 1984, was a satire on the elite of Bombay and Delhi created a furore due to its frank sexual humour. Gods Graves and Grandmother an ironic fable about street life in Delhi was adapted into a musical play. Gokhale was diagnosed with cancer when she was just thirty-five and her husband died a few years later. The experience of illness and loss informed her later books A Himalayan Love Story, The Book of Shadows and Shakuntala, the Play of Memory.
Her books of non-fiction include Mountain Echoes which explores the Kumaoni way of life through the eyes of four highly talented and individualistic women and The Book of Shiva, an introduction to Shaivite philosophy and mythology. She had retold the Indian epic The Mahabharata, in an illustrated version for young and first time readers in The Puffin Mahabharata.The anthology In Search of Sita – Revisiting Mythology, co-edited with Dr. Malashri Lal, presents fresh interpretations of this enigmatic goddess and her indelible impact on the lives of Indian women through essays, conversations and commentaries. Priya: In Incredible Indyaa, resurrected the iconic characters from her debut novel Paro.
Gokhale edited Travelling In, Travelling Out, a wide-ranging anthology of travel pieces that is a departure from the traditional travel narrative.Himalaya: Adventures, Meditations, Life co-edited with Ruskin Bond, is also a travel anthology to be released shortly and brings together a dazzling range of voices that spans the entire region:from the foothills to the highest peaks of the Himalayas.
The Himalayan trilogy, which began with The Book of Shadows and includes A Himalayan Love Story, continues with Things to Leave Behind-- It is 1856, in picturesque Kumaon. History has already begun its steady march. Six native women clad in black and scarlet pichauras huddle around Naineetal Lake, attempting to cleanse it of threatening new influences. For, these are the days of Upper Mall Road (for Europeans and their horses) and Lower Mall Road ('for dogs, servants and other Indians'). And this is the story of feisty young Tilottama Dutt, whose uncle hangs when he protests the reigning order—and her daughter, Deoki, who will confront change as Indians and as women. which brings to life the mixed legacy of the British Indian past and chronicles Nainital's reluctant entry into modern India. The novel brings alive the romance of the mixed legacy of British-Indian past. Full of the fascinating backstory of Naineetal and its unwilling entry into Indian history.
Over the years she has also written several columns, articles and reviews for reputed publications such as The Times of India, The Indian Express, Outlook Magazine, among many others. Dominant themes of her writing includes musings on literature, contemporary literary practices, the place of women in Indian society and the world at large as well as myth and its bearings in the modern world.
Publishing
Publishing is Gokhale's other love. She is the founder-director of Yatra Books(with Neeta Gupta), founded in January 2005. 'Yatra' stands for cross-cultural literary journeys, including translation. Yatra Books is a multilingual publishing company specialising in original creative writing and high quality translations in English, Hindi and Indian regional languages for the emergent internal market. It has co-published over 400 titles in Indian languages in collaboration with Penguin India, Dorling Kindersley, Cambridge University Press India Ltd., and since 2012 with Tata-Westland. Yatra Books, in collaboration with Tata-Westland, has launched translations of bestselling authors such as Amish Tripathi, Ashwin Sanghi, Anuja Chauhan, Rashmi Bansal and Jo Nesbo in seven Indian languages, including Hindi, Marathi, Odia, Bangla, Telugu, Gujarati and soon in Kannada. It has independently published translations from European languages into English and Hindi, in key collaboration with institutions like Sciences PO in Paris, for the translation of Christophe Jaffrelot's India Since 1950; Ramon Llull Institute, Barcelona for the translation of Catalan short stories into Hindi, and TEDA (Turkish Culture Ministry) for a series of Turkish translations into Hindi. It has also recently collaborated with the Mikhail Prokhorov Foundation in Moscow and Indira Gandhi National Centre for the Arts in New Delhi, for a Russian to English translation of Himalayan Folktales, collected by the Russian indologist and traveler Ivan Minayev in 1875, published as Clever Wives and Happy Idiots.
With an extensive experience in trade publishing, Yatra Books believes in empowering the Indian reader and connecting local and international voices. Translating Bharat, Reading India,one of Yatra Books' latest titles, is a collection of essays that focuses on the specifics of translation and is a celebration of the work it has done in the field of Indian language translations in the course of the last decade.
Namita Gokhale is also the Festival Director of 'Jaipur BookMark'(JBM). Conceptualized as a Business-to-Business segment, JBM is held parallel to the Jaipur Literature Festival and focuses on Global Rights Translation. It provides a platform for publishers, literary agents, translation agencies and writers to meet, talk business deals, listen to speakers from across the world and perhaps even sign the occasional contract. About the symposium Gokhale says "The Jaipur BookMark looks afresh at issues, choices and opportunities before the publishing industry today."
The 'Namita Gokhale editions' was a signature imprint published in association with Roli Books which introduced several notable titles.
Literary Festivals
Namita Gokhale is a founder-director of the 'Jaipur Literature Festival' along with William Dalrymple. The world's largest free festival of its kind, the Jaipur Literature Festival has been described as the 'greatest literary show on Earth'. Celebrating writers from across the world, the Festival has hosted some of the best regarded and loved names ranging from Nobel Laureates and Man Booker Prize winners to star debuts. Gokhale and Dalrymple invite authors from across the globe to take part in the five-day programme set against a backdrop of Rajasthan's stunning cultural heritage and the Diggi Palace in the state capital Jaipur.The Jaipur Literature Festival provides a potentially life-changing opportunity for audiences from Rajasthan, across India and the world to learn from and exchange ideas with contemporary literary stalwarts.The Festival is a flagship event of Teamwork Arts, which produces over 25 highly acclaimed performing arts, visual arts and literary festivals across more than 40 cities globally, and is produced by Sanjoy K. Roy.
Since 2014, JLF has spread its wings beyond the borders of India with weekend events at London's Southbank Centre in May and Boulder, Colorado in September.Showcasing South Asia's unique multilingual heritage, JLF at Southbank is an intense teaser of the festival at Jaipur.The London edition of JLF retains and resonates with the unique spirit of the annual Jaipur Literature Festival, which has firmly established its place in the global literary calendar as the world's largest free literature festival.
Beautiful Boulder is known for its 300 days of sunshine a year and its highly educated, professional population of more than 100,000; for its deep interest and leadership in social, technical, and environmental innovation; for yoga and mindfulness practices, cycling and fitness, and natural health and healing.Free and accessible to everyone, rich with words and ideas, the Festival invites us to join together in examining the human experience through the reflections and imaginations of distinguished contemporary authors from around the world. In an uplifting celebration of the mind and heart, authors from the Americas, Asia, Africa, and Europe engage in provocative conversations about life and society, economics and the arts, equity, freedom, and the care of our planet.
Namita Gokhale is also festival adviser to 'Mountain Echoes' a literary festival in Bhutan, an initiative of the India Bhutan Foundation, in association with Siyahi. It brings together writers, biographers, historians, environmentalists, scholars, photographers, poets, musicians, artists, film-makers to engage in cultural dialogue, share stories, create memories and spend three blissful days in the mountains.
She has also founded 'The Crime Writers Festival', along with Kishwar Desai, a literary festival held annually bringing together crime fiction in all its forms.
She also conceptualised the 'International Festival of Indian Literature-Neemrana' 2002, and 'The Africa Asia Literary Conference', 2006 among other literary festivals and presentations.
Other Literary Projects
Namita Gokhale has conceived and curated over hundred episodes of 'Kitaabnama: Books and Beyond', a book-show broadcast on Indian's national broadcaster Doordarshan. The programme has a participatory and inclusive format and showcases the multilingual diversity of Indian literature in an unfolding kaleidoscope of books, authors and readings.
She served as member-secretary of Indian Literature Abroad (ILA), an initiative by the Ministry of Culture, Government of India, to translate and promote contemporary literature from the Indian languages into the major international languages, particularly the six UNESCO languages (English, French, Arabic, Spanish, Russian and Chinese).
References
Namita Gokhale Wikipedia
(Text) CC BY-SA