ICC status

Associate (1992)




WCL

WCL Championship


Best result

First round (2003)




Captain

Stephan Baard


Location

Namibia




ICC region

ICC Africa




Appearances

1 (first in 2003)




Appearances

6 (first in 1994)




Coach

Johan Rudolph




Icc membership granted

1992






The Namibia cricket team is the team that represents the country of Namibia in international cricket matches. It is governed by Cricket Namibia, an associate member of the International Cricket Council since 1992, and became part of the High Performance Program in 2007. They took part in the 2003 Cricket World Cup in South Africa, though they lost all their games. They have played in each edition of the ICC Intercontinental Cup.
Contents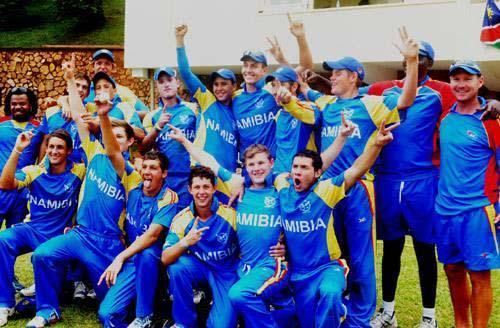 2003 World Cup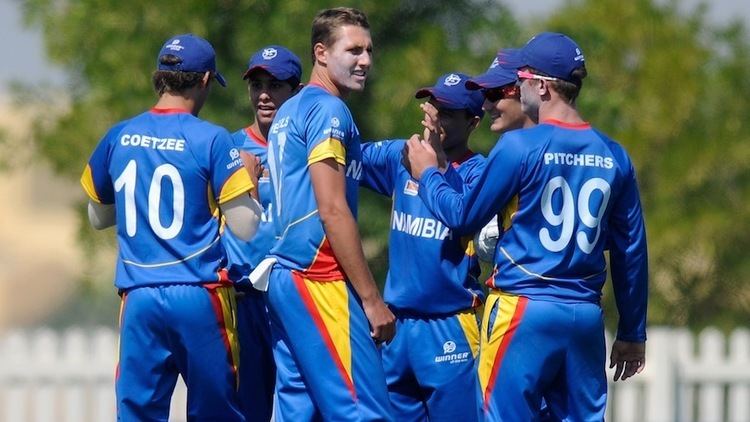 The road to the 2003 Cricket World Cup started with the 2001 ICC Trophy in Canada. Namibia reached the final at the Toronto Cricket, Skating and Curling Club, losing to the Netherlands, but still qualifying for their first World Cup. Namibia then hosted the ICC 6 Nations Challenge in April 2002, finishing fourth. They had a disappointing Africa Cup campaign that September, finishing fourth in their group and beating only Tanzania, and lost four matches against Zimbabwe A a few weeks later. A tour of Kenya subsequent to the Zimbabwean tour was more successful, as Namibia beat Kenya in a four match one-day series. Following this, Namibia took part in the top level of South African domestic one-day cricket, the Standard Bank Cup, but lost all five of their games. Bangladesh toured in January 2003, winning the five match one-day series 4–1.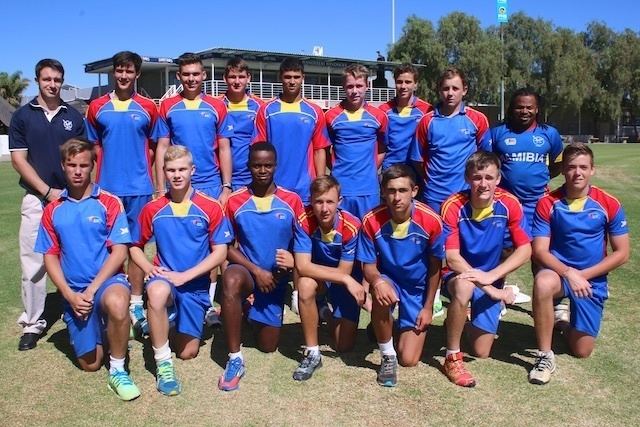 The World Cup itself started on 10 February 2003 in Harare with Zimbabwe beating Namibia by 86 runs. Back in South Africa, they lost to Pakistan by 171 runs, before a 55 run defeat at the hands of England in which Namibia performed with some credit, Jan-Berrie Burger winning the man of the match award for his innings of 85 that almost helped Namibia pull off an unlikely upset. They then lost by 181 runs to India and a 256 run defeat against Australia, the eventual winners of the tournament, in what at the time was the biggest winning margin in One Day Internationals, since surpassed by an Indian 257 run win over Bermuda. The tournament finished with a 64 run loss to fellow qualifiers the Netherlands.
After the World Cup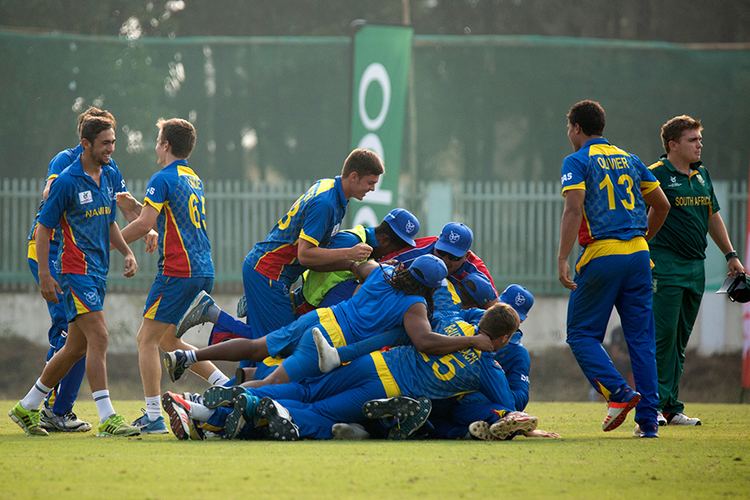 In August 2003, Zimbabwe A toured Namibia. Namibia won the one-day series 2–1, but lost both three-day games. A return visit to Zimbabwe the following January saw Namibia win a five match one-day series against Zimbabwe A 4–1, also winning a match against Zimbabwe Under-19s. Bangladesh toured Namibia in February, winning all three one-day games and drawing the three-day game. Following this, Namibia travelled to the United Arab Emirates for the 2004 ICC Six Nations Challenge. They finished third on run rate after beating Canada, the Netherlands and the UAE and losing to Scotland and the USA. Namibia played two ICC Intercontinental Cup matches against Kenya and Uganda in 2004, losing them both. In between the two matches, they won an African nations tournament in Zambia. Later in the year, they took part in Zimbabwe's national one-day domestic competition, in which they finished as runners-up. Whilst in Zimbabwe, they won two matches against the national side. This was followed by a visit to Namibia by England, who won both matches.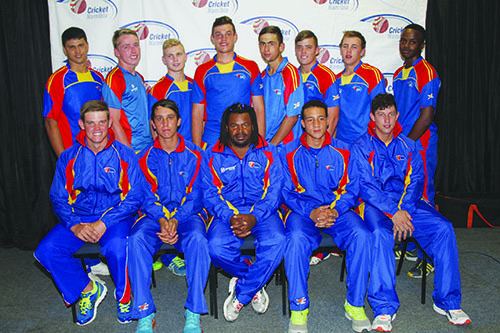 Zimbabwe A again visited Namibia in early 2005, losing both one-day matches that finished. Pakistan A were the next visitors in April, winning all three one-day matches and drawing in the three-day game. This was followed by their two regional group games in the 2005 ICC Intercontinental Cup. Whilst they were unbeaten, winning against Uganda and drawing against Kenya, this was not enough to qualify for the semi-finals. They then visited Ireland to take part in the 2005 ICC Trophy. They finished 7th after beating Denmark in their final play-off game. Back at home, they hosted New Zealand at the end of July, losing both games, losing by only 29 runs after conceding 330/6. In October of that year, they hosted the semi-finals of the Intercontinental Cup, despite failing to qualify. While the final was being played, they played a two match one-day series against Bermuda after they had been knocked out of the tournament, winning both games, but the games were tarnished by controversial incidents, with the Bermuda team accusing the Namibian team of racist insults, and walking off in the second game when a flurry of bouncers were unleashed at the lower order Bermuda batsmen. The Namibian Cricket Board denied the allegations of racism.
Present day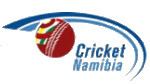 In March 2006, Namibia met Nepal in a challenge match to decide who got the eighth and final spot in the 2006 ICC Intercontinental Cup. The match was drawn, with Namibia getting a first innings lead, thus qualifying them for the main tournament. The main tournament itself started with an innings defeat by Scotland in Aberdeen before a five wicket defeat by Ireland in Dublin, both matches in May. In the 2006-07 South African cricket season, Namibia took part in the second tier of first-class and List A cricket, the South African Airways Challenge. They finished second in their group in the three-day tournament and third in their group in the one-day tournament, missing out on reaching the semi-finals by one win. In the midst of the matches in those tournaments, they played their third and final 2006 Intercontinental Cup match, beating the UAE by an innings. On 1 April 2007, they became part of the ICC's High Performance Program.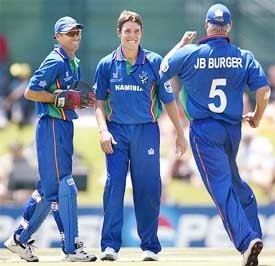 In November/December 2007, Namibia hosted Division Two of the World Cricket League where they played against Argentina, Denmark, Oman, the UAE and Uganda. Although Namibia won three of their five group matches, it was not enough for them to progress to the final. Namibia beat Denmark in the third place playoff. On the basis of their top four finish in this tournament, Namibia qualified for the ICC World Cup Qualifier in 2009, the final tournament in qualification for the 2011 World Cup.
Namibia again took part in the second tier of South African domestic cricket between October 2007 and February 2008. They played a 2007-08 ICC Intercontinental Cup match against Canada in October 2007, playing the remaining games against Bermuda, Ireland, Kenya, the Netherlands, Scotland and the UAE in 2008.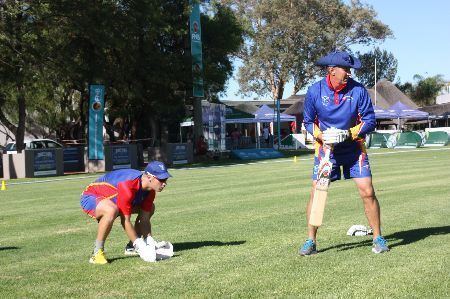 Namibia won the 2009–10 ICC Intercontinental Shield defeating the United Arab Emirates by six wickets in Dubai. In 2011 Namibia participated in Division Two and finished as runners-up, on this occasion behind the UAE.
In July 2011, the country competed in the ICC Twenty20 World Cricket League Africa Division One competition in Uganda, winning all eight group matches before succumbing to the hosts in the Final by six wickets. During this tournament, all-rounder Louis van der Westhuizen struck 16 sixes in an innings of 159* against Kenya, as part of a team total of 262/1 from 20 overs.
ICC Intercontinental Cup
2004: First round
2005: First round
2006: First round
2007–08: Losing finalist
2009–10 (Shield): Winners
2011–13: 5th place
ICC World Twenty20 Qualifier
2012: 3rd place
2013: 10th place
2015: 7th place
World Cricket League
2007 Division Two: 3rd place
2011 Division Two: 2nd place
2011–13 Championship: 7th place
2014 World Cup Qualifier: 6th place
2015 Division Two: 2nd place
ICC 6 Nations Challenge
2000: Did not participate
2002: 1st place
2004: 3rd place
ICC World Cup Qualifier
Namibia did not play in the ICC Trophy between 1979 and 1990 as they were not a member of the ICC at the time.
1994: 9th place – Won Plate competition
1997: 15th place
2001: Runners up
2005: 7th place
2009: 8th place
2014: 6th place
Namibians playing overseas
A list of Namibian ODI cricketers can be found at: List of Namibian ODI cricketers.
A list of players to have captained Namibia in international cricket can be found at: Namibian national cricket captains
A complete list of Namibian cricketers with Wikipedia articles can be found at: Category:Namibian cricketers
References
Namibia national cricket team Wikipedia
(Text) CC BY-SA