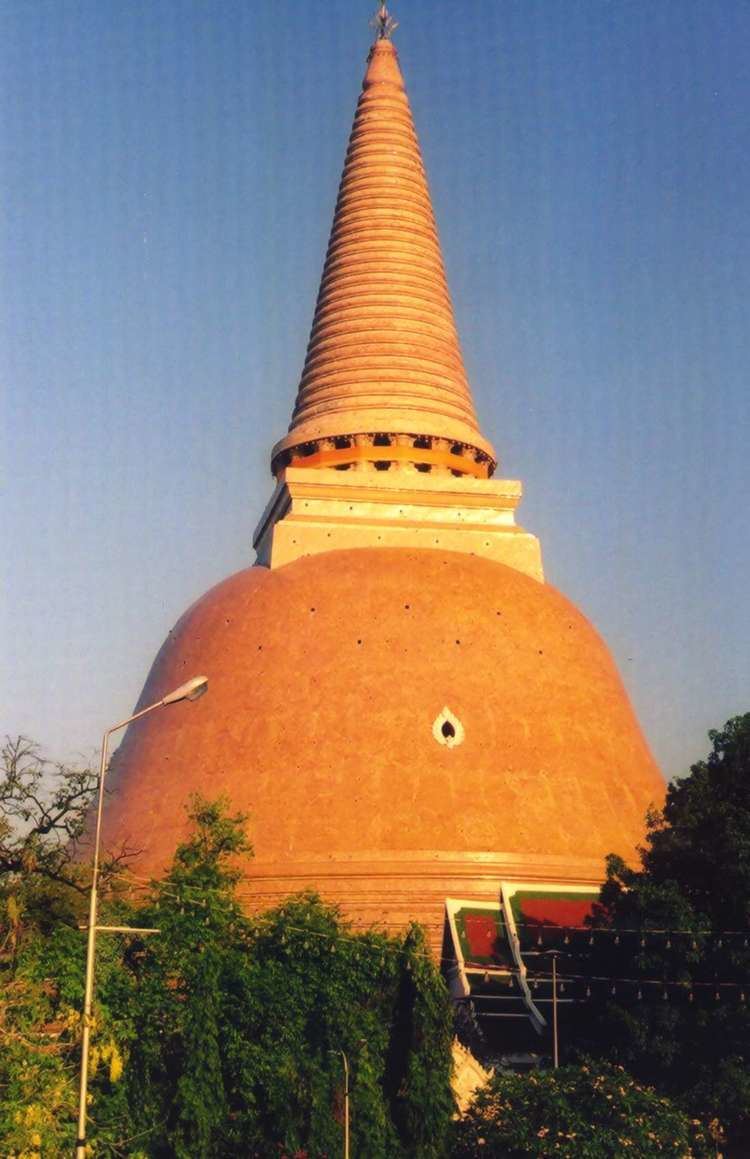 The name derives from the Pali words Nagara Pathama, meaning First city, and Nakhon Pathom is often referred as Thailands oldest city. Archaeological remains have been linked to the (pre-Thai) Dvaravati kingdom, dating to the 6th through 11th centuries.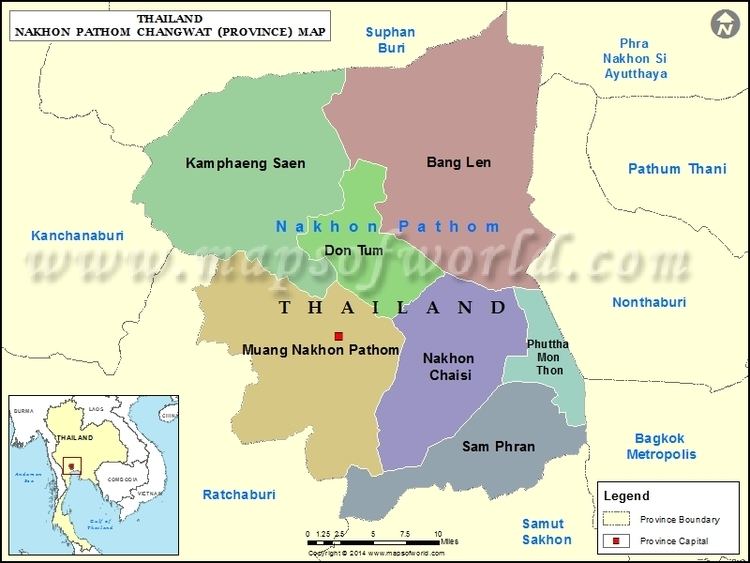 Nakhon Pathom Province centuries ago was a coastal city on the route between China and India; due to sedimentation from the Chao Phraya river, the coast line moved much farther to sea. When the Tha Chin river changed its course, the city lost its main water source and thus was deserted, the population moving to a city called Nakhon Chaisi (or Sirichai). King Mongkut (Rama IV) ordered the restoration of Phra Pathom Chedi, which was then crumbling and abandoned in the jungle. A city gradually formed around it, bringing new life to Nakhon Pathom. A museum presents the archaeological record of the citys history.
Major settlement of the province included emigration beginning in the reign of King Buddha Loetla Nabhalai (Rama II), which included Khmer villages (e.g. Don Yai Hom), the Lanna populated (Baan Nua) and Lao Song villages (e.g. Don Kanak), as well as a major influx of Southern Chinese in the late 1800s and early 1900s. Today Nakhon Pathom attracts people from all over Thailand, most notably from Bangkok and the Northeastern, plus Burmese migrant workers. The province includes industrial zones, major university towns, government offices relocated from Bangkok and agricultural and transport hubs.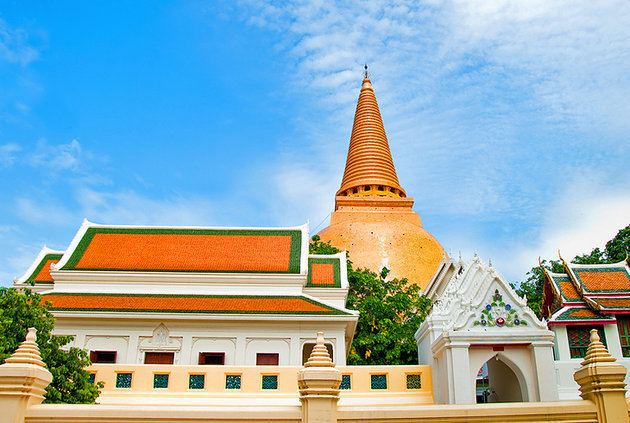 Wat Phra Pathom Chedi Ratchaworaviharn is one of the main royal temple. Belonging to this temple is the Phra Pathom Chedi, the tallest pagoda in the world. The nearby branch of the National Museum displays mostly items of the Dvaravati times, most of them found within the Wat Phra Pratone Chedi.
Sanam Chan Palace was built by crown prince Vajiravudh 1907-10. It now houses one campus of the Silpakorn University as well as a King Rama VI museum.
Phutthamonthon is a large park devoted to Buddhism, located in the east of the province.
Suan Sam Pran is a big garden, located at Phetkasem Road. Nearby is the Sam Pran Crocodile farm, which includes a zoo and has elephant and crocodile shows.
The Jesada Technik Museum is located on the eastern edge of Nakhon Chaisri and has a large collection of old cars, trucks and planes.
Paya Kong, said to be a former ruler of Nakhon Chai Si, fathered Paya Pan who is said to have built the pagoda at Pra Pratone for his father and the Phra Pathom Chedi at Nakhon Pathom for Grandmother Hom who reared him. Historical evidence is not clear. Nevertheless, Paya Kongs statue near the central market of Nakhon Pathom is much revered.
Wat Phra Pathom Chedi Ratchavoraviharn (????????????????????????) this is a first class royal monastery. The temple houses Phra Pathom Chedi, the largest pagoda in Thailand. Phra Pathom Chedi is the official provincial symbol of Nakhon Pathom.
Nakhon Pathom Palace (???????????????) Under the royal command of King Rama IV, the palace was built near the Phra Pathom Chedi, similar in concept to those palaces in the Ayutthaya period whereby the King commanded that a palace be built on the perimeter of the temple housing the Phra Buddhabat (Buddha's Foot Print).
Neun Wat Phra Ngam (?????????????) Prince Damrong Rachanuphab explained that the origin of the name "Wat Phra Ngam" (temple of magnificent Buddha images) was due to the beauty of the discovered earthen Buddha images, the temple was given such name. All of the discovered artefacts date back to the Dvaravati period, which are the same age as those found around Phra Pathom Chedi.
Phrabat Somdej Phra Monkut Klao Chaoyuhua Museum (Sanam Chan Palace) (??????????????????????????????????????????????) The palace was constructed by command of King Rama VI in the year 1907 when he was the Crown Prince. Sanam Chan Palace covers a vast area with a big court in the middle, surrounded by ring roads, with water canals on the outer perimeter. The beautiful halls that located in the middle of the Palace include:
Phiman Pathom Hall (??????????????????): It is the first hall to be built in the Sanam Chan Palace. It is of European architecture, a 2-storey building in which King Rama VI resided before his ascension to the throne. As for the Phiman Pathom Hall, it now houses a part of the Nakhon Pathom City Hall.
Apirom Reudi Hall (????????????????????): It is a 2-storey hall located to the south of Phiman Pathom hall. At present it houses the offices of the Nakhon Pathom City Hall.
Vatchari Romya Hall (???????????????????): This is a 2-storey hall. It was built in Thai architecture: multi-layered roof with colourful tiles on the turret; with a swan-like finial on the roof ridge, representing the head of garuda and small finials jutting out of the 2 corners of the gable.
Samakki Mukmat Hall (?????????????????????????): This is a Thai style hall. It was a meeting hall for King Rama VI and also where he holds court. Furthermore, the hall was also used as a Khone theatre (Khone is a kind of Thai play performed by dancers wearing masks). At present, this hall is a meeting hall of Nakhon Pathom province; it is also used to hold other provincial ceremonies.
Phra Tamnak Chali Monkol-asna (??????????????????????) The 2-storey building is of European architecture, plastered in caramel-yellow, with roof tile in red. It was used as a temporary residence of King Rama VI when there were missions that involved with Suer Pah Unit.
Phra Tamnak Mari Ratchrat Banlang (???????????????????????????) This is a 2-storey wooden building and painted in red. The building is located opposite Phra Tamnak Chali Monkol-asna and are connected via a walk way.
Phra Tamnak Tabkaeo (????????????????): This is a small building that used to be a temporary residence during winter time. At present, after a renovation it is a residence of the Palad Changwat of Nakhon Pathom. Around 450 Rais (180 acres) of land to the rear of the building is now the campus ground of the Silpakorn University.
Phra Tamnak Tabkwan (????????????????): This a teak building with a palm leaf roof. Under the royal command of King Rama VI, the teak building was constructed to preserve traditional Thai architecture. It is also used for merit-making and some times classic Thai performances would also be held at this building.
Thevalai Kanaesuan or Phra Pikkanesh Shrine (?????????????? ???? ???????????????): It was built to house the image of Phra Pikkanaesuan (or Ganesh), the Indian god of arts. The shrine is located in a large field, in front of the Sanam Chan Palace.
Ya-Lei Monument (?????????????????): The dog, Ya-Lei, was very close to the heart of King Rama VI. The King was very fond of Ya-Lei, so much so that Ya-Lei was envied, and was later shot by an envious person. King Rama VI was much saddened when Ya-Le died and commanded that a copper statue of Ya-Lei be cast and placed on a pedestal in front of Phra Tamnak Chali Monkol-asna.
Neun Dhamma Sala (????????????): The physical appearance is that of a hill with a tunnel opening that is believed to connect Wat Phra Mayn to Wat Dhamma Sala. From hearsay, there are various valuable treasures like ancient pottery but which may not be taken out because there is a treasure guardian spirit watching over.
Wat Phra Mayn (??????????) It is an abandoned temple that nowadays resembles a large hill. Also discovered here are other artefacts which include bronze Buddha images as well as arms, thighs, and hands from a laterite Buddha image, Yaksa Deva (Thai mythical giant gods), Lotus Lion Deva, and stucco relief from the stupa ruins.
Phra Padhone Chedi (??????????????????): As Wat Phra Padhone Chedi is located in the middle of the ancient city of Nakhon Chaisi thus several artefacts were discovered during excavations. Some of the discovered items include Buddha images, heads of Buddha images and Buddha images in terra cotta, as well as a bronze figure of a garuda gripping naga under its claws, which is the official symbol of King Rama VI.
Neun Phra or Neun Yai Hom (?????????????????????) This area was once an ancient temple and that the hill must have been a large Chedi that was in the temple compound dating back to the Dvaravati period, or earlier, roughly about 1,000 years ago.
Buddhamonthon (????????) A huge upright Buddha image, in walking attitude, measuring about 15.8 metres marks the centre of the area. King Bhumibhol Adulyadej granted the name "Phra Sri Sakkaya Thosapol Yan Phratan Buddhamonthon Sutas" to the splendid Buddha image. At present, important Buddhist ceremonies and festivities are held here, such as the Visaka Bucha Day, Makabucha Day, Asanhabucha Day, and Loy Krathong Festival among others
Open Study Centre or College in the Palace (???????????????????????? ???? ?????????????) The centre mobilises an ancient school of Thai arts called "Chang Sib Mu" or "The Ten Master Crafts", the Thai arts that stem from local wisdom and expertise that Thais managed to retain from their forefathers.
Misiem Yip Intsoi Arts Garden (????????????????????????) The Garden houses masterpieces of arts created by Madam Misiem Yip Intsoi for educational purposes.
Don Whai Market (???????????) Behind the Don Whai temple is a market that still retains an appearance of a market dating back to King Rama VI period.
Samphran Elephant Ground & Zoo (????????????????????????????????) There are daily elephant shows, elephant ride around the compound, elephant musical shows, crocodile-wrestling shows, and magic shows.
Rose Garden (??????????): There are a multitude of beautiful floral displays of great variety. A Thai-style houses; parts of the area are hotel, lodges, and golf course. It also features an attractive Thai cultural show that commences daily in the afternoon.
Thai Human Imagery Museum (?????????????????????) The museum displays lifelike wax/fibreglass sculptures of vivid detail. These breath-taking real-looking human figures of various characteristics and also replicas of important people are displayed in many sections such as the Great Buddhist Monks, former Kings of the Chakri Dynasty, and One Side of Thai Life: Thai Chess, Thai Family, and Abolishing of Slavery, among others.
Wat Klang Bang Kaew (??????????????) The temple houses a chapel, a vihara, and a principal Buddha image, all of which are very old and assumed, archaeologically, to have been built in the Ayutthaya period. There is a Phra Phuttha Vithinayok museum, exhibiting historical remains, artefacts, as well as utensils of the late monks: Luang Poo Boon (Phra Phuttha Vithinayok Boon Kanthachoti) and Luang Poo Perm (Phra Phuttha Vithinayok Perm Punyavasano).
Thai Farmers' Lifestyle Museum (??????????????????????) The house-cum- museum displays equipment, utensils, and tools, used in rice farming. Also within the house compound is a handicraft-training centre that trains townspeople to make various products from Water Hyacinth (Pak Tob Chawa).
Fish Sanctuary (?????????) The place is a natural fish sanctuary, which is the habitat of various species of fish typical to the Tha Cheen River.
Wat Lampaya Floating Market (???????????????) The floating market was initiated by the Tambon Lampaya Cultural Council and Lampaya temple. It is a centre of trade for fruits and vegetables as well as agricultural produces.
Thai Soang village (???????????????) The village is home to Thai Soang or Thai Soang Dum (Thai Soang usually wear black dresses) or Lao Soang, who migrated from Ban Nong Prong, Amphoe Khao Yoi, Petchaburi, who have a distinct culture and tradition of their own.
Herbal Grove, Wat Plug Mai Lai (????????????? ?????????????) An entrance to the temple can be seen on the left. More than 500 kinds of herbs abound in the grove which covers an area of 92 Rais (36.8 acres) and in a tranquil ambience.
Kasetsart University, Kamphaeng Saen Campus (Botanical Garden) In the university compound, there are number of projects to educate farmers and the general public that include scaled-down projects such as an agricultural technology project, an irrigation system initiated along with the Royal project, an Entomological Park where various species of butterflies are housed, a pilot vegetable plantation plot, and Suan Saen Palm (garden of a hundred thousand palms), which collects various kinds of ornamental palms.
Ancient City of Kamphaeng Saen (?????????????????), this is an ancient town that is worth visiting. It is used as a Boy Scout's camp. The interesting attractions of Ancient City of Kamphaeng Saen include unchanged ditches and earth dikes surrounding the ditches.
(,)http://upload.wikimedia.org/wikipedia/commons/5/53/Phra_Pathom_Chedi.jpg(,)http://www.mapsofworld.com/thailand/maps/nakhon-pathom-map.jpg(,)http://thailandforvisitors.com/central/central_map.png(,)http://travelfish-sg.s3.amazonaws.com/blogs/thailand/wp-content/uploads/2014/04/DSCN2879.jpg(,)http://www.asiatravelroutes.com/images/thailand/nakhon-pathom/attractions/phra-pathom-chedi-1.jpg(,)http://image.slidesharecdn.com/kanchanaburi-120127050409-phpapp02/95/kanchanaburi-is-one-of-the-most-famous-natural-cultural-and-historical-province-of-thailand-7-728.jpg%3Fcb%3D1327662508(,)http://previews.123rf.com/images/mckyartstudio/mckyartstudio1312/mckyartstudio131200037/24486602-Phra-Pathom-Chedi-pagoda-the-landmark-of-Nakhon-Pathom-Province-Thailand-in-renovation-Stock-Photo.jpg(,)http://previews.123rf.com/images/apirati333/apirati3331302/apirati333130200107/17736106-Phra-Pathom-Chedi-Big-pagoda-Nakhon-Pathom-Province-ThailandStock-Photo.jpg(,)http://previews.123rf.com/images/wuttichok/wuttichok1312/wuttichok131200079/24628927-Wat-Phra-Pathom-Chedi-in-blue-sky-the-tallest-stupa-in-the-world-It-is-located-in-Nakhon-Pathom-prov-Stock-Photo.jpg(,)http://genweb.nationmultimedia.com/specials/drive/blogger/wp-content/gallery/central5/central_trip5_1.jpg(,)http://www.eugenegoesthailand.com/wp-content/uploads/2008/12/12.jpg
(,)http://www.booknowbangkok.com/f/a/attractions/nakhon_parthom_attractions/rose_garden_1.jpg(,)http://www.planetware.com/i/map/THA/nakhon-pathom-map.jpg(,)http://www.giganticstatues.com/wp-content/uploads/2012/08/Walking-Buddha-Statue.jpg(,)http://thaigardendesign.typepad.com/.a/6a010534c75d2a970c01156e92bfcb970c-pi(,)http://previews.123rf.com/images/pichaitun/pichaitun1301/pichaitun130100068/17192640-Bending-tree-and-rock-garden-in-Phutthamonthon-Nakhon-Pathom-provinceStock-Photo.jpg(,)http://cache3.asset-cache.net/xc/513702983.jpg%3Fv%3D2%26c%3DIWSAsset%26k%3D2%26d%3DLlA20Fj_hpYZyPAWMr4yYTFZMzst42HimSXnh0LWAkVb-SVbAqFt2MfnRhpcjERP0(,)http://cache3.asset-cache.net/gc/512105615-corridor-bridge-gettyimages.jpg%3Fv%3D1%26c%3DIWSAsset%26k%3D2%26d%3DdpDwjHbAguulM3nbIDQ208rYMLZWJNh0PKEcjCcAiGJs9XTR%252F%252Fm6D9lJ5nDw5IVM(,)http://cache1.asset-cache.net/gc/512105617-corridor-bridge-gettyimages.jpg%3Fv%3D1%26c%3DIWSAsset%26k%3D2%26d%3DdpDwjHbAguulM3nbIDQ204AQHezhzLvnIcr31yvd4ETb95aKoOuhXqwSOOQf6BSa(,)http://www.thailandguidebook.com/images/stories/provinces/pic_nakhon_pathom_08.jpg(,)http://www.nickysgaypattaya.com/gay-pattaya/wp-content/uploads/2011/04/nakhon120123.jpg
(,)http://genweb.nationmultimedia.com/specials/drive/blogger/wp-content/gallery/weekenddrives20/20-Nakhon-pathom.jpg(,)http://www.mdpi.com/ijerph/ijerph-11-00934/article_deploy/html/images/ijerph-11-00934-g002-1024.png(,)http://media-cdn.tripadvisor.com/media/photo-s/04/1f/e5/1d/inn-chan-restaurant.jpg(,)http://www.mdpi.com/ijerph/ijerph-11-00934/article_deploy/html/images/ijerph-11-00934-g001-1024.png(,)http://www.planetware.com/i/map/THA/phra-pathom-chedi-nakhon-pathom-map.jpg(,)http://www.bangkokpost.com/media/content/20130503/497629.jpg(,)http://www.trekthailand.net/directory-thailand/images/nakhonpathom_rose_garden_plan.jpg(,)http://www.thebestthaitour.com/picture/index/khlong-tour/nakhon-pathom/nakhon-chai-si-river%25202.jpg(,)http://www.thebestthaitour.com/picture/index/khlong-tour/nakhon-pathom/khlong-tour-nakhon-pathom-1_01.jpg
(,)http://cdn.c.photoshelter.com/img-get2/I0000_kQ.JVrNI.k/fit%3D1000x750/WatBangPhraTattooFestival2014003.jpg(,)http://l2.yimg.com/bt/api/res/1.2/MwuD1xetgaCffYiCQfNyog/YXBwaWQ9eW5ld3M7Zmk9ZmlsbDtoPTM3NztpbD1wbGFuZTtweG9mZj01MDtweW9mZj0wO3E9NzU7dz02NzA-/http://media.zenfs.com/es/News/efe.es/20150307-635613210681284875w.jpg(,)http://l2.yimg.com/bt/api/res/1.2/wX_OqIt_EXOGRNlizDOPTA/YXBwaWQ9eW5ld3M7Zmk9ZmlsbDtoPTM3NztpbD1wbGFuZTtweG9mZj01MDtweW9mZj0wO3E9NzU7dz02NzA-/http://media.zenfs.com/es/News/efe.es/20150307-635613216667160875w.jpg(,)http://cdn.c.photoshelter.com/img-get2/I00004Ds.vxTVXIo/fit%3D1000x750/g%3DG0000c6Bx3FuKTLg/WatBangPhraTattooFestBW2015014.jpg(,)http://www.themalaymailonline.com/images/sized/ez/buddhist_monk_holy_water_magic_tattoo_festival_20150307_620_413_100.JPG(,)http://cache.pakistantoday.com.pk/Thailand-Tattoos.jpg(,)http://www.thephuketnews.com/photo/listing/1398059376_1-org.jpg(,)http://cdn.c.photoshelter.com/img-get2/I0000L4VgZ0JBj_U/fit%3D1000x750/WatBangPhraTattooFestBW2015017.jpg(,)http://cdn.c.photoshelter.com/img-get2/I0000CY_gUMhXZ24/fit%3D1000x750/WatBangPhraTattooFestBW2015012.jpg(,)http://durianasean.com/wp-content/uploads/2015/03/magic_tattoo_festival_devotee_trance_20150307_840_560_100.jpg(,)http://www.themalaymailonline.com/images/sized/ez/tattooed_man_magic_tattoo_festival_thailand_20150307_620_413_100.JPG(,)http://www.easytours24h.com/easytours-images/news/img1/Phra_Pathom_Chedi_Festival.jpg(,)http://www.thephuketnews.com/photo/listing/1398059416_6512-org.jpg(,)http://www.asiaexplorers.com/pics/sanam-chan-palace_nakhon-pathom.jpg(,)http://www.thephuketnews.com/photo/listing/1398059414_2337-org.jpg
(,)http://sourcecodes.pro/loader/image/0-xem-s3-xem-xemoteimage-xem-com/files/88309561/IMG_4032-1-xem-jpgxemc.jpg%3Fitemid%3D7469767%26dom%3Dsourcecodes(,)http://www.roopthai.com/stocks/RoopThai_600_j0gb8v7w1n_MG_7364-2.jpg(,)http://cache2.asset-cache.net/xc/515144355.jpg%3Fv%3D2%26c%3DIWSAsset%26k%3D2%26d%3DmvnnQV_LF7hQFUTJV-C4ODDuetrQI7G0xg9nAzOOCoSLaEmjxV7S1ArTrgE0Qrax0(,)http://cache3.asset-cache.net/gc/508633373-phra-chedi-temple-in-nakhon-pathom-province-gettyimages.jpg%3Fv%3D1%26c%3DIWSAsset%26k%3D2%26d%3DlKy5JLqGgmCo1WxvW9yw63k8MW2tIJhfWUskwu5KgS%252BCjS8N5LNGlV7J22rQqPen(,)http://cache4.asset-cache.net/gc/509626395-phra-pathom-chedi-temple-in-nakhon-pathom-gettyimages.jpg%3Fv%3D1%26c%3DIWSAsset%26k%3D2%26d%3Dqlxl9Ztqh56bp9qrEz3wTg1s9e4DALhoIFTdqwoXz7xG7ELxSKIaNeRE6o5X0Zgy(,)http://cache1.asset-cache.net/gc/128074855-the-127-metre-tall-phra-pathom-chedi-the-gettyimages.jpg%3Fv%3D1%26c%3DIWSAsset%26k%3D2%26d%3DkDCqZJJJXzlWa7yz1JBOkNzZFXpU62DSIJy5Iq%252BngjgDf5HJTzHrHlahFgM0YdR5(,)http://cache1.asset-cache.net/xc/533478767.jpg%3Fv%3D2%26c%3DIWSAsset%26k%3D2%26d%3DlW2lElyUZkrRg-FD5CQXbTUhP-FartGIZgW4s85fzJZBezwo2YV9dcYtj0Fz9vjM0(,)http://us.123rf.com/450wm/apirati333/apirati3331302/apirati333130200109/17736109-phra-pathom-chedi-big-pagoda-nakhon-pathom-province-thailand.jpg
(,)http://www.planetware.com/photos-large/THA/thailand-nakhon-pathom-phra-pathom-chedi.jpg(,)http://www.tripsthailand.com/images/Major_Thailand/Nakhon_Pathom.jpg(,)http://www.thailandee.com/villes/nakhon-pathom/nakhon-pathom-chedi-8.jpg(,)http://inter.tourismthailand.org/fileadmin/upload_img/Attraction/5111/%25E0%25B8%25A7%25E0%25B8%25B1%25E0%25B8%2594%25E0%25B8%259E%25E0%25B8%25A3%25E0%25B8%25B0%25E0%25B8%259B%25E0%25B8%2590%25E0%25B8%25A1%25E0%25B9%2580%25E0%25B8%2588%25E0%25B8%2594%25E0%25B8%25B5%25E0%25B8%25A2%25E0%25B9%258C%25E0%25B8%25A3%25E0%25B8%25B2%25E0%25B8%258A%25E0%25B8%25A7%25E0%25B8%25A3%25E0%25B8%25A7%25E0%25B8%25B4%25E0%25B8%25AB%25E0%25B8%25B2%25E0%25B8%25A3.jpg