Instruments

Chitravina




Genres

Carnatic music




Name

N. Ravikiran




Website

ravikiranmusic.com




Years active

1969 – present







Born

12 February 1967 Mysore, India (

1967-02-12

)


Occupation(s)

Instrumentalist,Vocalist,Musical composer,




Role

Musician · ravikiranmusic.com




Albums

Mumtaz Mahal, Dikshitar Masterpieces




Awards

Sangeet Natak Akademi Award for Music - Instrumental (Gottuvadyam)




Similar People

Vishwa Mohan Bhatt, Muthuswami Dikshitar, Taj Mahal, Guruvayur Dorai, T H Vinayakram
Akhilandeswari n ravikiran album tribute to the trinity dikshitar
Chitravina N. Ravikiran (born 12 February 1967) is an Indian musician, considered one of the most celebrated prodigies and musicians from age two (2). He was awarded the Madras Music Academy's Sangeetha Kalanidhi in 2017. A slide instrumentalist, vocalist from age 5, composer, guru, author and orator, he is also the creator of the concept Melharmony in world music. Son and disciple of revolutionary arts educator Chitravina Narasimhan, he is the grandson of musician Gotuvadyam Narayan Iyengar.
Contents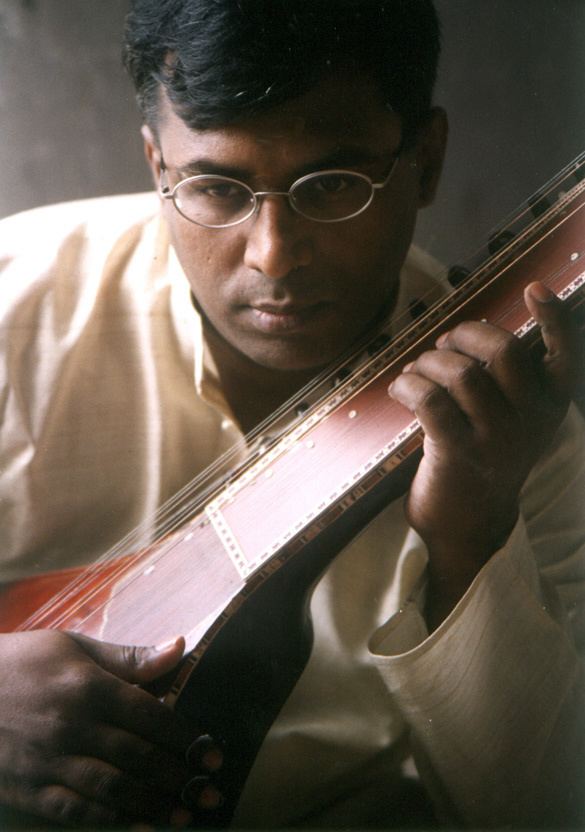 Special vocal concert by vid chitravina n ravikiran pallavi darbar 2016
Prodigy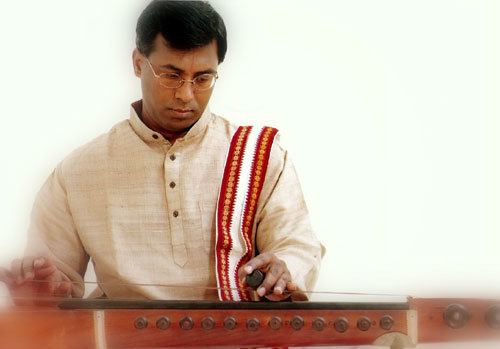 Ravikiran was born in Mysore, Karnataka. Hailed as "the Mozart of Indian Music" by the Wisconsin State Journal, USA, Ravikiran made his first appearance at the age of two in 1969 in Bangalore. Soon after, he was presented in The Madras Music Academy, Krishna Gana Sabha he was able to identify and render about 325 ragas (melodic scales) and 175 talas (rhythmic cycles) of Carnatic music. He was quizzed by iconic musicians including Semmangudi Srinivasa Iyer, Pandit Ravi Shankar, M S Subbulakshmi and Flute T R Mahalingam. Ravi Shankar is said to have declared "If you don't believe in God, look at Ravikiran." He was awarded a scholarship from The Madras Music Academy, becoming the first and only musician to have been conferred this distinction at age 2. Soon after, he was presented in leading institutions such as Shanmukhananda Fine Arts, Bombay and Tyagaraja Sabha, Coimbatore.
Vocalist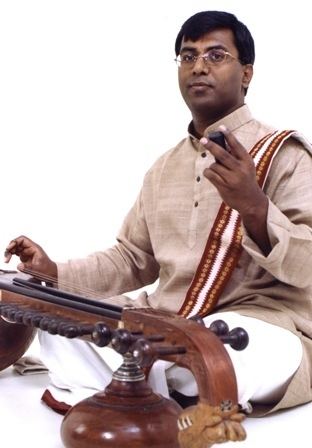 Following more intense training under his father, Chitravina Narasimhan, Ravikiran debuted as a vocalist in 1972, at a record-setting age of five in Coimbatore and presented concerts in prominent venues in cities such as Madras, Mysore and Bangalore till age 10. His recitals – often over two and a half hours – drew record crowds in major festivals and won critical acclaim in the Indian media. He resumed his appearance as vocalist from 1999 and has since presented voice concerts for major organizations in and outside India including the Cleveland Festival & the Chicago World Music Festival. His vocal albums include Genius at Work, Sahityanubhava – Oottukkadu Venkata Kavi and The Eighteen Steps.
Slide Instrumentalist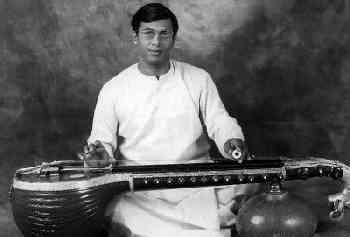 At the age of 10, he switched over to the 21-stringed chitravina and gave his maiden chitravina concert at age 11.
He established himself as a frontline Indian string instrumentalist within the next 3 years with recitals in major venues and festivals. In July 1985, he set a record with a 24-hour non-stop solo concert in Chennai. He won an exemption to perform professional concerts for Indian Radio and Television (Doordarshan) at age 12 and was invited to represent his country in Festivals of India in France (1985), Switzerland (1987), Germany (1992), Brazil (2012) and countries like Poland, Czech Republic, Austria and Yugoslavia (1997). He has performed extensively in major events and venues across the world including the Chicago World Music Festival, Theatre de la Ville Paris, Europalia Festival, Belgium, Millennium Festival (UK), Masters of Indian Music, Budapest, Sadlers Wells & Tate Modern (UK), Esplanade Festival (Singapore), Oji Hall (Tokyo), Harborfront Festival, Canada, Cleveland Festival & Madison Festival (USA) and Brisbane Festival, Australia and was the first to introduce Carnatic music in several countries such as Slovakia, Croatia and Slovenia.
From 1986–96, Ravikiran had the rare distinction of training under the celebrated vocalist T.Brinda, an acknowledged musicians' musician, renowned for her microscopic nuances, authentic repertoire and uncompromising values. Ravikiran's concerts on the chitravina won acclaim across the world for his "teasing precision" and "dazzling effects".
Composer
Ravikiran has over 750 classical Indian compositions to his credit which include musical forms such as varnam, krti, javali, tillana and padam. He discovered a raga at the age of two and named it Choodamani after his mother. He also discovered other new ragas such as Keshavapriya, Snehapriya, Andhakarini and Mohini. He is the first composer to have created pieces in each of the 35-talas of Carnatic Music. He is also the only composer to have created the 72-mela ragamalika geetam, a 13-part piece that spans over all the 72-parent ragas of Carnatic music in only 7 minutes. His compositions span over five languages – Sanskrit, Tamil, Telugu, Kannada and Hindi.
Melodist
Ravikiran has also set to music works of several azhwars, verses of Vedanta Desika, verses from ancient Tamil sangam literature, compositions of Purandara Dasa, D V Gundappa and a few contemporary composers.
Historic Initiative
In Jan 2016, Ravikiran set a world composing record of a unique kind by setting music to 1330 tirukkural verses in 16 hours spread over 3 days at the International Institute of Tamil Studies, Taramani, Chennai (India). The tirukkural verses, set in unconventional meter have been considered challenging to tune in classical form, without prejudicing the lyrical content.
12th Jan: 350 verses in about 3.5 hours, average of 100 verses per hour 13th Jan: 420 in under 6 hours, average about 70 per hour. 14th Jan: 560 in 6 hours average of over 93 per hour.
Total: 16 hours for 1330 verses. Average verses per hour: 83.125
Dance & Operatic Creations
Ravikiran is the most prolific creator in the dance arena today with hundreds of compositions and numerous operas which have been staged in USA, India, Canada, Australia and other countries by leading performers like Pt Birju Maharaj, Dr Vyjayantimala Bali, Prof C V Chandrashekhar, Adyar Lakshman and premiere institutions. These include:
Lakshmi Prabhavam, which featured "Inventive instrumentation"
Savithri
Vinayaka Vaibhavam
Ramayana - Bala Kandam
Ramayana - Yuddha Kandam
Mahabharata (Karna Shapatam and Geetopadesham)
The Almighty Trinity, a production composed entirely in Telugu, highlighting the harmonious interactions between Brahma, Vishnu and Shiva.
Panchakriya
Panchali Shapatam
His cross-cultural dance productions include" Cosmos", "Pushed to the Edge, "Translation" & Illusion to Resolution. Ravikiran also directed the dance project "Divine Equations" with Dr Vyjayantimala Bali and Natya Dance Company, Chicago, based on Oottukkadu Venkata Kavi's compositions.
For more information and a list of selct traditional and melharmonic works of Ravikiran, visit the Compositions of Chitravina N Ravikiran page.
Melharmony
Ravikiran is well known for his cutting-edge concept of melharmony, which explores Western style harmony anchored on (Eastern style) melodic rules of evolved systems such as the raga system of Indian music. Melharmony has endeavoured to unify music systems of the world by taking into cognisance the rules and aesthetics of all fused systems in any given collaboration. Ravikiran introduced this award-winning concept during his collaboration with artists of the BBC Philharmonic, at the Millennium Festival, UK in Oct 2000.
Melharmony concerts with major orchestras like Wisconsin Chamber Orchestra's have attracted audiences of 45,000 people at times. The concept has inspired critical discussion among scholars in international conferences including Society for Music Theory Conference, Boston (2005) and Melody, Harmony, Melharmony conference, Houston (2014). Melharmony shows with School Orchestras have enabled middle and high school children in the West glean insights into how harmony can be centered on sophisticated rules of melody.
Ravikiran has also melharmonically rearranged and showcased the works of the great Masters in the twin-Composer series of festivals - OVK-Bach, Tyagaraja-Mozart and Dikshitar-Beethoven since 2013.
Collaborations
Ravikiran has created music for Western Classical Symphony Orchestras, Chamber Orchestras, String Quartets as well as Caprices for solo violins. He has collaborated with top-draw artistes of various genres such as Taj Mahal, Larry Coryell, Martin Simpson, George Brooks, Simon Phillips, Roland van Campenhout and orchestras such as BBC Philharmonic, Wisconsin Chamber Orchestra and Sacramento Symphony. He founded the world music group, ta-ki-Ta Trio with 4-time Grammy Awardee Glen Velez and Voice Percussionist, Loire Cotler.
Among Indian maestros, he has performed with Semmangudi Srinivasa Iyer, T Brinda, Girija Devi, Pt Birju Maharaj, Dr M Balamuralikrishna, Vishwa Mohan Bhatt, Dr N Ramani, R K Shrikanthan, Pt Kishen Mahraj, Nedanoori Krishnamurthy, Mandolin U Shrinivas and others.
Arts educator
Ravikiran, renowned for his vast repertoire (in excess of 1000 compositions of master Indian composers) has trained numerous disciples all over the world, many of who are award-winning performers and teachers. He pioneered the concept of tele-teaching in 1996. He is probably the first guru to have used the Flip teaching method through structured syllabuses online, and many of his video lessons are hosted by Acharyanet.com. He also brought to light hundreds of compositions of 18th century composer, Oottukkadu Venkata Kavi through concerts, workshops, books and articles.
Ambassador of Culture
An active champion of culture, Ravikiran has performed extensively in schools and colleges across various countries. At age 20, he organised a symbolic non-stop 72-hour concert for "world peace and prosperity" that brought together the who's who of Carnatic music.
Rural Music Education Projects
In 2006, Ravikiran pioneered an initiative for Rural Children in India with the largest music camp of its kind for over 31,000 children in Tamil Nadu, India for the Indian Government's Sarva Shiksha Abhyan. He authored the book, Inaiyatra Innishai and produced a 2-volume DVD with the same title which featured special demos by some of India's top legends. Ravikiran also composed two new pieces and also tuned a few others in core-classical ragas like Sahana and Yadukulakambhodhi, proving that classical music was accessible to all and beyond communal or caste divides. Ravikiran has proved this further by training disciples from diverse communities, regions and countries, several of who have gone become award-winners and performers. He has also given hundreds of outreach concerts and lectures in schools and colleges across India, USA and other countries.
Music in Schools & Universities in USA and India
A lobbyist for cultural renaissance in India, he was invited to provide syllabuses for Music Education in Schools in India for Grades I – VIII. In 2013, he introduced Indian music through Melharmonic creations for Middle and High School level orchestras in School Districts in USA such as Middleton & Sun Prairie, WI. A summer course on Melharmony was introduced at the Eastman School of Music in 2015, by Ravikiran and renowned American Composer-Musician Prof. Robert Morris.
He has introduced Carnatic music in several countries such as Slovakia, Croatia and Slovenia.
Ravikiran's concerts have raised substantial funds for disaster relief including Hurricane Katrina, Tsunami of 2004 as well as for educational, health and cultural initiatives.
Innovations & Contributions
Some of Ravikiran's other contributions include:
Introducing the portable, bright toned, 20-stringed slide instrument, Nava-chitravina
Inventing the Visual Rhythm Metronome, Taal Acharya with Vanitha and Krishnan Suresh
Resurrecting and championing the works of the composer Oottukkadu Venkata Kavi
Introducing Indian music in a number of schools in India and USA
Pioneering twin composer festivals such as Oottukkadu Venkata Kavi-J S Bach Festival and Tyagaraja-Mozart Festival in cities such as Madison and Chicago
Pioneering the use of teflon-slides in world music
Introducing revolutionary concepts in rhythm such as "Seamless korvais"
New perspectives on millennia old concepts such as "22 shrutis"
Dance augmentation for instrumental concerts with dancer Smitha Madhav
Numerous workshops and music camps in various countries on both practice pieces, performance repertoire as well as Improvisational aspects such as Neraval, Kalpana Swaras and Alapanas
Author
Ravikiran has authored several sought after books on Carnatic Music including
Appreciating Carnatic Music
Perfecting Carnatic Music Level I and II
Life and Contributions of Oottukkadu Venkata Kavi
Saptaratnas and Navavaranams of Oottukkadu Venkata Kavi
Inaiyatra innishai (The incomparable music)
He has also penned a number of articles in leading Journals and Dailies.
Orator
Ravikiran has lectured extensively in venues such as Sydney Conservatory of Music, Leeds College of Music, Stanford University, Carnegie Mellon, CalArts and University of Ljubljana (Slovenia) and Indian Institute of Technology on topics such as:
Appreciating Carnatic Music
Melody, Harmony & Melharmony
Revolutionary Techniques in slide instruments
Tyagaraja Panchartnam Oottukkadu Saptaratnam
Raktitvam
CMCM
Ragam tanam pallavi
His critical presentations on topics such as CMCM (Common Mistakes in Carnatic Music) have attracted critical acclaim from musicians, musicologists, students and music lovers. Ravikiran has also presented papers in conferences like The Society for Music Theory Conference, Boston, The India-Amsterdam Conference, Netherlands and in several conferences of The Music Academy, Madras.
Awards
Ravikiran is one of the most decorated artistes from India at the International, National, State and artistic levels. In most cases, he has been the first or youngest to have received such recognition, including a Fellowship from The Madras Music Academy at age two.
International:
- Millennium Festival Award (Millennium Commission, Government of UK) – 2000
– Citation from City of Houston, USA
– Citation from City of Tulsa, USA
- Annual Melharmony Day proclamation by the city of Middleton, USA - 2013
- Melharmony Day proclamation by city of Madison, USA - Nov 8, 2015
– Best Contemporary World Album (New Age Voice Awards, USA) – 2001
National & State:
– President of India's Sangeet Natak Akademi Award – 2007
- Star of India Award (Wisdom International) – 1985
– Sanskriti Award (Sanskriti Foundation) – 1990
– Kalaimamani (Tamil Nadu State Award) – 1985
– Kumar Gandharva Samman (Madhya Pradesh State Award) – 1996
Artistic:
· Arul Isai Selvan – 1973
– Music Academy Senior Awards – several, since 1979
– Lion's International Award – 1979
– Nada Sudharnava – 1980
– Tantri Gana Visharada – 1983
– Sangeet Samraat (Wisdom International) – 1985
– Rotary Vocational Award – 1985
– Madhura Naada Mannar – 1986
– Isai Peroli (Kartik Fine Arts) – 1991
– Sangeeta Choodamani (Krishna Gana Sabha) – 1995
– Chitravina Vidya Varidhi (Yarl Society, Perth, Australia) – 1996
– Kumar Gandharva Award (Kumar Gandharva Foundation, Bombay) – 2000
– Vadya Ratnakara (India Fine Arts, Austin, TX), 2002
– Lifetime Achievement Award (Kanchi Foundation, India), 2003
– Harvard Sangeet Award (Harvard University, USA), 2005
– TTK Award (Music Academy, Madras, India), 2003
– Sangeeta Sapta Saagara (Shanti Fine Arts, Chennai, India), 2005
– Nalli Season Award (Nalli Foundation, Chennai, India), 2006
– Ragalaya Sagara (Ragalaya Foundation, London), Jan 2008
– Sangeeta Ratnakara, Cleveland, USA, 2010
– Rotary Lifetime Achievement Award, July 2011
- Sangeeta Kala Sarathy, Dec 2013 (Parthasarathy Swami Sabha), Chennai
- Sangeeta Shastra Virpannar – Lifetime Achievement Award, (SAFE) Chennai Dec 2014
- ISAI Tendral, Feb 2015, ISAI, Chennai, India
- Lifetime Achievement Award, Dayananda Ashram, India
- Sangeetha Kalanidhi, The Music Academy, Madras, 2017
References
N. Ravikiran Wikipedia
(Text) CC BY-SA