Nora K. Jemisin (born September 19, 1972) is an American speculative fiction writer and blogger. Her fiction explores a wide variety of themes, including cultural conflict and oppression. In 2010, Jemisin's short story "Non-Zero Probabilities" was a finalist for the Hugo and Nebula Best Short Story Awards.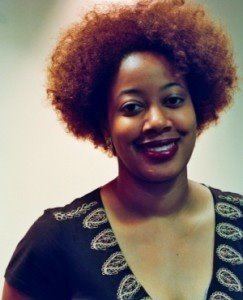 Jemisin's debut novel, The Hundred Thousand Kingdoms, was nominated for the 2010 Nebula Award, and short-listed for the James Tiptree Jr. Award. In 2011, it was nominated for the Hugo Award, World Fantasy Award, and Locus Award, winning the 2011 Locus Award for Best First Novel. The Hundred Thousand Kingdoms also won the Sense of Gender Awards in 2011.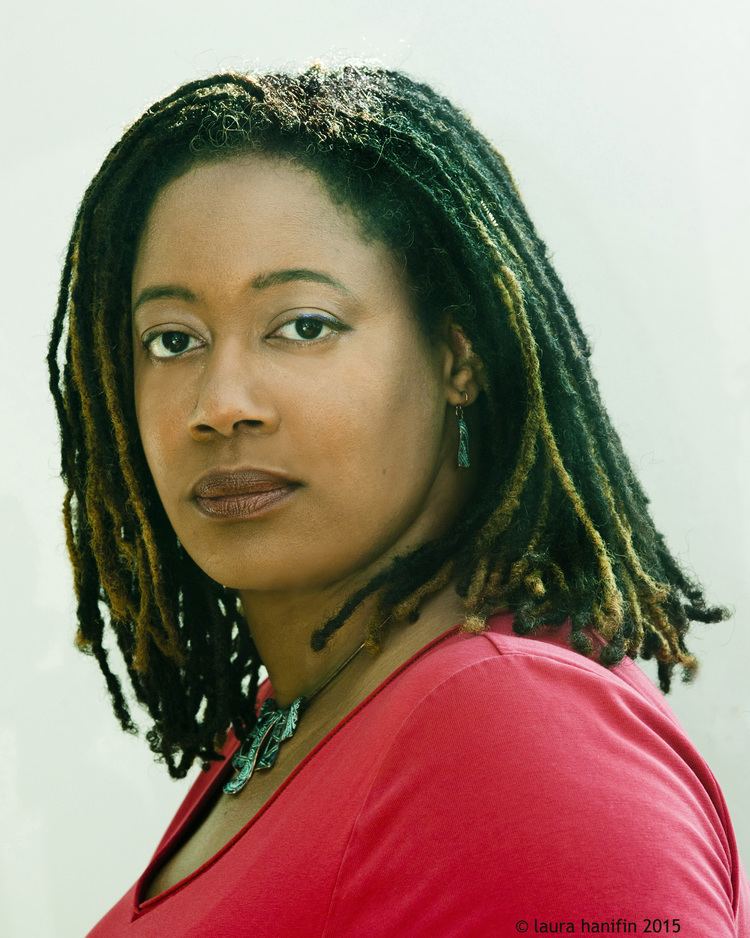 In 2016, Jemisin's novel The Fifth Season won the Hugo Award for Best Novel, thus making her the first black writer to win a Hugo award in that category. Its sequel, The Obelisk Gate, won the Hugo Award for Best Novel in 2017.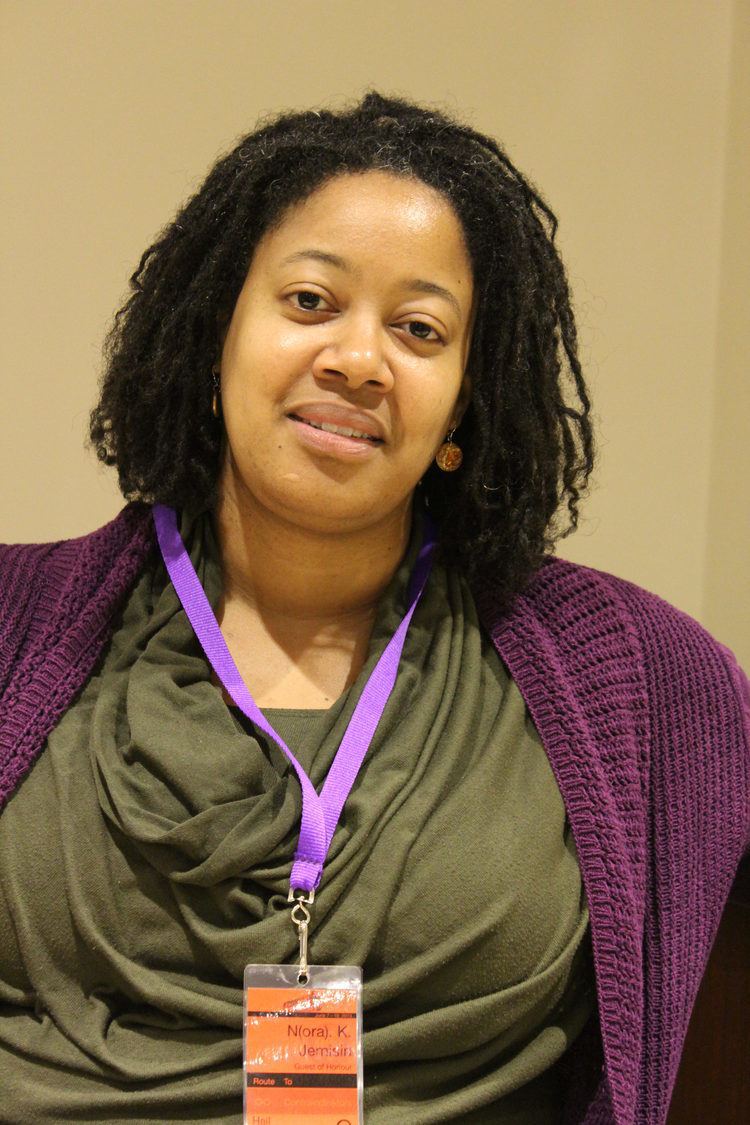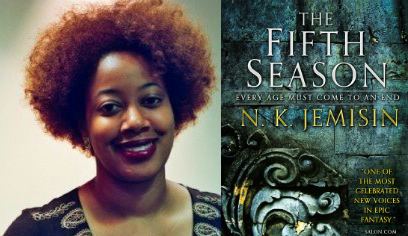 Nora K. Jemisin was born in Iowa City, Iowa, and grew up in New York City and Mobile, Alabama. She lived in Massachusetts for ten years and then moved to New York City. Jemisin attended Tulane University from 1990 to 1994, where she received a B.S. in psychology. She went on to earn her Master of Education from the University of Maryland College Park.
She is first cousin once removed to W. Kamau Bell.
A graduate of the 2002 Viable Paradise writing workshop, Jemisin has published a number of short stories and completed several novels. Jemisin was a member of the Boston-area writing group BRAWLers, and is a member of Altered Fluid, a speculative fiction critique group.
She was a co-Guest of Honor of the 2014 WisCon science fiction convention in Madison, Wisconsin. She was the Author Guest of Honor at Arisia 2015 in Boston, Massachusetts.
During her delivery of the Guest of Honour speech at the 2013 Continuum in Australia, Jemisin pointed out that 10% of the Science Fiction and Fantasy Writers of America (SFWA) membership voted for alt-right writer Theodore Beale (also known as Vox Day) in his bid for the SFWA presidential position. She went on to call Beale "a self-described misogynist, racist, anti-Semite, and a few other flavors of asshole" and noted that silence about these issues was the same as enabling them. Beale responded by calling her an "educated but ignorant savage". A link to his comments was tweeted on the SFWA Authors Twitter feed, and Beale was subsequently expelled from the organization.
In January 2016, Jemisin started writing "Otherworldy", a bimonthly column for The New York Times. In May 2016, Jemisin mounted a Patreon campaign which raised sufficient funding to allow her to quit her job as a counseling psychologist and focus full-time on her writing. In the following year, Bustle called Jemisin "the sci-fi writer every woman needs to be reading".
Jemisin lives and works in Brooklyn, New York, along with her cat King Ozymandias (Ozzy).
Romantic Times Reviewers' Choice Award, Best Fantasy Novel 2010 (The Broken Kingdoms)
Locus Award, Best First Novel 2011 (The Hundred Thousand Kingdoms)
Sense of Gender Award, 2011 (The Hundred Thousand Kingdoms)
Romantic Times Reviewers' Choice Award, Best Fantasy Novel 2012 (The Shadowed Sun)
Hugo Award, Best Novel 2016 (The Fifth Season)
Hugo Award, Best Novel 2017 (The Obelisk Gate)
Recommended Reading Shortlist for the Parallax Award, Carl Brandon Society 2006 ("Cloud Dragon Skies")
Hugo Award, Best Short Story 2010 ("Non-Zero Probabilities")
Nebula Award, Best Short Story 2010 ("Non-Zero Probabilities")
James Tiptree Jr. Award, Best Novel 2010 (The Hundred Thousand Kingdoms)
Nebula Award, Best Novel 2011 (The Hundred Thousand Kingdoms)
Hugo Award, Best Novel 2011 (The Hundred Thousand Kingdoms)
World Fantasy Award, Best Novel 2011 (The Hundred Thousand Kingdoms)
David Gemmell Morningstar Award, Best Fantasy Newcomer 2011 (The Hundred Thousand Kingdoms)
IAFA William L. Crawford Award, 2011 (The Hundred Thousand Kingdoms)
Prix Imaginales, Best Foreign Novel 2011 (The Hundred Thousand Kingdoms)
Nebula Award, Best Novel 2012 (The Kingdom of Gods)
Nebula Award, Best Novel 2013 (The Killing Moon)
World Fantasy Award, Best Novel 2013 (The Killing Moon)
Nebula Award, Best Novel 2015 (The Fifth Season)
World Fantasy Award, Best Novel 2016 (The Fifth Season)
Locus Award, Best Novel 2016 (The Fifth Season)
Nebula Award, Best Novel 2016 (The Obelisk Gate)
Hugo Award, Best Short Story 2017 ("The City Born Great")
World Fantasy, Novel (The Obelisk Gate)