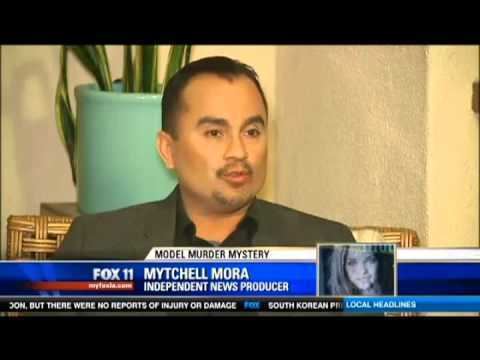 In 1998, Mora produced his first news story, which aired on Fox News 11, about underage girls being forced to work at a strip club in Hollywood. From 1998 to 2010, Mora produced over 168 news stories for Fox News' Undercover Unit. Mora's investigative stories have led to the arrests of a sexual predator, a murderer and doctor whose negligence led to patient deaths. In early 2003, Mora began working on Fox's feature stories where he focused on bringing the LA Nightlife into the homes of all Fox News viewers. In late 2011, Mora became the focus of two news stories he also produced: Who is Bianca Mendez?, which was also aired on Telemundo, and Raising Hope, the Story About Aly. In May 2012, Mora was the executive producer for a bebe charity fashion show hosted by Esai Morales for Aly. Fox News recently aired an update on Aly's story, which Mytchell produced and was interviewed in.
In May 2013, Mora returned to Fox News to produce and be featured in The Juliana Redding Murder.
In December 2013, he produced a story that focused on strangers who gave a homeless mom the surprise of a lifetime.
In late October 2015, while working on a story about corruption in the LAPD, he received two Facebook emails that would lead to his next two published stories. In February 2016, he helped rescue American Cesar Robleto, who had been illegally deported six years prior to Nicaragua.
In April 2016, Mora provided evidence to the district attorney's office to show that the Palomino Brothers, two brothers who had been jailed for almost 11 years, were innocent.
In November 2016, Mora rediscovered lost footage of president-elect Donald Trump attempting to pick up Austrian model and actress, Nancy Salmashuck (aka Nancy Stelle) at Miss Universe 2006.
In 2004, after producing a news story for Fox News and Open Your Eyes magazine (OYE), Mora became the magazine's publicist. While OYE's publicist, the magazine was featured on Extra, MTV, Univision, Telemundo and an episode on The Janice Dickinson Modeling Agency Show.
Mora has been an outspoken critic against the Cuban embargo and the travel ban. He has been featured in the Los Angeles Times, on CNN, in The Associated Press, on NBC News, in USA Today and in Granma. He has been supported in his goal by, among others, actor Kirk Douglas.
Recently, Mora has become the spokesman for the campaign to locate the shooter of his friend Kameron Segal, a real estate CEO in Los Angeles.