Cause of death

Breast Cancer




Role

Actress




Name

Myfanwy Talog




Years active

1971–95




Occupation

Actress, teacher








Full Name

Myfanwy Talog Williams




Born

31 March 1944 (

1944-03-31

) Caerwys, Flintshire, Wales, UK


Partner(s)

David Jason(1977–1995; her death)


Movies and TV shows

The Magnificent Evans, Alias the Jester, SuperTed, Girls' Night Out


Similar People

David Jason, Gill Hinchcliffe, Arthur White, Ronnie Barker, Joanna Quinn


Died

11 March 1995 (aged 50) Buckinghamshire, England
theme to bread home cast of bread :)
Myfanwy Talog ([məˈvanuɨ ˈtalɔɡ]; born Myfanwy Talog Williams; 31 March 1944 – 11 March 1995) was a Welsh actress and the long-term partner of English actor David Jason.
Contents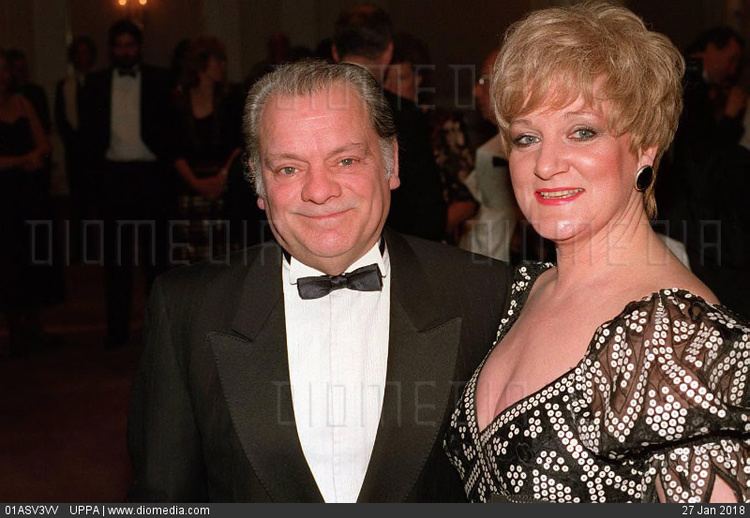 Personal life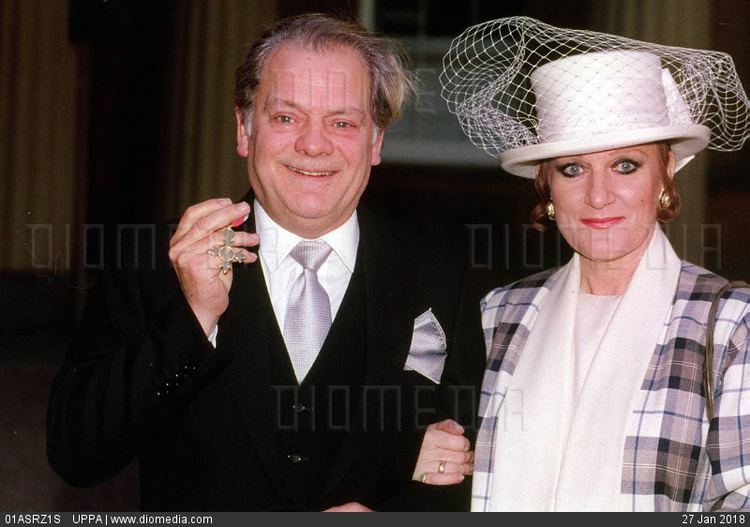 She was born in Caerwys, Flintshire in 1944, where a plaque can now be seen on the house where she was born. She worked as a teacher before taking up an acting career, and appeared mainly on Welsh language television, in comedy and children's programmes. For audiences in Wales, she played the character of Phyllis Doris, the teenaged daughter of the family in the series Ryan and Ronnie.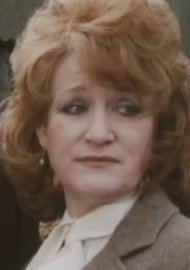 She later appeared in several English-language sitcoms and soap operas. She lived with David Jason for eighteen years until her death from breast cancer, and accompanied him to Buckingham Palace in 1993 to receive his OBE.
Television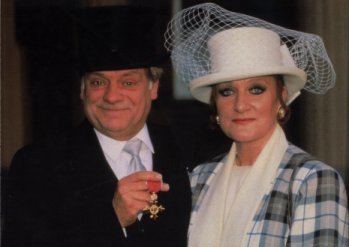 On television, Talog narrated Wil Cwac Cwac or Will Quack Quack and voiced The Two Girls in the SuperTed episode, SuperTed and the Pothole Rescue for S4C and Siriol Productions. She did voice work on Alias the Jester and The BFG where she voiced Mrs. Clonkers (with David Jason voicing the BFG) for Cosgrove Hall. She also sang the theme tune to Danger Mouse for Cosgrove Hall.
Filmography
Actress
1994
A Christmas Reunion (TV Movie)
as
Edith
1993
Waiting for God (TV Series)
as
Gloria
- Adult Education (1993) - Gloria
1989
The BFG
as
Mrs. Clonkers (voice)
1989
Dramarama (TV Series)
as
Bella Donna
- Monstrous (1989) - Bella Donna
1989
May to December (TV Series)
as
Mrs Delaforce
- They Didn't Believe Me (1989) - Mrs Delaforce
1988
Yes, Prime Minister (TV Series)
as
Party Guest
- The Patron of the Arts (1988) - Party Guest
1987
I Fro Breuddwydion (TV Movie)
as
Owain's mother
1987
Bread (TV Series)
as
Posh Lady
- Episode #3.6 (1987) - Posh Lady
- Episode #3.5 (1987) - Posh Lady
1987
Girls Night Out (Short)(voice)
1987
Carrott Confidential (TV Series)
as
Various Characters
- Episode #1.5 (1987) - Various Characters
1986
Swallows (TV Movie)
as
Annie Jones
1985
Alias the Jester (TV Series)
as
Princess Amaranth
- The Viking Airship (1985) - Princess Amaranth
1985
SuperTed (TV Series)
as
Potholer / Linda
- SuperTed and the Pothole Rescue (1985) - Potholer / Linda (voice)
1984
Will Quack Quack (TV Series)
as
Narrator
- Thief (1984) - Narrator (voice)
- Cousin Percy (1984) - Narrator (voice)
- Doctor Parry (1984) - Narrator (voice)
- Clogs (1984) - Narrator (voice)
- Will, Sioni and the Bikes (1984) - Narrator (voice)
- Hwmffra's Letter (1984) - Narrator (voice)
- Whitewash (1984) - Narrator (voice)
- Coalhouse (1984) - Narrator (voice)
- Whip and Top (1984) - Narrator (voice)
- The China Dog (1984) - Narrator (voice)
- Pancakes (1984) - Narrator (voice)
- Pepper! (1984) - Narrator (voice)
- Hiccups (1984) - Narrator (voice)
- The Bike (1984) - Narrator (voice)
- Atishoo! (1984) - Narrator (voice)
- Football (1984) - Narrator (voice)
- The Fishing Rod (1984) - Narrator (voice)
- Late for School! (1984) - Narrator (voice)
- The Birthday (1984) - Narrator (voice)
- Mr. Puw-the-Shop (1984) - Narrator (voice)
- Hwmffra Has a Drink - Narrator (voice)
- The Concert - Narrator (voice)
- The Ring - Narrator (voice)
- Will Goes Missing - Narrator (voice)
- A Shower - Narrator (voice)
- Stuck in a Tree - Narrator (voice)
- Mill Ness Monster - Narrator (voice)
- Cops and Robbers - Narrator (voice)
- Honey - Narrator (voice)
- Horseshoe - Narrator (voice)
1984
The Magnificent Evans (TV Series)
as
Bron
- Episode #1.6 (1984) - Bron
- Episode #1.5 (1984) - Bron
- Episode #1.4 (1984) - Bron
- Episode #1.3 (1984) - Bron
- Episode #1.2 (1984) - Bron
- Episode #1.1 (1984) - Bron
1983
Butterflies (TV Series)
as
Mrs. Murdoch
- Breaking Up (1983) - Mrs. Murdoch
1983
The Citadel (TV Mini Series)
as
Susan Morgan
- Part 2 (1983) - Susan Morgan
1981
Taff Acre (TV Series)
as
Jan Evans
1981
A Sharp Intake of Breath (TV Series)
as
Sylvia
- While the Cat's Away (1981) - Sylvia
1979
Crossroads (TV Series)
as
Eira Turvey
1978
Hawkmoor (TV Series)
as
Peasant Woman
- Episode #1.1 (1978) - Peasant Woman
1975
Within These Walls (TV Series)
as
Gwyneth
- The Good Life (1975) - Gwyneth
1971
Ryan and Ronnie (TV Series)
Music Department
1981
Danger Mouse (TV Series) (singer - 90 episodes)
- The Intergalactic 147 (1992) - (singer: theme tune - uncredited)
- Heavy Duty (1992) - (singer: theme tune - uncredited)
- Pillow Fright! (1992) - (singer: theme tune - uncredited)
- Rhyme and Punishment (1992) - (singer: theme tune - uncredited)
- There's a Penfold in My Suit (1992) - (singer: theme tune - uncredited)
- Ants, Trees and- Whoops-a-Daisy (1992) - (singer: theme tune - uncredited)
- Crumhorn Strikes Back! (1992) - (singer: theme tune - uncredited)
- Don Coyote and Sancho Penfold (1992) - (singer: theme tune - uncredited)
- A Dune with a View (1992) - (singer: theme tune - uncredited)
- Penfold Transformed (1992) - (singer: theme tune - uncredited)
- The Statue of Liberty Caper (1992) - (singer: theme tune - uncredited)
- Bigfoot Falls (1991) - (singer: theme tune - uncredited)
- I Spy with My Little Eye (1991) - (singer: theme tune - uncredited)
- Cor! What a Picture (1987) - (singer: theme tune - uncredited)
- Gremlin Alert (1987) - (singer: theme tune - uncredited)
- Turn of the Tide (1986) - (singer: theme tune - uncredited)
- All Fall Down (1986) - (singer: theme tune - uncredited)
- Where There's a Well There's a Way (1986) - (singer: theme tune - uncredited)
- Duckula Meets Frankenstoat (1986) - (singer: theme tune - uncredited)
- The Ultra Secret Secret (1986) - (singer: theme tune - uncredited)
- DM on the Orient Express (1986) - (singer: theme tune - uncredited)
- Journey to the Earth's 'Cor!' (1985) - (singer: theme tune - uncredited)
- Mechanised Mayhem (1985) - (singer: theme tune - uncredited)
- Penfold, B.F. (1985) - (singer: theme tune - uncredited)
- Lost, Found and Spellbound (1985) - (singer: theme tune - uncredited)
- Tut, Tut, It's Not Pharaoh (1985) - (singer: theme tune - uncredited)
- Have You Fled from Any Good Books Lately? (1985) - (singer: theme tune - uncredited)
- Bandits, Beans and Ballyhoo! (1985) - (singer: theme tune - uncredited)
- Ee-Tea! (1985) - (singer: theme tune - uncredited)
- The Clock Strikes Back (1985) - (singer: theme tune - uncredited)
- Statues (1985) - (singer: theme tune - uncredited)
- The Good, the Bad and the Motionless (1985) - (singer: theme tune - uncredited)
- CATastrophe (1985) - (singer: theme tune - uncredited)
- Beware of Mexicans Delivering Milk (1985) - (singer: theme tune - uncredited)
- Afternoon Off with the Fangboner! (1985) - (singer: theme tune - uncredited)
- One of Our Stately Homes Is Missing (1985) - (singer: theme tune - uncredited)
- Aaagghg! Spiders! (1985) - (singer: theme tune - uncredited)
- Alping Is Snow Easy Matter (1985) - (singer: theme tune - uncredited)
- Quark! Quark! (1985) - (singer: theme tune - uncredited)
- What a Three-Point Turn-Up for the Book (1985) - (singer: theme tune - uncredited)
- The Hickory Dickory Dock Dilemma (1985) - (singer: theme tune - uncredited)
- It's All White, White Wonder (1985) - (singer: theme tune - uncredited)
- The Spy Who Stayed in with a Cold (1985) - (singer: theme tune - uncredited)
- Multiplication Fable (1985) - (singer: theme tune - uncredited)
- Hear, Hear (1985) - (singer: theme tune - uncredited)
- Play It Again, Wufgang (1985) - (singer: theme tune - uncredited)
- Viva Danger Mouse (1985) - (singer: theme tune - uncredited)
- Once Upon a Timeslip- (1984) - (singer: theme tune - uncredited)
- Nero Power (1984) - (singer: theme tune - uncredited)
- Tampering with Time Tickles (1984) - (singer: theme tune - uncredited)
- The Man from Gadget (1984) - (singer: theme tune - uncredited)
- Remote-Controlled Chaos (1984) - (singer: theme tune - uncredited)
- The Aliens Are Coming (1984) - (singer: theme tune - uncredited)
- The Next Ice Age Begins at Midnight (1984) - (singer: theme tune - uncredited)
- Project Moon (1984) - (singer: theme tune - uncredited)
- Tiptoe Through the Penfolds (1984) - (singer: theme tune - uncredited)
- By George, It's a Dragon! (1984) - (singer: theme tune - uncredited)
- The Long Lost Crown Affair (1984) - (singer: theme tune - uncredited)
- Public Enemy No. 1 (1983) - (singer: theme tune - uncredited)
- Tower of Terror (1983) - (singer: theme tune - uncredited)
- Four Heads Are Better Than Two (1983) - (singer: theme tune - uncredited)
- The Planet of the Cats (1983) - (singer: theme tune - uncredited)
- 150 Million Years Lost (1983) - (singer: theme tune - uncredited)
- The Great Bone Idol (1983) - (singer: theme tune - uncredited)
- Demons Aren't Dull (1983) - (singer: theme tune - uncredited)
- The Return of Count Duckula (1983) - (singer: theme tune - uncredited)
- The Wild, Wild Goose Chase (1983) - (singer: theme tune - uncredited)
- Trip to America (1982) - (singer: theme tune - uncredited)
- The Strange Case of the Ghost Bus (1982) - (singer: theme tune - uncredited)
- The Odd Ball Runaround (1982) - (singer: theme tune - uncredited)
- Danger Mouse Saves the World- Again (1982) - (singer: theme tune - uncredited)
- The Invasion of Colonel K (1982) - (singer: theme tune - uncredited)
- The Mystery of the Lost Chord (1982) - (singer: theme tune - uncredited)
- The Four Tasks of Danger Mouse (1982) - (singer: theme tune - uncredited)
- The Bad Luck Eye of the Little Yellow God (1982) - (singer: theme tune - uncredited)
- The Day of the Suds (1982) - (singer: theme tune - uncredited)
- The Duel (1982) - (singer: theme tune - uncredited)
- Close Encounters of the Absurd Kind (1982) - (singer: theme tune - uncredited)
- Custard (1982) - (singer: theme tune - uncredited)
- A Plague of Pyramids (1981) - (singer: theme tune - uncredited)
- Ice Station Camel (1981) - (singer: theme tune - uncredited)
- The World of Machines (1981) - (singer: theme tune - uncredited)
- Die Laughing (1981) - (singer: theme tune - uncredited)
- Lord of the Bungle (1981) - (singer: theme tune - uncredited)
- The Dream Machine (1981) - (singer: theme tune - uncredited)
- The Martian Misfit (1981) - (singer: theme tune - uncredited)
- Chicken Run (1981) - (singer: theme tune - uncredited)
- The Trouble with Ghosts (1981) - (singer: theme tune - uncredited)
- Who Stole the Bagpipes? (1981) - (singer: theme tune - uncredited)
- Rogue Robots (1981) - (singer: theme tune - uncredited)
Self
1975
Poems and Pints (TV Series)
as
Self - Reader
- Episode #2.2 (1975) - Self - Reader
- Episode #2.1 (1975) - Self - Reader
References
Myfanwy Talog Wikipedia
(Text) CC BY-SA