One of his brothers, Muamer, is also a high jumper.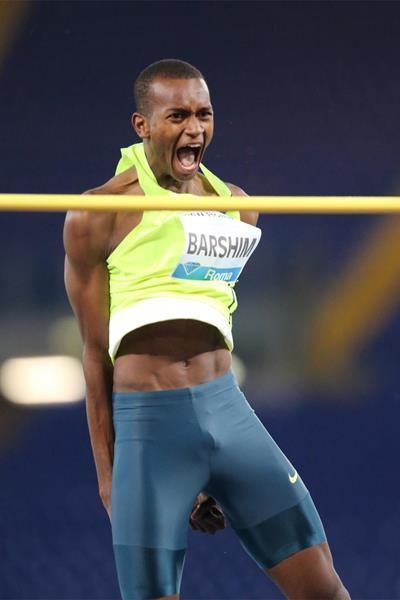 Barshim gave an interview to the IAAF in April 2013 and explained how he started in the sport. Mutaz was born in Doha into a Sudanese family of 5 boys and 1 girl, where his father was a Qatari athletics competitor in middle- and long-distance races. All of the Barshim children became active in the sport of athletics (track & field) because of their father, who, after retiring from competition, became the coach of a local club. Barshim tried both running and long jumping as a youth. He told the IAAF interviewer, "I grew up, nothing special, like any kid in Qatar. I joined a club because my father was going to the club training so sometimes he used to take me there with him. I knew athletics because of my father." He attended an Arabic school in Doha, where he learned to speak English. At age 15 he switched to the high jump and quickly excelled. Soon, he was training in Doha at the ASPIRE Academy for Sports Excellence. He finished to train in ASPIRE in 2009, when his personal best was 2.14 m. It was from then, September 2009, when his new (and current) coach from Poland/Sweden Stanisław "Stanley" Szczyrba arrived to Doha. He has been his coach since then, and Barshim said, "He is more than a coach, we are like father and son." During summer season in Europe, they spend time at Szczyrba's home in Warsaw, Poland, and they also train in Sweden so that Barshim does not have to waste time flying to and from Qatar between competitions.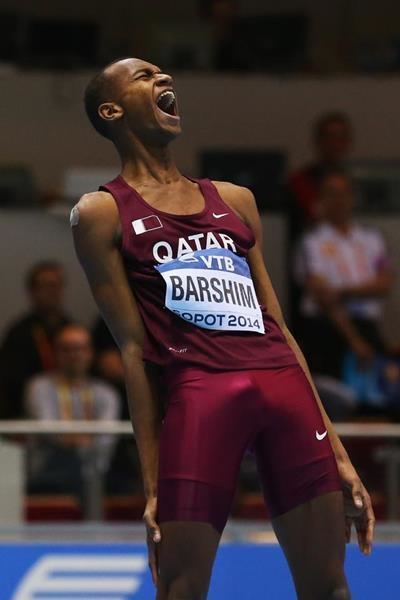 Barshim enjoyed his first international successes in 2010, at the age of 19. He set an indoor Qatari record in Gothenburg in early February with a jump of 2.25 m, and then went on to take the gold medal at the 2010 Asian Indoor Athletics Championships, winning with a clearance of 2.20 m. He was selected to represent Qatar at the 2010 IAAF World Indoor Championships in Doha and his performance of 2.23 m left him in fourteenth place in the qualifying round. These feats made him the first graduate of the ASPIRE Academy to either compete at the world championship-level and hold the national record in an Olympic sport.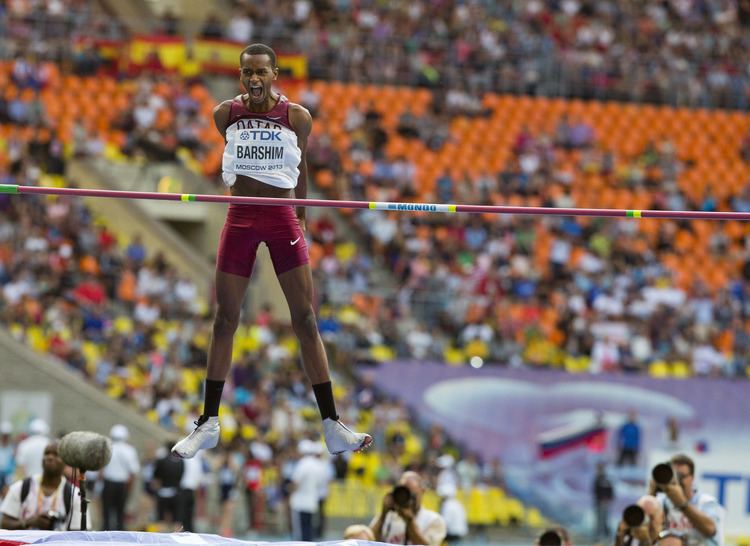 Barshim won at the Arab Athletics Championship for Juniors in Cairo in May 2010, clearing an outdoor best of 2.23 m, and then went on to secure the continental junior title at the 2010 Asian Junior Athletics Championships. His winning mark at the competition (2.31 m) was a national record and a world-leading mark for junior athletes – it was also the best jump by a junior since Huang Haiqiang cleared 2.32 m in 2006. He went on to win at the 2010 World Junior Championships in Athletics in Moncton, winning with a height of 2.30 m.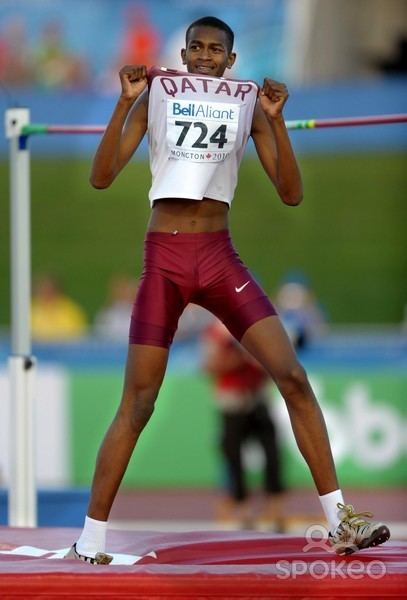 He won gold in the Asian Athletics Championships in Kobe after clearing a height of 2.35 m, a new national and championship record. He continued his good form and won a gold medal at the Military World Games in Rio de Janeiro, Brazil with a 2.28 m clearance. He made his debut on the global senior stage at the 2011 World Championships in Athletics in Daegu and reached the final, missing a medal on count-back and ranking seventh overall. He became high champion at the Gulf Council Championships and the Arab Championships before capping off his year with yet another international gold medal at the 2011 Pan Arab Games held on home soil in Doha.
At the 2012 indoor Asian Championships, held in Hangzhou, China, on 19 February 2012, Barshim won the gold medal and established a new personal best (and national record) of 2.37 m (7'9.25"), breaking the previous championship record of 2.34: it was also the highest indoor jump in the world, to date in 2012. He began jumping at 2.10 and had first try clearances at 2.15, 2.20 and 2.24, before missing once at 2.28, temporarily falling to second place when Chinese jumper Zhang Guowei cleared on his first try. Zhang then failed at 2.31, while Barshim resumed his flawless jumping with first try clears at 2.31, 2.34 and 2.37. He then failed in three attempts at 2.40.
At the 2012 Olympic Games, held in London, United Kingdom, on 7 August 2012, Barshim won the bronze medal with a jump of 2.29, finishing in a 3-way tie for third place with Derek Drouin from Canada and Robert Grabarz from Great Britain.
Barshim suffered a back injury in early 2012 and (later) said he was not healthy at the London Olympics. The problem was found to be a stress fracture in the fifth (L5) Lumbar vertebrae. In an interview for the IAAF in April 2013, Barshim said: "It started hurting bad before the (2012) World Indoor Championships and then I had to stop a bit. Before the Olympics, I had to stop again, but we have a really good sports center in Doha and I also received treatment in Warsaw."
Barshim began his 2013 season indoors, in Sweden, in mid-January. He entered six competitions in Europe in 3 and one-half weeks, jumping 2.30 or better every time and winning five of the six before his back injury forced an early end. His season-best of 2.37 matched his career indoor best and was the highest in the world indoors in 2013.
Mutaz first entered two "small" competitions in Sweden, jumping 2.30 on 13 January, and then an (early) world-leading 2.33 (7' 7 3/4") in Växjö on 20 January. He next competed in the invitation-only Moravia High Jump Tour, finishing 2nd (on misses) behind Olympic champion Ivan Ukhov as both jumped 2.30 in Hustopece on 26 January, and then Barshim won the second leg at Trinec on 29 January, tying the meet record of 2.34. On 3 February he won the Russian Winter Games in Moscow with yet another world-leading jump of 2.37 - which also tied his Asian indoor record from 2012 - ending that competition with a narrow miss at 2.40. He then flew to the Europa SC High Jump competition in Banska Bystrica, Slovak Republic, where his aching back restricted his jumps. In one of the strongest fields of the year, five jumpers cleared 2.30. Barshim began at 2.15, next cleared 2.30, then passed until 2.36 where his 3rd attempt clearance (only his fifth jump overall) gave him the win.
Barshim ended his indoor season on 6 February, as he did not want to risk further injury, hoping to be able to thrill his hometown fans when the IAAF's Diamond League opens its 2013 outdoor season in Doha on 10 May.
Mutaz opened his outdoor season on 10 April 2013 with an "appearance" at the GCC Athletics Championships held at Doha's Khalifa International Stadium. He took only two jumps, casually running in from almost half the distance of his usual approach to clear 2.19 meters with his first attempt and then improving to 2.25 with his second. Having clinched the win, he quit to avoid hurting his back. His younger brother Moamer took second place with a jump of 2.16.
At the Prefontaine Classic Diamond League Meet in Eugene, Oregon (1 June 2013), Barshim won, being one of 3 men to clear 2.36 (7'8 3/4"), a new meet record. Barshim was in the lead with no misses. After everyone missed their attempts at 2.39, Barshim, jumping last, saved his final (third) attempt for one try at new personal best of 2.40 (7' 10") and made it. He becomes only the 8th man in history to have cleared 2.40 outdoors, and the first since 2000.
Barshim jumped sparingly during the 2014 Indoor season because of chronic back pain. Nonetheless, he entered the 2014 IAAF World Indoor Championships in Sopot, Poland on 8 & 9 March as favorite to medal, behind heavily favored Russian jumper Ivan Ukhov. In the Finals on Sunday 9 March, Barshim was sensational, clearing 7 consecutive heights on his first attempt, up to and including a new Asian indoor record of 2.38m (7' 9-3/4"). Ukhov required 3 attempts to get over that height and when both men failed at 2.40m, Barshim won the gold medal, while Ukhov took silver based on the tie-breaking count-back (misses). The 22-year-old Qatari has now won a medal at the last 3 major competitions: bronze at the 2012 London Olympics, silver at the 2013 World championships in Moscow, and gold at the 2014 World Indoor Championships in Sopot.
In early May, when the IAAF Diamond League came to his home, he had to watch as Ukhov not only bested him but moved up to equal the third highest jump ever 2.41m, while Mutaz was relegated to fourth behind Derek Drouin and Erik Kynard. On June 5 in Rome, he reversed that result, joining the group equal to third best ever at 2.41 while Ukhov finished in fifth behind the same athletes and Bohdan Bondarenko (who is also part of the group from 2013).
A week and a half later, at the Adidas Grand Prix, Icahn Stadium, New York City, Barshim and Bondarenko were locked in a tight competition. On his first attempt at 2.42m, Barshim cleared and improved his personal best and his own Asian Continental record, while setting the Diamond League record with a 2014 world-leading leap equaling Patrick Sjöberg's former world record from 1987 as the second best outdoor jump in history. Moments later Bondarenko equaled Barshim's jump, also on his first attempt. Ukhov and Carlo Thränhardt (1988) have also jumped that height under the more controlled conditions indoors. Barshim then missed his first attempt at 2.44m. Ahead on misses, Bondarenko decided to pass at 2.44m and as a result, Barshim also passed on his remaining jumps at 2.44m and the bar was then raised to 2.46m, one centimeter above the existing world record height of 2.45m set on July 27, 1993, by Javier Sotomayor of Cuba. Both jumpers took a combined five attempts at the world record height with Barshim coming closest to clearing the height on his first attempt.
Bondarenko and Barshim's jumps are the best in the world since Javier Sotomayor of Cuba cleared 2.42m in Seville on June 5, 1994. Only Sotomayor, on four occasions, has jumped higher than these two men. The two men also made multiple attempts at the record in the final Diamond League meet of the 2014 season with Barshim again coming closest in his final attempt, clipping the bar with his heel. He won the competition with a PB of 2.43 giving him the status of being the second highest jumper of all time, behind Sotomayor's two record jumps of 2.44 and 2.45.
Barshim again competed for Qatar in the Olympic Games, and earned a silver medal in the high jump.
Barshim competed for Qatar in the IAAF World Championships, and earned a gold medal in the high jump. Defending World and Olympic Champion, Derek Drouin of Canada was injured and did not participate.