Muscle Beach Tom is the 101st one-reel animated Tom and Jerry short, released on September 7, 1956 by Metro-Goldwyn-Mayer. It was directed and produced by William Hanna and Joseph Barbera and animated by Lewis Marshall, Kenneth Muse, Ed Barge and Irven Spence (erroneously credited as Irvin Spence), with backgrounds by Robert Gentle, layouts by Richard Bickenbach and music by Scott Bradley.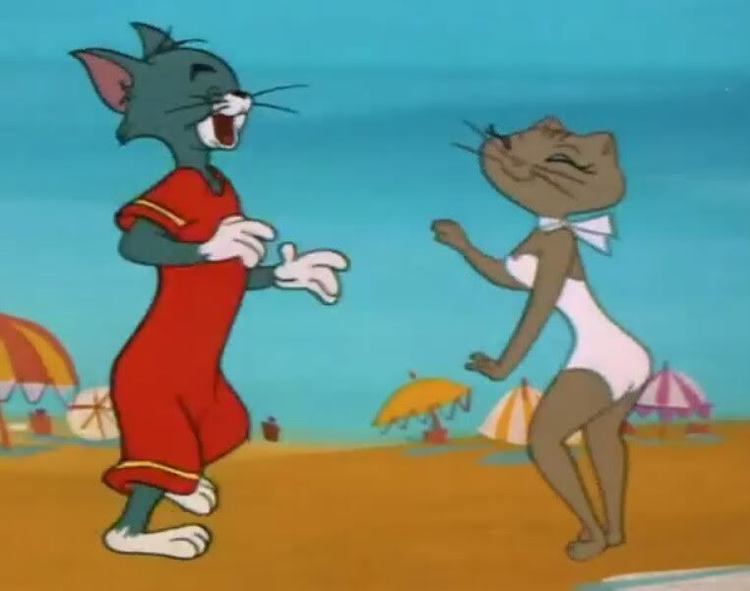 Several cats are working out with weights on a busy day at Muscle Beach. Tom and his girlfriend arrive on a date and Tom carelessly dumps their equipment on top of a sunbathing Jerry. An annoyed Jerry ignores the cat, until Tom happens to stick his parasol through Jerry's towel, ripping it, and throws his discarded food onto Jerry. Fed up, Jerry marches up to Tom and slaps him with a banana peel, and is rewarded by being inflated into a balloon by Tom, making Jerry pop and rocket into the distance.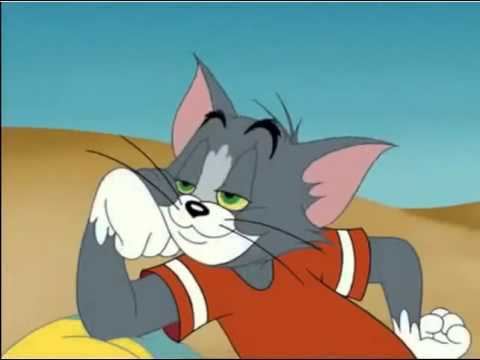 Delighted after making Jerry float away, Tom turns back, but sees Butch impressing his girlfriend weightlifting. Tom confronts his rival, but Butch sends Tom flying into a pole with elastic string. Jerry then returns and exacts revenge on Tom by hanging the string onto the pole, stopping Tom from confronting Butch again. Tom fruitlessly tries to grab Butch as he crashes back into the pole, which splits and crushes Tom. Tom waddles as a crab, scaring a real crab out of its wits.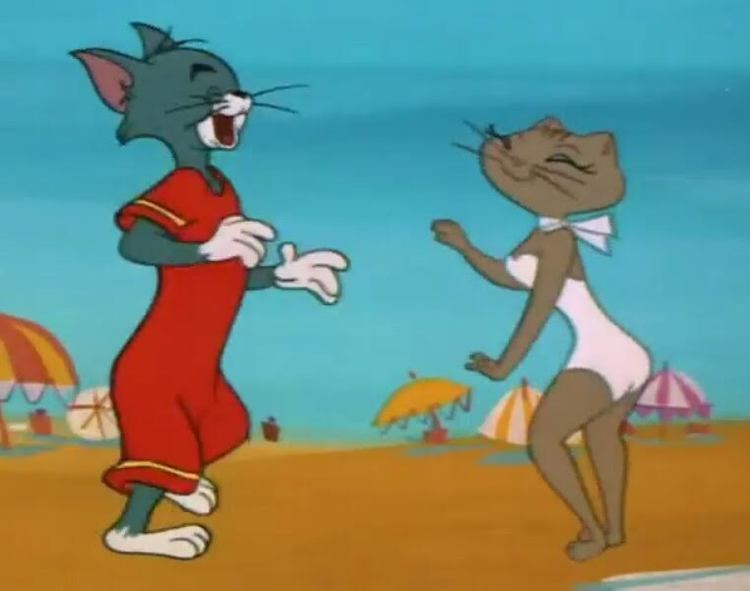 Tom challenges Butch to a weightlifting contest as the two fight over the heart of the girl cat. Tom lifts a heavy barbell that Butch cannot lift, but quickly falls sideways and is flattened between the weights, resulting in a no contest. Butch then steals Tom's beach ball to dance with the girl cat, while Jerry dances with the banana peel. Tom digs a sand pit and clips a crab to Butch's shorts to steal his place, but Butch outmuscles and defeats Tom by launching his rival into the trash bin.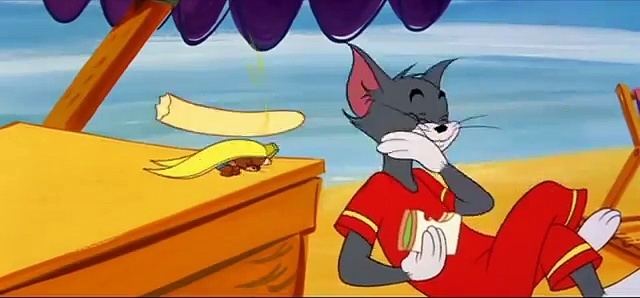 Still determined to win his girl back, Tom stuffs helium balloons into his bathing suit in a last-ditch effort to look stronger than Butch. The balloons make the cat float over the ground, so Tom cleverly ties an anchor around his waist to hold himself down. Tom storms back to Butch and punches him, but Butch's return makes the balloons flip Tom upside down. Butch then asks Tom for a return punch, but instead, Tom knocks Butch out with a swing of the anchor, vanquishing his rival.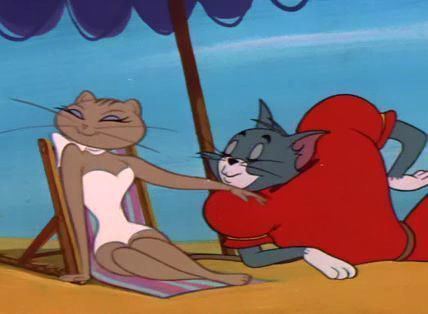 Tom is flexing his "muscles" to his girl, but is annoyed by Jerry eating noisily nearby on his picnic basket. Tom flips the basket's lid onto Jerry's head to silence Jerry, who in turn unties Tom from his anchor. Tom floats over the ground again while kissing his girlfriend and has to hold onto his beach umbrella in desperation. Jerry then inflates Tom's bathing suit with a helium canister and vanquishes the cat by pricking him with a safety pin, bursting Tom's balloons and causing Tom to spin in the air and whoosh off into the distance.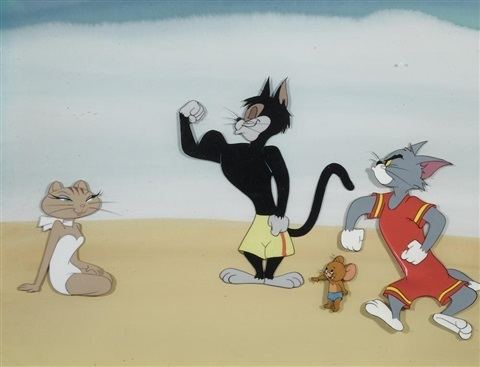 Tom and Butch defeated, Jerry tries to steal the girl cat's heart by lifting a barbell of tomatoes. However, Jerry falls sideways and ends up flattened between the "weights" like Tom was earlier, leaving no winner and the girl cat single once again.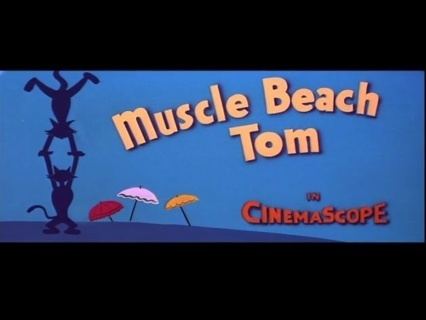 Free Willy (VHS)
Tom and Jerry's Greatest Chases, Vol. 4
Tom and Jerry Spotlight Collection Vol. 2, Disc Two