Sponsored Links
Topics
Sponsored Links
Ugandan




Munyankole





Uganda




Muhoozi Kainerugaba







24 April 1974 (age 41) (

1974-04-24

)

Dar es Salaam, Tanzania




Munyonyo, Kampala, Uganda




Royal Military College Sandhurst (Officer Cadet Course) Egyptian Military Academy (Company Commander's Course) (Battalion Commander's Course) Kalama Armoured Warfare Training School ( Armoured Warfare Course) US Army Command and General Staff College (Senior Military Command Course) South African National Defence College (Executive National Security Course)




Commander of UPDF Special Forces




Charlotte Nankunda Kutesa (m. 1999)




Yoweri Museveni, Janet Museveni




Royal Military Academy Sandhurst




Battles of the Ugandan Resistance: A Tradtion of Maneuver




Amos Kaguta, Esteri Kokundeka




Yoweri Museveni, Janet Museveni, Salim Saleh, Violet Kajubiri
Muhoozi Kainerugaba (born 24 April 1974) is a Ugandan military officer. He is a major general in the Uganda People's Defence Force (UPDF) and was the commander of the Special Forces Group, which contains the unit known as Presidential Guard Brigade responsible for providing security to the President of Uganda and to Uganda's constitutional monarchs, from 2008 to 2017. The Special Forces Group is also responsible for providing security at Uganda's oil installations. He is the son of President Yoweri Museveni, who is allegedly grooming him as his successor. Muhoozi has served as Senior Presidential Adviser for Special Operations since 2017.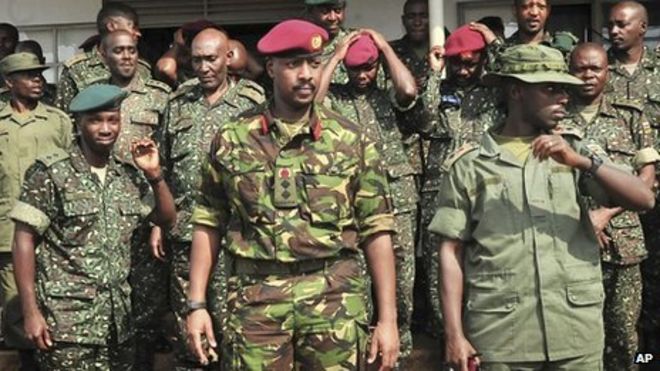 Kainerugaba was born on 24 April 1974 in Dar es Salaam, Tanzania to Yoweri Museveni, who has been President of Uganda since 1986, and Janet Museveni, the Minister of Education and Sports since 6 June 2016. Muhoozi Kainerugaba is their first-born.
As a child, Kainerugaba attended schools in Tanzania, Kenya and Sweden. After his father became President of Uganda, he attended Kampala Parents School, King's College Budo for a while and St. Mary's College Kisubi, a residential middle and high school, located approximately halfway between Kampala and Entebbe. He graduated in 1994.
According to Kainerugaba, he started military training in 1994 after he left high school. He then attended the University of Nottingham from 1996 till 1998. But he did not formally join the UPDF until 1999. That year, he was married and soon after, was admitted to the Royal Military Academy Sandhurst, graduating in 2000. He was later admitted to Egyptian Military Academy where he took both the company and battalion commanders courses. He also has attended the Kalama Armoured Warfare Training School, in Kabamba, Mubende District, Central Uganda. In 2007 he was admitted to a one-year course at the United States Army Command and General Staff College at Fort Leavenworth, Kansas, graduating in June 2008. Following that, he successfully completed the Executive National Security Programme at the South African National Defence College.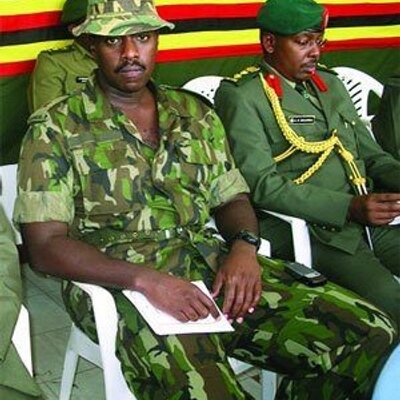 Upon his return to Uganda from Sandhurst in 2000, Kainerugaba was assigned to the Presidential Protection Unit as a second lieutenant. In 2001, he was promoted to the rank of major in the UPDF. As a major, he became a brigade commander in the Presidential Guard Brigade. Following his graduation from Fort Leavenworth in 2008, he was promoted to the rank of lieutenant colonel and appointed Commander of the Special Forces Group in the Uganda People's Defence Force. On 16 May 2016 he was promoted to the rank of major general by President Museveni.
Museveni moved Muhoozi to the post of Senior Presidential Adviser for Special Operations on 10 January 2017. The move was generally viewed in light of the widespread belief that Museveni was preparing his son to eventually succeed him as president. Observers suggested that, by appointing Muhoozi as a presidential adviser, Museveni sought to give his son some political experience.
Muhoozi Kainerugaba Wikipedia