Region

Arabian Peninsula


Nationality

Saudi Arabian




Religion

Islam



Ethnicity

Arab




Name

Muhammad al




Era

20th century




Role

Islamic scholar






Born

March 9, 1925 (age 75) Unaizah, Saudi Arabia


Parents

Saalih ibn Muhammad ibn al-Uthaymeen at-Tamimi




Books

Sharh al-Aqeedat Al-Waasittiyah, Fataawa Arkan Islam


Children

Ibrahim ibn Muhammad al Uthaymeen




Siblings

Abdulrahman ibn al Uthaymeen, Abdullah ibn al Uthaymeen






Resting place

Mecca, Saudi Arabia



Died

January 10, 2001 (aged 75) Jeddah, Saudi Arabia




Similar

Rabee al Madkhali, Ibn Taymiyyah, Ibn Qayyim al Jawziyya
Abu 'Abd Allah Muhammad ibn Saalih ibn Muhammad ibn Sulayman ibn Abd Al Rahman Al Uthaymeen Al Tamimi (Arabic: أبو عبد الله محمد بن صالح بن محمد بن سليمان بن عبد الرحمن العثيمين التميمي) (March 9, 1925 – January 10, 2001) was a Sunni scholar of Saudi Arabia who was considered "a giant within conservative Salafi Islam".
Contents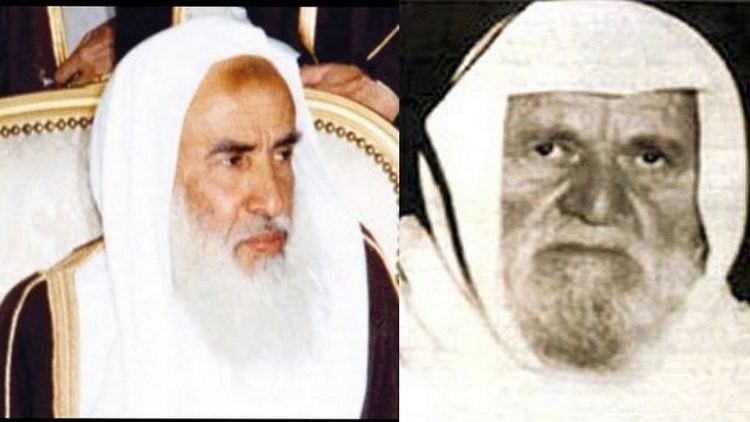 Birth.
He was born in Ramadan 1347 H, in 'Unaizah - one of the cities of Al-Qassim - in the Kingdom of Saudi Arabia.
Influence
Al-Uthaymin is still considered an influential cleric within the Salafist movement. Due to his eclectic approach of quoting from all various schools of law within Sunni Islam, readers are faced with a seemingly monolithic edifice of Islamist scholarship; while some of his views are without precedent, they are still considered definitive by many Salafists today, especially those in Egypt.
Al-Uthaymin was cited by Adel Al-Kalbani in an argument against suicide bombing, he also cited Abd al-Aziz ibn Baz.
Controversial fatwas
A Fatwa he issued was posted on the fatwa website IslamQA.info stated that Muslim women should not use pain-relieving medication during labour and delivery as it may be a plot against Muslims "because the more births take place in this manner, the more the skin of the abdomen is weakened and pregnancy becomes more dangerous for the woman, and she becomes unable to get pregnant."
Uthaymeen also controversially supported the idea that the Green Dome of Madinah should be destroyed and the graves of the Islamic Prophet Muhammad as well as his apostles Abu Bakr and Umar should be flattened.
In another Fatwa, Uthaymeen claimed that someone who abandons the prayer leaves Islam and that it is therefore forbidden to remain with a husband or a wife who no longer prays.
References
Muhammad ibn al Uthaymeen Wikipedia
(Text) CC BY-SA