Singer




Singer




Saba Abaci




Muazzez Abaci




Ottoman classical music






1947 (age 67–68) > Ankara, Turkey




Hukumluyum, Ajda Pekkan & Muazzez Abaci




Muazzez Ersoy, Ajda Pekkan, Emel Sayin, Zeki Muren, Bulent Ersoy
Hicran Muazzez Abacı ([hidʒ'ɾɑn muazˈzez abaˈdʒɯ]; born November 12, 1947 in Ankara, Turkey) is a Turkish singer. Trained in Turkish classical music, she has achieved considerable popular success in the Turkish Classical Music genre. She has been active since 1973 with a silent period between 2002 and 2012.
State Artist (Turkey) (since 1998)
Muazzez Abacı Söylüyor (1975)
Ölümsüz Eserlerle Muazzez Abacı (1975)
Dönüş (1978)
Yasemen (1981)
Muazzez Abacı Söylüyor ( 1982)
Sevdiklerinizle Muazzez Abacı 83 (1983)
Geceler ( 1986)
Şakayık (1986)
Söyleme Bilmesinler (1987)
Felek (1989)
Vurgun (1990)
Sensiz Olmadı (1991)
Efendim (1992)
Kar Yangınları (1994)
Güller Arasında (1994)
Tutkunum (1995)
Cesaretim Var (1998)
Muazzez Abacı & Zeki Müren Düet (1998)
Hükümlüyüm ( 2001)
Bir Efsanedir (2013)
Ajda Pekkan & Muazzez Abacı (2014)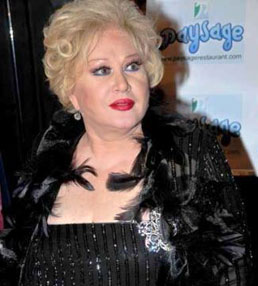 Biz AyrılamayızZirvedeki Şarkılar · 1989
Hiçbir Şeyde Gözüm YokGözlerin Doğuyor Gecelerime · 1988
VurgunVurgun · 1990

Muazzez Abacı Wikipedia
Sponsored Links
Topics
Sponsored Links