Coronation

25 April 1986




Name

Mswati III




Predecessor

Ntfombi (Ndlovukati)


Role

King of Swaziland




Issue

30 children




House

House of Dlamini


Father

Sobhuza II






Reign

25 April 1986 – present




Prime Ministers

See listBhekimpi DlaminiSotsha DlaminiObed DlaminiAndreas Fakudze (Acting)Jameson Mbilini DlaminiSishayi Nxumalo (Acting)Barnabas Sibusiso DlaminiPaul Shabangu (Acting)Themba DlaminiBheki Dlamini (Acting)Barnabas Sibusiso Dlamini




Born

19 April 1968 (age 47)Manzini, Swaziland (

1968-04-19

)


Office

King of Swaziland since 1986




Spouse

Inkhosikati LaMahlangu (m. 2010)




Children

Sikhanyiso Dlamini, Temaswati Dlamini




Parents

Sobhuza II, Ntfombi of Swaziland




Similar People

Sikhanyiso Dlamini, Sobhuza II, Ntfombi of Swaziland, Barnabas Sibusiso Dlamini, Ndumiso Mamba
Watch king of swaziland mswati iii visits delhi for india africa forum summit
Mswati III (born as Prince Makhosetive on 19 April 1968) is the current King (Swazi language: Ngwenyama or Ingwenyama) of Swaziland and head of the Swazi Royal Family. He was born in Manzini, Swaziland, to King Sobhuza II and one of his younger wives, Ntombi Tfwala. He was Tfwala's only child. He attended primary school at Masundvwini Primary School and secondary school at Lozitha Palace School. From 1983 to 1986, he attended Sherborne School in north-west Dorset, England. He was crowned as Mswati III, Ingwenyama and King of Swaziland, on 25 April 1986 at the age of 18, thus becoming the youngest ruling monarch in the world at that time. Together with his mother, Ntombi Tfwala, now Queen Mother (Ndlovukati), he rules the country as an absolute monarch. Mswati III is known for his practice of polygamy (although at least two wives are appointed by the state) and currently has 13 wives. Although he is respected and fairly popular in Swaziland, his policies and lavish lifestyle have led to local protests and international criticism.
Contents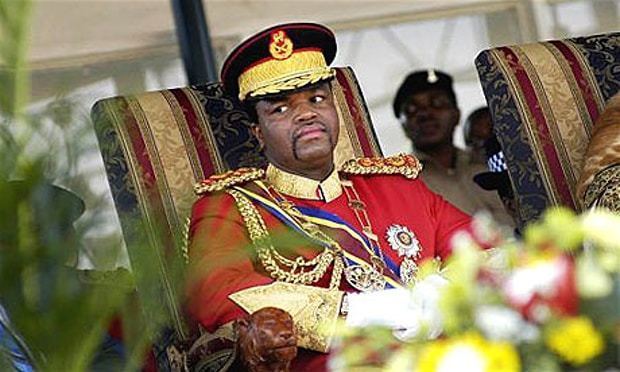 Swaziland king mswati iii and spouse arrive at the white house diner
Early life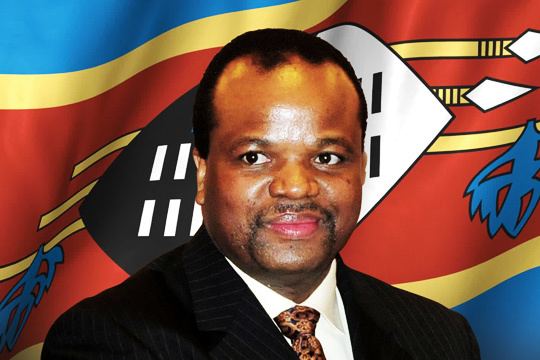 Mswati III is one of many sons fathered by the previous king, Sobhuza II (who had more than 125 wives during his reign of 82 years), and the only child of Ntfombi Tfwala, also known as Inkhosikati LaTfwala, one of Sobhuza's younger wives. He was born at the Raleigh Fitkin Memorial Hospital in Manzini, four months before Swaziland attained independence from the United Kingdom. When he and his mother were discharged from the hospital, they went to live at one of Sobhuza's residences, Etjeni, near the Masundwini royal residence. His birth name was Makhosetive (lit. "Kings of Nations").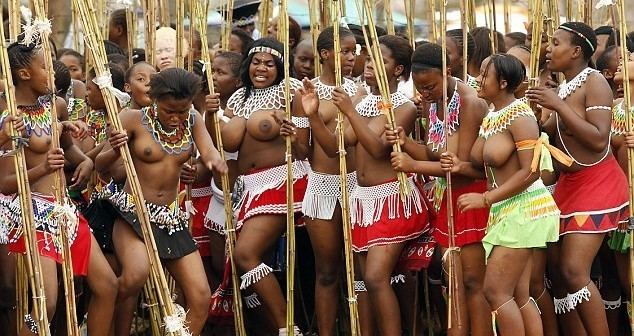 As a young prince, Makhosetive attended Masundwini Primary School and later Lozitha Palace School. He sat for the Swaziland Primary Certificate examination in December 1982 at Phondo Royal Residence and received First Class with merit in Mathematics and English. He developed a great interest in the royal guard, becoming the first young cadet to join the Umbutfo Swaziland Defence Force (USDF).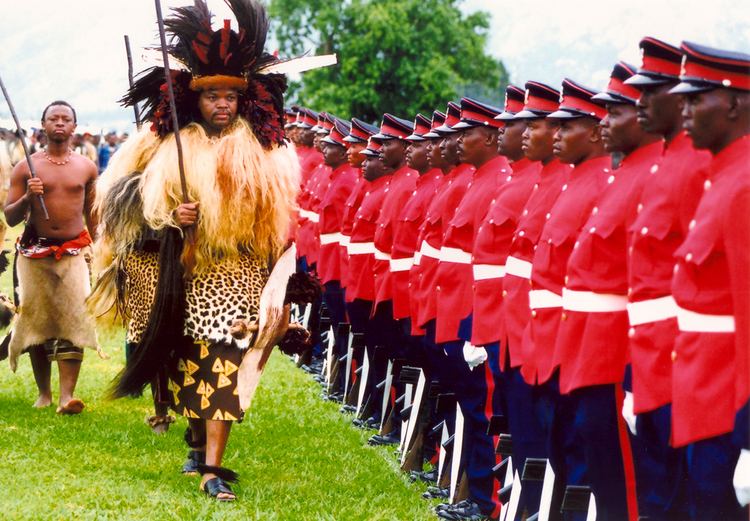 When King Sobhuza II died on 21 August 1982, the Great Council of State (the Liqoqo) selected the 14-year-old prince Makhosetive to be the next king. For the next four years two wives of Sobhuza II, Queen Dzeliwe Shongwe (1982–1983) and Queen Ntfombi Tfwala (1983–1986), served as regent while he continued his education in the United Kingdom, attending Sherborne School (International College), before he was called back to ascend to the throne.
Kingship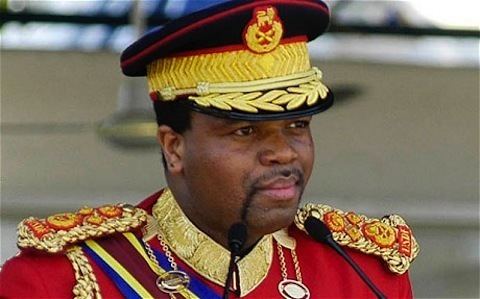 Mswati was introduced as Crown Prince in September 1983 and was crowned king on 25 April 1986, aged 18 years and 6 days, and thus making him the youngest reigning monarch until the ascension of King Jigme Khesar Namgyel Wangchuck of Bhutan on 14 December 2006; he was also the youngest head of state until Joseph Kabila took office on 26 January 2001 as President of the Democratic Republic of the Congo. The king and his mother, whose title is Indlovukati ("Great She-Elephant"), rule jointly.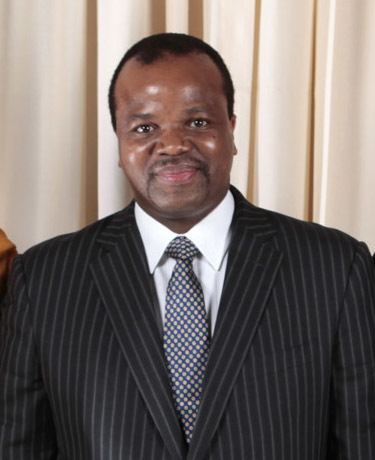 Today King Mswati III is Africa's last absolute monarch in the sense that he has the power to choose the prime minister, other top government posts and top traditional posts. Even though he makes the appointments, he still has to get special advice from the queen mother and council, for example when he chooses the prime minister. In matters of cabinet appointments, he gets advice from the prime minister. He ruled by decree, but did restore the nation's Parliament, which had been dissolved by his father in order to ensure concentration of power remained with the king.
In 2004, Mswati promulgated a new constitution that allows freedom of speech and assembly for the media and public, while retaining the traditional Tinkhundla system. Amnesty International has criticized the new constitution as inadequate in some respects.
In an attempt to mitigate the HIV and AIDS pandemic in 2001, the king used his traditional powers to invoke a time-honoured chastity rite (umcwasho) under the patronage of a princess, which encouraged all Swazi maidens to abstain from sexual relations for five years. This was last done under Sobhuza II in 1971. This rite banned sexual relations for Swazis under 18 years of age from 9 September 2001 and 19 August 2005, but just two months after imposing the ban, he violated this decree when a liphovela (royal fiancée) was chosen, who became his 13th wife. As per custom, he was fined a cow by members of her regiment, which he duly paid.
Family and succession
The king currently has 15 wives and 25 children. A Swazi king's first two wives are chosen for him by the national councillors. There are complex rules on succession. Traditionally the king is chosen through his mother as represented in the Swazi saying Inkhosi, yinkhosi ngenina, meaning "a king is king through his mother". According to tradition, he can marry his fiancées only after they have fallen pregnant, proving they can bear heirs. Until then, they are termed liphovela, or "brides".
Controversies
Mswati's reign has brought some changes in the government and political transformation. However, critics such as the People's United Democratic Movement (PUDEMO) believe that these changes are solely aimed at strengthening and perpetuating the traditional order. His attendance at the May 2012 Sovereign Monarchs lunch, to celebrate the Diamond Jubilee of Queen Elizabeth II, caused some controversy, given criticisms of his regime's human rights record.
Swaziland has been described as having been gripped by years of fiscal indiscipline, government corruption, and lavish lifestyles of the royal family. The nation has also been described as being on the brink of economic disaster due to these factors. Under Swazi law and custom, the king is vested with virtually all powers of the state. Despite Swaziland having a prime minister, Mswati holds supreme executive authority over the legislature and courts.
Mswati's reign has been criticized for its several alleged human rights violations. His regime has been accused of using torture and excessive force to control the masses as well as blatant discrimination against various dissenting groups. His regime has been accused of extrajudicial killings by his forces, along with arbitrary arrests, detentions, and unwarranted searches and seizures of homes and property. His government has restricted freedom of speech, assembly and association, and has harassed activists and journalists. The government has reportedly targeted the LGBT community, labor leaders, and activists against child labor, among other groups. The courts took little or no action to punish Mswati's actions or the officials who committed the abuses.
He has been accused of kidnapping women he desires to marry, although no case can be brought against him. In addition, in 2000 he allegedly called for a parliamentary meeting to debate if HIV-positive people should be "sterilized and branded".
Wealth
Mswati has been criticized for his lifestyle, especially by the media; in one report he has been accused of living a lavish lifestyle whilst his people starve. In the 2014 national budget, parliament allocated $61 million (US) for the King's annual household budget, while 63% of Swazis live on less than $1.25 per day. Following criticism of his purchase of luxury cars, including a $500,000 DaimlerChrysler's flagship Maybach 62 luxury automobile, he banned the photography of his vehicles. According to the Forbes 2009 list of the World's 15 Richest Royals, King Mswati is worth a reported $200 million. In January 2004 the Times of Swaziland reported that the king asked his government to spend about $15-million to redecorate three main palaces and build others for each of his 11 wives. The Prime Minister's Office issued a press statement saying the article in the Times of Swaziland was "reckless and untrue" and that the proposal was for the construction of 5 State Houses, not Palaces, and the cost was only €19.9 million. Later that year the go-ahead was given to build five new buildings at a cost of more than $4-million out of public funds. In August 2008, Swazi scouts marched through the capital protesting the cost of a shopping spree taken abroad by nine of the King's thirteen wives. The demonstration was organized by Positive Living, a non-governmental organization for Swazi women living with AIDS.
Mswati has a personal stake in a large portion of Swaziland's economy which is a factor in its below-average economic growth for a Sub-Saharan nation. As an absolute monarch, he holds the power to dissolve parties, and can veto any legislation parliament passes.
LaMahlangu controversy
According to accusations by Amnesty International, Zena Mahlangu, an 18-year-old high school student, disappeared from her school in October 2002. Her mother, Lindiwe Dlamini, learned that her daughter had been taken by two men, Qethuka Sgombeni Dlamini and Tulujani Sikhondze, and she reported the matter to the police. Some time later, she was told that her daughter was at Ludzidzini Royal Village and was being prepared to be the next wife of the king. She demanded that her daughter be returned to her custody, and threatened to sue.
Among the criteria for a liphovela, (future bride), the girl must not be disabled, or a twin; Zena Mahlangu was the other half of a brother-sister twin set, and therefore not eligible. The matter went to the High Court, but Swaziland's Attorney-General Phesheya Dlamini intervened. She has since had two children, and formally became the king's wife in 2010.
Amnesty International said:
The king and his agents have violated the internationally recognized human rights of women and girls, including their right not to be arbitrarily detained and the right not to be subjected to forced marriage.
Titles and styles
19 April 1968 – September 1983: His Royal Highness Prince Makhosetive Dlamini of Swaziland
September 1983 – 25 April 1986: His Royal Highness Prince Makhosetive, The Crown Prince of Swaziland
25 April 1986 – present: His Majesty King Mswati III, The Ingwenyama (King) of Swaziland
National honours
Swaziland : Grand Master of the Royal Order of King Sobhuza II (1986).
Swaziland : Grand Master of the Royal Order of the Great She-Elephant (2002).
Swaziland : Grand Master of the Royal Order of the Crown (2002).
Swaziland : Grand Master of the Royal Family Order of Mswati III (2002).
Swaziland : Grand Master of the Military Order of Swaziland (2002).
Foreign honours
South Africa : Knight Grand Cross of the Order of Good Hope (August 1995).
References
Mswati III Wikipedia
(Text) CC BY-SA