Release date

18 August 2012 (2012-08-18)
Mr. Marumakan (English Translation: Mr. Son in law) is a 2012 Malayalam comedy-family drama film written by the duo Udayakrishna-Siby K. Thomas and directed by Sandhya Mohan. The movie stars Dileep and Sanusha in the lead roles and Bhagyaraj, Khushboo, Sheela, Biju Menon, Nedumudi Venu and Riyaz Khan in supporting roles.
Contents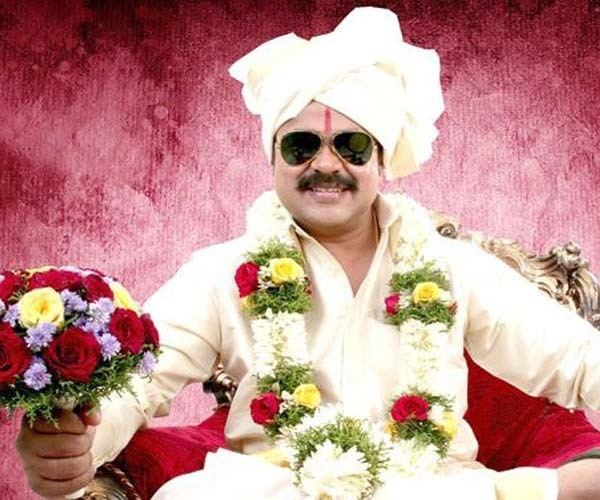 The film tells the story of three rich women, Raja Kokila, her adopted daughter Raja Mallika and her daughter Raja Lakshmi who believe that a woman can survive without the help of a man. However, the entry of a lawyer trained drama director Ashok Raj into their lives forces them to revise their opinions. Critical reactions to the film were mostly mixed response, but the film managed to become a hit at the box office.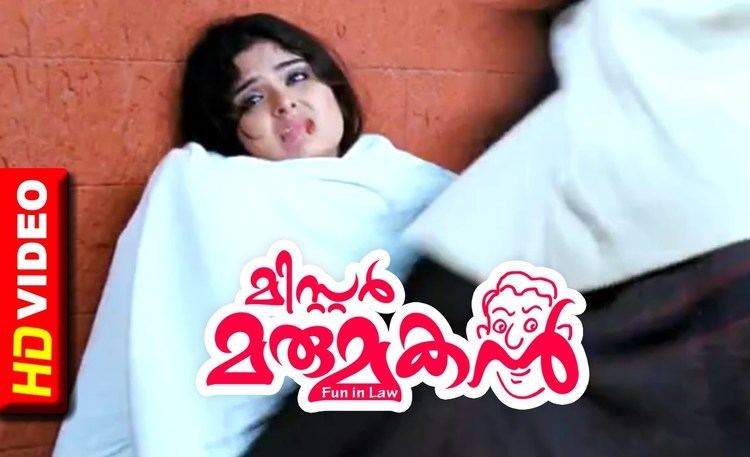 Plot
Ashok Raj (Dileep) is the son of Rajagopalan Thampy (Nedumudi Venu), whose family is based in Ottappalam. Although Ashok Raj is a lawyer, his interest lies in reviving a defunct drama troupe called Bharatha Kalakshetram, which used to be run by his family. He is directing a drama titled Dasavatharam for the troupe and is also the lead actor in the play. Ashok Raj even changes his name to "Ashok Chakravarthy" as he thinks it has much more punch as a name for an artiste. His elder brother Babu Raj (Biju Menon), who runs a company, is now in a financial mess as he is unable to payback loan taken.
Balasubrahmanyam (Bhagyaraj) is a banking Ombudsman, who has come to initiate legal proceedings against the elder brother Babu Raj to get him to repay the loan that he had taken to start his venture. As it turns out, the bank officer is estranged from his haughty wife Raja Mallika (Kushboo Sundar) and daughter Raja Lakshmi (Sanusha). His wife hails from a wealthy family and is the daughter of the even haughtier Raja Kokila (Sheela), the boss of Raja's group of companies. The trio believe that a woman can survive easily, without the help of a man. The entry of Ashok Raj into their lives forces them to revise their opinions. On the parallel, we are shown a romance story between Ashok Raj and teenaged Raja Lakshmi.
Ashok decides to help Balasubramaniyum & carefully plots his story. He marries Raja Lakshmi & begins to teach Raja Mallika & Raja Kokila about family & its values. Raja Mallika tries all her tricks to separate Raja Lakshmi from Ashok,but they get closer. Finally it is revealed that Raja Mallika is an adopted daughter of Raja Kokila, thereby destructing Raja Mallika psychologically. It is also revealed that she is the daughter of Bhavani amma who works as a maid in her house. She realises the value of family & husband.
Raja Mallika changes her mind & reunites with Balasubramaniyam.
Cast
Dileep as Ashoka Chakravarthy / Ashok Raj
Sanusha as Raja Lakshmi
Bhagyaraj as Balasubrahmanyam
Khushboo as Raja Mallika
Sheela as Raja Kokila
Kaviyoor Ponnamma as Bhavani Amma
Biju Menon as Babu Raj
Suraj Venjaramoodu as Chantha Hamsa
Harisree Ashokan as Keshu
Nedumudi Venu as Rajagopalan Thampy
Baburaj as Adv. K.V Panickar
Mallika as Ashok's Sister
Sajitha Betti as Adv. K.V.Panicker's sister
Lakshmipriya as Adv. K.V.Panicker's wife
Riyaz Khan as A.C.P Madhuram Ramachandran
Saikumar as Ramachandran
Thesni Khan
Ambika Mohan as Ambika
Meghna Nair as Minmini
Critical reception
Metro Matinee gave the movie a verdict of "Time Pass Entertainer", concluding that "On the whole, 'Mr. Marumakan' is a crowd-pleaser that knows exactly who its audience is. For die-hard fans of Dileep, this old-fashioned entertainer is a treat and delivers enough entertainment for your buck".
Sify the movie a verdict of "Strictly for Dileep fans!", commenting that "Mr. Marumakan is as archaic as formula is to films and it is packaged as an old-school masala potboiler aimed at Dileep fans. It is exaggerated and formulaic, but relies squarely on the charm of its leading man to pull off its over-the-top tone. And when you walk out of the theatres, you realize why Dileep is called the Janapriya Nayakan."
Paresh C. Palicha of Rediff gave the movie 2/5 stars, stating that "Mr. Marumakan is a typical Dileep film, not one expected from someone who is recently honoured as the Best Actor by the Kerala State Government."
Veeyen of Now Running gave the movie 2/5 stars, saying that "'Mr. Marumakan' offers little wackiness when it comes to humor since the jokes never build up. It has little on offer when it comes to emotions as the situations progress from clumsy to worse. The antics that he is up to make for tedious viewing, and this supposedly fun-in-law is in short, no won-in-law".
Box office
It earned ₹3.90 crore (US$610,000) in 5 weeks. The film completed 8000 shows and find difficult to run more than 50 days at the box office.
References
Mr. Marumakan Wikipedia
(Text) CC BY-SA