Covid-19
Moussa Youdim





Neuroscientist






EMET Prize in Life Sciences
Moussa B.H. Youdim, is an IranianIsraeli neuroscientist-neuropharmacologist who has received numerous national and international awards and prizes for his fundamental works on aminergic neurotransmitters metabolism and function and iron metabolism in brain function and dysfunction with reference to Parkinson's and Alzheimer's diseases.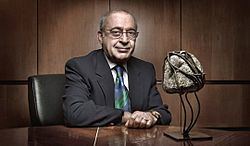 He was born in Tehran, Iran in 1940. He completed his B.Sc. and M.Sc. at McGill University in 1962 in Montreal. He received his Ph.D. in Biochemistry from McGill University, Allan Memorial Institute with Professor Theodore L Sourkes in 1966. From 1966 to 1971 he was post doctoral fellow at London University Graduate School.
He spent 1972 at Department of Biochemistry Cambridge University and in 1973 he was Welcome Trust Fellow at College de France in Paris. For 4 years he was a member of MRC unit of Clinical Pharmacology, Department of Clinical Pharmacology and Faculty of Medicine at Radcliffe Hospital, Oxford University. In 1977 he was appointed Chairman and Professor of Pharmacology at the new developed medical school at Technion-Israel Institute of Technology. He held the position of Distinguished Scientific Professorship at Hong Kong Polytechnic University and Hong Kong University, as well as Distinguished Professor of World Central Yonsei University in Seoul, South Korea. He is also Honorary Professor in 5 Universities in China, including Materia Medica Shanghai University of Chinese Traditional Medicine for his research studies on Chinese green extract. He is the Director of the Eve Topf and United States, National Parkinson Foundation Center of Excellence for Neurodegenerative Diseases Research. He is an elected member of the German Academy of Sciences Leopoldina, the oldest academy in the world.
He was a discoverer of the anti Parkinson activity of the medications selelgiline (l-deprenyl) and rasagiline which is considered to be the first disease modifying drug used for Parkinson's disease and ladostigil for Alzheimer's disease. Experts have recently questioned whether rasagiline actually has significant disease modifying properties.
He received The Anna Monika Prize for the discovery of multiple forms of monoamine oxidases. The Shah of Iran, recognized him in 1978 for "his advances in understanding Parkinson's disease and migraine headaches." He was awarded the The EMET Prize for Art, Science and Culture in 2010 for his work in brain research. He is the recipient of the 2010 ECNP, European College of Neuropsychopharmacology, Lifetime Achievement Award in recognition of his innovative and lasting contribution to the area of neurodegenerative diseases and neuropsychiatric drug development and the 2012 CINP, International College of Neuropsychopharmacology Pioneer Award, which included the Arvid Carlsson Medal.
Moussa B.H. Youdim Wikipedia