The Moller Skycar is a prototype personal VTOL (vertical take-off and landing) aircraft – a "flying car" – invented by Paul Moller who has been attempting to develop such a vehicle type for more than fifty years. As of 2016, no Moller air vehicle has successfully flown in free, non-tethered flight.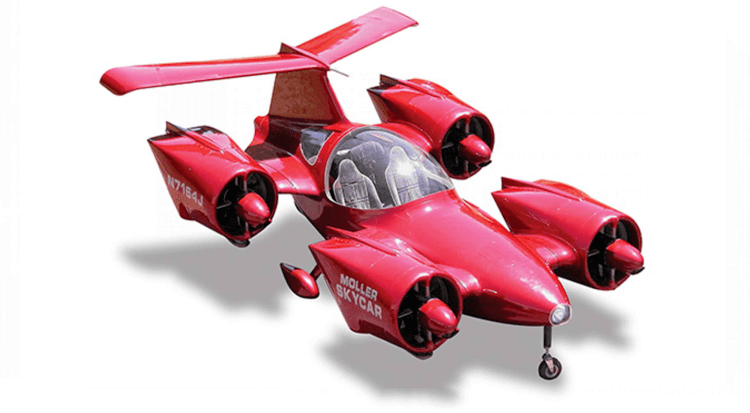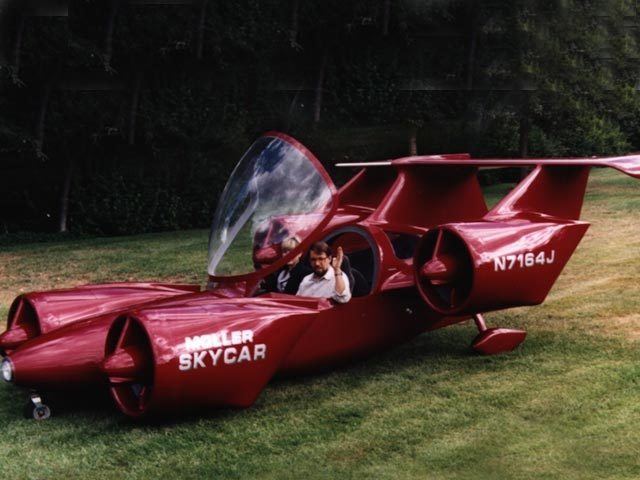 The M400 craft, currently under development, is purported to ultimately transport four people; single-seat up to six-seat variations are also planned. It is described as a car since it is aimed at being a popular means of transport for anyone who can drive, incorporating automated flight controls, with the driver only inputting direction and speed required.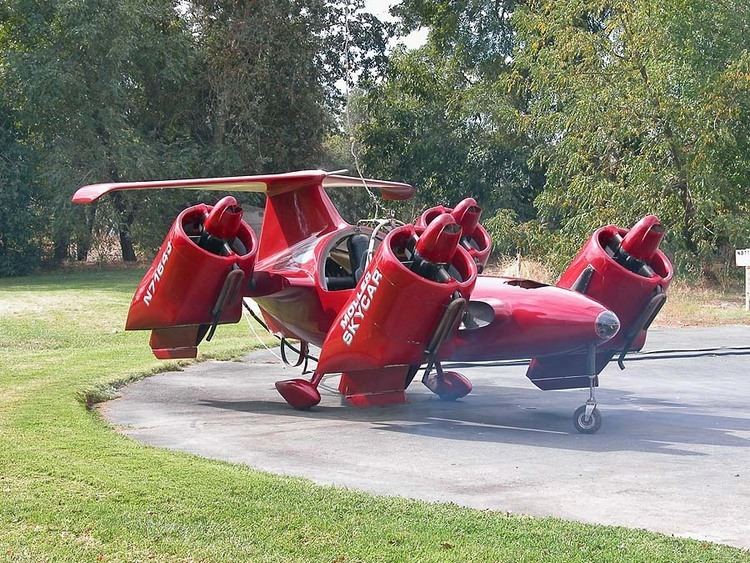 After forty years and $100,000,000 in expenditure the Skycar demonstrated tethered hovering capability in 2003. It has been extensively marketed for pre-order sale since the 1990s as Moller attempted to raise more money for 'development' but thirty years on is often cited as a real-world example of physical product vaporware.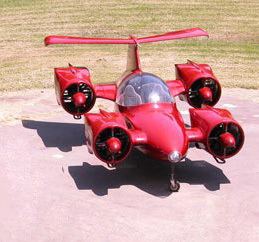 In April 2009, the National Post characterized the Moller M400 Skycar as a "failure", and described the Moller company as "no longer believable enough to gain investors". On May 18, 2009, Paul Moller filed for personal protection under the Chapter 11 reorganization provisions of the federal bankruptcy law and it is unknown how this will impact the fate of his ideas; Moller International itself did not file for bankruptcy but reduced operations.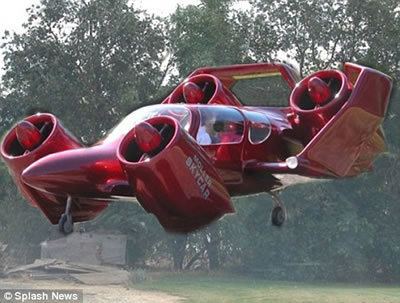 A Skycar is not piloted like a traditional fixed wing airplane, and has limited pilot controls, which the pilot uses to inform the computer control system of the desired flight maneuvers. The Skycar's ducted fans deflect air vertically for takeoff and horizontally for forward flight. The ducted fans encase the propellers and engines, which prevents bystanders from being exposed to moving blades as well as improving aerodynamic efficiency at low speeds and generating lift in forward flight.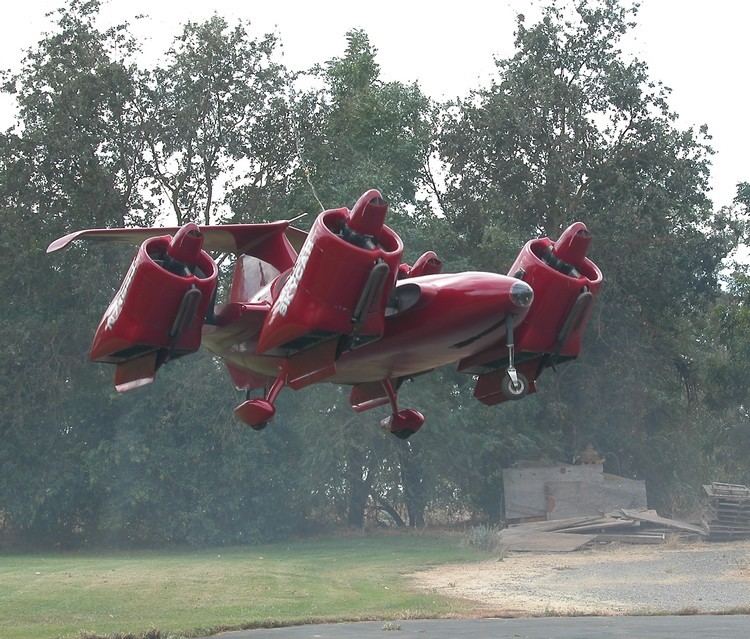 The engines to be used are being developed by an affiliate Moller company called Freedom Motors. They are Wankel engines branded "Rotapower" which have a direct drive to a propulsion fan. Each fan is contained in Kevlar-lined housings which provide further protection for bystanders. The Skycar has four nacelles, each with two computer-controlled Rotapower engines. All eight engines operate independently and, as demonstrated during a tethered flight, allow for a vertical controlled landing should any one fail.
The Rotapower Wankel engine announced by Freedom Motors has the claimed ability to operate on any fuel including, but not limited to, gasoline, diesel, methanol, and clean renewable ethanol. Earlier Rotapower models used gasoline.
On November 1, 2013 Moller announced that the 530 cc Rotapower engine had achieved 102 horsepower (76 kW) using alcohol (ethanol) on their test stand, yielding an effective 3 horsepower per pound (5 kW/kg) of weight.
Despite announcements since 2001 the Rotapower engine has never been mass produced. As of 2015, Moller claims to have a backlog of conditional orders and letters of intent for over 3.5 Million Rotapower Engines.
The only flight demonstrations have been hover tests performed in 2003 by a Skycar prototype that for insurance reasons was tethered to a crane. The ongoing lack of funding for the Moller company to actually fly the M400 led the National Post to characterize the Skycar as a 'failure'.
Although the physics behind the Skycar design is rarely criticized, the management of the company and the inability to bring a product to market draws the most ire from commentators.
In 2003, the Securities and Exchange Commission sued Moller for civil fraud (Securities And Exchange Commission v. Moller International, Inc., and Paul S. Moller, Defendants) in connection with the sale of unregistered stock, and for making unsubstantiated claims about the performance of the Skycar, even though Moller's statements had passed the review and received "cleared comments" from the SEC during the filing and public information phase prior to being listed as a publicly traded company. Without admitting any wrongdoing, Moller agreed to pay $50,000 to settle the matter quickly so as not to delay the initial public offering of the stock. In the words of the SEC complaint, "As of late 2002, MI's approximately 40 years' [sic] of development has resulted in a prototype Skycar capable of hovering about fifteen feet above the ground." The shareholders of Moller International banded together to form a group known as "Shareholders of Moller International ("SoMI"),
In October 2006, Moller attempted to auction the only prototype of its M200X model on eBay. It failed to sell. The highest bid was $3,000,100; Moller reported at the annual meeting of stockholders on October 21, 2006 in Davis, California, that the reserve price had been $3,500,000. A previous attempt in 2003 to sell the M400 via eBay was also unsuccessful.
A memorandum of understanding (MOU) was signed in January 2013 between Moller International and a US-China and e-business network agreeing to the goal of developing production for Moller Skycars in the United States and the People's Republic of China.
As of October 2015 nothing further has been reported on developments of this previously announced joint venture despite Moller International's January 2013 press release having stated the following: "The JV will initially invest $80 million (USD) of a planned $480 million investment with the objective of producing a variety of VTOL aircraft by 2014."
On November 5, 2013 Moller kicked off a crowdfunding campaign with an official announcement on the Happening Now program on Fox News Channel in the US. He subsequently followed the broadcast announcement with a press release and a radio-broadcast announcement on the Coast to Coast AM radio program with host John B. Wells interviewing Moller for 2 hours.
The campaign was formulated to raise money to further develop the systems to fly the Skycar without a tether and with a pilot on-board - something that Moller had yet to accomplish with the flights that had been conducted to date with the M400X prototype vehicle. Moller launched a donation-only crowdfunding campaign - not subject to SEC scrutiny - and promised to provide gifts and other items to donors, included a ride in the M400X as the top gift of the campaign. The Moller crowdfunding campaign ended on January 4, 2014 and raised a total of US$29,429.00 from 188 funders, far short of its $950,000 goal.
Currently Moller has focused its attention to the Neuera, a two-seater, round, flying saucer-like aircraft. Like the M400 Skycar, the Neuera uses 8 Rotapower rotary engines. The Neuera is designed for rescue, utility, and recreational operation. The daughter aircraft of the Neuera, the Firefly, is designed as an emergency rescue vehicle capable of high-rise rescues, and can carry up to 3 passengers and 1 operator. Moller had announced a test flight of the Neuera scheduled for November 2015, however due to FAA certification and lack of funding, the Moller team has been behind schedule. Moller claims that the Neuera will fly in front of the press, shareholders, and public sometime in 2016.
Moller M150 Skycar
The initial single seat technology demonstrator, incorporating the fuselage of a Bede BD-5 with two of Moller's ducted fan units. Prototype only; no public demonstration flights.
Moller M400 Skycar
The prototype version powered by four Moller propulsors incorporating Rotapower 500 wankel rotary engines; has flown several times without a pilot but tethered via slack safety line to an overhead crane
Moller 400 Skycar
Production version; unbuilt.
Moller 100LS and 200LS
Proposed 1-and-2 seat volantor air vehicles, similar to the 400 Skycar
Data from and
General characteristics
Crew: 1
Capacity: 4
Length: 21 ft 6 (prior prototype (year 2010): 19'6") in (6.5 (prior prototype: 5.9m) m)
Wingspan: 8 ft 6 in ((prior prototype: same) 2.6 m)
Height: 7 ft 6 in ((prior prototype: same) 2.3 m)
Empty weight: 2,400 lb ((prior prototype: same) 1,088 kg)
Gross weight: 3120 lb (1,415 kg)
Powerplant: 8 × 530cc Rotapower rotary engines, 180 hp (134 kW) each
Performance
Maximum speed: 331 (prior prototype: 330) mph (533 (prior prototype: 531 kmh) km/h)
Cruise speed: 308 (prior prototype: 305) mph (496 (prior prototype: 491) km/h)
Range: 805 miles (1,213 km)
Endurance: 5.9 hours
Service ceiling: 36,000 ft ((prior prototype: same) 10,973 m)
Rate of climb: 4,800 ft/min (24 m/s)