Nationality

British




Website

www.aerosolarabic.com





Name

Mohammed (artist)




Role

Artist






Born

21 July 1979 (age 36) (

1979-07-21

)

Sparkbrook, Birmingham, West Midlands, England




Known for

Street art, Graffiti, Street painting




Movement

Urban spiritual art, Islamic graffiti




Awards

Arts Council England – Diversity Award (2009)
Mohammed Ali, MBE (Bengali: মুহাম্মদ আলি; born 21 July 1979), also known by his stage name Aerosol Arabic, is an English street artist. He is well known for combining street art with Islamic script and patterns.
Contents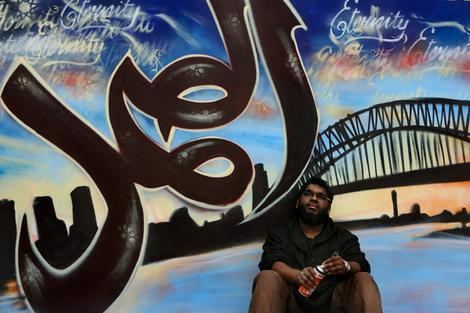 Mohammed ali graffiti artist
Early life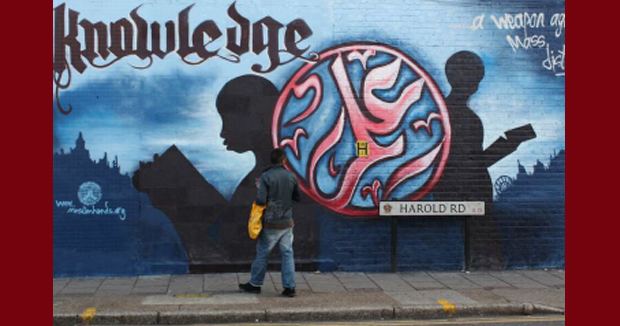 Ali was born and brought up in Sparkbrook, Birmingham, England. Ali grew up with Irish and South Asian children in his neighbourhood.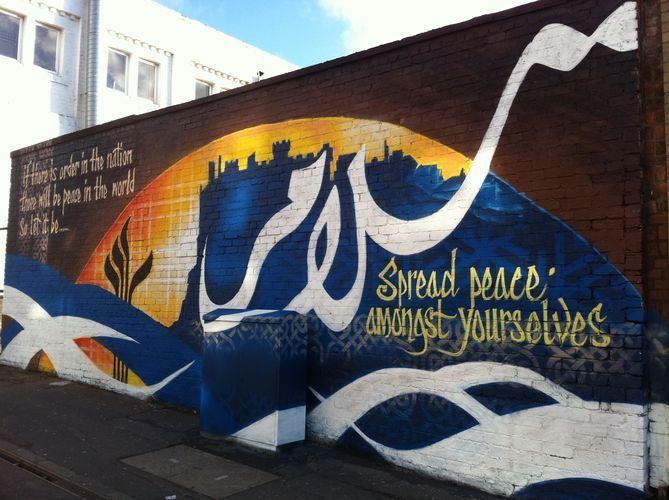 Ali's parents were born in Bangladesh and came to the United Kingdom in the early 1960s. In the 1970s, his father bought his first fish and chip shop, and later went into the restaurant business.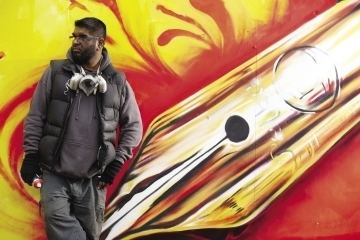 From 1989 to 1997, Ali attended King Edward VI Five Ways School. He has said that he felt like a misfit at his school, being one of only a handful of Muslims in the overwhelmingly Anglo student body. As a youth, he found himself torn between an Islamic upbringing and the Birmingham's thriving club scene. In his late teens and early twenties, Ali entrenched himself in the urban Hip hop music scene, a lifestyle of late nights and partying that he said eventually left him disillusioned.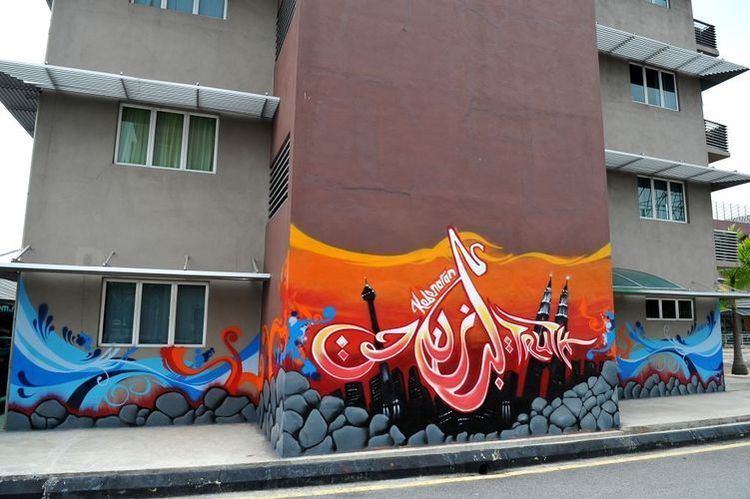 Ali was seven when he saw his first book on graffiti, which was brought home by his older brother. Three years later, he got his first spray can. Ali used to do illegal graffiti and sprayed his first wall at the age of 14. Since the early 1980s, Ali has been an active artist, he was inspired by the Subway art movement and by New York graffiti. Ali would find the ugliest wall and resolve to turn it into a piece of art by adding colour rather than tagging his name.
At around the age of 20, a friend of Ali's died in a car accident and another friend died of a drug overdose. This led Ali to re-discovering his religion, Islam, and his outlook in life began to change. In 2002, Ali graduated with a degree in Multimedia Design from De Montfort University.
From January 2001 to June 2005, Ali worked in the computer-games industry as a designer for Full-Fat Gaming. However, after being disillusioned with using his creative skills for commercial benefit, he left the commercial games sector and began exploring with creating art with what he thought was a better purpose.
2000-2004
In January 2000, Ali stopped "creating art without permission" and started to fuse Islamic script, and patterns with graffiti art. He is based in United Kingdom and has painted murals in major cities including, from New York, Chicago, Toronto, Melbourne, Dubai, Kuala Lumpur Sydney, Copenhagen, Stockholm as well as UK cities. Ali only paints where he has permission.
In 2004, Ali was commissioned alongside other Islamic artists to do the artwork for the UK launch of Sony's PSP.
2006-2008
In 2006, Ali's work was exhibited in Dubai. Later in the year, Copenhagen Skate Park hosted to an alternative art and design festival with DJs and exhibitions, and a presentation by Ali about his work.
In April 2007, Ali toured the United States on the "Arts and Islam" tour, which was co-organised by Arts Council England. He travelled to Chicago, New York and Boston to paint wall murals. This was accompanied by presentations at museums and universities.
On 12 April 2007, after started work on a mural on the side of a mosque run by the Islamic Circle of North America, in Chicago. However, after one day, Ali had to stop work on the mural and plans for the mural were postponed, which was about 5-10 percent complete because organizers at the mosque failed to get the necessary permits for the project. However, the oversight only surfaced after an anonymous call about the mural to the office of Ald. Bernard Stone (50th). Stone said what might have prompted the call was a misunderstanding of what the mural depicted: The letter 'a' (Alif) in Arabic looks like a slanted column, and the a's in the last syllable of the word "Salaam" may have looked like the falling World Trade Center towers in the September 11 attacks. The mural depicts a cityscape against a light blue background; dark blue Islamic patterns are sprayed on each side. Layered over the scene is the word "Salaam", written in Arabic, which means "peace and blessings be upon you".
The following week, in The Bronx, New York, Ali painted a memorial mural as a tribute to ten members of two Muslim immigrant families from Mali, which included five children from the extended Magassa family and four children and the mother of the Soumare family who died in an apartment fire on 7 March 2007. From right to left, in Arabic was written "From God we came", and then, in English, "To Him we shall return". The art supplies were provided by the Islamic Circle of North America.
In April 2007, Ali also painted at the Phillips Academy, infusing a Bible verse with Arabic symbols and a line from the Quran. In September 2008, he painted murals on walls in Burnley as part of the Love and Etiquette Foundation's Jamaal project.
In October 2008, he produced a four-by-two-metre painting that features the Sydney Harbour Bridge and blends Arthur Stace's signature graphic with the Arabic phrase "As-Samad", which corresponds to "the eternal". His painting was given to the Australian Catholic University as a gift. Later that month, through the Arts Council of England, Ali created a mural in a lane way in Melbourne for the Melbourne International Arts Festival. He worked with 13 Melbourne Muslim women artists known as "Crooked Rib". Ali and Crooked Rib also worked on a big canvas painting, which they gave to a local charity.
2009-2010
In January 2009, Ali established an organisation called Soul City Arts. As artistic director, he has been programming and directing theatrical events with other artists. He also launched an arts organisation called The Hubb Arts Centre in the city of Birmingham.
In January 2009, he also produced a series of five graffiti murals on private walls in inner city areas of Birmingham. They were created in support of Palestinian people following the Israeli bombings in Gaza. In February 2009, a mural with the slogan "Free Gaza" in Alum Rock was sandblasted by Birmingham City Council after police feared the wall owner's house was at risk of a petrol bomb attack.
In July 2009, Ali made his debut in Malaysia in the Arts segment of the Knowledge and Arts Tour, organised by the Young Muslims Project and supported by the British Council, Asia e University, Yayasan Rasma and the Muslim Professionals Form. In August 2009, he painted a mural in Amsterdam during the Amsterdam Light Festival. In October 2009, sponsored by Muslim Hands, he painted a wall next to a ZamZam store in Green Street in Newham, London.
Between 9 October 2009 until 16 January 2010, as part of Street Art Season at the Herbert Art Gallery and Museum, Ali put on an exhibition called "Breaking Down the Wall", which explored the themes of Freedom, Justice and Equality and included work on spray painted canvas, video projections and brand new aerosol art. On 11 November 2009, Ali was joined by urban culture photographer Henry Chalfant for "Can Graffiti Really Change the World?", a talk exploring how the public space has been used by man for art and messages since the beginning of time.
On 21 January 2010, Ali was involved in a one-off evening of live graffiti art and spoken word, called "Writing on the Wall" at the Birmingham Repertory Theatre. The idea was four years in the making and inspired by the theme of '3'. The event also featured poetry performances by Zena Edwards, Amir Sulaiman, Dreadlock Alien, with direction from hip-hop theatre pioneer Jonzi D. Islamic Bank of Britain was the lead sponsor of the event. Prior to the event, Ali took a two-week residency in the theatre, and worked alongside local visual artists to create unique images in the theatre's scenic workshop.
In March, 2010, he was commissioned by Tashkeel to create a large-scale mural in collaboration with artists living and working in the UAE. The art was inspired by the language and people of the region and depicts the past, present and hints towards the future.
In August 2010, Ali appeared on Channel 4's 4thought.tv.
In October 2010, at the V&A Street Art exhibition he produced his exhibition "Breaking down the Wall". In November 2010, Ali painted at the Herbert Art Gallery for the Coventry Peace Festival. In September 2010, he completed the UK's longest mural of 950 square metres at the University of Bradford, for his project, "Life in the Wall".
2011-present
In April 2011, he painted a mural in Liverpool city centre, featuring Liverpool Cathedral and focusing on Martin Luther King's "dream" of a fully integrated society and on the importance of education.
In September 2011, Ali's mural, commissioned by the University of Edinburgh arranged by the College's Prince Alwaleed Bin Talal Centre for the Study of Islam in the Contemporary World. The mural, which mixed Islamic patterns with Celtic design and featured Edinburgh Castle, was painted on a wall beside the city's Annandale Street Mosque.
In February 2012, Ali worked in partnership with the University of Birmingham's department of Theology and Religion and unemployed young men in Bromford, east Birmingham, to paint a 12 ft-high cube during a week-long mural project called "Bromford Dreams".
In August 2012, he painted a large Olympic Games-themed mural on a Leyton building as part of a community project. The artwork includes images of the Olympic Stadium in Stratford, rooftops and a silhouette of Tommie Smith and John Carlos who made a black power salute at the 1968 Olympics Games.
In 2013, he created new artwork, performing alongside musicians, artists and poets in "If Walls Could Speak", a collage of tales about life in Sparkbrook. On 19 April 2013, he presented a TEDx talk to an audience in the Vatican in Rome about how his Muslim faith has inspired his artwork and influenced his relationship with others. Ali also painted a picture about religious freedom, which he gave to Pope Francis as a gift.
In June 2013, Ali painted a mural at an Islamic street arts festival called "Resonate and Reformulate" at Exeter University.
In the same month, at a three-day festival at the University of Exeter, he created his art work "Spinning Cube" on site. In September, he created the "FutureCube". In August of that same year, he painted a mural in Mosely to reflect "Moseley in Bloom".
In September 2014, he painted art on the brickworks around the four sides of an old, small, neglected and derelict old substation in Farnborough Fields, Castle Vale. In March 2015, he painting a series of panels with students focusing on the theme of "Peace and Religion" at Hereford Sixth Form College.
Ali's work has also been reported by national and international mainstream media ranging from CNN to Al Jazeera, BBC, CBC, Reuters, and The New York Times.
Ali is also an active lecturer. He delivers conferences and public lectures, nationally and internationally, about the power of the arts to transform society. He speaks at schools, colleges, universities and galleries by invitation. In the summer he is involved in outdoor work and during the winter months he spends more time in the studio and develops on canvas and works on new commissions.
Style and themes
Ali describes himself as "an urban spiritual artist". His works are mostly inspired by universal concepts such as knowledge, peace and spirituality. Although his art is inspired by Islam, it carries a universal message that people of all faiths and backgrounds can appreciate.
Ali fuses aerosol graffiti techniques with Islamic calligraphy and iconography. He uses western street art and combines it with sacred, classical style of Islamic script and patterns – introducing this art form in places where he has permission to paint. In his art he attempts to convey principles of peace, justice, brotherhood and respect. He claims not to create art to sell nor acquire a recognition.
Awards and nominations
In February 2008, Ali received an award for introducing creative and innovative ideas in art by the Birmingham Bangladeshi League.
In January 2009, Ali appeared on ITV's The South Bank Show and was awarded the Arts Council England's diversity award, which celebrates outstanding achievement in promoting diverse groups and cultures in The Dorchester Hotel in Park Lane, London. He was praised by judges him creating messages of peace, unity and hope.
In March 2009, he was awarded the Iman wa Amal special award at The Muslim News Awards for Excellence, recognising "unsung heroes" of the Muslim community in Britain at Grosvenor House Hotel in Park Lane, London.
In January 2014, he was nominated for Arts and Cultural Awareness award at the British Muslim Awards.
In 2016, Ali was also appointed a Member of the Order of the British Empire (MBE) in the 2016 New Year Honours for his services to art and community cohesion.
Personal life
Ali is a Muslim. He lives in Kings Heath, Birmingham with his wife and three children.
Ali has performed Hajj (the largest Islamic pilgrimage to Mecca, Saudi Arabia).
In August 2009, Ali's father died.
References
Mohammed Ali (artist) Wikipedia
(Text) CC BY-SA