Magued Osman





Mohamed Salem






Ahmed Nazif Essam Sharaf Kamal Ganzouri
Mohamed Abd-el-Kader Salem is an Egyptian academic and politician. He is former minister of Communications and Information Technology in the cabinet of Dr. Essam Sharaf from 21 July 2011. Starting from 2002, he was the chairman of the Information Technology Institute (ITI), and a member of the institute's board of trustees.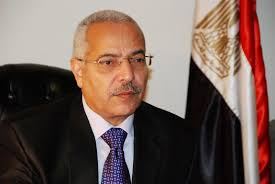 Mohamed Salem holds a Ph.D. and M.Sc. in electrical engineering – computers and systems engineering from Ain Shams University, and a B.Sc. in electrical engineering from the Military Technical College. Salem also serves as a board member of the Center of Computers and Information Systems of Cairo University's Faculty of Economics and Political Sciences; a board member of the Faculty of Computers and Information Technology of October 6 University; and chairman of the International Conference of Information and Communication Technology (ICICT), the International Conference of Multimedia (Digimedia), and the Arabic Conference for Geographic Information Systems (ArabMap).
Salem served as vice director at ITI from July 2000 to July 2002, and as director of the institute's Professional Training Program from July 1993 to July 2000.
Salem has also served as a lecturer of computer engineering, information systems and computer science – in the areas of artificial intelligence and expert systems, software engineering, management information systems, software project management, decision support systems and electronic commerce – at ITI, Cairo University's Faculty of Economics and Political Sciences, the Arab Academy for Sciences and Technology, the International Academy for Media Science, Sixth of October University and Misr International University. As a consultant he has worked in the fields of computers and information systems, information technology and artificial intelligence applications.
During his career, Salem has participated in information and communications technology-related conferences around the world and has published material on various ICT-related fields, including geographic information systems training and distance learning.
GIS Professional Training, Egypt's Experience, Kuwait 1st International GIS Conference, Kuwait 5-7 Feb., 2005.
ITI Experience Towards E-Learning, 3rd Conference on E-Learning Applications, AUC, Cairo, 15-16 Jan., 2005.
Distant Learning, ITI Experience, Using the IT & Telecommunication in E-Education (with focus on the Arabic content on the Internet), Regional Seminar, Damascus, Syria, and 15-17 Jul., 2003.
Distant Learning, Will it Become the First Discipline? OICC 7th Seminar on GIS applications in Planning and Sustainable Development, Cairo Egypt, 13-15 Feb., 2001.
Adaptive Intelligent Agent, a Design Approach for a Decision Support System, Scientific Bulletin, Faculty of Engineering, Ain Shams University, No. 01/31, 31/3/1996.
Computer Network Security, Technology and Armament Magazine, Vol. 5, No. 3, July 1990.
Computer Virus, Assigned Research by His Excellency the Egyptian Chief of Staff of the Armed Forces, January 1990
Mohamed Abd-el-Kader Salem Wikipedia