It became part and headquarters of 17th District in the state, Moga district of Punjab state on 24th day of November 1995, by then Chief Minister Harcharan Singh Brar. Before this, Moga was a part of Faridkot District as a tehsil. Moga town is situated on the National Highway 95 (NH-95 Ferozpur-Ludhiana road). The area of Dharamkot block with 150 villages has been merged into Moga district, which falls under the jurisdiction of Ferozpur division.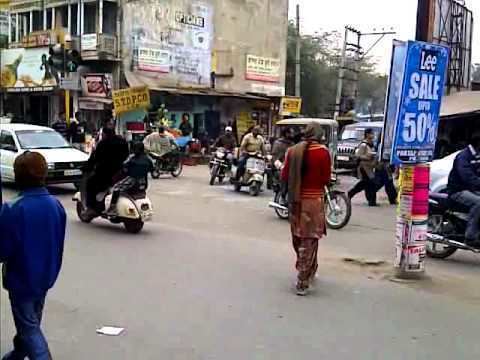 Moga was founded by Moga Singh Gill a forefather of the Gill community. Then this city went to the hands of his two sons Moga Ajit Singh Gill and Moga Mehla Singh Gill.
Moga is located at 30.8°N 75.17°E / 30.8; 75.17. It has an average elevation of 217 metres (711 ft).Moga district is bordered by Jalandhar district in the north, Ludhiana district in the East, Sangrur in the South and Faridkot and Ferozpur in the West. It stretches between longitude 75 degree - 15, 75 degree - 25 east and latitude 30 degree - 35 and 31 degree 15 North. It spreads over an area on 2230 km2, which comes to 4.42% of the Punjab State. The average annual rainfall of district was 234.5 mm by the year 1999.
It is located 368 km from New Delhi,184 km from Chandigarh,67 km from Ludhiana,110 km from Amritsar,85 km from Bathinda and 1600 km from Mumbai.
As per provisional data of 2011 census Moga urban agglomeration had a population of 159,897, out of which males were 84,808 and females were 75,089. The literacy rate was 81.42 per cent.
As of 2001 India census, the town of Moga had a population of 124,624. Males constitute 54% of the population and females 46%. Moga has an average literacy rate of 68%, higher than the national average of 59.5%: male literacy is 71%, and female literacy is 66%. In Moga, 11% of the population is under 6 years of age.
By the provisional figure of same 2001 census the Moga District ranks 11th within Punjab with a population of about 886313, which is 3.65 percent of the total population of Punjab State. There are 883 females per thousand male in Moga district by census 2001, which is one less than found in 1991 census, that was 884. Although rate of population growth is low but the density of population has increased, which is 400 per km2. as compared to 351 by 1991 census. In Moga District 82.09 percent population is literate, whereas the rate for male & female literacy is 85.00 & 78.82 percent respectively.
Moga city is also known for number of educational institutes such as Engineering Colleges, Schools etc.
Some of the well-known schools and colleges of Moga City are:
Dr. SK Memorial Public Sen. Sec. School
Mount Litera Zee School, Moga
Desh Bhagat Institute of Engineering and Management
Solbiz India
Little Millennium School
Gold Coast Sports Academy
D. N. Model Sr. Sec. School
R.K.S Sr. Sec. School
D.M. College Moga
Sacred Heart School
Little Millennium School Moga is awarded as one of the best Top 10 Preschool in Punjab and one of the Best Top 100 Preschool in India by Brainfeed Magazine Survey 2016. The award was presented by Kiran Bedi.
Mount Litera Zee School Moga is the only school in the region to receive Green School Award.
Harmanpreet Kaur, captain of India Women T20 team, was born in Moga.
Sikhism is the predominant religion in the district. According to 2001 census Sikhs form around 87.5% of the total population in moga with Hindus, dev smajis, nanakpanthis, dera sacha Saudis and ravidasis forming the remainder.