Citizenship

Indian




Residence

New Delhi




Name

Mitali Mukerji




Institutions

New Delhi




Nationality

Indian







Fields

human genomics and Ayurgenomics




Notable awards

National Young Woman Bioscientists Award (2007), Shanti Swarup Bhatnagar Award(2010)




Alma mater

Indian Institute of Science
Ayurgenomics -- predetermining almost anything: Dr Mitali Mukerji at TEDxSGGSCC
Mitali Mukerji, is a Senior Principal Scientist at the CSIR Institute of Genomics and Integrative Biology with notable achievement in the field of human genomics. She is also involved in an innovative study titled "Ayurgenomics", which is blending of Ayurveda the traditional Indian system of medicine with genomics. She is recipient of the prestigious Shanti Swarup Bhatnagar Award for 2010 for her contribution in the field of Medical Sciences.
Contents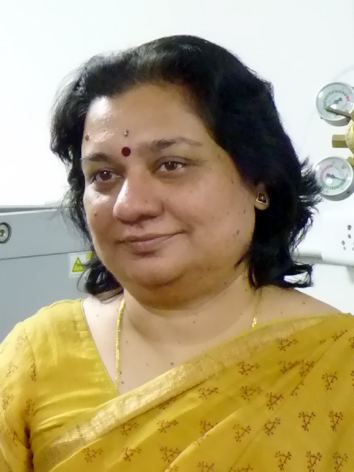 Education
Mitali holds a doctoral degree (Ph.D) in bacterial molecular genetics from the Indian Institute of Science, Bangalore.
Career
After completing her doctoral degree, Mitali joined the Institute of Genomics and Integrative Biology in New Delhi in 1997. She has since worked in the field of genomics and deciphered the "functional role of Alu repeats in the human genome and deciphering the genetic basis of neurodegenerative disorders". She took an active role in establishing the Indian Genome Variation Consortium which is the forerunner to "the first genetic landscape of the Indian population". Another field of innovative research actively intitated by her is of integrating the phenotyping Ayurveda principles of Indian medical system with "objective parameters of modern medicine for identifying molecular endophenotypes." She has termed this study as "Ayurgenomics." However, her findings are yet to find practical adoption.
A unique finding of her studies of genomics is "that the ethnically and linguistically diverse Indian population was united by distinct DNA patterns". This has led to the inference that genomics-based treatments, also encompassing Ayurveda, are possible. She has also established that genomic data could be adopted to decipher "signatures of natural selection and tracing mutational histories".
Awards
Mitali has received several prestigious awards. Some of them are: CSIR Young Scientist Award (2002), National Young Woman Bioscientists Award (2007) and the Shanti Swarup Bhatnagar Award(2010).
Publications
Mitali has several technical publications to her credit. She is also the Associate Editor of the Frontiers journal. Some of her selected papers are:
Heat shock factor binding in Alu repeats expands its involvement in stress through an antisense mechanism. Pandey R, Mandal AK, Jha V, Mukerji M. (2011) Genome Biol. 12(11):R117.
Ayurgenomics: a new way of threading molecular variability for stratified medicine. Sethi TP, Prasher B, Mukerji M. (2011) ACS Chem Biol. 6(9):875-880.
Recent admixture in an Indian population of African ancestry. Narang A, Jha P, Rawat V, Mukhopadhyay A, Dash D. Indian Genome Variation Consortium, Basu A, Mukerji M. (2011) Am J Hum Genet. 89(1):111-120.
EGLN1 involvement in high-altitude adaptation revealed through genetic analysis of extreme constitution types defined in Ayurveda. Aggarwal S, Negi S, Jha P, Singh PK, Stobdan T, Pasha MA, Ghosh S, Agrawal A. Indian Genome Variation Consortium, Prasher B, Mukerji M. (2010) Proc Natl Acad Sci USA. 107(44):18961-18966.
Whole genome expression and biochemical correlates of extreme constitutional types defined in Ayurveda. Prasher B, Negi S, Aggarwal S, Mandal AK, Sethi TP, Deshmukh SR, Purohit SG, Sengupta S, Khanna S, Mohammad F, Garg G, Brahmachari SK, and Mukerji M. (2008) J. Transl. Med. 6:48.
References
Mitali Mukerji Wikipedia
(Text) CC BY-SA