Covid-19
Miranda Fricker




Philosopher





University of Oxford




Epistemic injustice





Miranda Fricker (born 12 March 1966) is an English philosopher who is currently Presidential Professor of Philosophy at the City University of New York Graduate Center. She is also a Research Professor of Philosophy part-time at the University of Sheffield.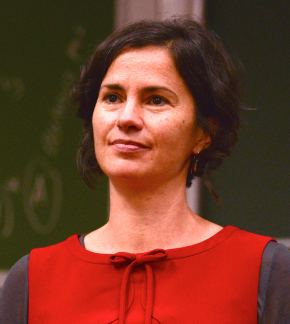 She received her DPhil from the University of Oxford before taking up a Jacobsen Research Fellowship and later a British Academy Postdoctoral Fellowship at the University of London. Until 2012 she was Reader in Philosophy and Head of the Philosophy Department at Birkbeck, University of London. Her research interests include ethics, epistemology, and feminist philosophy. Observer of academic philosophy Julian Baggini has said of both Jennifer Hornsby and Fricker that they "cannot be labeled 'feminist philosophers'", claiming that "they are philosophers, period, who have incorporated feminist insights into their philosophy and are keen that others do the same".
She was elected a Fellow of the British Academy in 2016.
In her book Epistemic Injustice, Fricker argues that in addition to social or political injustices faced by women (and minority groups), there can be epistemic injustices in two forms: testimonial injustice and hermeneutical injustice. Testimonial injustice consists in prejudices that cause one to "give a deflated level of credibility to a speaker's word": Fricker gives the example of a woman who due to her gender is not believed in a business meeting. She may make a good case, but prejudice causes the listeners to believe her arguments to be less competent or sincere and thus less believable. In this kind of case, Fricker argues that as well as there being an injustice caused by possible outcomes (such as the speaker missing a promotion at work), there is a testimonial injustice: "a kind of injustice in which someone is wronged specifically in her capacity as a knower". Hermeneutical injustice, then, describes the kind of injustice experienced by groups who lack the shared social resources to make sense of their experience. One consequence of such injustice is that such individuals might be less inclined to believe their own testimony. For example, Fricker describes a woman attending a meeting in the late 1960s at which post-partum depression was discussed; in this case, the shared social resource - a linguistic label and sharing of experiences - enabled an understanding of a condition she had experienced and previously blamed for.
Prior to writing Epistemic Injustice, Fricker co-edited The Cambridge Companion to Feminism in Philosophy (2000) with Jennifer Hornsby.
"Powerlessness and Social Interpretation", Episteme: A Journal of Social Epistemology Vol. 3 Issue 1-2 (2006); 96-108
"Epistemic Injustice and A Role for Virtue in the Politics of Knowing", Metaphilosophy vol. 34 Nos. 1/2 Jan 2003; reprinted in M. Brady and D. Pritchard eds. Moral and Epistemic Virtues (Blackwell, 2003)
"Life-Story in Beauvoir's Memoirs", The Cambridge Companion to Simone de Beauvoir ed. Claudia Card (CUP, 2003)
"Confidence and Irony", Morality, Reflection, and Ideology ed. Edward Harcourt (OUP, 2000)
"Pluralism Without Postmodernism", The Cambridge Companion to Feminism in Philosophy eds. M. Fricker and J. Hornsby (CUP, 2000)
Miranda Fricker Wikipedia