Mikhail Naumovich Epstein (Russian: Михаи́л Нау́мович Эпште́йн; born 1950) is an Anglo-American and Russian literary theorist and critical thinker. Mikhail Epstein is S. C. Dobbs Professor of Cultural Theory and Russian Literature at Emory University, USA, and Professor of Russian and Cultural Theory at Durham University, UK. He moved from the USSR (Moscow) to the USA (Atlanta) in 1990 and from the USA to England (Durham) in 2012. He is founder and director of Centre for Humanities Innovation at Durham University.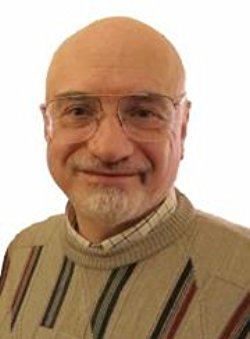 His areas of specialization include postmodernism, cultural theory, Russian literature and intellectual history, contemporary philosophical and religious thought, ideas and electronic media, and interdisciplinary approaches in the humanities. Professor Epstein is also an expert on Russian philosophers of the 19th and 20th century as well as Soviet era philosophers like Nikolai Berdyaev.
Epstein was born in Moscow of Jewish heritage. He was the founder and director of the Laboratory of Contemporary Culture in Moscow.
He moved to the USA in 1990 and was fellow of Woodrow Wilson International Center for Scholars (Washington D.C.) in 1990–1991. He joined Emory faculty in 1990. In 1992–1994 he received grant from National Council for Soviet and East European Research to work on the history of Russian thought of the late Soviet period. He has authored inteLnet and a number of other interdisciplinary web sites in the humanities.
His latest project is "On the Future of the Humanities: Paradigmatic Shifts and Emerging Concepts" on which he worked as an inaugural senior fellow at the Center for Humanistic Inquiry (Emory University, 2002–03).
Mikhail Epstein has won national and international prizes, including Andrei Bely prize (St. Petersburg, 1991); The Social Innovations Award 1995 from the Institute for Social Inventions (London) for his electronic Bank of New Ideas; the International Essay Contest set up by Lettre International and Weimar – Cultural City of Europe 1999; and Liberty Prize, awarded for his outstanding contribution in the development of Russian-American cultural connections (New York, 2000).
Epstein maintains blog "Snob", where, in particular, since 2007 he reports "СЛОВО ГОДА" - a Russian-language "Word of the Year".
In the realm of aesthetics, Epstein (together with poet and conceptual artist Dmitry Prigov) is credited with introducing the concept of "new sincerity" (novaia iskrennost) as a response to the dominant sense of absurdity in late Soviet and post-Soviet culture. In Epstein's words, "Postconceptualism, or the New Sincerity, is an experiment in resuscitating "fallen," dead languages with a renewed pathos of love, sentimentality and enthusiasm."