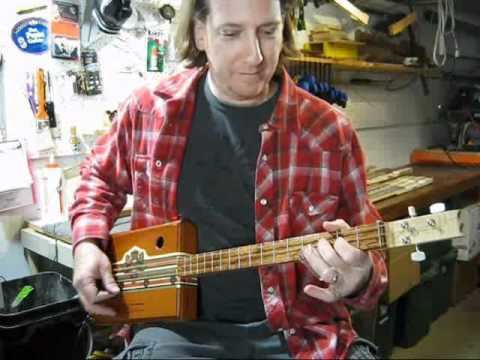 Mike Snowden was born on January 1, 1970, in Lafayette, Louisiana. He grew up in Natchitoches, Louisiana, where his first guitar was a yellow toy plastic one with plastic strings from Sears Roebuck. He was the bassist in several bands as a teenager and was mentored by three older accomplished Natchitoches musicians—Donnie Hyams, Sammy Nix, and David Dollar—who expanded his musical horizons beyond heavy metal and recruited him to play bass with them when they performed in local bars. In 1989 shortly after graduating from high school he moved to Atlanta, Georgia, to pursue a career in music.
Following several false starts, he was drafted to play bass in Band de Soleil with Michelle Malone (guitar, vocals) and Danny Begay (drums). He travelled extensively with the band up and down the eastern seaboard and throughout the Midwest. Band de Soleil often headlined but also opened for a number of bands, including Indigo Girls, Joe Cocker, Big Head Todd and the Monsters, the Dave Matthews Band, and others. He was with Band de Soleil from 1992 until 1996, when the band broke up. After several years of almost constant touring, Snowden was exhausted and opted to take a break to spend time with his family and to decide what his next move would be musically.
After seeing a video on the Internet of someone playing a cigar box guitar, he was intrigued. He did research into the origins of cigar box guitars and how they were constructed. He built one for himself and then fashioned one for a friend. In 2007 he began handcrafting three- and four-string cigar box guitars using exotic hard woods for the necks and selling them at arts and crafts shows and from his Internet website. To date he has handcrafted close to 1,400 guitars. His customers are spread across the globe and include such well-known musicians and celebrities as Kristian Bush of Sugarland who purchased several, actor and musician Jeff Daniels, who purchased four of Snowden's guitars when he was in Atlanta filming Dumb and Dumber To, Joe Perry of Aerosmith, comedian Anita Renfroe, and Ozzy Osbourne.
In 2009 Snowden composed and recorded "Summer in the Fields—Cigar Box Guitar Instrumentals," his first album of cigar box guitar music performed on the instruments he had built. He has put out four additional albums of original cigar box guitar music, along with a sampler of songs from his five albums; a sixth album is in the works. His CDs were produced by Jason LaFarge of Seizures Palace Recording in Brooklyn, New Jersey, and Tom Tapley of The Projector Room in Decatur, Georgia.
In the summer of 2012, he was a headliner at the Boxstock Festival in Manchester, England. Boxstock is an international meeting of cigar box guitar players and enthusiasts. While in England, he performed at a number of venues. He has also given children's workshops where participants construct one-string guitars and learn to play them. He has performed in New York at various venues and in Austin at South by Southwest. He performs regularly in the greater Atlanta area.
Snowden has come to be known as a prominent figure in the recent cigar box guitar revolution. His one-man-band performance style blends elements of classic blues with rock. Much of his music draws on his Louisiana roots. In 2010 he was a featured artist in "Cigar Box Guitars" and was profiled in "Georgia Music: The Roots Issue." He has been featured on Georgia Public Broadcasting and FOX News in Atlanta and was interviewed by television personality Brian McFayden on HLN and CNN. He was profiled by Charles Osgood on the CBS radio show "The Osgood File" and was the subject of an extensive article entitled "The Cigar Box Guitar Maker" by award-winning writer and documentary film producer Nancy LeBrun that appeared in the Summer 2015 issue of the online magazine "Craftsmanship." He will be featured on a segment of the second season of "Ozzy and Jack's World Detour" on A&E in the fall of 2017..
Snowden's music, tabs for some of his songs, and accessories are available from his website (www.snowdenguitars.com). His music can also be purchased from iTunes, CDBaby, and Amazon. His YouTube videos of original music and instructional videos have amassed a total of over 1 million views; the most popular is "Chicken Coop Blues," which has over 300,000 views.
Snowden currently resides in Marietta, Georgia, with his wife and daughter.
Redemption Dream [as bassist with Band de Soleil] (1995), Daemon Records
Mountain Stage Live 8 (as bassist with Band de Soleil) (1995), Blueplate Records
Bird on Fire (as bassist with Band de Soleil) (1996), SBS Records
Beneath the Devil Moon (as bassist) (1997), Velvel Records
Summer in the Fields (2009)
The Legend of Boondock Jones and His Faithful Cigar Box Guitar (2010)
Cigar Box Guitar Stomp (2011)
Cigar Box Guitar Evil (2012)
One Man Cigar Box Guitar Band Live (2013)
Mike Snowden Cigar Box Guitar Sampler (2014)
Songs of the Architect Presents: A Very Sota Christmas, Vol. 1 (2014)
This is Our Town: A Collection of Natchitoches' Tri-Centennial Celebration Original Songs (2014)
Southern Cigar Box Guitar Thunder (2017)