Duration

1985–1995, 2016–




Classification

Present; regular




Daughter

Vicki Fowler




Grandmother

Lou Beale




Created by

Tony Holland




Other names

Michelle Holloway




Father

Arthur Fowler




Creator

Tony Holland






First appearance

Episode 1 19 February 1985




Introduced by

Julia Smith (1985) Sean O'Connor (2016)




Portrayed by

Susan Tully (1985–1995), Jenna Russell (2016–)




Brothers

Mark Fowler, Martin Fowler




Similar

Vicki Fowler, Sharon Watts, Mark Fowler, Martin Fowler, Grant Mitchell
Michelle Fowler (also Holloway) is a fictional character from the BBC soap opera EastEnders, played by Susan Tully from the first episode in 1985 until the character's departure in 1995. In December 2016, it was announced Michelle would be returning to the show after 21 years, with actress Jenna Russell taking over the role making her first appearance on 24 December 2016. In her first stint Michelle made some huge mistakes during her time in Albert Square mainly through having a habit of choosing the wrong men and her stubborn nature meant that she rarely accepted help or listened to good advice. Being determined and outspoken, she has never been afraid to defend herself or her beliefs.
Contents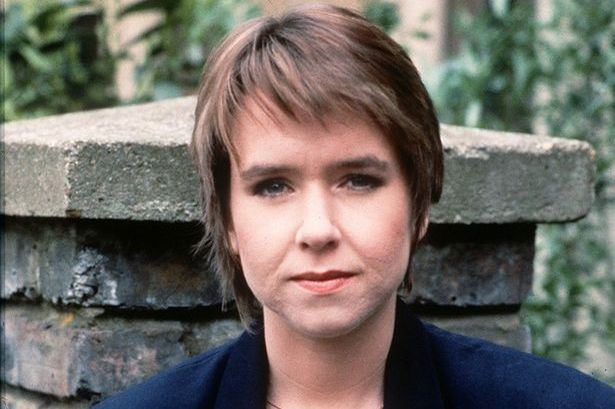 1985–1995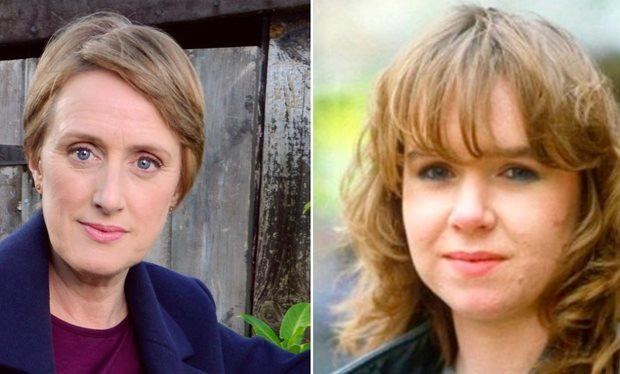 Initially, Michelle competes with her best friend Sharon Watts (Letitia Dean) for the affections of Kelvin Carpenter (Paul J. Medford), but the romance quickly fizzles out. When she is 16, Michelle discovers she is pregnant. Despite pressure from her family, Michelle refuses to name the father or have an abortion, adamant that she is keeping her baby. Speculation persists as to the identity of the father of Michelle's baby and is eventually revealed as Den Watts (Leslie Grantham), Sharon's 39-year-old father. Michelle turned to Den for sympathy during a difficult time and they had a one-night stand. At a nearby canal, away from the prying eyes of Walford, Den promises to provide financial support for his child and keep its paternity a secret.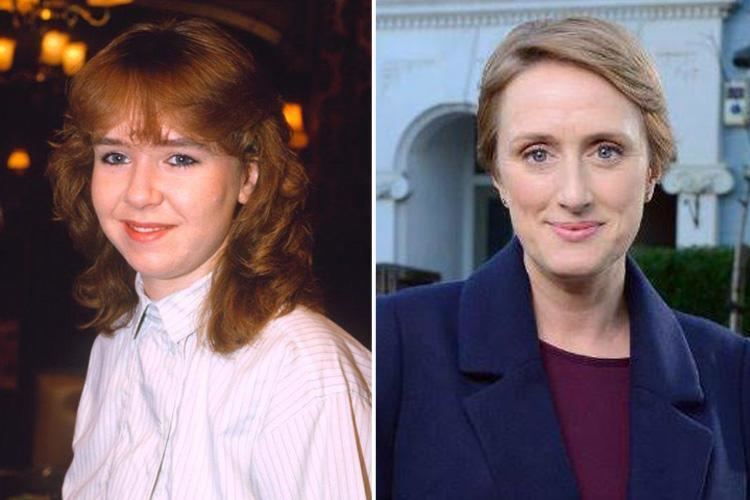 The following year, Michelle struggles with the hardships of being a pregnant teenager. Restricted from the youthful pursuits of her peers, she becomes depressed. She turns to kind-hearted barman Lofty Holloway (Tom Watt) who eventually falls in love with her, proposing marriage and offering to raise her child as his own. Although she initially refuses, she eventually accepts. That May, she gives birth to a daughter she names Vicki but as the wedding day nears, Michelle has second thoughts. Unable to get over Den, she realizes that she doesn't love Lofty. Den visits her moments before she's due to leave for the church and their chat makes her jilt Lofty at the altar. Later that year, she changes her mind again and Lofty whisks her away for a secret wedding outside Walford but it does not go smoothly. Michelle grows tired of Lofty, who pressures her to let him to adopt Vicki legally and have another baby. Michelle doesn't like either idea, but after an ill-fated attempt to elope with Den, she settles for an unhappy life with Lofty and ends the year pregnant with Lofty's baby. Lofty is overjoyed and against Michelle's wishes, tells everyone about Michelle's pregnancy. Michelle retaliates by quietly having a private abortion funded by Den, who doesn't want Lofty to adopt Vicki. A devastated Lofty physically attacks Michelle in front of her family. The marriage dissolves and Lofty leaves Walford.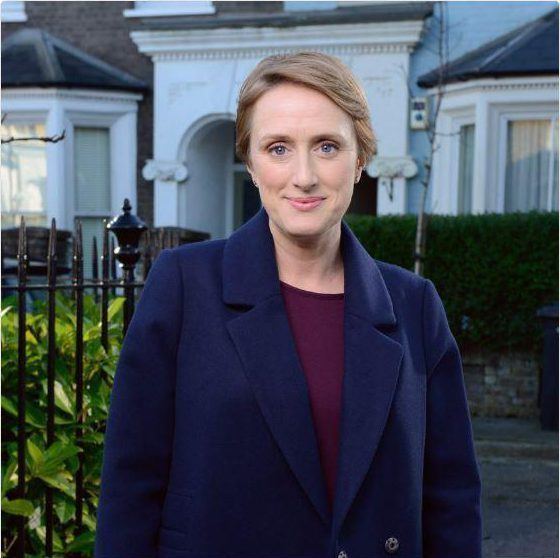 Michelle moves into a flat with Vicki and Sharon, paid for by Den, who is involved with local gangsters known as The Firm, leading to a spell in prison. After it becomes clear that the firm want Den dead, he escapes from custody but meets Michelle by the canal one last time, unaware that she is under surveillance. At the canal, Michelle tells Den that she will wait for him and that one day they will be together with Vicki as a family. After their emotional farewell, Den is shot by a man concealing a gun in a bunch of daffodils and falls into the canal. With Den presumed dead, Michelle and Sharon are distraught. When a witness says Den had been seen with a mystery woman the day of his death, Sharon wonders who it was so Michelle admits it was her and that Den is Vicki's father. Feeling hurt, angry, deceived, and unable to accept Michelle's explanation, Sharon walks out. Later, Michelle's father, Arthur (Bill Treacher) accidentally overhears a conversation between Michelle and her mother Pauline (Wendy Richard) in which he discovers the truth about Vicki, and reacts with fury. Michelle and Sharon are estranged for months, until Vicki contracts meningitis later that year and the worry brings them closer and they reunite.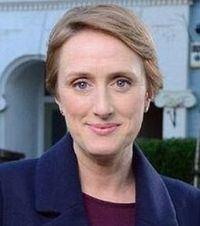 Michelle gets involved with another married man, computer salesman, Danny Whiting (Saul Jephcott), who tells Michelle that his marriage is over, whilst trying to reconcile with his wife. Michelle moves in with Rachel Kominski (Jacquetta May), a lecturer who persuades Michelle to resume her studies and enroll at university. Michelle and Rachel become inseparable, and rumours about their sexuality prompt Michelle to start dating Clyde Tavernier (Steven Woodcock), a fellow single parent. Some of the Albert Square residents, including Arthur, view their interracial relationship with concern. Later that year, Clyde is falsely accused of murdering publican Eddie Royle (Michael Melia). With the police closing in, Clyde decides to leave with his son, Kofi (Marcel Smith), and Michelle decides to take Vicki and go with him. Their getaway fails and Clyde is imprisoned for 3 months, but Clyde catches Michelle in bed with fellow student Jack Woodman (James Gilbey), and ends the relationship. Jack comes to Walford, claiming he and Michelle are meant to be together. When she rejects his advances, he behaves erratically: he convinces Pauline that he is dating Michelle and steals her unwashed knickers, makes threatening phone calls and he injures himself to gain her sympathy. Michelle turns to Phil Mitchell (Steve McFadden) for help, and Jack disappears while they're visiting his parents who tell them about his mental instability. In March, Vicki is abducted from her playgroup and Jack is the prime suspect but he is cleared when the police eventually find Vicki with a woman named Audrey Whittingham (Shirley Dixon) and Michelle is reunited with her daughter.
Michelle's nemesis is Grant Mitchell (Ross Kemp) and, in an incident, Michelle is shot by Dougie Briggs (Max Gold), a psychotic army friend of Grant's. Later in the year, a drunk Michelle and Sharon accidentally tape a conversation, discussing an affair between Sharon and Phil. Grant gets hold of the tape in a mix up and in anger, he plays the tape and exposes the affair at Phil's engagement party to Michelle's aunt, Kathy Beale (Gillian Taylforth). Michelle supports Sharon, which causes a strain between Michelle and Kathy. Kathy is initially cold towards Michelle's efforts to amend things, but they soon make up. Michelle graduates from University in December 1994, gaining a B.A..
Michelle considers her life in Walford and the following year she plans to move to Scotland with her boyfriend, Geoff Barnes (David Roper), her former university lecturer. They decide to marry but Michelle has second thoughts and calls it off. After Sharon leaves, following the breakup of her marriage, Michelle and Grant have a heated argument about the way he treated Sharon and this leads to them having a one-night stand. Michelle soon regrets it when she discovers she's pregnant. She tells Arthur and her brother Mark (Todd Carty), but not Pauline, and only confides in Mark that Grant is the father. When she is offered a job in Alabama, Michelle decides she needs to get away from Grant and moves to America.
In 1996 Arthur dies and Michelle plans to make the trip home for his funeral. However, the shock sends her into early labour and she gives birth to her son, Mark Fowler Jnr, meaning she is unable to attend Arthur's funeral. When Pauline reveals why Michelle isn't coming back Grant is suspicious, but Mark makes a point of telling him the baby was premature to put him off the scent. Michelle then moves to Florida and marries a man called Tim.
In 2003, Michelle sends her daughter Vicki back to Walford to live with Pauline because of her bad behaviour. When Vicki becomes pregnant, Pauline is furious when Michelle supports her decision to have an abortion. When Mark dies in 2004 Michelle opts not to attend his funeral, having spent time with him in Florida when he was terminally ill to say goodbye. Michelle also does not return for Pauline's funeral in 2006.
In 2014, following the murder of Ian's daughter Lucy Beale (Hetti Bywater), Sharon calls on Michelle to help him through his grief, with Ian going to stay in Florida. He returns just before Sharon's wedding to Phil and reveals that both he and Michelle were planning to stop it.
2016–
When Sharon tells Michelle that Peggy Mitchell (Barbara Windsor) is dying of cancer, a guilty Michelle sends her a letter telling her she has another grandchild. However, the letter arrives after Peggy dies and Sharon reads it instead. Sharon visits Michelle to learn the truth, feeling betrayed that not only had Michelle had sex with her former husband, but also lied about Mark's paternity. When Sharon returns to Walford in August, Phil finds the letter and discovers that Mark Jnr (Ned Porteous) is his brother Grant's son. Sharon begs Phil not to tell Mark, but Phil drunkenly calls him. Mark then arrives in Walford, though Michelle claims that Phil is lying because he is an alcoholic who hates her. Mark eventually learns the truth, but decides not to tell Michelle he knows.
Michelle returns to Walford on Christmas Eve and reunites with Sharon, staying with Martin (now played by James Bye) and his second wife Stacey (Lacey Turner). Sharon suspects something is wrong as Michelle has left Mark and Tim behind, but Michelle refuses to talk about it. Max Branning (Jake Wood) returns to Walford after being released from prison for being wrongly accused of Lucy's murder and Martin gets Michelle to find out about his plans. Michelle and Martin reminisce about their family at the allotments and she begins to annoy her sister-in-law, Stacey, with her doing things the way Pauline did. Stacey is secretly pleased when Michelle announces she is going back to Florida, but overhears Michelle breaking down on the phone to Tim. Michelle confides in Sharon that since Mark left home with his girlfriend, she and Tim have not had sex for almost two years. She then tells Sharon that she broke the law in Florida by having a relationship with a 17-year-old student named Preston Cooper (Martin Anzor). Sharon allows Michelle to stay with her. Michelle starts drinking alcohol on her own after telling Phil he needs to start looking after Sharon. With Michelle's encouragement, Sharon agrees to go on holiday with Phil. Michelle arranges to meet Kelvin, but he fails to turn up and she flirts with a student. On Valentine's Day, Preston turns up and they kiss passionately. Michelle goes for a job interview at a teaching agency, but fails to get the job as they find out from her references about her relationship with Preston. Michelle insists that he should go home. Preston tries to win Michelle back, but she is adamant their relationship is over. Michelle witnesses Preston with her neice, Bex Fowler (Jasmine Armfield). Preston gets Michelle to Sharon's house, where Preston is in bed with Bex. Michelle orders Preston to leave Walford but ends up sleeping with him again.
Creation
Michelle Fowler is one of the original 23 characters invented by the creators of EastEnders, Tony Holland and Julia Smith. Michelle is a member of the first family of EastEnders, the Beales and Fowlers, and Holland took the inspiration for some of the series' earliest characters from his own London family and background. Michelle's original character outline as written by Smith and Holland appeared in an abridged form in their book, EastEnders: The Inside Story.
"Michelle has another year of schooling...Michelle is more on the straight and narrow...Unlike her brother, she gets the things she wants, by doing part-time work. "Saturday girl" at the local hairdressers, and two late shifts a week at a hamburger place. She's into Reggae." (page 55)
Holland and Smith wanted the character to be feisty and emotionally strong. They had been introduced to the young actress Susan Tully when they attended an open evening at the Anna Scher Theatre School in North London. They were extremely impressed with her "natural and unaffected" acting abilities and felt she displayed hidden depths of emotion. Despite their interest, both Holland and Smith were hesitant about casting her because she was already widely known for playing the student Suzanne Ross in the children's television show Grange Hill. Nevertheless, she was asked to audition for the role of Michelle and was informed of the intention to make the character a pregnant schoolgirl. Tully liked the story and liked the fact that the character was going to keep the baby, but what interested her most was the opportunity to allow the character to grow up on screen, something she was unable to do with her Grange Hill character. Although Julia Smith initially feared that Tully was too well-known to play the part, they eventually decided to use this fact to their advantage. Tully had a huge following from Grange Hill, and they felt that those fans would be likely to tune in to EastEnders, so she was offered the part.
Development
Early in the series, the character of Michelle became central to the programme and was the focus of a controversial storyline involving her teenage pregnancy. Press interest in the show escalated to "record levels" as journalists continuously tried to guess who had fathered her baby. In whodunnit fashion, the audience had been kept in the dark as to the father's identity and were offered teasers implicating several Square residents. The culprit was finally exposed in October 1985 on episode 66. Written by series co-creator/script editor Tony Holland and directed by co-creator/producer Julia Smith, it was considered to be a landmark episode in the show's history. 4 possible suspects were seen leaving the Square in the episode's first half: Tony Carpenter (Oscar James), Ali Osman (Nejdet Salih), Andy O'Brien (Ross Davidson), and Den Watts (Leslie Grantham). As Michelle waited by their rendezvous point, a car pulled up and the fluffy white legs of Roly the poodle bounded out of the car, revealing that the man who was meeting Michelle, the father of her baby, was Den Watts. The rest of the episode was one long scene of Den and Michelle discussing whether or not to keep the baby. Until that time, that 15-minute scene was the longest ever done on a soap opera. Writer Colin Brake has suggested that this was a bold experiment for a series that had established a reputation, in its first 8 months, for being fast-moving and rapidly cut. It relied on only 1 story and 2 actors to hold the audience for over half an episode. Tony Holland's handling of the awkward scene between a teenage girl and her best friend's father is considered one of the highlights of the programme's first year. The finishing touch was the use of alternative end-title music, "Julia's Theme", a variation of the usual one which replaced the dramatic drum beats with a longer, gentler piano-solo introduction.
The following year Michelle and Lofty's (Tom Watt) church wedding was another target of press speculation before the episodes aired. According to Holland and Smith, they wanted to know two things: the design of Michelle's dress, and whether she'd jilt Lofty at the altar. The wedding was shot in a church in private grounds to which the press would not have access. But the press still assembled in large numbers, and security people had to be hired to keep camerapeople away from the story action. Huge lorries were parked in front of the church's entrance so nothing could be seen, and the cast arrived in disguise. Finally strong lights were shone into the eyes of the journalists and photographers, making them angry, and they tried to gain access to the grounds by breaking the security barrier and telling the production team that they were extras needed inside the church. The entire episode, written by David Ashton, was devoted to Lofty and Michelle's wedding day. Brake has said that at the time it was deemed one of the best cliffhangers of the series, with the episode ending as the bride arrives at the church door and hesitates. The birth of Michelle and Den's daughter, and Michelle and Lofty's eventual marriage, helped to consolidate a fast-growing audience. According to Holland and Smith, "The young couple had come together under enormously difficult circumstances". The subsequent storylines were built to keep the audience guessing about the future of their relationship. Had they married for the wrong reasons? Would the relationship survive? What would happen if Lofty wanted his own child?
Michelle did become pregnant by Lofty, and in another controversial storyline she had an abortion behind Lofty's back in January 1988. The episode, written by Tony McHale, was screened on the same day that a private member's bill was discussed in the House of Commons, which sought to reduce the number of weeks following conception in which an abortion can be carried out.
An April 1989 two-hander episode in which Michelle confessed Vicki's paternity to her best friend Sharon Watts (Letitia Dean) returned to a model established by the first Den-and-Angie (Anita Dobson) solo episode, with revelations and major character changes to an important relationship. According to Brake, this episode was held in high regard by the programme's producers, directors, and writers and gave Susan Tully and Letitia Dean the chance to demonstrate how much they had grown as actresses during their 4 years on the show.
Michelle went on to feature in controversial storylines such as her daughter's kidnapping, a shooting, and a brief liaison with her best friend's ex-husband and her own nemesis Grant Mitchell (Ross Kemp) — which left her pregnant. This heralded one of the soap's best-kept secrets as Grant never discovered that Michelle had his child. Michelle remained central to the programme for 10 years and became one of the most popular characters of her time. She was written out of it in 1995 when Susan Tully decided to move on. Tully since took up directing, and directed several episodes of EastEnders.
Reintroduction
In May 2016, it was reported that the outgoing executive producer of EastEnders, Dominic Treadwell-Collins, had tried to get Tully to return to the show, saying "[we] emailed back and forth, but she's a director now. I briefly considered a recast, but it just didn't sit right. And you never know, maybe someone else can woo Sue Tully to come back." He added, "Michelle carries the one unexploded secret—the child. But there are ways around that! So, yes, it was one of my original ideas—bringing Michelle in and the secrets she brings. I love secrets." Instead, Treadwell-Collins introduced Michelle's son with Grant, Mark Fowler, played by Ned Porteous.
On 23 December 2016, a day before her return, it was reported that Michelle would be returning, but that the part had been recast to Jenna Russell. Of her casting, Russell said: "It is a great honour to play such an iconic character. I know the audience loved Michelle Fowler so much, and even though she hasn't been on our screen for 20 years, she's very much in the fans' psyche. When I used to watch EastEnders all those years ago, she was one of my favourite characters. I'm extremely excited for what is in store for Michelle." Executive producer Sean O'Connor said he is "thrilled to have secured Jenna Russell to play Michelle Fowler, one of the show's most celebrated characters" and "the Square really has missed her over the past twenty years." O'Connor added, "Jenna was always in mind when I first started planning for Michelle's return". O'Connor also said Michelle is "still flawed, complicated and infuriating after two decades away, but still loveable all the same. It's going to be appointment TV watching Michelle's car crash of a life unravel all over again."
O'Connor also said Letitia Dean was "absolutely thrilled, because she [Dean] and Jenna were in the same year at drama school together as children. So we're articulating a 30 year old relationship between these two women, and that's something that they already have." and "there's a genuine affectionate recognition in that from Adam [Woodyatt] for Jenna, because they've known each other for such a long time. Again, it shows - I think that for Jenna, being part of EastEnders has been the destiny of her career." Tully "gave the idea" of recasting Michelle "her blessing, and it was really delightful when she did." Tully was also involved in telling O'Connor, Russell and the writing team about Smith and Holland's original ideas for Michelle.
References
Michelle Fowler Wikipedia
(Text) CC BY-SA