Michelle Dessler is a fictional character played by Reiko Aylesworth on the television series, 24. She was one of Jack's closest and most trusted allies at CTU as well as one of his closest friends outside of work. The character first appeared in the second season of 24 as an Internet Protocol Manager in the Los Angeles Branch of CTU and a love interest of Tony Almeida. In subsequent storylines, she is seen to have held positions as Chief of Staff and Acting Special Agent in Charge at CTU Los Angeles, and Associate Special Agent in Charge at Division.
Contents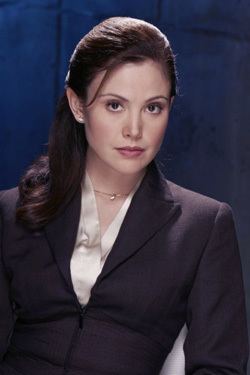 Characterization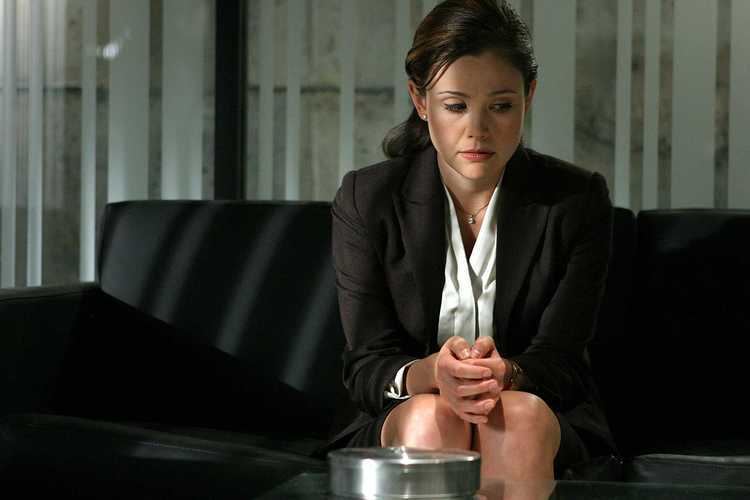 Michelle obtained her Bachelor of Science in Computer Science at the University of California, Davis, and began her career at the National Institute of Standards and Technology's Computer Security Division, and DARPA's High Confidence Systems Working Group, before being hired by the Counter Terrorist Unit, Los Angeles branch.
24: Season 2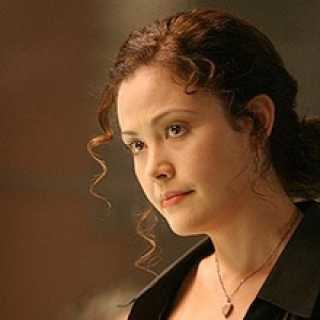 Michelle makes her first appearance in the second season (Day 2) as the Internet Protocol Manager at CTU Los Angeles working with Chief of Staff Tony Almeida, to assemble the strategy for the terrorist threat. While credited as a recurring character rather than part of the main cast, Michelle nevertheless appears in every episode of the second season. After Jack Bauer is recruited to help with the imminent nuclear terrorist threat, she is tasked with preparing him for an undercover operation to find the nuclear bomb. Later, when Jack warns of an imminent bombing of CTU, she and Tony lead the evacuation of the building when the bomb detonates.
Michelle and Tony rebuild CTU to continue their operations. Upon Jack's return, Michelle disobeys CTU Director George Mason's direct orders and allows Jack to leave and aids his mission with Nina Myers and successfully discovers the people who possess the nuclear bomb. After Michelle realizes that Mason is dying of radiation poisoning, Mason opens up to Michelle about his regrets, which encourages her to admit to Tony that she would like to start a relationship with him. Tony reciprocates and they agree to go out if they get through the day alive.
After Michelle succeeds in helping Jack locate the nuclear bomb at Norton Airfield, a new programmer named Carrie Turner arrives at CTU to replace Paula Schaeffer. Michelle and Carrie's uneasy relationship, stemming from both Carrie's previous position as Michelle's boss and her personal relationship with Michelle's brother, causes frequent arguments. Michelle discovers a recording of a conversation on Syed Ali's encrypted hard drive which serves as evidence that Ali's terrorist plan to bring a nuclear weapon into America was funded by three Middle Eastern countries. Although its authenticity is proven by CTU's technicians, Michelle becomes unconvinced of the countries' involvement after her interrogation with Syed Ali. Despite Michelle's recommendation for more research, Tony passes the recording and its authentication report to the President. With nowhere else to turn, she seeks Jack's help as the President initiates plans to attack the three potentially innocent countries.
Against the orders of her superiors, Tony Almeida and Ryan Chappelle, she helps Jack obtain evidence against the recording. Carrie reports her suspicions of Michelle to Tony and is assigned to monitor Michelle. Michelle is later forced to let Tony talk to Jack when he learns of a firefight at the warehouse Jack was in. She is pleased when Tony warns the President about Jack's evidence. Michelle's brother Danny arrives at CTU and despite her attempts to get him to leave, he attacks Carrie and is pulled off by security, leaving Michelle horrified and upset. Tony comforts her and they share a passionate kiss.
Michelle and Tony continue to help Jack in spite of Ryan Chappelle's orders and finds the hacker who fabricated the audio on the Cyprus recording. Both are eventually arrested and put in a holding room. However, after Chappelle is ordered to help Jack, they are fully acquitted in return for their help. Through audio surveillance, they are able to prove that the recording was fake, which averts a war and vindicates President Palmer. At the end of the day, Michelle and Tony promise to see each other tomorrow.
24: The Game
Michelle Dessler also appears in 24: The Game, a video game depicting events which take place 6 months after the events of season two and 30 months before those shown in season three. The character is voiced by Reiko Aylesworth, the same actress who plays her in the TV series. Throughout the game, Michelle works at CTU Los Angeles as Chief of Staff where she assists Jack Bauer, Tony Almeida and Chase Edmunds by providing them logistical information.
When CTU is attacked by Peter Madsen and his men, Michelle and Kim Bauer are in Tech 1. They are two of a few CTU Agents not captured or killed during the attacks. Michelle helps get Kim Bauer to safe room M3 although she herself is captured. Sean Walker is killed during the attack, an agent Michelle trained with and worked with closely. Just as Madsen is about to execute Michelle, Kim turns herself in preventing the execution. Michelle later re-boots the CTU main computer to resume operation at CTU.
24: Season 3
The third season (Day 3), set three years after the second season, sees actress Reiko Aylesworth becoming a regular cast member and the character, Michelle Dessler, taking over Tony Almeida's previous title as Chief of Staff at CTU Los Angeles, after his ascension to the Director post in the latter half of the second season. The first episode establishes that Michelle and Tony are married, which becomes an oft-visited issue over the course of the season. At the start of the day, Michelle and Tony discusses his job offer from Langley, which he decides not to accept unless Michelle has a job at Langley too.
CTU is notified of a bioterrorist threat when an anonymous caller threatens to release a virus if a man named Ramon Salazar is not released from federal prison. They learn that the virus resembles a powdered substance resembling cocaine or heroin. Michelle oversees her staff, including Kim Bauer and Adam Kaufman, as they track down a teenage boy, who they suspect is delivering the virus. In the process of apprehending the boy, Tony is shot, which places considerable stress on Michelle as she is torn between taking charge at CTU as Acting Director and being with him at the hospital.
After Jack Bauer decides to break Ramon Salazar out of prison, Michelle orders Chloe O'Brian to search Jack's office, where Chloe finds drugs and heroin paraphernalia in the wastebasket. When CTU successfully captures Kyle Singer, Michelle immediately calls Chase Edmunds to stop Jack from committing treason. Unaware of Singer's capture, Jack escapes with Salazar. Ryan Chappelle takes over command of CTU from Michelle but she is unable to leave to see Tony, who is out of surgery and is expected to make a full recovery. After Gael Ortega is discovered to be Salazar's mole at CTU, he is taken into custody and tortured in interrogation while Michelle hurries to see Tony.
Upon Tony's insistence, Michelle brings him back to CTU, where he reveals that Gael has been working with him to get Jack back undercover with the Salazars, who they are trying to set up to buy the virus. Michelle is upset that she was unable to recognize that Tony was keeping something from her for over a month. Michelle and Tony's relationship becomes more strained when she reports her suspicions of his competency to Ryan Chappelle and later when Tony publicly criticizes her lapse in research during her tenure as Acting Director. When CTU realises that the virus' seller Michael Amador had not planned to sell the virus but merely to steal money, they track him to his associate, Marcus Alvers, who Nina Myers is also linked to.
When Jack and Chase inform them of Alvers' target, Chappelle assigns Michelle to lead the team on site where the virus may have been unleashed. Against Tony's orders, Michelle heads into the hotel to stop Alvers but the virus is released before she and her team could stop it. From her interrogation with Alvers, Michelle discovers that there are eleven other vials of the virus. She leads her team to quickly take control of the hotel. Through Alvers, they discover the man who had planned the terrorist attack to be Stephen Saunders. Michelle goes to see Gael, who has been in isolation since he started showing symptoms, and offers him her gun to put himself out of his misery. Michelle is sad when Gael passes and she begs Tony to send over suicide capsules for the virus-infected people.
Michelle helps CTU track down one of the hotel's guests who had escaped before the security perimeter was set up. As more hotel guests grow sickly, Michelle breaks down to Tony, letting him know that she loves him. She later finds out that she is immune to the virus but is taken hostage on her way out by Saunders' men allowing Saunders to force Tony to help him escape. Michelle escapes from Saunders, only to be told by Jack to return to Saunders so that they could capture him. Michelle safely reunites with her husband but is alarmed that he had committed treason for her. After all the vials which contain the virus are accounted for, Michelle is saddened to say goodbye to Tony, who is being sent to federal prison.
24: Season 4
Apart from Jack Bauer and Chloe O'Brian, Michelle Dessler was one of many main characters who did not return at the start of the fourth season. In order to reinvent the show, the writers decided to introduce a new cast so as not to become "just a formula show". Michelle reappears in the fourth season (Day 4) in the twelfth episode as she arrives at CTU Los Angeles to replace Erin Driscoll as Director (or Special Agent-in-Charge). The details of her life are gradually revealed, which include work in Seattle, Washington, where she met Bill Buchanan, a high-ranking official, while Tony was in prison. After Tony's presidential pardon from outgoing President David Palmer, he and Michelle returned to Los Angeles where she became an Associate Special Agent-in-Charge at Division. She later leaves Tony due to his personality change and growing alcoholism.
Upon arriving at CTU, Michelle fires Sarah Gavin for being untrustworthy and demotes Tony to a low-level analyst job because of his past drinking. For the remainder of the day, Michelle directs the CTU staff to locate terrorist Habib Marwan, who comes into possession of a nuclear warhead via the Nuclear Football he took after Air Force One was shot down by one of his associates. As she helps Jack track down Marwan, Tony's judgment proves more valuable. In addition to locating Marwan, Michelle is forced to cooperate with an official from the Chinese Consulate when Jack's operation to apprehend a Chinese national from the Chinese Consulate fails to go smoothly.
As they witness the strain of the day on Jack and Audrey's relationship, Tony and Michelle discuss their future. Michelle agrees when Tony asks her to quit CTU to sustain their relationship. When Tony is captured in the field by Mandy, Michelle is fearful for his life. Mandy demands Michelle to let her escape in return for Tony's life. Doing opposite of what caused Tony to be sent to prison, Michelle immediately tells Buchanan and Jack. She fears that she may have killed Tony when Mandy found out that she was tricked. However, Jack figures out Mandy's ploy and saves Tony. Jack is also able to track down Marwan through Mandy.
Michelle embraces Tony when he returns but feels ashamed for not putting his life before the mission, just as he did for her. Tony assuages her guilt and puts it behind them. When Jack is the target of a covert mission, Michelle and Chloe help Tony fake Jack's death. Michelle and Tony drive Jack off the CTU grounds before giving him the resources to hide out with a new identity. They reluctantly part with Jack.
24: Season 5
Tony and Michelle were preparing for an anticipated meeting when they learned that David Palmer was assassinated in the apartment of his brother, Wayne Palmer. Since the assassination took place in Los Angeles, Michelle knew that CTU would lead the investigation. She wanted to go back to CTU and help. Tony insisted that CTU could handle it, but Michelle insisted, saying they had more experience. Michelle left to go to her car as Tony made a phone call. Tony decided to go back to CTU with Michelle, but before he could leave, he heard an explosion. He rushed outside and discovered that Michelle's car had blown up. He grabbed her body, checking her neck for a pulse, but another explosion went off. Though Tony managed to survive the blast and was transported to CTU medical for surgery, Michelle died from her injuries. She had massive contusions to the chest and face, with third degree burns over 93 percent of her body. Years later, it was revealed that Michelle was pregnant at the time of her assassination, meaning that her unborn child was also killed.
After Tony awoke, Bill Buchanan told Tony that Michelle didn't die, as Doctor Besson felt that any emotional trauma would endanger Tony's heart health. Eventually Tony learned the truth and that Christopher Henderson ordered her murder. This led to Tony's apparent death as Tony began to kill Henderson via lethal injection, relented, but was himself attacked by Henderson and injected. Graem Bauer played a pivotal role in the assassinations, having paid the killers and set the timetable to lure Jack out of hiding. President Charles Logan was complicit in the murder of Michelle as well as Palmer and the attempts on Almeida and O'Brian.
24: Season 7
Tony reveals in the last episode of Season 7, that Michelle was pregnant at the time of her assassination. Furthermore, Tony's hate-fulfilled desire for revenge is what directly instigated his part (and subsequently most of the events) of Day 7, as all his actions during the day had the ultimate purpose of getting Tony close to Alan Wilson, so that he could kill Wilson.
References
Michelle Dessler Wikipedia
(Text) CC BY-SA