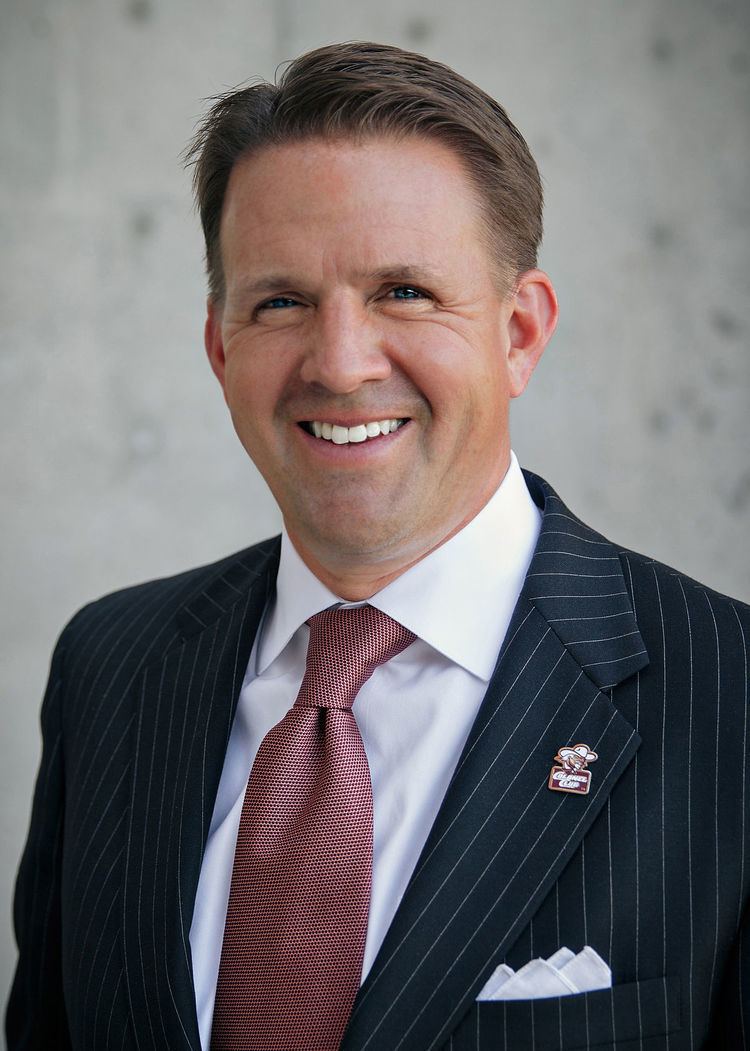 Dr. Michael T. Benson earned his Bachelor's Degree Cum Laude from Brigham Young University, and then went on to earn a Doctorate in Modern Middle Eastern History from St Antony's College, Oxford. Benson also earned a Master's Degree Cum Laude in Non-Profit Administration from the Mendoza College of Business at the University of Notre Dame. In recent years he has received national attention for his religious ecumenicism and his humorous use of social media to reach students. Benson is an accomplished athlete, having played basketball at Oxford and on the JV team at Brigham Young University. He is also a golfer and marathon runner.
Dr. Benson is a son of Mark A. Benson. He worked for several years as an employee of the BYU Division of Continuing Education and was the first director of the BYU-Ogden Center. Benson is a grandson of former U.S. Secretary of Agriculture and LDS Church President Ezra Taft Benson, and served an LDS mission in Rome, Italy.
In 2001, Benson was appointed as the 14th president of Snow College. Age 36 at the time, he was the youngest college or university president in the history of the Utah System of Higher Education. During his five years at Snow, Benson raised more money for the school than in the previous 117 years of the institution's history combined.
Benson was appointed the president of Southern Utah University on November 10, 2006, by the Utah State Board of Regents. Two weeks into his presidency, Benson secured the largest donation in the school's history, which was used to expand SUU's Science Complex. In March 2014, Benson returned to Cedar City to help celebrate the conclusion of "The Future is Rising" campaign which brought in a record $105 million in seven years for Southern Utah University.
On April 5, 2013, it was announced that Benson was unanimously selected to become the 12th president of Eastern Kentucky University as the University's Board of Regents was seeking a "bold, visionary leader." He began August 1, 2013. Throughout his more than 25-year career in public higher education, Benson has devoted himself to students and their academic success. He is an accomplished communicator and scholar committed to diversity and expanding global academic opportunities, and is a proven financial manager who is focused on developing and sustaining political and external support for EKU.
Benson serves as Chair of the NCAA Honors Committee and past Chair of the Presidents' Council for the Ohio Valley Conference. He is also co-chair of the Higher Education Consortium for Bluegrass Tomorrow and a member of the Steering Committee of Kentucky Rising.
In 2009, Governor Jon M. Huntsman named Benson to a four-year term as member of the seven-person Utah Appellate Courts Nominating Commission. Benson served as Chair of the Presidents' Council for the Summit League, SUU's Division I athletic conference. Benson also served on the Advisory Board of the Cedar City Airport. Benson has completed a two-year term as the Chair of the Executive Committee of the Utah State Campus Compact. He is a past member of the Zions Bank Central Utah Board of Advisors, and the Wells Fargo Southwest Utah Board of Advisors. He has been employed in many other capacities, including: Associate Director of Major Gifts (University of Utah), Consulting Historian (Harry S. Truman Library), Academic Advisor and Essayist (Skirball Cultural Center), Visiting Lecturer (Brigham Young University, University of Utah), and Research Assistant (U.S. Senate Labor Committee).
Benson is the author of Harry S. Truman and the Founding of Israel, a book which is considered a landmark work in the area of U.S. foreign policy and presidential history. Benson is an admirer of Harry Truman, on whom he wrote his doctoral dissertation.
Benson's forthcoming book with Hal Boyd, College for the Commonwealth: Why America Still Needs Higher Education is slated for publication with the University Press of Kentucky (2017). The volume expands the arguments of Benson and Boyd's article, "The Public University: The Democratic Purpose of Higher Education."
Benson and his first wife, Celia Benson, divorced in 2004. They are the parents of two children, Emma and Samuel.
He and his wife, Debi, are the parents of three children: Truman, Tatum and Talmage.
Dr. Benson is a descendant of the famous Taft family. His middle name is Taft.