Preceded by

John Beyrle




Role

Academic





Name

Michael McFaul




Nationality

American




Succeeded by

John F. Tefft







Full Name

Michael Anthony McFaul




Born

October 1, 1963 (age 52) Glasgow, Montana, U.S. (

1963-10-01

)


Alma mater

Stanford University (B.A., M.A.) Oxford University (D.Phil)




Education

University of Oxford (1991), Stanford University (1986), Bozeman High School




Books

Russia's unfinished revolution, Advancing Democracy Abroad, Power and Purpose: US Polic, The troubled birth of R, Russia's 1996 presidenti




Similar People

John F Tefft, Anders Aslund, Thomas Risse, Timothy Colton, John Beyrle




Profiles




Twitter




Residence

United States of America



Ambassador michael mcfaul a new cold war explaining russia s new confrontation with the west
Michael Anthony McFaul (born October 1, 1963) is an American academic who served as the United States Ambassador to Russia from 2012 to 2014.
Contents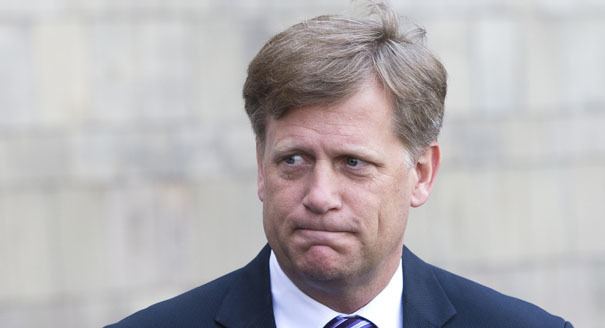 Prior to his nomination to the ambassadorial position, McFaul worked for the U.S. National Security Council as Special Assistant to the President and senior director of Russian and Eurasian affairs. After his tenure as ambassador in Moscow, McFaul returned to Stanford University as a professor of political science.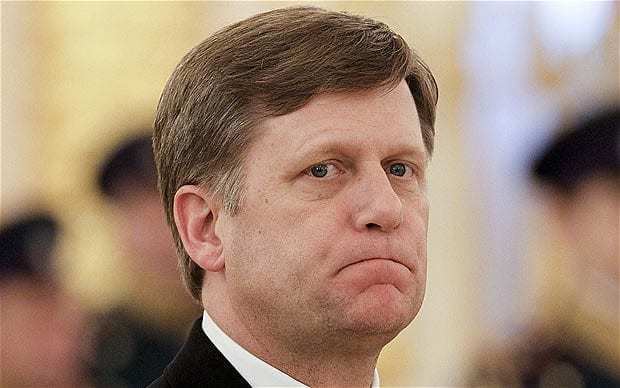 Michael mcfaul former u s ambassador to russia 05 27 2014
Early life and education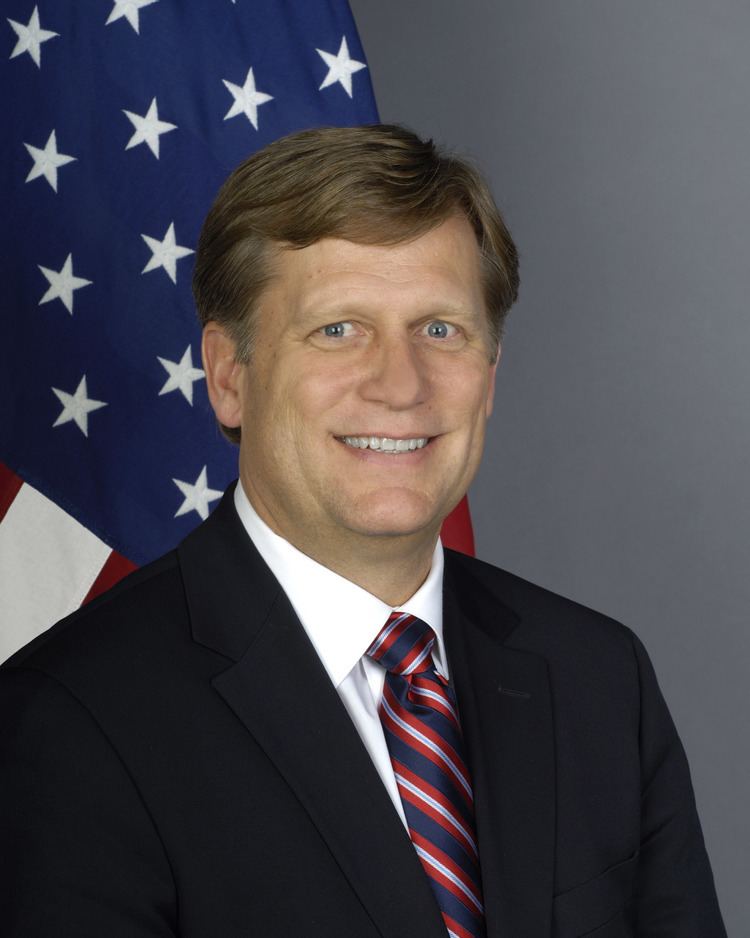 Born in Glasgow, Montana, McFaul was raised in Butte and Bozeman, where his father worked as a musician and music teacher. During high school, McFaul participated in Public Forum Debate. His partner was current Montana Senator Steve Daines.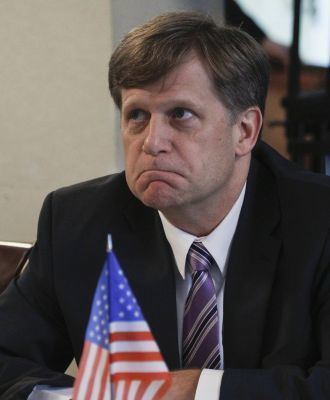 He earned a B.A. in international relations and Slavic languages and an M.A. in Slavic and East European Studies from Stanford University in 1986, and spent time in the Soviet Union as a student, first the summer of 1983 studying Russian at the Leningrad State University, now Saint Petersburg State University, and then a semester in 1985 at Pushkin Institute. As a Rhodes Scholar, he earned a DPhil in international relations from Oxford University in 1991. He wrote his thesis on U.S. and Soviet intervention in revolutionary movements in southern Africa.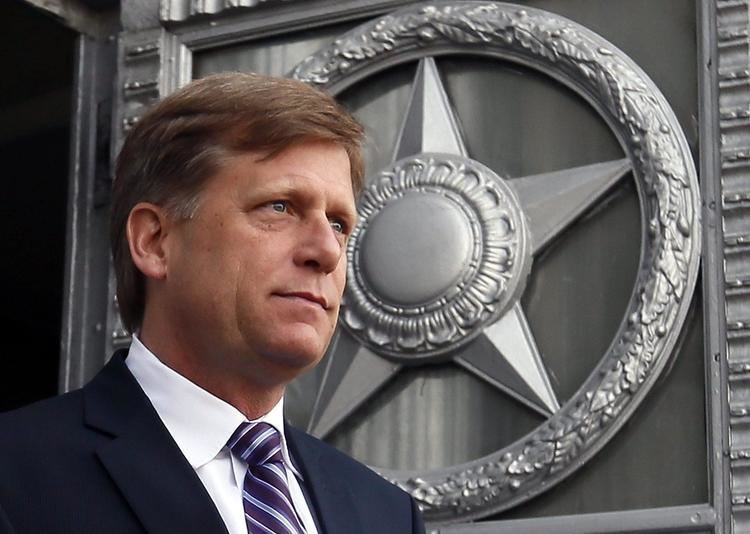 McFaul received an honorary doctorate from Montana State University during the university's fall commencement in 2015.
Career
In 1994, McFaul and one time close friend and colleague Sergey Markov helped found the Moscow Carnegie Center.
McFaul's past engagement with Russian political figures included a denunciation of him in 1994 by Vladimir Zhirinovsky, leader of the Liberal Democratic Party and a member of the State Duma (the Russian parliament), and a subsequent shooting incident in which a shot was fired into McFaul's office window in Moscow. Two years later, Alexander Korzhakov, a confidante of Russian President Boris Yeltsin, invited McFaul to the Kremlin during the 1996 Russian presidential election, because of McFaul's research on electoral politics.
In his capacity as a professor of political science at Stanford University, McFaul was the director of the university's Center on Democracy, Development, and the Rule of Law. A Hoover Institution Peter and Helen Bing Senior Fellow, McFaul is a Democrat who was the architect of U.S. President Barack Obama's policy on Russia.
In an interview to a news portal Slon.ru, McFaul described himself as "specialist on democracy, anti-dictator movements, revolutions".
In 2009, McFaul joined the Barack Obama administration as a senior adviser in Washington, D.C., where he was the architect of the so-called "Russian reset" policy. In 2011, Obama nominated McFaul to be the 7th United States Ambassador to Russia. On December 17, 2011, the United States Senate confirmed McFaul by unanimous consent. McFaul became the first non-career diplomat to be the U.S. ambassador to Russia. McFaul announced his resignation from his posting to Russia on February 4, 2014, effective after the Sochi Olympics. In a blog post, he expressed his gratitude for the job and his sorrow at leaving Moscow, but explained that originally he had planned to spend only two years in the Obama administration, and after five years, his family desperately wanted to return to life in California. John Tefft was confirmed as the next ambassador to Russia.
After returning to academia, McFaul continued to be involved in geopolitics. In October 2014, he stated that he believed the Russians continued to bug his and his wife's cell phones in the United States.
Russian opposition visit
On January 17, 2012, soon after McFaul was appointed the new United States Ambassador to Russia and arrived in Moscow to assume his post, a number of organizers and prominent participants of the 2011 Russian protests, as well as some prominent figures of the Russian opposition parties, visited the Embassy of the United States in Moscow. On the entrance to the embassy, they were encountered by TV journalists who asked them why they were visiting the new Ambassador. On the video later released on YouTube and titled "Получение инструкций в посольстве США" (Receiving instructions in the Embassy of the United States) opposition activists appear flustered by the unexpected media attention. Later, when upon leaving the embassy and once again being encircled by journalists, the activists responded by declaring the journalists spreaders of "Surkovian propaganda" and made no other statement. The visitors to Michael McFaul included: Yevgeniya Chirikova (member of Strategy-31 and Khimki forest activist leader), Boris Nemtsov (leader of the People's Freedom Party), Lev Ponomarev (human rights activist of the Moscow Helsinki Group), Sergey Mitrokhin (leader of Yabloko party), Oksana Dmitriyeva (deputy head of A Just Russia), Lilia Shibanova (head of the GOLOS Association elections monitor group). Leonid Kalashnikov from the Communist Party of the Russian Federation also attended. Two weeks later, journalist Olga Romanova who managed the financial spending of the December protests, also visited the American Embassy. She said that they discussed Russian protests and the United States Presidential election campaign with McFaul.
Reaction to the incident was mixed: President Dmitry Medvedev, in his public comments at Moscow State University, largely exonerated McFaul by saying that meeting with opposition figures was a routine occurrence, although he warned the new U.S. ambassador that he is on Russian soil and should respect Russian political sensibilities. The incident sparked a highly negative reaction in the Russian media and blogs. but an article in The Daily Beast wrote that McFaul's stance won plaudits from pro-democracy activists and Web-savvy Russian youth and that, "in the tight-knit world of Moscow's opposition, McFaul has become something of an Internet celebrity, making him a true 21st-century diplomat."
Recognition
Coit D. Blacker called McFaul "the leading scholar of his generation, maybe the leading scholar, on post-Communist Russia" and a Stanford news release said his knowledge of Russia "was an important resource to politicians. He advised President George W. Bush on his dealings with Russian President Vladimir Putin".
An article in Russia Profile called McFaul one of the leading U.S. experts in democracy and democratic transitions. An article in The Daily Beast described McFaul as "an earnest Stanford academic".
Personal life
McFaul and his wife, Donna Norton, married in 1993 and have two sons, Cole and Luke.
References
Michael McFaul Wikipedia
(Text) CC BY-SA