Hopi





Michael Kabotie






September 3, 1942 (

1942-09-03

)

Shongopovi, Arizona, USA




October 23, 2009, Flagstaff, Arizona, United States




Migration tears, Hopi Voices and Visions




University of Arizona, Haskell Indian Nations University




Silversmith, Painting, Sculpture
Michael Kabotie (September 3, 1942 – October 23, 2009) was a Hopi silversmith, painter, and sculptor.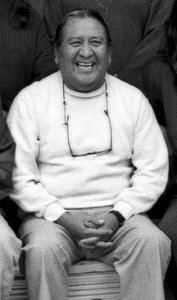 Michael Kabotie was the son of the famous Hopi artist Fred Kabotie, and he grew up in the village of Shungopavi. Kabotie graduated from Haskell Indian School in Lawrence, Kansas in 1961. While in his junior year, he was invited to spend the summer at the Southwest Indian Art Project at the University of Arizona. Participants included Fritz Scholder, Helen Hardin, Charles Loloma, and Joe Hererra (who became a lifelong friend and his primary artistic mentor). Kabotie was initiated into the Wuwutsim Society in 1967 and given the Hopi name Lomawywesa (Walking in Harmony), which he used to sign his paintings and hallmark his jewelry.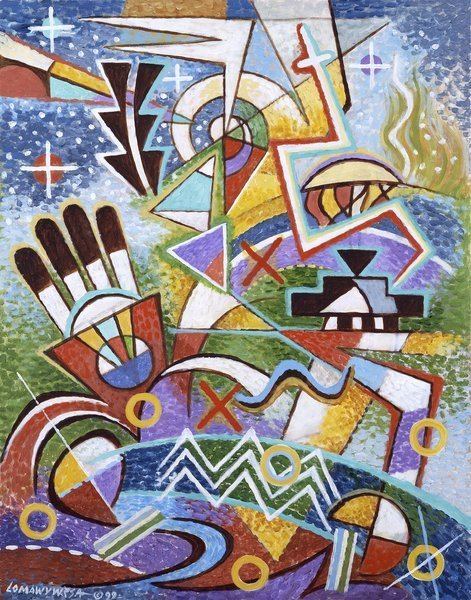 Hopi artist Michael Kabotie made art works for close to fifty years. His father Fred Kabotie helped develop many of the overlay techniques that have come to typify quality Hopi silverwork, and Kabotie learned these techniques as a teenager. He began to paint soon after high school and had a one-man show at the Heard Museum soon after dropping out of college.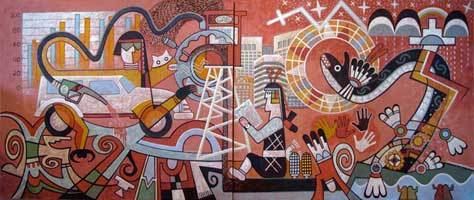 In the early 1970s Kabotie founded, with painters Neil David Sr, Milland Lomakema, Delbridge Honanie and Terrance Talaswaima, a group called Artist Hopid which was dedicated to new interpretation of traditional Hopi art forms. After that, Kabotie painted, made jewelry, wrote poetry and essays, and lectured around the country. Kabotie's paintings and silverwork have an organic graffiti-like quality with dynamic motion and symbolism, with a rich color palette on canvas and an added dimension when rendered in silver.
Michael Kabotie lectured across America, in New Zealand, Germany and Switzerland. His works are in such museums as the Heard Museum in Phoenix, Arizona, the Museum of Mankind in London, the Sequoyah Research Center in Little Rock, Arkansas, and the Gallery Calumet-Neuzzinger in Germany.
Kabotie learned the overlay technique from Wallie Sekayumptewa in 1958, but did little silverwork until the late 1970s. Building upon the overlay technique by using contemporary construction methods bestowed a sense of depth to his work. His jewelry designs echoed his paintings, steeped in Hopi culture. He exhibited annually at Indian Market from 1982 to 1999. Though best known as a painter, he considered jewelry his livelihood, stating to CNN correspondent Bill Tucker in 2000, "Jewelry is my job. Art and painting is my journey."
Kabotie died on October 23, 2009 from complications of the H1N1 swine flu in Flagstaff, Arizona. Michael Kabotie's son Ed Kabotie is also an artist and musician.
Michael Kabotie Wikipedia