American




Michael Huey




Artist






September 21, 1964 (age 51) (

1964-09-21

)

Traverse City, Michigan




Amherst College, University of Vienna




Contemporary art, Installation art, Video art




Straight as the Pine - Sturdy as, Betsy and I Killed the Bear, Dearie: The Louis Betts Port
Michael Huey (born September 21, 1964) is an American contemporary artist based in Vienna, Austria. He often employs found photography and archival resources to create new photographic images, objects, installations, and videos. His work has been shown in Vienna, Berlin, Rome, London, Lisbon, and New York City, and written about in Art in America, Artforum, and The New Yorker.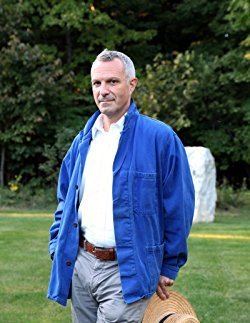 Huey was born in Traverse City, Michigan. He graduated from Amherst College in 1987 with a degree in German Studies. He has lived in Vienna since 1989, and received a master's degree in art history at the University of Vienna in 1999. He is married to the Viennese art historian Christian Witt-Dörring.
Alongside his artistic practice, Huey has also published extensively, first as a staff member of The Christian Science Monitor, and more recently as a memoirist writing at length about his family's roots in Chicago and Leelanau County, Michigan. He is a regular and longtime contributor to the London-based magazine The World of Interiors and has written frequently about art and design for exhibition catalogues, newspapers, and magazines in both Europe and the United States.
Huey's artistic practice has been closely tied by critics to his interest in family history and inventories. A common technique of his is to re-photograph and re-use existing, vintage photos and papers. The arts magazine EIKON has written that Huey's works "are like news that reaches us from the past and are kept as poetry in time."
According to Artforum magazine, "Huey's process defamiliarizes...objects to the extent that they become alien, worthy of scrutiny."
Huey's images have been likened by The New Yorker to the work of early photography pioneer William Henry Fox Talbot.
Individual works by Huey have been displayed at the Kunsthalle Wien, the Sigmund Freud Museum in Vienna, the Museum der Moderne Salzburg, the Mead Art Museum in Amherst, Massachusetts, and the Cleveland Museum of Art. In 2014 he joined the Secession, the Viennese artists' association founded in 1897 by Gustav Klimt, Koloman Moser, Josef Hoffmann, and Joseph Maria Olbrich, among others.
2015 - Proof, Austrian Frederick and Lillian Kiesler Private Foundation, Vienna
2015 - all ye know on earth, and all ye need to know, Georg Kargl/Permanent, Vienna
2014 - The Darling of Decay, Agnes Reinthaler Gallery, Vienna
2012 - Archivaria, Sigmund Freud Museum, Vienna
2011 - China Cupboard, Newman Popiashvili Gallery, New York
2010 - Houseguests, Galerie Schloss Damtschach
2010 - Story Problems, Josh Lilley Gallery, London, co-curated by Jasper Sharp
2009 - Don't Say Things, Kunsthalle Vienna, curated by Angela Stief
2009 - ASH, Inc., Song Song, Vienna
2007 - Keep in Safe Place, Newman Popiashvili Gallery, New York
2007 - Ruined Album, Blumen, Vienna
2007 - Betsy and I Killed the Bear, Charim Galerie, Vienna
2005 - Full Death, Galerie Lisa Ruyter, Vienna
2017 - Absolute Duration with Miguel Branco and Wolfgang Wirth, Carpe Diem Arte e Pesquisa, Lisbon
2017 - A Place in the East with Miguel Branco and Wolfgang Wirth, João Esteves de Oliveira Gallery, Lisbon
2015 - Display of the Centuries – Frederick Kiesler and Contemporary Art, Austrian Cultural Forum, New York
2013 - The Last Days of Pompeii: Decadence, Apocalypse, Resurrection, Cleveland Museum of Art
2012 - Tag- und Nachtbilder, Museum der Moderne, Salzburg
2011 - Stuff: Still Life Photography, curated by Vince Aletti
2011 - Natura Morta, Pobeda Gallery, Moscow
2010 - Gifted, Josh Lilley Galley, London, curated by Ben Street
2009 - Forschungsbericht, CoCo, Vienna, curated by Severin Dünser and Christian Kobald
2009 - The Red Thread, Galerie Dana Charkasi, Vienna, curated by Julie Ryan
2008 - In-Visible Spaces, Galleria Ugo Ferranti, Rome
2008 - Lost + Found, Schloss Hollenburg, curated by Maximilian von Geymüller
2006 - Drawing Room, Newman Popiashvili Gallery, New York
2006 - The Image is Gone, Galerie Lisa Ruyter, Vienna
2004 - The Rose Garden Without Thorns, Galerie Lisa Ruyter, Vienna
(Huey as author unless otherwise indicated)
2013 - Straight as the Pine, Sturdy as the Oak: Skipper & Cora Beals and Major & Helen Huey in the Early Years of Camp Leelanau for Boys, the Leelanau Schools, and the Homestead in Glen Arbor/Volume One: 1921-1963 (Schlebrügge.Editor, Vienna)
2012 - Archivaria (editor and author, with an essay by Catharina Kahane) (Schlebrügge.Editor, Vienna)
2011 - Dearie — The Louis Betts Portrait of Harriet King Huey (Schlebrügge.Editor, Vienna)
2011 - China Cupboard/Houseguests (editor and author, with essays by Jennie Hirsh and Philipp Blom) (Schlebrügge.Editor, Vienna)
2008 - ASH, inc. (editor and author, with essays by Abraham Orden and Jasper Sharp)(Schlebrügge.Editor, Vienna)
2007 - Betsy and I Killed the Bear (editor and author, with an essay by J.S. Marcus)(Schlebrügge.Editor, Vienna)
2006 - Josef Hoffmann Interiors 1902-1913 (contributor) (Prestel Verlag/Neue Galerie New York)
2003 - Viennese Silver — Modern Design 1780-1918 (editor) (Hatje Cantz Verlag, Ostfildern for the Neue Galerie New York and the Kunsthistorisches Museum Wien)
2001 - The Place of Beginning: On the Huey, Mautz, Lebzelter, McGowan Families and Their Kin
Michael Huey (artist) Wikipedia