Michael Ewanchuk





2004, Winnipeg, Canada






Spruce, swamp and stone
Michael Ewanchuk (14 March 1908 – 26 August 2004) was a Canadian educator and historian. He held a Doctor of Laws from the University of Winnipeg and a Doctor of Canon Law from St. John's College of the University of Manitoba. He married his primary teacher Muriel Smith in 1941. They had no children. Muriel encouraged Ewanchuk to visit many places. He wrote 16 books. Muriel died on February 21, 1997 from diabetes. Ewanchuk was born in Gimli, Manitoba. He was raised by his parents, Paraskeva Ewanchuk & Wasyl Ewanchuk. He died in Winnipeg, Manitoba. Ewanchuk had 5 other siblings; Nettie Ewanchuk (Bohonos), Mary Ewanchuk (died at age 1), John Ewanchuk, Alexander Ewanchuk, and Peter Ewanchuk (Grain Buyer).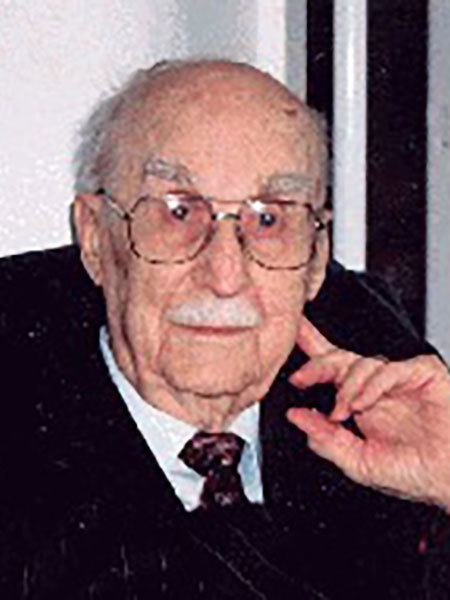 Ewanchuk was born on March 14, 1908 in Gimli, the fourth child of Ukrainian pioneers Wasyl and Paraskeva Ewanchuk, who arrived in Canada in 1902 from Kopychentsi, Western Ukraine. He grew up on a farm two miles west of town, attended Dnister School and entered Gimli High School at the age of fourteen. Following high school, Ewanchuk worked for the Winnipeg Electric Railway, and the Ford factory in Detroit. By working on the midnight shift, he was thus able to attend daytime classes at the Detroit Institute of Technology and at Detroit City College now Wayne State University. In 1930 Ewanchuk returned to Canada and attended Wesley (United) College and Provincial Normal School in Winnipeg. Late Ewanchuk is survived by nephews Bob Bohonos, Walter Bohonos, Peter Bohonos; nieces Joni Evanchuk-Kind, Claudia Kafer and Darcy Ewanchuk. He was predeceased by his wife Muriel 1997, father Wasyl 1948, mother Paraskeva 1953, infant sister Mary 1904, brother John 1981, sister Nettie 1998, brother Peter 1994, brother Alexander 1958 and nephew Billy 1962. After graduation, Ewanchuks first position as teacher was at Beckett (Svoboda) School near Stuartburn. He later accepted principalships at Happy Thought High School in East Selkirk, and at North Springfield. It was at North Springfield that Ewanchuk met Muriel Smith, the primary teacher whom he married. Ewanchuk and Muriel moved to Cartwright where he had accepted the principalship of the high school. While in Cartwright he enlisted in the R.C.A.F. where he served as instructor of navigation and as Officer in Charge of Airmanship. As an instructor he had various Canadian postings: Saskatoon, Regina, Rivers, Rockcliffe, Moncton and Dartmouth. He was happy that Muriel was able to join him in some of the locations. He also served as a personnel counsellor to the retiring servicemen. His last assignment was as an instructor in mathematics and English with the C.V.T. Ewanchuk retired with the rank of Flight Lieutenant. While teaching, Ewanchuk also continued his own education, attaining his B.A., B.Ed. degrees, and M.Ed. from the University of Manitoba. Following his retirement from the R.C.A.F. Ewanchuk became the first Ukrainian Manitoban to receive a permanent appointment as Inspector of Schools. He served in the Roblin-Grandview-Gilbert Plains inspectoral area and, after several years, he transferred to Carman and later to Winnipeg, where he served for twenty years as inspector of elementary and high schools, evaluating, in particular, instruction in science and mathematics at the senior grade level. His special assignment was the statistical analysis of the High School Examinations then conducted by the Department of Education. He also lectured on the preparation and measurement of examinations. During his years as Inspector of Schools Ewanchuk Ewanchuk served as president of the Manitoba Educational Research Council, the University of Manitoba Alumni Association, the Manitoba School Inspectors Association, the Canadian College of Teachers and the Canadian School Superintendents and Inspectors Association (CASSI). He represented CASSI at the American Science Seminal in Washington, D.C., and at the conference of the American School Administrators in Chicago. Ewanchuk Ewanchuk also served on various curriculum committees. In 1964 Premier D. Roblin appointed him chair of a curriculum committee to prepare the first Ukrainian program of studies, and to select appropriate textbooks for the teaching of Ukrainian in Manitoba high schools. Ewanchuk Ewanchuks contributions to education have been recognized in many ways. He was a Honorary Life Member of the Canadian Association of School Administrators and of the Canadian College of Teachers. He received recognition from the Manitoba Modern Language Association. In 1973 Ewanchuk Ewanchuk retired as Inspector of Schools and began devoting his time to his avocation of writing. A lifelong supporter of the Ukrainian community, as a student, he was secretary of a Ukrainian students club, member of the International Students Club of the YMCA and member of the Ukrainian National Association. While at Normal School, Ewanchuk was a member of the P. Mohyla Institute at 11 Kennedy Street where he served as assistant to the rector, was president of the Student Club Prometheus, and was active in the debating club. He was active in the Ukrainian Teachers Society. This interest was shown in writing about Ukrainian settlement and Ukrainians who have contributed to Canadian society. Through the years he contributed articles to the Ukrainian Voice and American Svoboda. Then he began concentrating on an area in which he had personal life experience. He conducted historical research in various archives in Manitoba, in the Canadian Archives in Ottawa, the United States Archives in Washington, D.C., and the Hawaiian Archives in Hilo and Honolulu. He was awarded a certificate, Hramota and a medal of recognition by the Ukrainian Canadian Congress, and received a certificate of recognition from the Ukrainian Free Academy of Sciences in June 2000. For his many books he has received the Margaret McWilliams award from the Manitoba Historical Society. For his contribution to education he was awarded a Doctor of Laws degree from the University of Winnipeg and a Doctor of Canon Law degree from St. Johns College of the University of Manitoba. In his historical work he was encouraged and assisted by his wife, Muriel. He called her his primary editor and proofreader. The couple celebrated their fiftieth wedding anniversary in 1991. In 1992 Muriel encouraged Ewanchuk to visit his ancestral village in Ukraine. Even though she had been ill at home with diabetes since 1980, and her condition was worsening, Ewanchuk took care of Muriel at their home until her death on February 21, 1997. Encouraged by his memory of her he has produced 16 books, and with two volumes still in preparation.
Spruce, Swamp and Stone: A History of the Pioneer Ukrainian Settlements in the Gimli Area by Michael Ewanchuk
Publisher: Ewanchuk Ewanchuk, Winnipeg. Date Published: 1977 ISBN 978-0-9690768-3-4, ISBN 0-9690768-3-5
Michael Ewanchuk, William Kurelek: The Suffering Genius Steinbach, Manitoba: Perksen Printers and Ewanchuk Ewanchuk Publishing, 1996
Ewanchuk, Michael (1977). Vita : A Ukrainian Community. Books 1-3. Vita, Manitoba: Boundary School Division No. 16.
Michael Ewanchuk Wikipedia