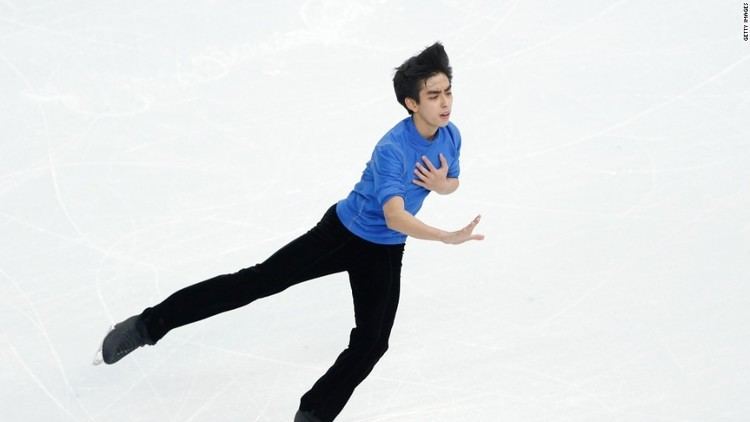 Martinez was born on November 4, 1996 in Parañaque, the youngest of three children. He began experiencing asthmatic bronchitis at two months old and was frequently in the hospital. Although a cold rink initially had a detrimental effect, he stated in 2014 that, "year after year my health keeps improving, so my mother fully supported me to continue skating. She said it's better to spend the money on skating than in the hospital." Martinez graduated from high school in around 2013.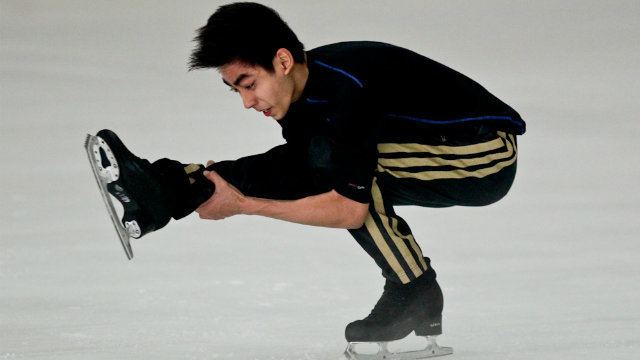 Martinez began skating in 2005 at the SM Southmall ice rink. In 2009, he missed two months after a skating blade cut his thigh. In addition to training in Manila, in 2010 he began spending several months a year in California, United States working with John Nicks and Ilia Kulik.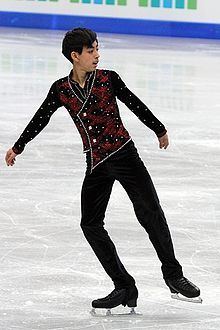 Martinez debuted on the ISU Junior Grand Prix (JGP) series in the 2010–11 season. In 2011, he tore two ligaments in his ankle, leading to three months of recovery. In April 2012, he tore a medial ligament in his knee and was off the ice for three months.
Martinez landed his first triple Axel jump in competition at a 2012 JGP event in Lake Placid, New York. He placed 6th at a JGP competition in Zagreb, Croatia.
At the 2012 Crystal Skate of Romania, Martinez won his first senior international title, also a first for the Philippines. He finished fifth in his second appearance at the 2013 World Junior Figure Skating Championships and set a new personal best overall score of 191.64 points. A fractured ankle kept him off the ice for two months in 2013.
Martinez started his season at the 2013 JGP Latvia where he finished 4th. He then competed on the senior level at the 2013 Nebelhorn Trophy, the last qualifying event for the 2014 Winter Olympics. He finished 7th and earned a spot for the Philippines in men's singles — a first for his country. Martinez then competed at the 2013 JGP Estonia and won his first JGP medal, a bronze. In January 2014, he received treatment for an inflamed knee. He withdrew from the 2014 Four Continents Championships but competed at Skate Helena and took the gold medal.
The first skater in the Winter Olympics to come from Southeast Asia, Martinez was also the only athlete representing the Philippines at the 2014 Winter Olympics in Sochi and served as his country's flagbearer at the opening ceremony. Viktor Kudriavtsev coached him for one month leading up to the Olympics. At the Olympics, Martinez qualified for the free skate after placing 19th in the short program with a score of 64.81 points, a season best. He scored 119.44 in the free skate and finished 19th overall with a total score of 184.25.
MVP Sports Foundation supported the skater and announced a bonus of $10,000 after the Olympics. He was named an adopted son of Pasay by Mayor Antonino Calixto.
Recovering from a recurring knee injury after the Olympics, Martinez was replaced by Christopher Caluza at the 2014 World Championships. He returned to competition in April at the Triglav Trophy, where he won the gold medal. In June 2014, he began training at Hackensack, New Jersey's Ice House, under the guidance of Nikolai Morozov.
Making his ISU Challenger Series (CS) debut, Martinez finished sixth overall at the Lombardia Trophy. He was assigned to his first senior Grand Prix event, the 2014 Skate America. In his short program, he fell on his triple axel, but landed all his other jumps and received level fours on his camel spin, his flying sit spin, and his step sequence; he finished ninth. He also placed ninth in the free skate, falling on his triple axel, underrotating his triple toe in the triple lutz-triple toe combination, and stepping out in his double axel towards the end of the program. Martinez finished tenth overall.
In November 2014, Martinez competed at the CS Warsaw Cup where he won the silver medal behind Russia's Alexander Petrov. Martinez posted new personal best scores with a total of 213.38 points. Martinez competed in his first Worlds at the 2015 World Championships finishing in 21st position.
Martinez withdrew from several summer competitions due to ongoing therapy and rehabilitation for his spine. He also was unable to compete at the 2015 CS U.S. International Classic due to acute asthma.
He started his season by winning gold at the 2015 Asian Figure Skating Trophy, becoming the first Filipino to win the event. He then competed at 2015 Cup of China where he finished 6th with a new personal best overall score of 220.36 points. He placed 4th at the 2015 CS Warsaw Cup and 7th at the 2015 CS Golden Spin of Zagreb.
Martinez went on to achieve his best placements at senior ISU Championships. In February, he finished 9th out of 23 competitors at the 2016 Four Continents Championships in Taipei. Competing a month later at the 2016 World Championships in Boston, he finished 19th out of 30 competitors. Due to inconsistency in training, he dropped his original plan of including a quad jump, deciding to include the jump the following season.
In year 2016, he also started vlogging on Youtube together with his pet and his friends, even with his coach. And his shirtless photo got viral through the internet:
At the 2017 Four Continents Championships, Martinez placed 14th in the short program, free skate and overall. At the 2017 Asian Winter Games, a multi-sport event held every four years, he placed 7th in the short program, 9th in the free skate, and 9th overall. At the 2017 World Championships, Martinez placed 24th in the short program, free skate, as well as overall.
Martinez settled for silver behind Malaysian skater, Julian Yee at the 2017 Southeast Asian Games.
GP: Grand Prix; CS: Challenger Series; JGP: Junior Grand Prix