Michael J. Broyde (born May 1964) is a professor of law and the academic director of the Law and Religion Program at Emory University. He is also a senior fellow in the Center for the Study of Law and Religion at Emory University. His primary areas of interest are law and religion, Jewish law and ethics, and comparative religious law. Broyde has published more than 70 articles on various aspects of law and religion and Jewish law, and a number of articles in the area of federal courts.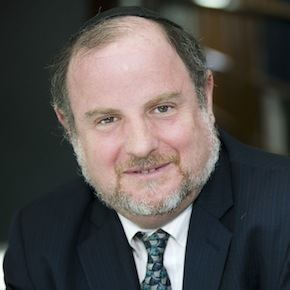 He also holds a Juris Doctor from New York University, where he was a research assistant to David Leebron, Richard Revesz, and John Sexton, respectively. He is ordained (yoreh yoreh ve-yadin yadin) as a rabbi by Yeshiva University and was a member (dayan) of the Beth Din of America, the largest Jewish law court in America. Broyde was the first rabbi of the Young Israel of Toco Hills in Atlanta, GA. He is married to Channah S. Broyde and has four children: Joshua, Aaron, Rachel, and Deborah.
Broyde has written books and delivered speeches on Jewish law, Mishpat Ivri and Jewish ethics. His work is frequently cited by other writers on his subjects of expertise, and he is widely consulted on matters of halacha (Jewish law).
Over the past few years he has written important articles on hair covering and halacha, military and battlefield ethics in the Jewish tradition, innovation and Jewish law, the 9-11 agunot in the Beth Din of America, the future of Modern Orthodoxy, as well as many short articles published in many different publications, from the New York Times to the Jewish Press as well as many blog posts.
Broyde has published extensively on topics ranging from issues of contemporary relevance to more academic matters. He has recently (2017) published two books. One of the works, "A Concise Code of Jewish Law for Converts", is a compendium on Jewish law as is relates to converts. It addresses all aspects of Jewish law that relate to the experience of the convert in their new Jewish life. His other recently-published book, "Sharia Tribunals, Rabbinic Courts, and Christian Panels: Religious Arbitration in America and the West" explores the rise of this phenomenon in recent years. Among the contemporary issues addressed in the book are (according to the summary here), "why religious communities feel disenfranchised from secular law," "why American law is so comfortable with faith-based arbitration," and sets forth the author's opinions regarding "the proper procedural, jurisdictional, and contractual limits of arbitration generally, and of religious arbitration particularly," as well as "whether secular societies should facilitate effective, legally enforceable religious dispute resolution." Broyde concludes that "religious arbitration is not only good for the religious community itself, but that having many different avenues for faith-based arbitration which are properly limited is good for any vibrant pluralistic democracy inhabited by diverse faith groups."
Along with several other American rabbis, in 2012 Broyde was considered for the post of Chief Rabbi of the United Kingdom as Jonathan Sacks planned to step down from the position. The position was eventually secured by Ephraim Mirvis, who took it in September of 2013.
On April 12, 2013, The Jewish Channel published an expose alleging that Broyde created an alias that allowed him to gain online membership to the International Rabbinic Fellowship. The expose also alleged that half a dozen times Broyde used "internet characters" to post brief comments on the blog "Hirhurim" related to Broyde's own work, and that Broyde had written letters and other rabbinical works using these pseudonyms. After initially denying all of these claims, Broyde admitted to several of these allegations and issued an apology. On April 15, 2013, the Rabbinical Council of America granted Broyde an "indefinite leave of absence" from the Beth Din of America as a result of the controversy. On December 19, 2013, Emory University concluded an investigation into Broyde's alleged actions. The committee found that "the conduct did not violate Emory policies that govern allegations of research misconduct". According to the committee's public statement, no action will be taken against Broyde as a faculty member of the University. On February 6, 2014, Broyde resigned from the Rabbinical Council of America, expressing gratitude that the organization waited until the conclusion of the University investigation to begin its own.
Editor, Marriage, Sex, and Family in Judaism (Lanham, Md.: Rowman & Littlefield Publishers, 2005).
Marriage, Divorce and the Abandoned Wife in Jewish Law: A Conceptual Approach to the Agunah Problems in America. (Hoboken, N.J.: Ktav, 2001).
"Honesty and Analysis: A Response to Passionate Critics," Edah Journal 5(1):1–42 (Summer 2005), found online at www.edah.org, this article deals with the abandoned wife (agunah).
Marriage, Divorce and the Abandoned Wife in Jewish Law: A Conceptual Understanding of the Agunah Problems in America
"Jewish Law and the Abandonment of Marriage: Diverse Models of Sexuality and Reproduction in the Jewish View and the Return to Monogamy in the Modern Era," in Marriage, Sex, and Family in Judaism (Lanham, Md.: Rowman & Littlefield Publishers, 2005), 88–115.
With Jonathan Reiss. "The Ketubah in America: Its Value in Dollars, its Significance in Halacha and its Enforceability in American Law," The Journal of Halacha and Contemporary Society 47:101–124 (2004). ('Ketubah' is a marriage contract)
"קידושי טעות בזמנינו" (lit. "Mistaken Marriage in our Time"), Tehumin 22:231–242

(in Hebrew)

(2003).
"The 1992 New York Get Law: An Exchange," Tradition: A Journal of Jewish Thought 31(3):23–41 (1997). (A get is a divorce document.)
"Can There be Solutions to the Agunah Problem", JOFA Journal 5(4):8–9 (Summer 2005).
Review of "Between Civil and Religious Law: The Plight of the Agunah in American Society by Irving Breitowitz," in AALS Jewish Law Section Newsletter, May 1993, pp. 2–4.
"Religious Freedom in the Domain of Family Law" (lecture and faculty colloquium) and "The Jewish Religion and Human Rights Politics in the Near East," University of Tübingen, Germany, January 15–16, 2007.
"The Hidden Influence of Jewish Law on the Common Law: One Lost Example". Emory Law Journal 57 (2008): 1403–08